Members of a new white nationalist organisation formed after the "UK's most dangerous group on the British far right" splintered are members of Scottish community councils, we can reveal, prompting calls for an urgent investigation.
Homeland was formed in April after some members of the white nationalist outfit Patriotic Alternative (PA) left to set-up their own group.
The former PA activists now with Homeland include Simon Crane, now a member of East Calder and District Community Council. Crane was also an executive member of the West Lothian Joint Forum of Community Councils. In 2022 he hosted extremists on a podcast with a co-host later jailed for sharing terrorist materials.
Another Homeland member, David Gardner, has remained treasurer of Forfar Community Council in Angus despite the local body promising a probe after research group Hope Not Hate unearthed racist comments he allegedly made online via a pseudonym. He continues to write blogs for Homeland using his real name.
This is not the first time community council seats have been targeted by far right activists. In 2019, The Ferret revealed that the New British Union – modelled on Oswald Mosley's British Union of Fascists – planned to put candidates in Scotland.
In response to the latest revelations about community council membership, concerned politicians have written to the heads of their local authorities, urging them to investigate Homeland's community councillors. One MSP said many would find it "chilling" that a group with "racism and extremism" at its core had community representatives.
However, Homeland defended its councillors as "upstanding members of their local communities". "Left-wing extremists" and politicians who "abuse their power to oppress dissent" were attempting to smear its members with "perceived wrongdoing", it argued.
David Gardner
In May, Hope Not Hate revealed that Gardner was Forfar Community Council's treasurer. The group revealed racist and anti-semitic comments – including holocaust denial – he had allegedly made online under the name Gordon Freeman.
In 2020 The Ferret infiltrated a neo-Nazi chat group where someone using the name Gordon Freeman made racist comments and references to Nazism. Some in the group posed with weapons, shared a bomb-making manual, quoted a mass murderer, and said members should kill "for the greater good".
The same neo-Nazi Telegram group also included Homeland's chairman, Kenny Smith, who used the chat to recruit members of Patriotic Alternative (PA) Scotland – Homeland's predecessor.
The group member using the name Gordon Freeman said they were "from up passed Dundee [sic]" and coordinated one of PA Scotland's publicity stunts in which members pose with a "White Lives Matter" banner.
In the chat, Freeman claimed to have personally ordered the banner. In May, HNH alleged that Gardner was behind an August 2022 "White Lives Matter" banner drop in Dundee, supporting claims that Freeman and Gardner are one and the same.
Members of the chat group also discussed starting an activist group. When names for the group were debated, Freeman warned against the name making reference to National Socialism (NS) – or Nazism. "The grug [caveman] brain is hard wired to ignore anything remotely NS until its ready to listen [sic]," Freeman said.
The user also appeared to make reference to a race war – a common topic in far right circles. "…if white lads can get tougher and stronger, teaching each other and having their backs when the SHTF [shit hits the fan], thats a good thing [sic]," said Freeman.
"Eventually they will realise that our way of life is incompatible with the majority of blacks and almost all of the jews. But by then, they might be a bit more prepared for whats ahead [sic]".
On 7 May, a report in The Herald made reference to Hope Not Hate's revelations about Gardner. A spokesman for the community council told the newspaper they were "shocked by the allegation that one of its new members has been associated with a far right organisation".
"Membership of community councils is apolitical, but it is imperative that we all adhere to the terms of the Community Councillors' Code of Conduct, which includes the Equality and Human Rights Commission rules, at all times," they added.
"We are grateful that this has been brought to our attention and will investigate further."
But The Ferret has learned that Gardner has remained an active member of both the community council and Homeland. Minutes of meetings on 18 May and 17 August show that Gardner continued to attend meetings as a community councillor. Gardner has also continued to write blogs for Homeland's website under his real name.
In one July post, which criticises opposition to the UK Government's plans to send asylum seekers to Rwanda, Gardner wrote: "So a nation with statistically zero whites is too dangerous to send people to. I think we could be on to something here."
Angus MP Dave Doogan said of Gardner's role as community councillor: "This is a deeply concerning allegation and I have written to the chief executive of Angus Council asking for the council's democratic services function to investigate this situation.
"Clearly membership of a far right organisation is incompatible with the aims and ambitions of any community council. These hard working organisations are there to represent and promote the views of all elements of our communities, not select sections."
Tom O'Brien, Forfar Community Council's secretary said: "We are unable to comment at this time as we are in discussion as a community council with the local authority."
Simon Crane
Minutes of meetings held by the West Lothian Joint Forum of Community Councils in July, October and November 2022 list Crane as an executive member, and as an East Calder community councillor.
Crane did not attend a January 2023 forum meeting, according to minutes, but was still listed as a member. He was not named as a member or attendee in subsequent meeting minutes.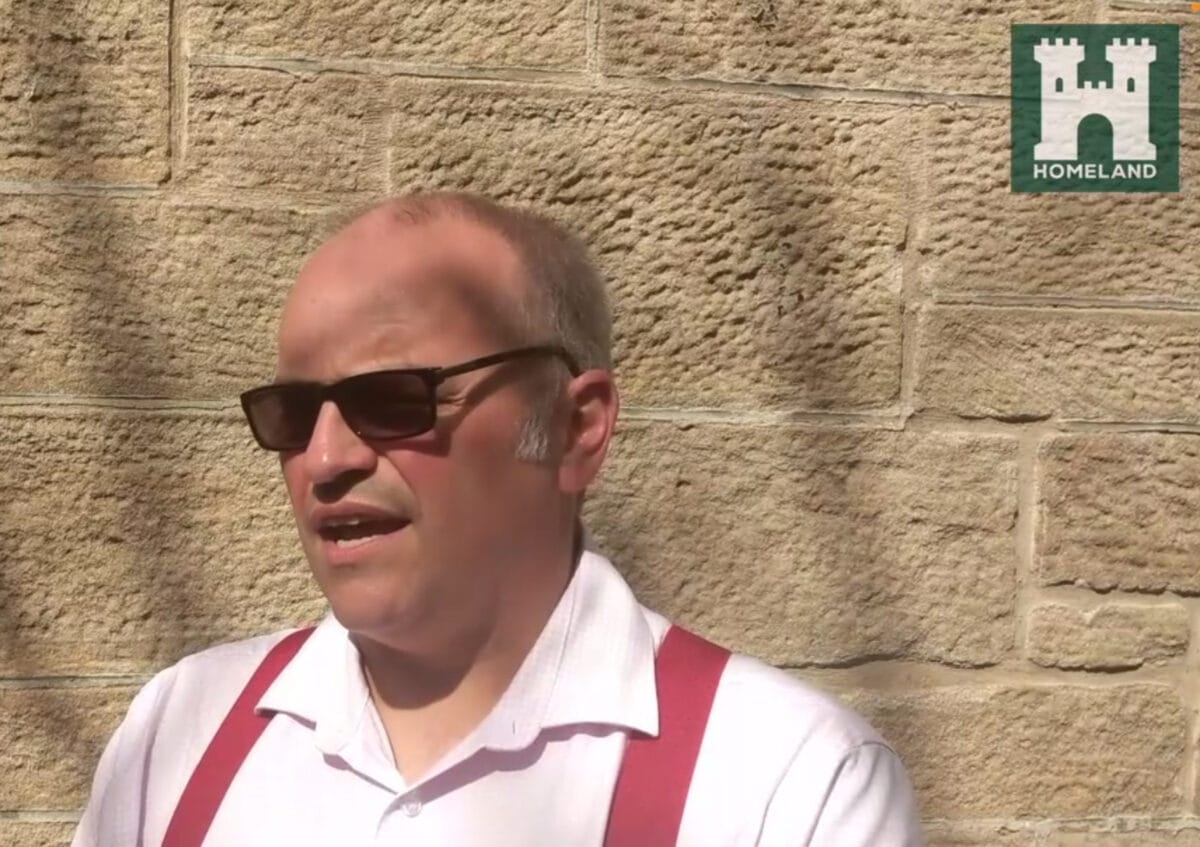 The Ferret understands that Crane still sits on the community council, but it is unknown how long he has done so. The community council did not respond to requests to comment and has not published minutes since August 2019.
Local MSP Angela Constance promised to press the head of the wider local authority about Crane's membership. "These allegations, if true, are very worrying," she said. "I am raising this matter with the chief executive of West Lothian Council asking him to investigate and respond to me as a matter of urgency."
A video shared by Homeland on 1 September featured Crane, Gardner and two England-based members of Homeland, all of whom claimed to be community councillors. The video was shot outside the Bishopbriggs Library in East Dunbartonshire.
On 26 September the group claimed to have six community councillors, with the latest in North East Scotland. In a subsequent video, posted on 5 October, Smith claimed that his group had three councillors in Scotland, and three in England. The Homeland chairman also claimed to be a former community councillor.
Homeland community presence 'chilling'
Scottish Greens MSP Maggie Chapman said: "Many will find it concerning and chilling that activists from a reactionary and bigoted group like Homeland could have any influence in their communities.
"In Scotland we have a long and proud history of standing against the far right and the racism and extremism that is at the core of their worldview. As their strategies adapt then so must ours. Organisations like The Ferret are playing a vital role by exposing them.
"The values and politics that groups like Homeland represent have no place in a modern or progressive Scotland."
A Homeland spokesperson said: "We wholeheartedly reject the use of 'white nationalist' as it doesn't reflect our political position at all – we are nationalists, plain and simple. We are not a skin colour; we are members of distinct ethnic groups with their own culture, religion, history and communities.
"Simon Crane and Dave Gardner are upstanding members of their local communities who have served their neighbourhoods as dedicated community councillors for several years without incident.
"Left wing extremists attempting to link them to perceived wrongdoing through various degrees of separation is ludicrous. They represent their communities as they should do and will not be intimidated by the lies of politically motivated cowards who would seek to outlaw all opinion but their own.
"Dave Doogan's, Angela Constance's and Maggie Chapman's comments demonstrate that they believe only people who share their liberal views should be able to engage in local politics, and that Scots who stand up for the interests of Scots should be branded and excluded.
"These politicians don't believe their role is to represent the people, but to tell the people what to think and abuse their power to oppress dissent. They all represent parties who's [sic] politicians have been found guilty of offences ranging from embezzlement to sexual assault at an alarming rate in recent years; the crime in mainstream parties is of far greater significance than the non-crimes of Homeland Party members."
PA Scotland did not respond to requests to comment.