The UK Government raised concerns that a far right group led by a Scot had applied "by stealth" to become a political party, The Ferret can reveal.
The Home Office contacted the Electoral Commission after learning that Homeland – a splinter group of the white nationalist outfit Patriotic Alternative (PA) – had formed, according to communications we obtained via freedom of information.
Skye-based Kenny Smith, a former British National Party Scottish organiser and election candidate, led a breakaway faction of PA to form Homeland in April.
Homeland then made an application to the Electoral Commission under the name Homeland Party, which is still under review.
An anti-racism organisation branded the group "a fringe but extreme fascist organisation". Smith rejected claims that Homeland was "extreme", "fascist" or "neo-Nazi".
PA failed with seven applications to become a political party, one of which breached equality laws as it would prevent certain people from becoming party members, internal Electoral Commission communications show.
In a leaked recording of a Homeland meeting in April, Smith said members who were not "well known nationalists who might be on the radar" were writing an application under a different party name.
But the group registered as the Homeland Party. This caught the attention of the Home Office, which monitors potential terrorist threats from far right groups and others.
"I've just seen a report concerning [redacted] and a new group being formed, Homeland, which has aspirations to political party status [sic]," the Home Office told the Electoral Commission's director of regulation, Louise Edwards in a 25 April email.
After a phone call, Edwards told a colleague that once she had explained how the commission processes applications, the Home Office staffer "understood immediately that the concept of an 'application by stealth' doesn't make any sense".
The Home Office employee "agreed that if through their work they get any relevant intel about the group or the way in which they might be applying to us, he'll let me know", Edwards added.
Homeland an 'extreme fascist organisation'
Last year, The Ferret gained access to a private chat group which Smith used to PA recruit neo-Nazis who posed with weapons, shared a bomb-making manual, quoted a mass murderer, and said members should kill "for the greater good".
Smith also expressed support for a PA supporter who pleaded guilty to terrorism offences and urged PA members to write to him in prison.
David Lawerence, senior researcher at HOPE not hate said: "Homeland is a fringe but extreme fascist organisation that recently splintered from PA, a neo-Nazi group led by a man who recommends Mein Kampf to his followers.
"Despite their identical ideologies, Homeland hopes to distinguish itself from its parent group by successfully registering as a political party… much rides on the application, as failure to register would severely undermine its already questionable reason for existing."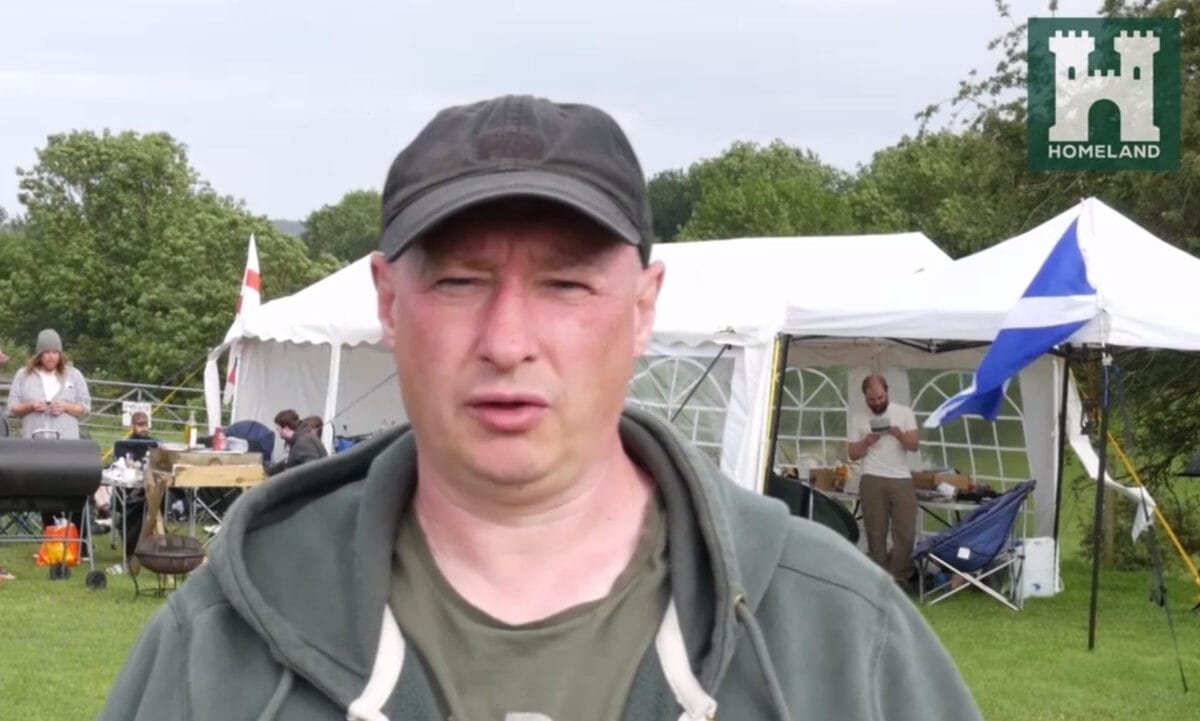 Smith told The Ferret that Homeland members were already local councillors in Scotland and England. Examining his group's activities would "expose the much discredited far-left organisation Hope Not Hate's lie that we are 'extreme', 'fascist' or 'neo-Nazi'," he argued.
"Nothing could be further from the truth. I have a well-established reputation of trying to guide people away from extremism and I do not shy away from encouraging folk who get tempted into fringe groups to get back onto the right path and into community politics.
"You are deliberately twisting the facts and know full well that I have no patience for anybody advocating for violence or other forms of extremism," he added.
The Electoral Commission declined to comment, but shared guidance which states that all applicants "are subject to detailed assessment against the criteria set out in law".
Applicants must name the party's proposed officers, which are made public if the application is successful. Registered parties must inform the commission of any changes in officers, which would be updated on the public register, and can apply to change to the party's name.
A Home Office spokesperson said: "The Electoral Commission makes all decisions relating to the registration of political parties independently."