A leading figure of a Scots far-right group used a private chat group to recruit neo-Nazis who posed with weapons, shared a bomb-making manual, quoted a mass murderer, and said members should kill "for the greater good", The Ferret can reveal.
Kenny Smith, Patriotic Alternative (PA) Scotland's organiser, told users in a Telegram group called Scottish Identity that all "true" National Socialists – or Nazis – should join PA. We were invited into the group by one of its users after posing as a neo-Nazi on a far-right chat forum.
Among the content shared by some in the group were guides to making improvised landmines and "automatic and concealable firearms", a violent combat guide, and military tactics for white supremacists.
Smith promised to contact one of the chat group's members, who we can identify as Hadden Adam, of Elgin, Moray. Adam told one user who accused him of "endorsing terrorism" that "violence is the only solution".
Another member who said he was "active" in PA is Stirling-based Shaun McAlonan – also known as Shaun Caldwell – who we exposed in 2021. McAlonan said he was ready for "guerilla warfare" and claimed to have a Forth Valley "militia" consisting of "ex forces" men.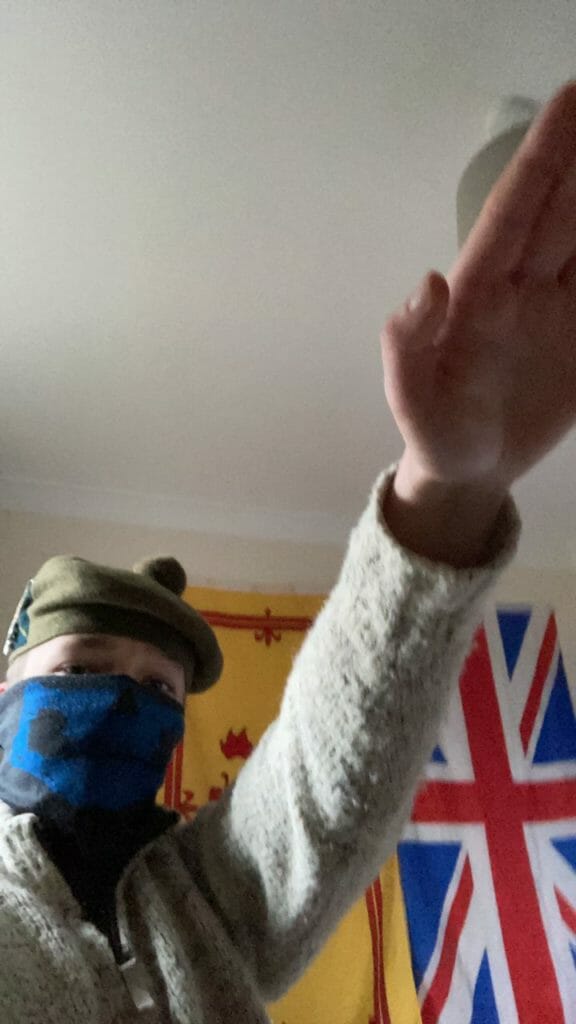 Both Adam and McAlonan shared images of themselves posing with weapons and performing the Nazi salute whilst wearing military uniforms, as well as racist, anti-semitic and anti-LGBT+ content throughout 2020 and 2021.
The Scottish Greens said: "This grotesque, fascistic content uncovered by The Ferret should be condemned by all decent people and is worthy of close examination by Police Scotland."
David Lawrence, a senior researcher at HOPE not hate said PA "is a hard-line fascist organisation" and claimed that "high-ranking members have had links to a now-banned Nazi terror group."
He added: "That PA members found a home in this violent and extreme chat group is therefore shocking, but not surprising. A militant style of politics has spread into the UK's far-right fringes, a threat that must be taken seriously."
Terrorist content
One chat user shared a quote from the white supremacist terrorist who murdered 51 people at a New Zealand mosque in 2019. "Violence is power and violence is the reality of history," the quote included.
Another user complained that such attacks made "gun laws stricter and life harder for our guys". Adam replied: "The more underground the better. This isn't a movement for cowards." Adam also forwarded a post urging white supremacists to resist "anyone trying to deradicalise you".
"Anyone advising you to delay or avoid taking NECESSARY ACTION is a selfish coward," it said. "The racewar is accelerating regardless of your position… accept reality, stand up and fight before it's too late."
Another user challenged Adam's post. "Endorsing terrorism as if that's going to save our people, don't be daft," they argued. "Violence is the only solution," Adam replied. "It's not my fault pussies like you are holding us back."
In a different conversation, McAlonan asked the group: "Do you believe we should kill people for the greater good?" Another user replied "yes".
Weapons collections and military tactics
Adam shared a picture of his collection of 13 knives – one of which featured the Nazi swastika – two axes and a knuckleduster. Another user posted an image of himself posing with a machete.
McAlonan posted images of a large knife he said was "for skinning game", a sword, a bow and a club for "when the riots come to Stirling and some commies [communists] are needing removed".
McAlonan said the bow, which was the "next best thing to a gun", was "for just in case and for being out in the bush". He shared an image of him holding his bow with the caption "oot hunting commies".
Another user, called Johnny Alba, said "we used to have some very powerful air weapons", which now require a licence to use. Alba thought it was possible to "fiddle" with a less powerful one to "boost the power".
McAlonan suggested Scottish Identity "act as smaller localised groups but converge into a bigger one when shit hits the fan". He claimed to have links with a Northern Ireland loyalist paramilitary group.
In 2021, we revealed that McAlonan posted images of himself taking part in combat sports, and claimed to be a Stirling University student and an army reserve applicant. A university spokesperson said McAlonan was not a student at the institution.
McAlonan claimed to have organised a Stirling Against Lockdown event in October 2020. His Twitter account puts his location as Tillicoultry, Clackmannanshire.
Adam shared images of himself wearing military uniform with neo-Nazi patches and claimed to have spent two years in the cadets. He said he had studied "military style tactics", "especially the art of guerrilla warfare", adding: "I have accumulated a lot of knowledge on military stuff. I've been around it my whole life".
Violent and Neo-Nazi comments
Other users made numerous violent and disturbing comments. One said he wanted to "put a pickaxe thru [Deputy First Minister, John Swinney's] heid". Another expressed violence towards LGBT+ people.
"I have zero sympathy for fags. I could legit watch them bleed out and not phone them an ambulance," they said. "The Arabs have the right idea for them, flight simulation from a rooftop". This is apparently a reference to ISIS throwing gay men off buildings.
Another user posted an image of a woman being punched in the genitals. "Remember lads, if you ever come across a communist bitch giver her one of these on my behalf", he wrote.
Johnny Alba shared an article about a man who plotted a terrorist attack on an immigration law firm. "Immigration solicitors, now they do deserve a bit of justice from the people," Alba said.
Adam claimed that the extremist US group Patriot Front (PF) "advise me on organisation with their group and stuff like that, so I think we could do something like that."
According to the Southern Poverty Law Centre, PF's founder led protests during the 2017 Unite The Right rally in Charlottesville, Virginia, where an anti-racism protestor was murdered.
Adam added: "Patriotic Alternative is also smart about the way they operate. They don't do anything that gets them severe consequences."
We were able to identify Adam after he revealed his first name in the chat and stated he lived in Moray. His Facebook page states that he lives in Elgin, is from Dundee, and attended Madras College in St. Andrews.
"The messages that The Ferret have accessed are shocking," said Richard Lochhead, Moray's MSP. "People in Moray will be disgusted by the extremist views of this individual and the dangerous ideas he is promoting."
Scottish Labour's deputy leader, Jackie Baillie, who recently condemned the distribution of PA leaflets in her Dumbarton constituency, said: "As more information emerges about this group, my concern was entirely justified.
"There is absolutely no place for this racial hatred in my community or elsewhere in Scotland. They do not speak for me and they do not speak for the decent people of this country who are appalled by these disgusting attempts to divide us."
Stand Up To Racism Scotland said: "These revelations underscore the importance of always remaining vigilant against the threat of fascism. The far-right in Scotland is small and demoralised, but only because their attempts to regroup in the last decade have been thwarted by consistent anti-fascist mobilisation."
PA Scotland, Kenny Smith, Hadden Adam and Shaun McAlonan did not respond to our requests to comment.