An animal welfare charity has launched a legal challenge to stop the Scottish Government from allowing young calves to be exported all the way from Scotland to Spain.
Compassion in World Farming (CIWF) claims that weeks-old calves still dependent on their mothers' milk are not given food or adequate water supplies during transit, calling the travel conditions "inhumane" and "unlawful".
The group has applied for a judicial review in the Court of Session in Edinburgh, to challenge the actions of the Animal and Plant Health Agency (APHA).
APHA is sponsored by the UK government's Department for Environment, Food & Rural Affairs (Defra), as well as the Scottish and Welsh governments, and is responsible for international animal trade. Both the UK and Scottish governments have appointed senior barristers to fight the case.
The Scottish Greens said the Scottish Government should tackle "this serious welfare matter at the earliest opportunity, and ideally before the court is forced to order it to do so."
Peter Stevenson, CIWF's chief policy advisor, called on the Scottish Government to "recognise that the time has come to bring this inhumane trade to an end." He said calves "should be reared for beef in Scotland, not sent on long journeys to Spain."
Stevenson highlighted that under EU Regulations, journey times when transporting animals "shall not exceed eight hours" unless certain conditions are met. One condition is that after nine hours of travel, unweaned calves must be given at least one hour's rest "in particular for them to be given liquid and if necessary fed". The animals may then be transported for a further nine hours.
However, the Scottish Government conceded in a letter dated 26 November 2019 that it was difficult to feed calves while they are on a truck. Responding to concerns from Stevenson and fellow animal rights group, Eyes on Animals, rural affairs minister Mairi Gougeon said it was "not practical to provide feed in the form of liquid milk replacement to a load of calves on a lorry."
In order to be fed and rested, calves would need to be "unloaded at suitable facilities", which "would involve additional handling stress and prolong the overall journey by several hours," she said.
The Scottish Government instead preferred journeys to be completed "as quickly as possible" so that animals could be "given individual attention in specialised facilities," Gougeon added.
Exported calves go '23 hours without food'
But Stevenson stressed that young calves struggle to control their body temperature, making them "susceptible to both heat and cold stress". The young animals do not have a fully developed immune system, he said, and long periods without food worsen this vulnerability.
"The science shows that it is indeed necessary for calves to be fed after nine hours travel," said Stevenson. "They are likely to go in all for 23 hours or more without feed."
Eyes on Animals said that lack of water was also an issue for calves, claiming that the manually refillable water troughs used in trucks cannot be replenished by drivers during short stops. Such troughs are "not designed for calves so many don't get enough or indeed any water," said Nicola Glen, a spokeswoman for the group.
"As a result, these vulnerable animals will suffer from dehydration and a lack of nutrition," she said. "This can cause diarrhoea, and particularly in warmer weather, can be a severe threat to welfare."
EU legislation requires that "due regard shall be paid to the need of animals to become accustomed to the mode of feeding and watering." However, Stevenson claimed that not all calves know how to drink from troughs via the metal nipples provided, while others are deprived of the liquid by dominant animals.
He said: "As the calves do not get feed and as many do not get water after nine hours travel, we are asking the Scottish court to rule that the Scottish Government is acting unlawfully in permitting the export of unweaned calves on journeys over eight hours."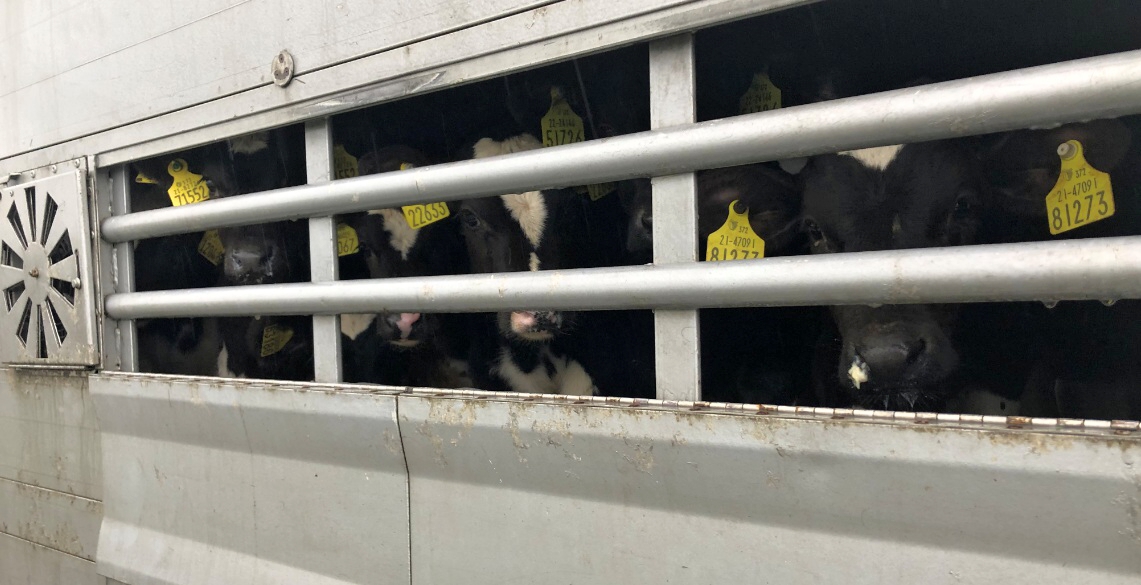 Gougeon's letter said that officials "liaise regularly with APHA" and were confident that calf vehicles were routinely checked during loading and at the port of Ramsgate, Kent before being transported to France by ferry. The minister said this ensured the animals had access to water and that declared journey times complied with regulation, including the one-hour rest period.
"Returned completed journey logs are also checked by APHA", added Gougeon. "I have asked Scottish officials to maintain close engagement with APHA on any movements involving calves from Scotland to ensure welfare standards are maintained."
In 2019, The Ferret revealed that thousands of farm animals in Scotland had suffered in more than 300 serious welfare breaches during live transport in recent years, according to official inspection reports. Many animals were found heavily pregnant, injured, dead on arrival, or without water, bedding, or enough ventilation to keep them alive.
In some instances, inspectors inspectors from the Scottish Government's watchdog agency, Food Standards Scotland believed that animals had died due to trampling, crushing, suffocation, overheating or stress. Other animals arrived with injuries such as broken limbs, puncture wounds, haemorrhages, bleeding orifices and lacerations.
Revealed: the suffering faced by Scotland's farm animals during live transport
Scottish Government figures released in February show that 5,728 calves, listed as cattle for "Fattening/Production", were exported from Scotland to Spain in 2018, with a further 2,082 exported in 2019. The live exports of unweaned calves is not an issue confined to Scotland, however. Similar imports and exports occur between many EU countries.
Stevenson said he hoped a legal victory in Scotland would lead the UK and other countries in the EU to deem long distance calf exports to be unlawful. He was "disappointed" in the Scottish Government and "shocked" by the Westminster government for defending the matter.
In November 2019 Boris Johnson strongly suggested banning live animal exports post-Brexit. He said that he partly resigned from Theresa May's Cabinet because the proposed EU Withdrawal Agreement would make it "impossible" for the UK to vary its live export laws, HuffPost reported.
Post-Brexit, the UK could tell exporters it is "no longer possible to take live animals in great distress and confusion very very long distances," said Johnson. "Some of them, by the way, go more or less from Scotland to Spain to Africa," he added.
Stevenson said that if the UK government were sincere about banning live exports, "they should surely welcome a court case that argues that calf exports are already unlawful".
In 2019, we reported an increase in the total number of Scotland's dairy cows, representing a growing trend of fewer but larger dairy herds. Experts warned that the increase could boost ammonia gas pollution, which contributes to millions of deaths worldwide.
A 2018 BBC Scotland investigation found that most calves taken to Spain, in order to be fattened before slaughter, were just three weeks old. The industry said the alternative was shooting at birth the young males, which cannot be used for milking.
Calves no longer reach Spain through Northern Ireland and the Republic of Ireland via the port of Cairnryan in Dumfries and Galloway. Following the BBC probe, ferry firm P&O banned shipping calves over animal welfare concerns. However, the animals are now driven and ferried from Scotland to Spain, via England and France.
While calls for an outright ban intensified after BBC investigation, Gougeon said at the time that live exports were "important for Scottish agriculture" and island communities. "We just need to make sure that it is done as humanely as possible and that we uphold the highest possible standards in animal welfare," she added.
Scottish Greens environment spokesperson, Mark Ruskell MSP, said: "I have long called for an end to the live export of calves from Scotland and reiterate that call again today. While all eyes are understandably on the coronavirus crisis at the moment, I commit to raising this matter with the minister again as soon as practicably possible."
He added: "The Scottish Government should seek to address this serious welfare matter at the earliest opportunity, and ideally before the court is forced to order it to do so."
A Scottish Government spokesperson said: "It would not be appropriate to comment while legal proceedings are ongoing."
Mairi Gougeon's letter in response to Stevenson and Glen
Photos thanks to Eyes on Animals and L214.