The growing size Scotland's dairy herds could boost ammonia gas pollution, which contributes to millions of deaths worldwide, experts have warned.
The latest statistics released by the Scottish Dairy Cattle Association showed an increase in the total number of Scotland's dairy cows and herd sizes.
There are now an estimated 180,293 dairy cows in Scotland across 888 herds, with an average of 203 cows in each. In six months the average herd size has grown by 16 cows, up eight per cent.
According to Professor Mark Sutton, an environmental physicist with the research Centre for Ecology and Hydrology, increases in dairy farm sizes risk creating "ammonia hotspots" – areas where high concentrations of livestock can result in a large buildup of the gas. Emissions are higher when animals are kept mostly indoors and their waste is not stored appropriately, he said.
Ammonia poses a risk to human health, particularly when it combines with vehicle and industrial pollution to form tiny airborne particles that damage the lungs and enter the bloodstream. A 2015 study in the journal, Nature, estimated that particles cause at least 3.3 million deaths globally every year.
On 29 August the Scottish Government published an independent review of its 'Cleaner Air for Scotland' strategy. Professor Campbell Gemmell, who chaired the review panel, said that particulate matter and nitrous oxides from agricultural ammonia and other sources "remain major challenges and need targeted effort."
He added: "The health impacts of air pollution are potentially severe and we must double down on taking coherent action."
Ammonia can also be harmful to the environment. Conservation group Plantlife was concerned that pollution caused by "any further intensification of farming could push many species to extinction".
In June The Ferret revealed how intensive farms were polluting Scotland with increasing amounts of ammonia, which comes largely from animal waste and fertilisers. However hundreds of Scottish dairy and beef farms do not need to report emissions to the Scottish Environmental Protection Agency (Sepa).
Revealed: the intensive farms polluting Scotland with ammonia
Sepa said that dairy farms were not regulated by its Pollution Prevention and Control regime in line with European Union legislation. But it stressed it worked with the industry to "provide clear guidance on management techniques that will reduce the release of ammonia".
A UK government report found that 88 per cent of ammonia pollution was due to agriculture in 2016. Almost half came from beef and dairy cattle, while just over a fifth came from pig and poultry farms. Fertiliser application accounted for 23 per cent.
The UK government's Clean Air Strategy, published in January 2019, promised to regulate intensive cattle farms.
Professor Sutton said: "Dairy farming results in more ammonia emissions per animal because dairy cattle tend to be kept indoors more than beef cattle. If you've got an animal outdoors its urine infiltrates really nicely into a field, resulting in lower ammonia emissions.
"But if you've got an animal in a stable then its urine can't be absorbed by the concrete. That means the more time you've got animals outdoors, the lower the ammonia emissions."
Sutton added that dairy farming "is more intensively managed to be more economical". The sheer amount of food required by dairy cattle feed requires more fertiliser to produce, which results in higher protein grass, more ammonia in their urine and ultimately, more waste.
| County or Area | No. of Cows | No. of Herds | Av. Size of Herd |
| --- | --- | --- | --- |
| Ayrshire | 35,572 | 218 | 163 |
| Dumfriesshire | 34,245 | 152 | 225 |
| Wigtownshire | 30,497 | 134 | 228 |
| Kirkcudbrightshire | 22,905 | 62 | 369 |
| Lanarkshire | 15,620 | 93 | 168 |
| Stirlingshire | 7,079 | 34 | 208 |
| Aberdeenshire | 5,004 | 25 | 200 |
| Kintyre Peninsula | 3,730 | 29 | 129 |
| Fife | 3,698 | 20 | 185 |
| Roxburghshire | 2,988 | 7 | 427 |
| Renfrewshire | 2,784 | 19 | 146 |
| Orkney | 1,966 | 17 | 116 |
| Morayshire | 1,804 | 5 | 361 |
| Argyllshire | 1,711 | 10 | 171 |
| Dunbartonshire | 1,531 | 12 | 127 |
| Angus | 1,503 | 7 | 215 |
| Berwickshire | 1,168 | 2 | 584 |
| Peeblesshire | 1,034 | 3 | 345 |
| Perthshire | 1,014 | 4 | 253 |
| West Lothian | 929 | 10 | 93 |
| Midlothian | 755 | 5 | 143 |
| Clackmannan | 715 | 5 | 134 |
| Kinross-shire | 668 | 3 | 216 |
| East Lothian | 649 | 2 | 313 |
| Arran | 627 | 2 | 130 |
| Shetland | 261 | 4 | 54 |
| Inverness-shire | 215 | 1 | 131 |
| Caithness | 131 | 2 | 63 |
| Ross & Cromarty | 125 | 1 | 120 |
| Banffshire | 120 | 0 | 0 |
| Outer Hebrides | 0 | 0 | 0 |
| Totals | 180,293 | 888 | 203 |
The biggest proportion of Scotland's dairy cows and herds were found in Dumfries and Galloway, followed by Ayrshire and Lanarkshire.
In an analysis of previous statistics released by the Scottish Dairy Cattle Association (SDCA) at the end of June 2018, the National Bovine Data Centre said that the estimated dairy herds in Scotland, 924, was "the lowest number since records began in 1903".
However, the estimated number of cows, 175,928, was the "highest total since 1997" while the average herd size of 191 cattle was also "the highest in history." The latest SDCA data shows a continuation of this trend of fewer but larger dairy operations.
Sutton believes that trends in the Scottish dairy industry have been driven by economics since EU milk quotas, set up in 1984 to prevent overproduction, were lifted in 2015.
The change "created a free for all where the dairy industry has tried to produce as much milk as it could, which has kept milk prices low," he said. "This is tough for smaller producers who are often not as economical as big producers."
Sutton added: "So it doesn't surprise me that following the end of milk quotas, we're seeing the ongoing consolidations of bigger farms – and I think it's fair to say that that's a Europe-wide process as well."
Food justice campaign group Nourish Scotland echoed Sutton's view. Low milk prices for farmers are "indicative of why we've got fewer herds but more cows", said Keesje Avis, the group's senior policy officer and clerk of the Farming for 1.5°C climate change inquiry, which is co-sponsored by the National Farmers Union Scotland (NFUS) and Nourish Scotland.
"If you're going to farm dairy cows and get paid the same amount as it costs to produce milk or slightly more, you put more cows in your shed and maximise opportunities," argued Avis.
"The larger the farm is, the more farmers are able to deal with the price changes they're getting from their processors."
Nourish Scotland is campaigning for a "nitrogen budget" for farms to encourage farmers to keep track of pollutants throughout the entire farming cycle. Nitrogen fertiliser brings "a huge amount of extra emissions" as "the excess nitrogen is converted into ammonia", said Avis.
"So, rather than just regulating what comes out of the end but looking at it as a cycle, we'd be able to reduce not just the immediately accountable emissions but also other external emissions."
The Scottish Greens' environment spokesperson, Mark Ruskell MSP, said: "Retailers continue to push loss-leading high volume milk sales undermining the price to farmers while supermarket regulation has failed to serve the wider public interest.
"The spectre of Brexit trade deals with the US should be a warning that unregulated agribusiness will continue to drive family farms to the wall without intervention from governments."
Ensuring a vibrant future for dairy production in all parts of Scotland is hugely important.

John Smith, National Farmers Union Scotland
NFUS said the SDCA's statistics reflect a long term trend but that new herds had also emerged, showing there was "a great future" for the Scottish dairy industry.
However, the planned closure of Arran creamery and uncertainty around the Campbeltown creamery "show how exposed some of our remote but highly productive milk fields are," said NFUS milk committee chairman, John Smith, a dairy farmer from Kintyre.
"Dairy farming is capital intensive, has high labour requirements and is constantly adapting to legislative change or consumer demands", he said. To thrive, the industry "needs a profitable return" from producing milk.
"Ensuring a vibrant future for dairy production in all parts of Scotland is hugely important, not least because of the significant impact it has on the wider rural economy", Smith added.
While larger farms can result in ammonia hotspots, the amount of emissions depend on the method of farming, according to Sutton.
"A few large farms or many small farms might give the same total emissions," he said. "Hotspots from large farms mean that the local problems are worse, which can be a special concern depending on location in relation to nearby protected habitats."
Sutton urged the covering of manure stores as well as techniques to ensure low emissions from muck spreading. These include injection spreading, where slurry is deposited into disc-cut slots in the soil, or band spreading, where slurry is applied to the ground via pipes.
"The big question is whether they implement these measures. If they don't then the bigger hotspots lead to locally extreme pollution as illustrated by impacts downwind of large poultry farms."
One such example is the 2 Sisters slaughterhouse in Coupar Angus, which The Ferret reported in October 2017 plagued the town's residents with "vile" odours.
Plantlife has called for a greater focus on cutting farming ammonia emissions. "More animals in one place means more concentrated ammonia emissions from slurry and manures" said Jenny Hawley, the group's senior policy officer.
"This kind of air pollution causes direct and severe damage to nearby wildflowers, lichens and other wildlife. The future of Scotland's biodiversity is already very fragile; any further intensification of farming could push many species to extinction."
Animal rights group, Compassion in World Farming, warned that the "increasing intensification" of Scottish dairy farming has come with a rise in "zero-grazing", where cows are permanently kept indoors.
"Scientific studies show that zero-grazed cows are at higher risk of lameness, mastitis and hoof problems than those kept on pasture – also zero-grazed cows are unable to perform their core natural behaviours of grazing and socialising with other cows," said Peter Stevenson, the group's chief policy advisor.
Today's cows are pushed to produce as much as "10,000 litres or more" of milk, he said. "This is a key factor in the rise of zero-grazing as cows cannot sustain such high yields on grass alone. These high yielding cows are being treated as milk machines, not as sentient beings".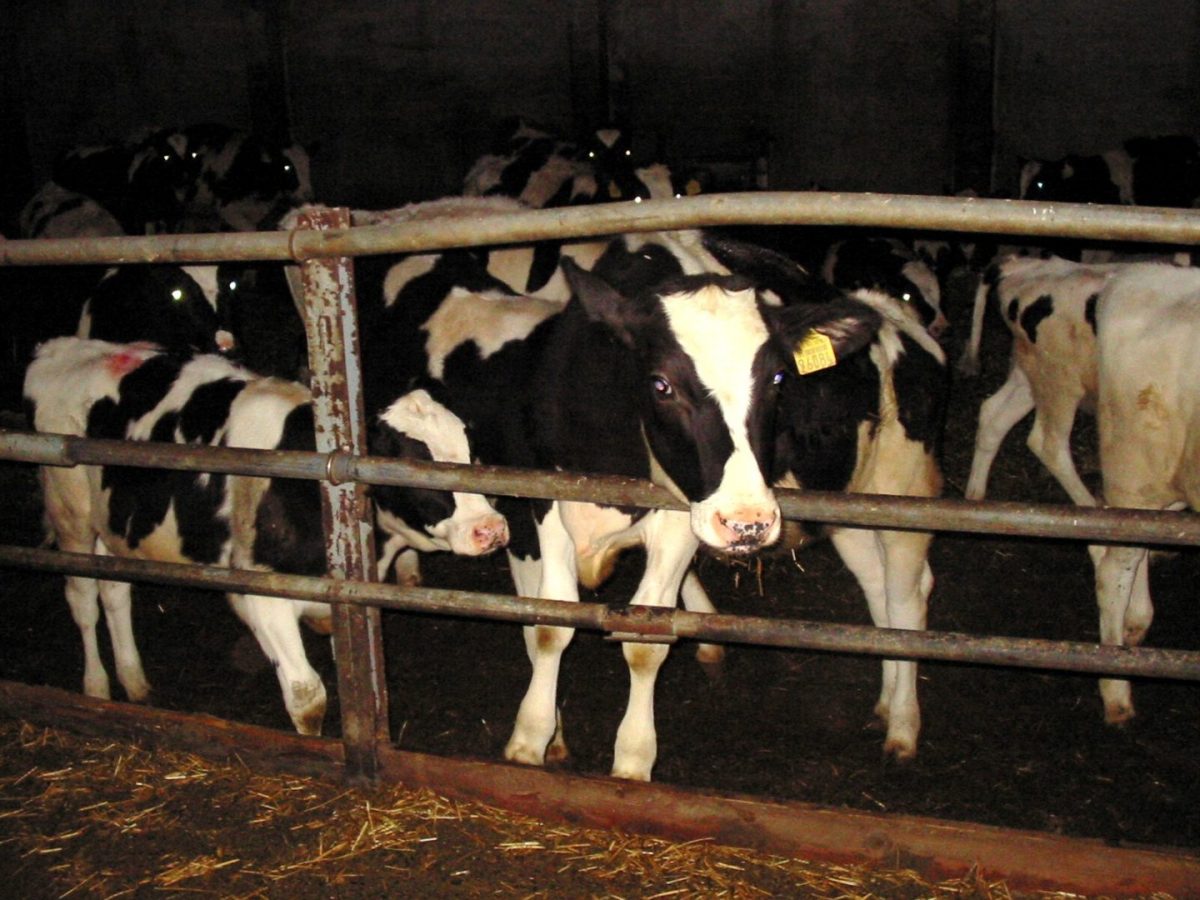 The Scottish Government stressed it was working closely with the agricultural sector to encourage and promote best practice in key areas of farming.
A government spokesperson said: "We take the welfare of all animals very seriously. A regular inspection regime is in place in Scotland to ensure that all animal welfare rules are adhered to, and appropriate enforcement action will be taken where there is any breach of those rules."
The government was "committed to delivering reductions in both air pollutants and greenhouse gas emissions, in order to improve local air quality, promote biodiversity and to help fight the global climate emergency," the spokesperson added.
The Scottish Environment Protection Agency stressed that it was working with the dairy industry to reduce environmental impact, and that there were many opportunities for good practice and technology enhancement. The agency's sector plan for dairy production focused "specifically on further actions that can reduce ammonia emissions from agriculture," said a spokesperson.
Header image thanks to Max Pixel, and other photos thanks to Cgoodwin and Maqi, both CC BY-SA 3.0, via Wikimedia Commons. This story was published in tandem with the Sunday National.