The "world's biggest" explosive plant, an ammunition store, sprawling opencast coal mines, railway networks, and RAF airfields make up Scotland's largest derelict plots of land, according to official data.
With more than a quarter of the Scottish population estimated to live within 500 metres of a derelict site, the Scottish Government uses data collected by local authorities to publish an annual register to monitor the issue.
In the 2022 survey, the latest available, 3,277 vacant and derelict sites were listed – 80 per cent of which were derelict. They collectively made up 9,512 hectares of Scotland's land – around 36.7 square miles.
Land and buildings are considered to be derelict when they are so damaged that they are incapable of development for beneficial use without remediation.
The amount of derelict land – and vacant land in urban areas – collectively fell by 3 per cent compared to 2021, and by 27 per cent since 2016.
The 10 largest sites account for 2,219 hectares –23 per cent of the total – were mostly in rural, or semi-rural areas, and have collectively lain derelict or disused for nearly 200 years.
Having first looked at Scotland's largest vacant and derelict sites in 2020, The Ferret revisited the issue to find out what, if any, regeneration work is ongoing to bring the current roster back into use.
1. Eastriggs ammunition depot, Dumfries and Galloway – 432 hectares
This MoD-owned former munitions site near Annan stored rockets, bombs, missiles, and bullets, which would arrive by train via tracks that linked the depot to the rail network.
The ammo store was shut by the MoD in 2010 and deemed derelict by Dumfries and Galloway Council in 2020.
In 2021, the London-based Rail Sidings Ltd applied to house locomotives and other rail-related vehicles and equipment at the depot, which the council conditionally approved.
Rail Sidings did not respond to requests to comment about current activity, but the MoD confirmed it had leased the site to the company since June 2023.
The council and the MoD said the site would be included in an upcoming local plan, with hopes to sell it for mixed use development in 2025.
2. Ardeer, North Ayrshire – 331.5 hectares
Ardeer Peninsula was once home to the world's largest explosive factory which was opened in 1871 by the inventor of dynamite and founder of the Nobel Prize, Alfred Nobel. After producing explosives for both world wars, it was deserted in the 1980s and became derelict in 2005. Three smaller derelict sites at Ardeer total 56.5 hectares.
Explosives firm Chemring Energetics bought 149 hectares of the site in 2010 to produce materials and devices for defence, security and commercial markets. It recently invested in "modernised buildings and infrastructure", with a further £45m investment in a new facility, said a spokesman.
The surrounding land is owned by developers NPL Group, which signed a deal in 2019 with North Ayrshire Council to regenerate the peninsula. Initial proposals included new homes, businesses, tourism attractions, and a road bridge linking Ardeer and Irvine.
But the council said the "main focus" has been on enhancing the harbourside for the local community, tourists and visitors as part of the Great Harbour Project around Irvine.
NPL said it applied to erect two wind turbines to attract industry requiring on-site green energy following an unsuccessful bid to host a STEP fusion electricity plant. It had also put up 4,000 metres of fences, removed pipework containing asbestos and was removing steelwork around a disused plant.
3. Port of Ardersier, Highland – 255 hectares
The former oil fabrication yard on the Moray Firth reportedly opened in the 1970s and employed around 4,500 people at its height before closing in 2001 and falling into dereliction.
Haventus Limited is set to become the port's owner and claims it is one of the largest brownfield ports in the UK. Its website promises more than 3,000 energy transition jobs, at full utilisation, to support the rollout of offshore wind energy projects.
US equity firm, Quantum Energy Partners, promised to invest an initial £300m to help drive redevelopment. In June, the port joined a 'green freeport' consortium alongside an energy group, Highland Council, the University of the Highlands and Islands, Highlands and Islands Airports, the Inverness Chamber of Commerce and other ports.
Freeports are areas where goods can be imported, made into products, and re-exported without the country's usual tax and tariff rules, and without the usual checks and paperwork. Tariffs only apply if the goods are sent elsewhere in the UK.
Proponents say freeports encourage economic activity and create jobs, although trade experts said their impact in the UK would have limited impact. Tax campaigners warn freeports enable tax avoidance, money laundering and other financial crime.
In Scotland, so-called green freeports have a stated aim of meeting net zero targets.
4. Bogside, Irvine, North Ayrshire – 222 hectares
Another site formerly owned by Nobel Industries sits across the River Garnock opposite the former dynamite factory on the Ardeer Peninsula. It borders the Bogside Flats Site of Special Scientific Interest.
Having become derelict in 2005, the site is also owned by NPL, which said the company would be included in its regeneration efforts.
The council said it did not own any sites at Bogside. "However, where possible we are keen to work with private landowners to help regenerate these sites and to consider how they can contribute to improving the wider area," a spokesperson added.
5. Benbain Remainder, Chalmerston, East Ayrshire – 194 hectares
This opencast mine became derelict in 2013 following Scottish Coal's liquidation and its ownership returned to Forestry and Land Scotland (FLS), which has been working with East Ayrshire Council to regenerate it.
In 2020, the council said there were proposals to build a wind farm on the site, alongside restoration efforts to improve health and safety.
In September, FLS said it had met all of its health and safety obligations. The wind farm had not yet been completed but a restoration programme would begin once it was up and running.
David McDowall, the council's head of economic growth, said Hargreaves Land Limited carried out restoration works on the area of the mine the company owned during 2021.
The wind farm had been approved by the Scottish Government in 2022, and works were expected to be completed in two years. Restoration works would then commence, and were also expected to take two years.
6. Disused Railway Lines, Angus – 165 hectares
These former railway lines in Angus are owned by Network Rail and were run by unnamed railway franchise holders while operational, according to the survey.
In 2020, Angus Railway Group told The Ferret the site appeared to be the Strathmore line, which ran from Perth to north of Montrose, through Coupar Angus, Forfar and the Bridge of Dun. It closed to passengers in 1967, but was partly used for freight until the early 1980s.
Network Rail did not respond to requests to comment. But in 2020, it said it owned a number of unused sites in Angus, but would not class them as derelict as it may use them as freight yards. "We work hard alongside our regulator, The Office of Rail and Road, to manage our estate and free-up land for other uses whenever possible", a spokesperson added.
An Angus Council spokesperson said it commissioned a feasibility study into repurposing the land for active travel routes following suggestions from the public during a consultation. However, there were "no plans to progress this proposal".
7. Baldoon Airfield, Dumfries and Galloway – 164.7 hectares
Since closing in 1948, the former RAF Wigtown WW2 airfield has now been derelict for at least three decades. The MoD told The Ferret it is no longer the owner.
In 2015, Green Hedge Renewables planned to build a solar farm at the site, but in 2020 told The Ferret the plans had been scrapped.
The size of the derelict site has been reduced slightly from 184.5 hectares since 2019.
Dumfries and Galloway Council said the reduction was owed to "some new development on an industrial estate on part of the site" but there had been no recent planning applications on the remainder.
8. Edzell Airbase, Aberdeenshire – 160 hectares
Once known as RAF Edzell, the former airfield served both world wars. It reportedly housed 800 aircraft during WW2, became a US 'spy base' during the Cold War and had 3,000 personnel stationed before it closed in 1997, after the Soviet Union fell.
A title deed shows the airbase, which is now Scotland's largest vacant – rather than derelict – site, is owned by the Dunfermline-based Edzell Base Limited, which The Ferret could not reach. Aberdeenshire Council said planning applications it had granted to bring the site back into use had stalled.
They include residential and commercial developments, and community facilities, while a decision on the erection of a wind turbine and associated infrastructure was pending.
The council's local development plan, published in January 2023, shows that plans for the site include the construction of 300 houses and 53 hectares of employment land.
9. Benbain Remainder North, Chalmerston East Ayrshire – 138 hectares
Part of a sprawling opencast coal mine, the council approved a wind farm due to be built on the site by 2025, followed by a two-year restoration programme.
10. Benbain Remainder, Chalmerston, East Ayrshire – 110 hectares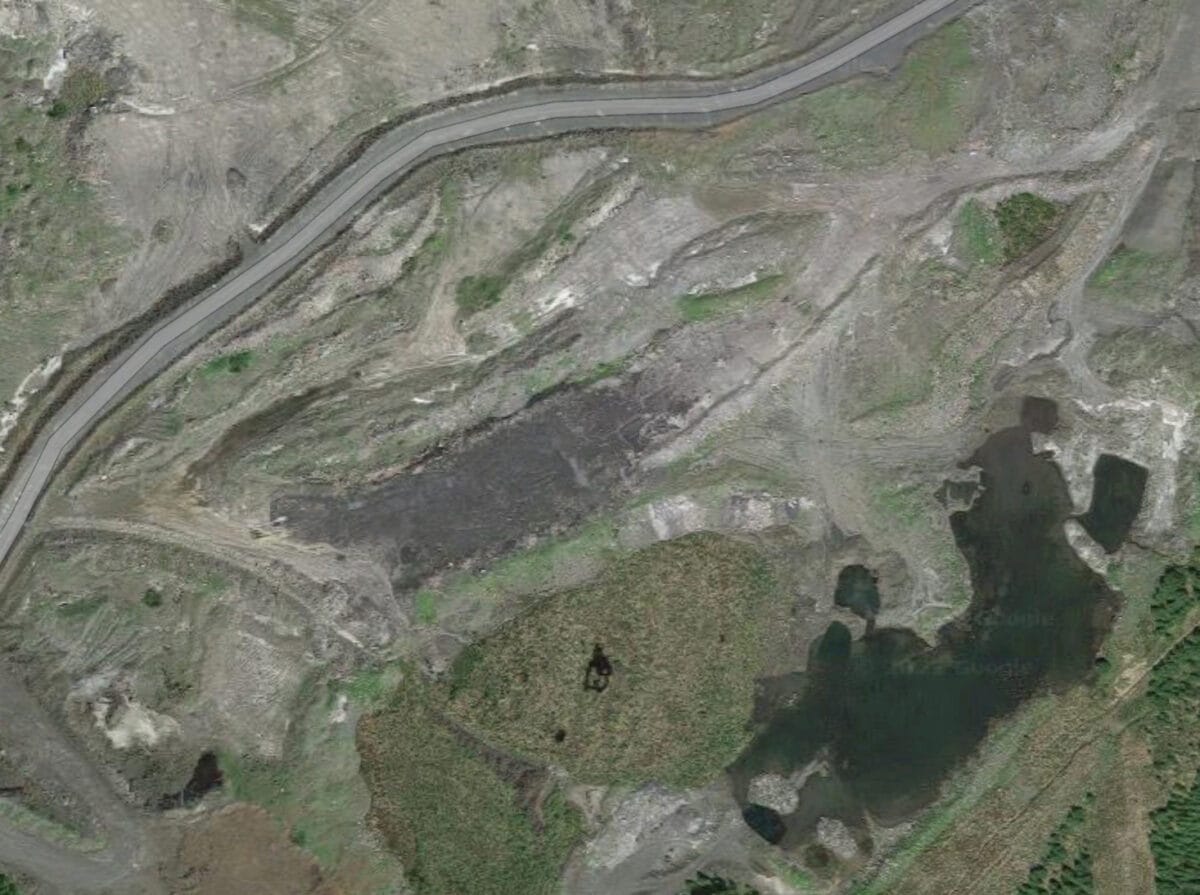 This separate plot is again part of the wider opencast mining site.
Former large derelict sites
In 2020, The Ferret looked at the 10 largest vacant and derelict sites from the 2019 land survey. Following regeneration work, the derelict parts of three of those sites have drastically reduced in size, according to the latest survey.
Fearn Airfield, Highland
Once Scotland's largest derelict site, 386 hectares of the airfield near Balintore were considered derelict in 2019, compared to just 17 hectares of the site today. The site was reportedly built in 1941 by the RAF, taken over by the Royal Navy, but handed back after WW2 ended.
The MoD confirmed it no longer owns the airfield, which lay derelict for more than four decades.
A title deed shows that 129 hectares of the site were purchased by J Scott & Partners in 2016. The firm told The Ferret in 2020 that the runway was used for storage and the land was used for growing crops and grass as part of Fearn Farm.
Fendom Airfield, Highland
Reportedly used by RAF Tain as a weapons range and WW2 airfield, the site opened in 1941 and became derelict by around 1980. In 2020, the MoD said it sold off part of the site, with the remainder used for training.
In 2019, 295 hectares were considered to be derelict, compared to 74 today. Highland Council said significant areas of both Fearn and Fendom airfields no longer qualify as derelict, as they were used for "a variety" of purposes including storage and agricultural use.
Powharnel Murikirk, East Ayrshire
Once called Scotland's Grand Canyon, the opencast coal site near Cumnock closed in 2013 when Scottish Coal went bust. Along with other East Ayrshire sites, these closures added 2,217 hectares of derelict land to the land survey in 2014.
This 246 hectares site became a deep loch, risking pollution, flooding and accidents. But the site was restored by subsidiaries of the Scottish Mines Restoration Trust.
Our methodology
For each site, we aimed to find the current owner, historical usage, and if any remediation plans were in place. We contacted local authorities, former owners, developers and others, or used coordinates from the Scottish Land Survey to locate sites via Registers of Scotland.
In most cases, coordinates led to a plot of land smaller than was listed on the survey and in some cases, larger. Some were also surrounded by other individually-owned plots or unregistered swathes of land, making it difficult to track down ownership.