A refugee charity is raising fears about asylum accommodation after a traumatised family was placed in a boarded-up block of flats on the edge of a derelict and abandoned estate.
The asylum-seeking family with children was placed by housing provider Mears Group in Port Glasgow, in a dilapidated building beside the "terrifying" Clune Park estate, first earmarked for demolition in 2011. Only a handful of people still live there.
Only one other tenant lived in the block where they were housed. Their isolated and partially boarded-up block faced onto a derelict church and burnt-out abandoned buildings with smashed windows.
Inverclyde Council claimed the block where the family was housed was not officially part of what it has earmarked as a "regeneration area". It was in one of two blocks on the edge of the notorious estate.

Mears said it rehoused the family when concerns were raised and claimed there was an "acute shortage" of available housing.
But Glasgow refugee charity Community Infosource said the block, while well maintained inside, felt like part of the abandoned area and was isolated and frightening. It claimed it was only when it raised the issue with the Home Office, claiming the family was terrified, that the UK Government instructed Mears to move them.
The charity claims other people could slip through the net and end up in unsuitable housing without the knowledge of refugee advocates. Under new Home Office agreements, asylum seekers will be housed across Scottish local authorities.
But many other areas do not have the same support networks as Glasgow, which housed asylum seekers under the Home Office dispersal scheme from 2000 until 2020.
Mears, which has a £1bn contract from the Home Office to house asylum seekers in Scotland, Northern Ireland and Yorkshire, is currently seeking so-called "dispersal accommodation" for asylum seekers in local authority areas including Edinburgh, Perth and Kinross, Aberdeen and Moray.
It previously provided flats in Glasgow with "contingency" hotels used in towns across Scotland for those it could not house. Some have been living in basic hotels – where they have meals provided but receive just £8.24 per week – for over a year.
But the charity says the latest example of "horrifying" housing should serve as a warning that checks and balances – which should include sign off by the local authority and the Home Office – are not working.
The family involved has not spoken to The Ferret. But Sheila Arthur, a director of Community Infosource, which runs the Asylum Seeker Housing (ASH) project, said they had been in contact with the charity "by complete chance" on the morning they were moved from a hotel where she and colleagues had been running a drop-in.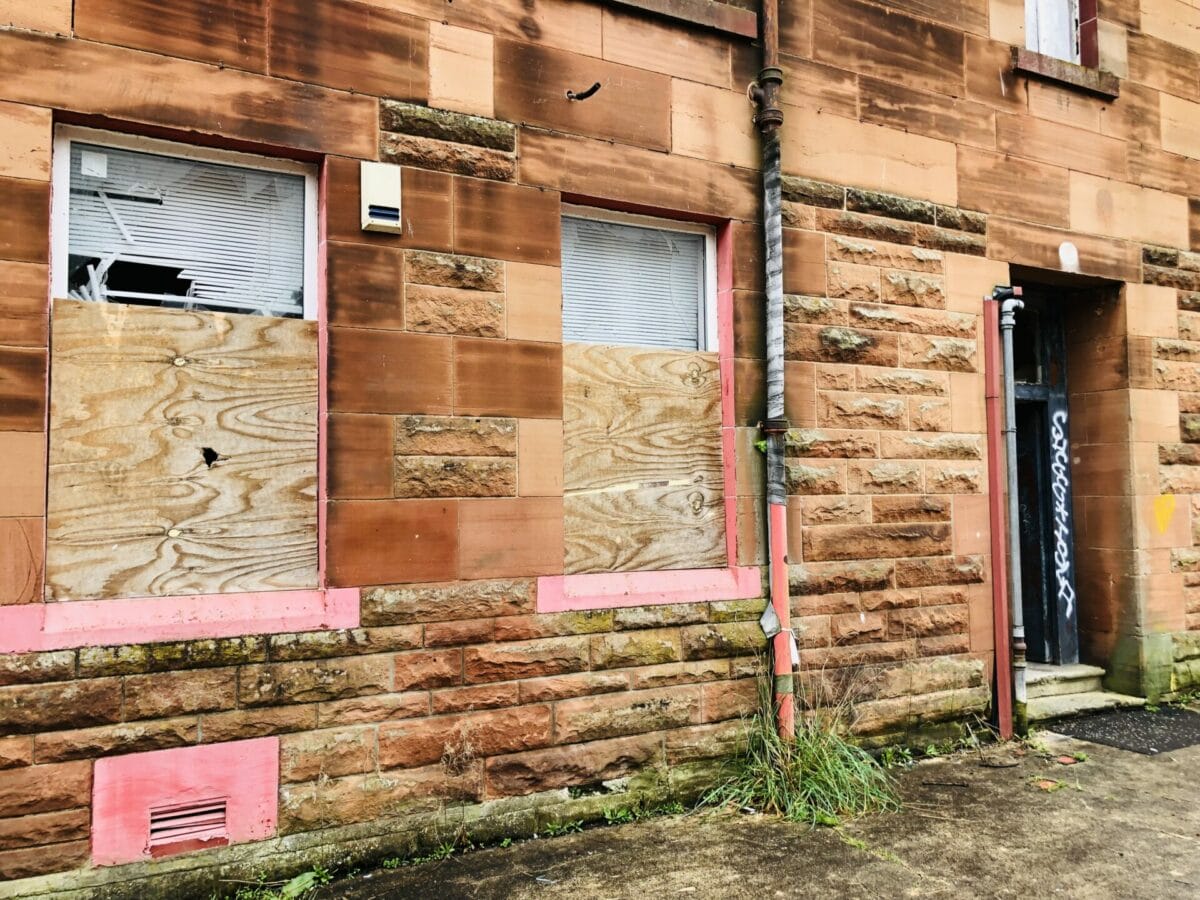 She claimed she was "horrified" when she visited the area. According to the local authority website, Clune Park estate, which sits alongside the block where the family was housed, has the highest rate of below tolerable standard (BTS) housing in Inverclyde.
Fewer than 10 per cent of flats on the estate are lived in and many of the 45 buildings are wholly unoccupied.
The estate dates back to 1905 and once housed shipyard workers employed at the nearby docks, but has been largely abandoned since 1997. The council is attempting to pursue a compulsory purchase order to build new homes on the site.
"We have no idea how anyone could think this was suitable accommodation for a traumatised family," added Arthur. "I can't imagine you would house anyone in an area like this, actually. Out of the six flats in their block only one had someone living in it. Everything all around them was boarded up and derelict.
"The family just felt terrified and very alone. It was really scary."
Just days after they moved in, the tenantment close [common area] was broken into and lock damaged, leaving them, Arthur said, too frightened even to go to the shops.
Though the family have now been successfully re-housed, she claimed it highlighted potential problems in towns across Scotland where isolated asylum seeking families may not know where to turn for help.
Currently many local authorities have long waiting lists for housing with people in the homeless system spending months or even years in temporary accommodation, making suitable housing hard for Mears to find.
"Our concern now is that as people are going to be moved into different towns across the country, there are not adequate checks in place," added Arthur.
"The Home Office moved this family when we raised it. But how did this happen in the first place and will something like this happen again? We need to see proper plans in place for widening dispersal."

Graham O'Neill, policy manager at Scottish Refugee Council, said the placement of the family in Port Glasgow was "not an isolated incident" but part of a "litany" of "unacceptable" decisions taken over asylum housing.
"It stems from a Home Office system which does not have adequate safeguards to sufficiently prevent inappropriate or unsafe housing or areas being approved to accommodate traumatised refugees," he said.
"The truth is neither the bosses in the Home Office and Mears, nor those in positions of power in our local authorities or Police Scotland would countenance living in such an area. At root this case is another shocking illustration of a deep power imbalance.
"We cannot go on like this. We need procurement decisions that involve refugees and meet human rights standards. There is absolutely no good reason not to do it, and swiftly."
Paul Sweeney, Labour MSP and convenor of the Scottish Parliament's cross party group on migration, said it was "scandalous" that this family had been moved into the dilapidated area.
He added: "It should never have been allowed to happen, and I would encourage all local authorities who have a responsibility to ensure that asylum seeking families are provided with housing appropriate to their needs and to make sure that situations like this don't arise in the future.
"Thankfully it has been rectified on this occasion, but the point remains that this vulnerable family should never have been put in this predicament in the first place."
A Mears spokesperson said it was "constantly working to identify accommodation, in a context where there is an acute shortage" and claimed its aim was to help people move on from hotels as soon as possible.
"There are protocols in place for properties to be reviewed by local partners and this was followed," they added. "Mears role is to assess the accommodation itself and make sure it meets contractual standards, which was the case.
"When Mears was informed that the family were requesting a move, we arranged for alternative accommodation as quickly as possible."
An Inverclyde Council spokesperson added: "We are not responsible for asylum applications or asylum accommodation so cannot comment on matters relating to this. However, we give the appropriate support to those at the hotel and our partners in line with our statutory duty and guidance from COSLA and governments."

The Ferret requested a comment from the Home Office.

All video and images © Humam Husari