A member of a now defunct group branded neo-Nazi has been active in a new far right political organisation called Homeland, The Ferret can reveal.
Tayside-based James Munro of the Scottish Nationalist Society (SNS), attended Homeland's summer camp in June this year.
Munro and another former SNS member, Jordon Murphy, also joined far right activists at a Scottish demonstration against asylum seekers in Erskine, Renfrewshire this year.
During his time with SNS, Munro shared racist and white supremacist views and the group's content on social media, including an image of himself performing the Nazi salute while holding the group's flag.
Politicians responding to The Ferret's findings have branded Homeland "a disgrace". One MSP has written to the justice secretary asking what actions the Scottish Government is taking in light of Homeland's Erskine demos.
Anti-racism campaigners claimed Homeland and its predecessor, Patriotic Alternative Scotland, of using concerns about the housing of asylum seekers in hotels to promote their own agendas.
But Homeland dismissed SNS – which was active throughout 2020 – as a "cranky little group" that disbanded prior to Homeland's formation. Munro had been involved as a "disenfranchised" teenager but had since "grown up", it claimed.
A spokesperson argued that Homeland chairman Kenny Smith had "a long history of guiding people away from extremist fringe groups" and "into community politics instead". His group had acted "lawfully and peacefully", and politicians' comments showed "contempt" for differing opinions, they added.
Earlier in October, The Ferret revealed Homeland members had gained seats on Scotland's community councils, prompting politicians to urge the heads of local authorities to investigate.
Munro, SNS and Homeland
Munro posted SNS propaganda on his Facebook page throughout 2020, as well as images of him attending the group's demos, and posing with its flag. In one image, Munro is performing the Hitler salute outside a cafe, which, like SNS, incorporated the commonly used ancient celtic triskele symbol into its logo.
Also pictured performing the Nazi salute was Jordon Murphy, another former SNS member who shared the group's materials on social media and attended its demos.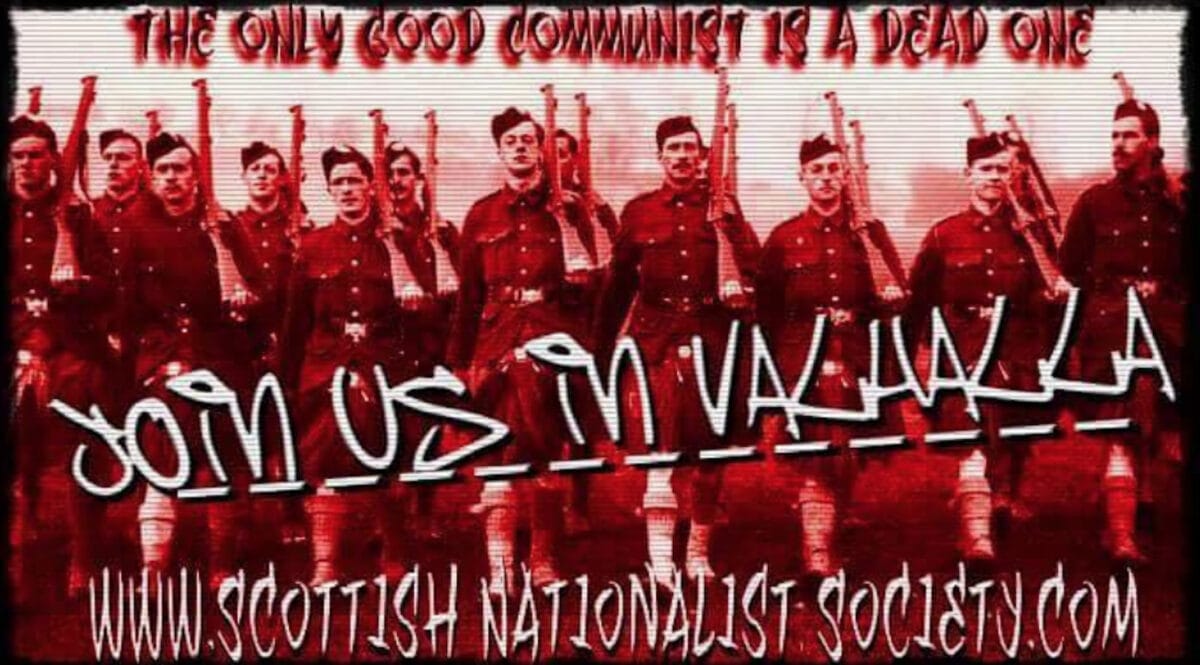 SNS's social media pages once stated that it worked with the far right Scottish Defence League. "When nationalists realise that Jews are the only problem only then will we see victory", one anonymous SNS activist said in a 2018 social media post.
Munro previously stated on his Facebook page that he was from Dundee and lived in Auchterhouse, Angus. Murphy previously claimed to be from Clydebank, West Dunbartonshire, but his Facebook page now claims he is from Falkirk, studied at Falkirk High School, and still lives in the town.
Much of SNS's publicised activity was in Dundee and the Tayside area. Anti-fascist group Stand Up to Racism Tayside claimed at the time that SNS targeted Dundee University's school of business due to its high proportion of overseas students, after the far right group put up stickers on lamposts outside the building.
Munro previously posted on social media declaring he was "getting really into Fashwave" – a fascist-themed synth music sub-genre.
He also followed a group called "New Developments in Fascist Theory" and included in his bio the white supremacist slogan "We must secure the existence of our people, and a future for white children".
Both Munro and Murphy can be seen in images and video footage of an anti-asylum seeker demo in Erskine, Renfrewshire, filmed earlier in 2023. It was organised by PA Scotland when Kenny Smith – who later led a splinter group to form Homeland – was still at the helm. Munro and Murphy posed with PA Scotland banners while Munro addressed attendees via a megaphone.
Munro was later pictured alongside Smith and Simon Crane – another prominent far right activist and an East Calder community councillor – at Homeland's summer camp in the Derbyshire Dales in July.
MSP: neo-Nazi groups… 'know only hate'
Héctor Sierra, an activist with Stand Up To Racism, which has held counter demos at Erskine, said The Ferret's findings vindicated that it was right for anti-racists and anti-fascists to "mount a mass campaign from the outset with local residents, trade unionists and campaigners to defend the hotel".
Protests opposing the housing of asylum seekers were "largely orchestrated" by Homeland and PA Scotland, rather than "prompted by so-called 'legitimate concerns'", he claimed.
"It underlines the danger of politicians failing to speak out against the threat of the far right in our communities and local authorities failing to take action to put an end to the harassment and intimidation asylum seekers have been subjected to."
Local politicians condemned the far right demonstrators.
Renfrewshire North MSP, Natalie Don, who represents Erskine, said: "It comes as no surprise that some of those opposing the asylum seekers are from neo Nazi groups. They know only hate and are not welcome in Erskine, Renfrewshire or anywhere else in Scotland."
She added: "I've offered [asylum seekers] support and have contacted various authorities on their behalf to try to ensure that the asylum seekers are supported and protected from… demonstrators who are trying to intimidate them."
West Scotland Labour MSP Katy Clark said: "It is concerning that individuals with such dangerous extreme connections are allegedly active within Scotland's biggest far right groups."
Clark added: "Asylum seekers should be welcomed in our society and I have attended anti-fascist demonstrations at Erskine to make it clear that the far right do not speak for the overwhelming majority of those in the local community.
"Given the seriousness of these allegations, I will be writing to the Scottish Government's cabinet secretary for justice, Angela Constance, to ask her what steps the Scottish Government will take alongside Police Scotland in light of ongoing far right demonstrations against asylum seekers in Erskine".
Homeland said SNS was a "cranky little group" that "was disbanded many years ago".
"When he was a teenager, James Munro flirted with those types; led astray as many disenfranchised young boys are, when not taught about sensible nationalist politics. To his credit, he binned them long before we formed and he has grown up," a spokesperson said.
"The Homeland Party is dedicated to serious community politics and educates it's [sic] members to steer clear of fringe groups and the Walter Mitty fanaticism they promote. The state and media oppression of legitimate political discourse is what generates these fringe groups. Kenny Smith has a long history of guiding people away from extremist fringe groups; encouraging them to get into community politics instead.
"Stand Up To Racism are using the ancient history of a then-wayward teen to justify some nonsense about their divisive presence in Erskine. It is well known that Homeland Party members have conducted themselves lawfully and peacefully in Erskine".
They added: "Natalie Don's view appears to be [that] Scottish people are not welcome in Scotland if their views don't align with hers, but the migrants [are] always welcome. The suggestion that migrants need even more protection shows her allegiance.
"Katy Clark's unhinged suggestion that [the] Scottish Government and police need to oppress peaceful protests in Erskine shows her contempt for any opinion other than her own, especially given that similar protests in other places have been successful in getting hotels or camps shut down."
James Munro, Jordan Murphy and PA Scotland did not respond to requests to comment.