Newly released video footage shows salmon apparently suffering from deformity and disease at a Highland fish farm certified by leading animal welfare and environmental bodies.
The footage, obtained by the WildFish conservation charity, was captured in June 2023 at a salmon farm at Invasion Bay in the Highland area of Ardgour.
The site – owned by the Norwegian fish farming multinational Mowi – is certified by RSPCA Assured and the Aquaculture Stewardship Council (ASC), and registered with the Soil Association.
The footage, which shows salmon with damaged or missing eyes, and chunks of flesh missing, was released alongside a new WildFish report. It alleges serious welfare issues at farms across Scotland, which it claims breach the certifiers' rules.
WildFish accused the certification organisations of misleading customers by allowing them to believe welfare standards were upheld and helping salmon firms in "greenwashing" their image.
The certifiers promised to investigate and said they took the claims seriously. Mowi said its farmers were supported by vets and others to promote fish health and welfare. "Physical abnormalities" were "very rare" and unrepresentative of its wider fish stocks, it stated.
ASC told The Ferret on 14 September that it was still investigating the claims made in the report and declined to comment in the meantime. It did not respond to subsequent requests to comment.
WildFish studied the certifiers' policies on mortality rates, chemical use and tolerance of sea lice. Sea lice are parasites which eat fish alive, can transfer from farmed fish to wild fish, and prove fatal for juvenile wild salmon.
In January, we reported that ASC increased the threshold of sea lice allowed on farms it accredits by fivefold.
However, WildFish shared communications with ASC in May alleging that four farms had all surpassed the sea lice threshold, yet remained certified. ASC told WildFish a "veterinary exemption" clause in ASC's rules meant the rules had not been breached.
The WildFish report also highlights that farms designated by the Soil Association allow the use of certain medicinal chemicals to treat fish at farms it certifies as organic. This includes deltamethrin, a chemical used to treat sea lice, but which can also contaminate surrounding waters and potentially kill lobsters within a nearly 25-mile range.
The Soil Association said medicine use was strictly controlled, adhered to organic standards and used only as a last resort to protect fish welfare.
Salmon farm certifiers 'failing dismally'
WildFish claimed certifiers "endorse" farms which have "clearly breached the requirements designed to protect both farmed and wild fish welfare".
"Certification bodies and supermarkets have a fundamental duty not to mislead customers on the reality of farmed salmon, but it appears they are failing dismally on this," said Rachel Mulrenan, the WildFish Scotland director.
Scotland's salmon farms presided over a record 16.5m deaths in 2022 – nearly double that of 2021.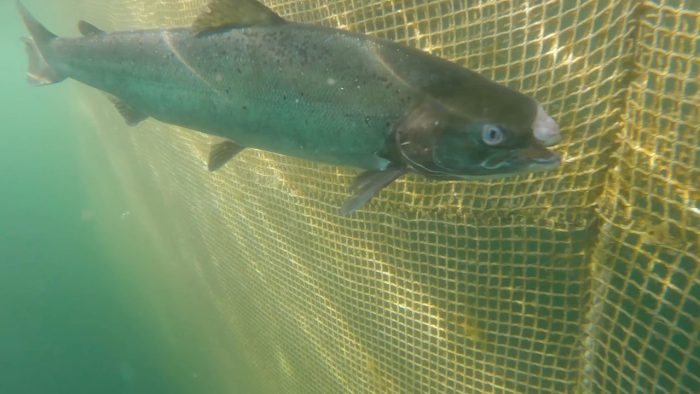 Mulrenan claimed her charity's research indicated "a systemic failing of certification schemes such as RSPCA Assured and ASC to both implement meaningful requirements, and then to enforce these".
She added: "If these schemes aren't going to properly hold the industry to account, then their existence risks being little more than a greenwashing operation."
RSPCA Assured confirmed it certifies the Mowi's fish farm at Invasion Bay where deformed salmon were filmed. "Any allegations of poor welfare and standards breaches on RSPCA Assured certified farms are taken very seriously and looked into as standard practice," said a spokesperson.
"Our specialists will thoroughly look into the concerns raised by the report and footage."
The Soil Association Certification said its response to specific claims from WildFish could be found in the group's report.
A spokesperson added: "WildFish has inadvertently identified salmon featured in its report from a farm visit to Invasion Bay in June 2023 as organic. They are not. The fish stock filmed do not have organic status. However, the site remains registered with the Soil Association.
"Soil Association Certification takes welfare concerns very seriously and will carry out a further investigation."
A spokesperson for Mowi said: "The health and welfare of our salmon is taken very seriously, with a team of fish health professionals, veterinarians and third-party animal welfare organisations providing oversight and support to our farmers who care daily for their fish. While physical abnormalities in fish are very rare, they can unfortunately occur in large populations of animals.
"Our farmers are trained to identify and humanely remove fish found in distress at the earliest opportunity. These rare occurrences certainly do not represent the overall health status of the fish population on our farms, as evidenced by our high (95+ per cent) grade of top-quality 'superior' salmon when they are taken from the farm to market."
Dr Iain Berrill, head of technical at industry body Salmon Scotland echoed Mowi's points.
He said: "The health and welfare of our salmon is taken very seriously, with teams of fish health professionals and veterinarians providing expert oversight and support to our farmers who care daily for their fish.
"Independent third-party certifications provide an important framework for salmon farmers to go beyond their statutory responsibilities to meet the highest animal welfare and environmental protection standards anywhere in the world."
Header image thanks to WildFish