[dropcap]E[/dropcap]yad (27) prepares coffee for his family: his young wife Nora, her young brothers and his mother-in-law, Semaher. "Syrian coffee tastes nothing like Turkish coffee because it has spices in it", he says.
He buys it from a special Syrian shop down the road. Many Syrians live in this part of Istanbul in Güngören. Eyad has short curly hair and kind brown eyes, well-built with a short stature. Together with his family, he left their home in Aleppo, Syria, but their hearts are still there in the house with the small garden. They miss their little 'paradise' – the memories are everywhere.
While Semaher is drinking her coffee, she tells the story of her husband, who lost his life in the conflict. As she talks about Syria, there is a pain in her voice and her face reveals sorrow and grief.
She is still mourning. Moving on is difficult for them; Eyad is playing Youtube videos showing the violence back home, as if he needs to prove that they had no choice but to flee.
Out of the five people in the flat, one goes to school while the other four have to work.
They all leave at 8am and come back at 9pm, sometimes even 11pm. "We just have to work", he says sadly. In April, Eyad's salary from the factory was 1200 Turkish lira (£290), exactly the same as his rent. Eyad is one of the many highly skilled Syrian refugees fighting to survive in a country where he feels he has no rights.
He is one of the 2.9 million Syrians who fled to Turkey. Like most, he dreams of going to Europe. Many have already made it, making the headlines in global news.
But what about the ones left behind, left with their memories of a lost paradise in a country that doesn't want them? Understanding why people take their children and jump in a rubber boat, making a journey that can kill them, means looking at the economic conditions in Turkey and the strategic chess playing of European political leaders.
'Refugees' in camps and 'Guests' in cities
[dropcap]E[/dropcap]yad's status as a 'refugee' in Turkey can be disputed, because Turkey doesn't consider all Syrians as refugees. There is a crucial difference between people living in camps and people living in the cities. Those outside camps receive the status of 'guests'.
Only 10% are considered refugees: around 2.6 million Syrians live in the cities. Eyad and his family didn't want to stay in the camps, because they wanted to work and provide education for their younger brother.
Since 2014, Turkey has been issuing identity cards for Syrian refugees outside camps which, in theory, give them access to more services like education, health-care and jobs. The identity cards (Kimlik) help provide a more accurate number of the refugees living outside camps. However, many live without papers in the cities.
Ferhad (34), a Kurdish Syrian who escaped to Holland, tries to explain the complex, unpractical bureaucracy he had to face during his 2 years living in Antakya, Turkey, a small city at the border with Syria.
"It was very strange", he starts "first when we arrived we had some kind of residency, but without any identification, just for one year, then they changed everything". Ferhad had to get a registration card which he describes as a piece of paper containing his fingerprints and a black and white photo of him.
The politics in touristy Antakya are hostile to Syrians, so theoretically refugees are not allowed to live there, so it wasn't easy to get a registration card there, explains Ferhad. Many create a fake address in other cities like Gaziantep or Mersin, just to get residency in Antakya, which cost around 3-400$ in 2013.
You can get residency in two ways – tourism or work residency, which are both "very hard to get" according to Ferhad.
Ferhad used to work for the international NGO Jesuit Refugee Service (JRS) providing help to Afghans, Iraqis and Iranians inside Turkey, but not to Syrians, "because 90% are not registered as refugees" and the rest live in camps to which JRS didn't have access to, he explains.
Turkish politicians are divided on the status of Syrians. The People's Democratic Party (HDP) Migration and Refugee Commissioner Gülsüm Ağaoğlu believes the status of Syrian refugees as 'guests' in Turkey "is open-ended and has no meaning. This implementation makes Syrians feel that they have no future and fate in Turkey".
The Turkish state contravenes the Geneva Convention by recognizing only people from European countries as refugees, but not Syrians who, after all, are escaping a war Turkey is responsible for starting in the first place, adds Ağaoğlu. She believes Turkey is using this issue as a political leverage against Europe.
You cannot integrate easily 3 million people, who arrive in the country all of a sudden. You can't even integrate them into the culture or geography

Mehmet Bülent Karataş, Nationalist Movement Party (MHP) Istanbul Chairman
Nationalist Movement Party (MHP) Istanbul Chairman Mehmet Bülent Karataş is of another opinion: "You cannot integrate easily 3 million people, who arrive in the country all of a sudden. You can't even integrate them into the culture or geography".
HDP, pro-Kurdish and pro-minority is the 4th largest party in Turkey. Whereas MHP, 3rd largest, is a far-right political party that adheres to Turkish nationalism and opposes the EU. Karataş believes no country could integrate such a large amount of people so fast and Turkey needs time to get used to having 3 million Syrians within its borders
"The Turkish government describes the refugee camp here as a "temporary residence" for the country's Syrian guests, but very little about it looks temporary", starts a New York Times article from 2011. The situation hasn't changed much, except now Turkey hosts not 19,000, but 2.9 million Syrian 'guests'.
Even after 5 years of 'getting used to' having more and more Syrians in the country, Turkey has no power to integrate them into the workforce – "that is clear", says Karataş.
Waste of Skills
[dropcap]B[/dropcap]ack in Istanbul, the streets in Aksaray are bustling with life. Some are rushing to get to work or go shopping or to catch the call for prayer at Basci Mahmut Mosque. Others are enjoying their after-lunch chai with a piece of baklava.
The prayer has begun – the sound of the imam envelopes the streets. In the last 4 years, Aksaray has become the main destination in Istanbul for Syrians. It is easier to find rent here and meet smugglers.
Mohammed (31) has just started his shift in Tarbosh restaurant which goes until 1am or later. His face looks tired, but he is well presented – light blue shirt and a V-neck sweater. Mohammed (who asked to be identified only by his first name) is a Syrian living in Turkey working as a manager in a restaurant in Aksaray, Istanbul. Back home, he graduated with a Masters in Law and was working as a teacher. Still, it took him two months to find his current job.
Although a highly skilled worker, Mohammed now has to work for very little money to support his family including 2 children. Life in Turkey is hard for him, because he doesn't get to see his family. A typical day in Syria involved working five hours a day, four days a week. "I had a happy life", he says before he hurries back to work.
In January, Turkish officials announced plans to offer work permits to Syrian refugees, but since then only around 2000 out of the 2.9 million Syrians residing in Turkey have been granted permission. The figure was released by the General Directorate of Migration Management to aid organizations in late March.
The numbers show the new legislation is not improving the work situation of refugees. The law requires employers to give permission to Syrian employees in order to obtain a work permit. Many are unaware of the legislation and others simply do not want to pay refugees the minimum wage, required under the new law.
Eyad explains that according to the Turkish law the employer has to pay an insurance of at least 700 Turkish lira (£170) a month for refugees. This encourages employers to hire nationals. He believes nobody can get a work permit, because employers hire 10 Turkish workers for 1 Syrian worker.
"If you asked any owner he will say you can work without permit or you must go. This law is a joke, what a silly thing", says Eyad. Working illegally for less money is the only solution for many. With more refugees arriving, the competition to find work among Syrians increases and this drives wages even lower.
MHP's Istanbul Chairman thinks that integrating Syrians into the workforce causes unemployment numbers to rise, because Turkish youths who are qualified can't find jobs themselves. Whereas Gülsüm Ağaoğlu from HDP considers "Turkey is responsible of creating workplaces for refugees as well".
According to article 54(1)g. in the Law on Foreigners and International Protection, foreigners working without a work permit risk removal from the country.
The Turkish state is turning a blind eye to the huge amount of illegal workers in their country. Ferhad and Eyad told stories about Syrians working 12 to 15 hours daily for 12-15 Turkish Lira (£3-4), or for nothing, because the employer refused to pay. Not only adults are exploited, but also underaged children.
Waste of Youth
[dropcap]T[/dropcap]arbosh is not a fancy restaurant, but serves a decent fattoush and the tastes of Syria are in high demand at the moment in Istanbul. It is a nice-looking clean restaurant with friendly staff who are attentive to your needs.
Tarbosh is one of those places where you have to go to the basement to reach the toilet. Unfortunately, the kitchen is located there as well. What is even more unfortunate is that this kitchen is not full of chefs with big bellies in white outfits, but 13-14 year old boys. It is easy not to notice them.
Syrian children can't attend Turkish schools, because there is a different curriculum than their home-country and because of the language barrier. Istanbul has several Syrian schools, which are packed with children studying in their own language. 'Some children are very tired in class, because they come to school from work. Others just go to work", said the English teacher in the Güngören Syrian school.
"We know that Syrian children are working as illegal workforce, and because they are underage, they are working for an even lower price. Turkish workers see them as, let's say enemies, like the Turkish migrants in Germany. It is quite disturbing," HDP's Migration and Refugee Commissioner declares.
She explains that it is difficult to find their whereabouts, because they are undocumented and there are no trade unions. She admits witnessing Syrian children working in the textile sector, and even in construction.
In the name of adopting, small girl children are getting married and they are forced to become sex slaves

Gülsüm Ağaoğlu, HDP Migration and Refugee Commissioner
80% of the total number of refugees in Turkey are women and children and there is "huge sexual and work exploitation to this population. In the name of adopting, small girl children are getting married and they are forced to become sex slaves", adds Ağaoğlu.
"I saw with my own eyes, their age between 11, 12, 13 years old. And there is no controlling", says Ferhad, a Syrian asylum seeker in the Netherlands. Many families lost the father or husband, the man providing for the family, so it is up to the oldest man in the family, who can be as young as 12 to feed his family and pay the rent, Ferhad explains.
Ferhad is one of the few lucky ones. Not only did he survive crossing the Aegean Sea and made it to the Netherlands, but he didn't have to work 12 hours a day in a factory for just £3 for 2 years. Back in Syria, Ferhad joined the rebels as a civilian and volunteered for the Jesuit Refugee Service (JRS). After joining the wanted list of Syrian Intelligence, he fled to Turkey where JRS offered to continue his work – paid.
After the Jesuit Refugee Service stopped their projects in Turkey, he got a job as a fixer for Der Spiegel, working alongside journalist Christoph Reuter. The Turkish government turned a blind eye to Ferhad for a long time – that is until an operation in Syria that resulted in the Turkish police throwing Reuter out of Turkey and blacklisting him.
Ferhad was subsequently sent back to Syria. "The most important thing is to bring my family here". He has asked the Dutch state for family reunification and hopes in maximum 6 months he will see his wife and baby girl again.
"Life here in Turkey is really really difficult"
[dropcap]D[/dropcap]aily life for Ferhad's family in Turkey is not easy. His wife is anxious and she feels unsafe on her own. She doesn't have a job, so she spends her time taking care of their 19 month old daughter. Ferhad sends her money from Holland to pay the rent.
A big problem Syrians encounter in Turkey is finding a house to live in. "If they know you are Syrian they double the rent", says Ferhad who used to pay 850 Turkish Lira (approx. £210) for his home in Antakya, instead of 400 Turkish Lira which nationals would pay. Ferhad is not the only one who was exploited by a Turkish landlord.
1000 km away, Hasan (29), a Syrian who volunteers for Refugees Volunteers of Izmir (ReVi) faces the same problem."If you rent a house for let's say 200 Turkish Lira, 2 months later the owner will come and ask for 200 more, 2 months later they will ask for more, or else you will be kicked out."
Hasan is drinking chai in a Syrian cafe in Basmane Square, a popular hangout for refugees to meet smugglers in Izmir. He has to get to the school he volunteers in as the morning class will soon finish.
The 'school' is a 2 room house which ReVi rented for the Syrian kids in the area to have a place to study and play. Since then, they opened another kindergarten in a different part of the city. Refugees Volunteers of Izmir was founded by a Brazilian software engineer who wanted to help out.
ReVi provides Syrians with tools to create products they can sell, not just financial donations like other NGOs. Soon more volunteers from all over the world joined, including Syrian refugees like Hasan who found in it something useful to do while waiting for their lives to go on. Anyone can donate to support the schools and their workshops.
In 2015, Hasan tried getting to Greece seven times, but failed each time. One time his boat sank and he held an 18 day old baby on his tyre, floating in the water until he was rescued by the Turkish coastguard, he recounts smiling. He still finds the situation unbelievable, so surreal that he can laugh about it.
Nobody is going to Europe just for the sake of going to Europe. These people didn't want to go to Europe before the war

Hasan, Syrian living in Turkey
"Nobody is going to Europe just for the sake of going to Europe. These people didn't want to go to Europe before the war ". Hasan explains it wasn't hard for a Syrian to get a European visa before the conflict started. They just want to have a better life right now, and are tired of waiting for the Turkish government to give them rights to work.
"If the Syrians would be allowed to work and paid fairly, most of them would stay", he adds.
Refugees who are escaping war behave differently than economic migrants. According to the International Handbook on the Economics of Migration asylum seekers face greater legal barriers in seeking employment, and their integration takes longer.
Both UNHCR and the Centre for Labour Market and Discrimination Study in Sweden say female migrants and refugees have significantly worse labor market outcomes, especially in the short run.
An OECD study shows refugees perform less well in the labour market than other migrant groups, because they have typically lower education levels and poor language skills. But an UNHCR survey from last year in various Greek islands revealed 86% of refugees have secondary school or university education with significant skills such as engineering, computer programming, and teaching . Almost half of those surveyed had lived in Turkey before.
Their reasons for leaving were the lack of non-exploitative work opportunities that matched their skills, financial needs, concerns for security and educational opportunities for themselves and their children.
Hasan feels the same way and wants to make another attempt to get to Europe.
There are no opportunities for him in Izmir and for the past months he's been living off accumulated debt from friends. Hasan used to own a company handling translations for businesses in Aleppo, but once he arrived in Turkey he had to work in a leather factory to make ends meet – until one day when his employer decided to stop paying him altogether.
"He always promised next week, next week, so I left". He was paid 3 months out of the 10 he worked there.
In theory, refugees with residence permits (Kimlik) can apply for the right to work, but according to a study by the World Bank, the process is long and cumbersome and very few have been issued. A work permit obliges the employers to pay at least minimum wage, and would stop people like Hasan or Eyad from being exploited.
The World Bank says the arrival of Syrian refugees on the labour market has caused a large displacement of Turkish people out of informal employment. This is a direct consequence of the fact that Syrians receive the status of foreigners under temporary protection.
'Guests' are not issued work permits, so they are forced into working informally and illegally, irrespective of their qualifications. Although highly skilled, Hasan can't even get a job in a factory now, because he lost his papers in the sea.
On the other hand, an increase in the informal labour market rises the demand for formal jobs for natives, says the World Bank. This is backed up by the International Monetary Fund (IMF) which found that higher-paid formal jobs filled by Turkish workers have increased and so have average wages.
The short-term impact of the refugee crisis on Turkey is affecting mostly the low- educated, women and informal workers, causing a decline in job opportunities.
Things are likely to change in the Turkish labor market even more, now that a deal with the EU has been agreed upon. But for now, according to Hasan, "Life here in Turkey is really, really difficult and the situation is really horrible".
The Refugees and the Turkish Economy
[dropcap]T[/dropcap]urkey's economy has made great progress in the past 15 years characterised by some impressive figures: biggest manufacturer of television sets and light commercial vehicles in Europe, world's eighth-biggest food producer, sixth-most-popular tourist destination.
Between 2002 and 2007, the country's economy grew by an average of 6.8% a year. But Turkey's economic success story is a thing of the past. The average annual growth regressed to 3% between 2012 and 2015; unemployment has risen every year for the past four years and the Turkish lira dropped 70% in value since 2013.
How much did the Syrian wave influence this economic downfall?
Previous studies on the effects of immigration on the economy of host countries can only predict what the long-term consequences to the Turkish labour market might be, but the current refugee crisis has its own particularities – refugees' status of 'guests', their lack of rights, and Turkey's current economic situation.
According to the IMF, in the short term, the refugee migration is likely to create a modest increase in GDP growth in the host country, but the long-term impact of the refugee migration depends on how they are integrated in the labour market. Lack of language skills, transferable job qualifications and work limits can lead to a slow integration.
The state does not provide any Turkish language classes for Syrians. Most of them don't speak Turkish. Eyad is an exception – he speaks fluent English and Turkish, and sometimes he is called to do translations and earns an extra bit of money. He learned Turkish from co-workers, but his wife and mother-in-law don't have a chance to learn the language and improve their work opportunities.
The sooner migrants enter the workforce legally, the faster they will start paying tax and social security contributions, says the IMF. But 'guests' in Turkey are illegal workers and don't pay tax.
From previous experience, according to OECD, the fiscal impact of humanitarian migrants tends to be less favorable than that of economic migrants.
Most other studies on how to improve the economic situation of refugees focus on European countries, especially Western countries where refugees go through the asylum process. Once obtained, refugees get access to the labor market. Both Germany and France provide platforms with job opportunities targeted to refugees.
It is important to consider that these European studies are based on a much smaller number of refugees per capita than what Turkey has at the moment.
Economy Professor at Marmara University Veysi Seviğ considers the issue in Turkey is in the service industry, because most immigrants are employed there and this industry requires skills refugees don't have.
Turkey can't provide them with work opportunities, because it can't match the European standards economically, Seviğ adds. "The minimum wage is especially lower than Europe, so our government is seeking help from the EU. This help is around 3 billion euros like everyone knows, but even this is not enough when it's divided to the number of refugees".
Made in Syria
[dropcap]E[/dropcap]yad likes to buy his Syrian coffee freshly ground at his local coffee-shop. Walking through Güngören, one can see many Arabic businesses. He explains the Turkish law allows Syrians to start companies and life is easy for businessmen.
The huge population of Syrians in Turkey creates high demand for Syrian products. According to the World Bank, 26% of newly registered companies in 2014 in Turkey had Syrian ownership or capital.
The Kurdish Syrian Ferhad describes flourishing Syrian businesses which moved from Aleppo to Gaziantep, which is only a 2 hour drive away. One can find anything from Aleppo in the Turkish city – restaurants, food, barbers, mini factories, firms.
"If you have money, anywhere they're going to welcome you, but what about the poor people? I saw many people who came just with small bags, nothing else. What about them?" he adds.
Economy Professor Dr. Veysi Seviğ agrees with Ferhad: "Rich refugees have a comfortable life in Turkey – they don't have to work, but most of the refugees are in need of care." Seviğ believes Syrians become frustrated because of the tough conditions they live in and 'disturb' the Turkish people.
It is difficult to apply previous findings on the situation in Turkey. Left wing and right wing parties have contradictory arguments, if they have any at all.
But what do Turkish people think? A survey carried out in November 2013 by the Centre for Economics and Foreign Policy Studies find that 55% of Turks considered their country should stop accepting Syrian refugees. Of these, 30% want Turkey to send the refugees back to Syria.
At the time the survey was conducted, the estimated number of Syrians in Turkey was 660,000. 31% said a threshold should be put in place and the intake of refugees be stopped once this threshold is reached. Turkey now hosts 2.9 million. What do Turks think about the effects of the Syrian immigration wave on their country's economy?
"Do you remember when we used to come on holiday to Turkey?"
This is what Samir Abboud (41) asked his children when they came to Turkey, this time escaping war. He has an 8 year old daughter and two boys – 7 and 11 years old. "For this generation is really hard for them to forget what's going on. They have fear, they suffer from anxiety. I try to remind them how it used to be".
Samir used to have a textiles company that specialized in underwear and wedding dresses. His company imported products from the EU and China and exported towards the Arab countries, like Tunisia, Egypt, Jordan, Algeria and Iraq.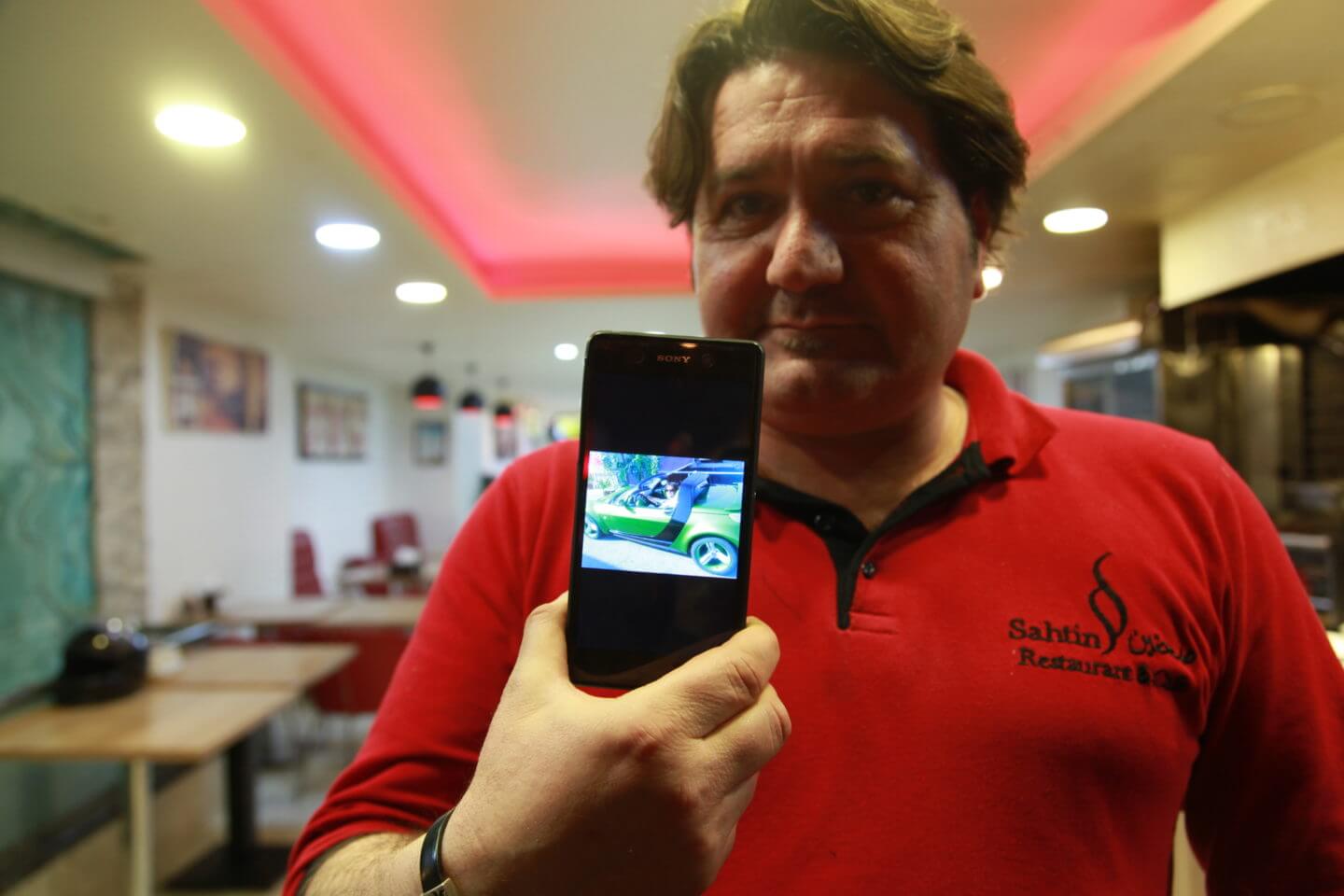 "When the war started everything went upside down, I couldn't even take my products out of my stores so I left everything there", he recalls. He couldn't sell his property, because nobody was dealing in real estate at the time.
Samir remained in Syria until he couldn't take it anymore. The final straw was a missile which hit his house, destroying it.
Looking back, he remembers going with his 10 year old son at the time, to queue for water to bring home to be able to shower. His kids were tired of the situation and terrified: "Dad get us out of here", he remembers them saying.
"I said "Ok", but to say OK you need to have money. I used all the money I had to leave. I had no country in mind – Greece, Germany, whatever. I just needed to leave".
The first weeks in Turkey, his children were very comfortable – no more bullets, no more fire, and no more chaos. They had running water and life seemed normal, but after a while they started asking about going to school.
The Abboud family are not considered refugees in Turkey. In order to enrol his kids in school he needs a Turkish identification number (Kimlik), but it's not possible to obtain a Kimlik because they came by plane and authorities think their financial situation is good.
There are 2 options for him – to apply for a tourist residence permit which would cost him and his family around £2000, or lie about his name. Samir is desperate, because his children have already lost a year of education since they arrived in Turkey. "If I will be obliged to lie, I think I will have to do it, and hope God will forgive me for lying. I feel bad and I don't know what to do".
Samir is a highly skilled Syrian working as a waiter in a restaurant in Istanbul for 12 hours a day. He spends 3 hours travelling to work and back, but he feels lucky to have got this job with the help of his Syrian friends. "I just see my kids when they're asleep", he adds sadly.
New Deal. New Hope.
[dropcap]A[/dropcap] few metres from the Arabic restaurants where Samir and Mohammed work, in a small store selling t-shirts, sunglasses and SIM cards, there are life jackets in different sizes displayed.
This has become the norm in Aksaray and Syrian – populated areas in Turkish cities. Orange shining life-jackets have become accessories present in most shops. They represent the hope of a better life in Europe.
In November 2015, the EU agreed to give Turkey £2.3bn over two years to help support the refugees already residing in the country and in return the Turkish state should put an end to the migration route going through their country.
In March 2016 a new deal was reached – this entails that a further £2.3bn will be given to Turkey for taking back every refugee who entered Greece (and thereby the EU) illegally.
The EU would accept one Syrian from Turkey in exchange for every Syrian sent back from Greece, and the number is capped at 72,000. Additionally, Turkish citizens will receive visa-free access to the Schengen area and talks concerning Turkey's accession to the EU will be accelerated.
Turkey's prime minister, Ahmet Davutoğlu, said that the purpose of the deal is "to rescue refugees, discourage those who misuse and exploit their situation and find a new era in Turkey-EU relations."
UNHCR, Médecins Sans Frontières, the International Rescue Committee, the Norwegian Refugee Council, Save the Children and Amnesty International opposed the deal vehemently and said they will not help in implementing the new EU-Turkey deal as it contravenes international law.
The deal forces migrants into trying to reach Europe through other potentially more dangerous routes, such as North Africa or Italy.
Since the deal was put into practice in the beginning of April, reception centres turned into detention centres and aid organizations on the Greek islands of Chios, Kos and Lesbos have left.
Farah Karimi, Oxfam's executive director, told the Guardian: "Thousands of people are being held in squalid European detention centres. Shame on the EU for prioritising detention and deportation over people's rights to safety and dignity."
Human Rights Watch documented an array of irregularities and violations during the forced deportations to Turkey from the Greek islands which followed the deal. Authorities did not inform people they are being deported or where are they taken.
According to UN, there were also cases of asylum seekers deported by mistake.
Director of economic think tank Bruegel from Brussels, Guntram Wolff considers the deal will be difficult to implement.
"But without it, the EU's external borders would collapse completely and Greece and other border countries would be left to fend for themselves", Wolff told Politico.
Whereas the Director of Migration Policy Institute Europe, Elizabeth Collett, says policymakers will potentially violate EU law on issues as detention and the right to appeal, but if they respect the law, few arrivals are likely to be returned.
"The EU isn't rich" says economy professor Veysi Seviğ. Turkey can't provide for the refugees, but he understands why the EU doesn't want the refugees to enter their communities – new members have no economic force and are driving the EU down.
It's not an accomplishment to accept refugees, but it is an accomplishment to accommodate them.

Professor Veysi Seviğ
Seviğ believes the refugees can't adapt to the life standards in Turkey, that's why they go to Europe, but they will have an even harder time there.
"These refugees should be given transitory education before they go to the EU to be able to adjust." Millions of families with many children which will have to be educated will have a high cost to Europe. "It's not an accomplishment to accept refugees, but it is an accomplishment to accommodate them ", adds professor Seviğ.
"The problem is with the Turkish government, last summer they opened everything (borders) and said 'just go, just go', and now Europe felt obliged to make this deal". Eyad finds the situation very complicated, because Syrians either want to go back home or go to their families in Europe.
"It's good for the Turkish people, not for us", says Eyad. However, he thinks the deal will not stop people from trying to get to the EU.
The EU giving Turkey more than £4.6bn raises serious concerns on how the money will be spent and by whom it will be regulated.
"We refuse that only the Turkish government controls this money and the government should make the use of this money transparent. It should be inspected by local governments and non-governmental organisations", said HDP's Migration and Refugee Commissioner Gülsüm Ağaoğlu.
She believes the purpose of this money should be to create conditions for refugees to become Turkish citizens, therefore the refugees should decide how to spend it.
But it might not get there at all. Two months in, and the two sides are already arguing over respecting their part of the deal. Brussels expects Turkey to meet all the criteria for visa liberalisation (only 19 out of 72 fully met), whereas Ankara threatens to walk away from the migration deal. The EU has dispersed, until now, a total of £187 million out of the promised sum.
"It's shameful, because most Syrians don't have that kind of status (refugee), Erdogan is blackmailing Europe – Give me money, or I'm going to send refugees!", this is Ferhad's opinion, who reached Europe before the deal.
According to interviews conducted by UNHCR in February, nearly half of the Syrians crossing the Aegean Sea do so in order to join their family members already residing in Europe.
Even with the EU-Turkey deal in place, asylum claims made in Greece have to respect the Dublin Regulation, which means those with valid and verified family members in Europe will be reunited, rather than be returned to Turkey, according to the Director of Migration Policy Institute Europe Elizabeth Collett.
Ferhad didn't want to take the risk of crossing the Aegean Sea with his family. During his work for Der Spiegel, he was horrified by tragic stories of death in the sea, so he left his family behind in Turkey hoping to bring them to Europe safely through family reunification.
His wife lives off the money they saved up to pay the smuggler, and from what Ferhad sends from the Netherlands.
According to the new deal, the EU will resettle refugees from Turkey, but what about the 90% of Syrians who don't have the status of refugees? "They have to work. OK, but only if they can work like the others (Turkish)", says Ferhad implying Syrians should be given the same working rights.
This is why MHP's Istanbul Chairman Mehmet Bülent Karataş is opposing the deal – he considers Turkey can't provide employment rights to all. "If you want to host someone in your home, you have to give them opportunities which suits people and don't hurt their humanity and dignity", he explains.
Game of Thrones
[dropcap]O[/dropcap]n the ground, far away from the office buildings in Brussels, nothing has changed. Hasan, the Syrian volunteer from Izmir, believes the new deal will not put an end to smuggling and Syrians will continue trying to get to Europe. "I met with some people who are planning to go to Greece, and they look like they don't care about the deal. I plan to go as well".
2.9 million Syrians in a country of 80 million – the situation in Turkey is complicated and there are no quick solutions. Not only does the state fail at helping and protecting these people, but the lack of rights and implementation of law makes Syrian 'guests' invisible to the state.
Landlords charge them double rent and employers pay them less than minimum wage. The Turkish state turns a blind eye, because how can you implement laws on 2.5 million people who have nowhere to go and need to survive?
A start is acknowledging their existence, which Chancellor Angela Merkel did in her visit to refugee camps in Turkey recently: "We know that 10%-15% of Syrians in Turkey are living in the camps, we need to help the 90%".
However, EU Council President Donald Tusk assessed: "Turkey is the best example for the whole world [on] how we should treat refugees".
It doesn't look promising for Syrians in Turkey, because the EU chose to follow a "minimum controversy" policy towards Ankara, which means no pressure will be put concerning their rights.
The People's Democratic Party Gülsüm Ağaoğlu is also pessimistic – as long as the EU ignores Turkey's 'wrongdoings' for the sake of keeping refugees away, these 'wrongdoings' will cause an increase in the number of refugees and make the Syrian civil war even worse.
The Nationalist Movement Party sees the solution coming from a collaboration between countries – "if every country could take enough refugees, this problem would come to an end; or if the world powers could convene, and try to solve the Syrian conflict, this problem would come to an end as well", says Karataş.
Saudi Arabia fights Iran, US fights Russia, and Turkey blackmails Europe

Eyad, Syrian living in Turkey
Hasan agrees: "Just stop this stupid war, and nobody will go. Many families still hope to go back home". Whereas Ferhad thinks the war is far from ending, too many people are benefiting from the war, "because many players are playing inside Syria, the situation now is becoming like Game of Thrones – many allies at the same time they are enemies".
Eyad feels the same: "Everyone in Syria starts their speech by saying 'in the name of Syrian people', but none of them cares about the Syrian people: Saudi Arabia fights Iran, US fights Russia, and Turkey blackmails Europe ". He wishes Europe would put more pressure on the Turkish government to make his life a little bit easier.
Eyad is tired of politics. He feels useless in deciding his own fate. All he can do is drink his coffee with his family every morning and go to work, hoping they will still be awake by the time he comes back so he can tell them tuSbiH äalaa khayr (good night).
Brindusa Ioana Nastasa is a Romanian filmmaker and multimedia journalist based in London. She just graduated from the Erasmus Mundus Masters Journalism, Media and Globalization from City University London.
This year she received the Reporters in the Field Fellowship from Robert Bosch Foundation for a multimedia project on 'bedtime stories' for children refugees, together with German journalist Annabella Stieren.
Twitter: @the_bidu
Translations: Annabella Stieren, Ilker Sezer, Oumaima Azzelzouli, Cansu Kesici