A Syrian father of three, who fled for his life and was facing deportation by the Home Office to Rwanda, is now fighting for his right to claim asylum through the Scottish courts.
The man – who we are calling Abdulrahman to protect him and his family – paid a people smuggler over £10,000 to get him out of Syria where he claims he had been detained and tortured and feared for his life.
He had set out for the UK in hope of finding protection. But instead he found himself "staring death in the face" during a journey to the UK that included rescue from a sinking boat and ended at Brook House detention centre near Gatwick.
There he was told he would be deported to Rwanda under the UK Government's highly controversial new asylum rules.
Not only did the threat of deportation leave him fearing for his own life, but also those of his wife and three young children who are still in Syria. He hopes to get refugee status and bring them to the UK through family reunion.
But thanks to the help of his Glasgow-based brother-in-law – a Syrian refugee who fled six years ago – a Glasgow solicitor from Latta Law, and an interpreter who "went the extra mile", he has had a reprieve.
On Friday he was bailed from immigration detention and arrived in Glasgow where he is preparing to have his legal right for protection heard by the Scottish judiciary.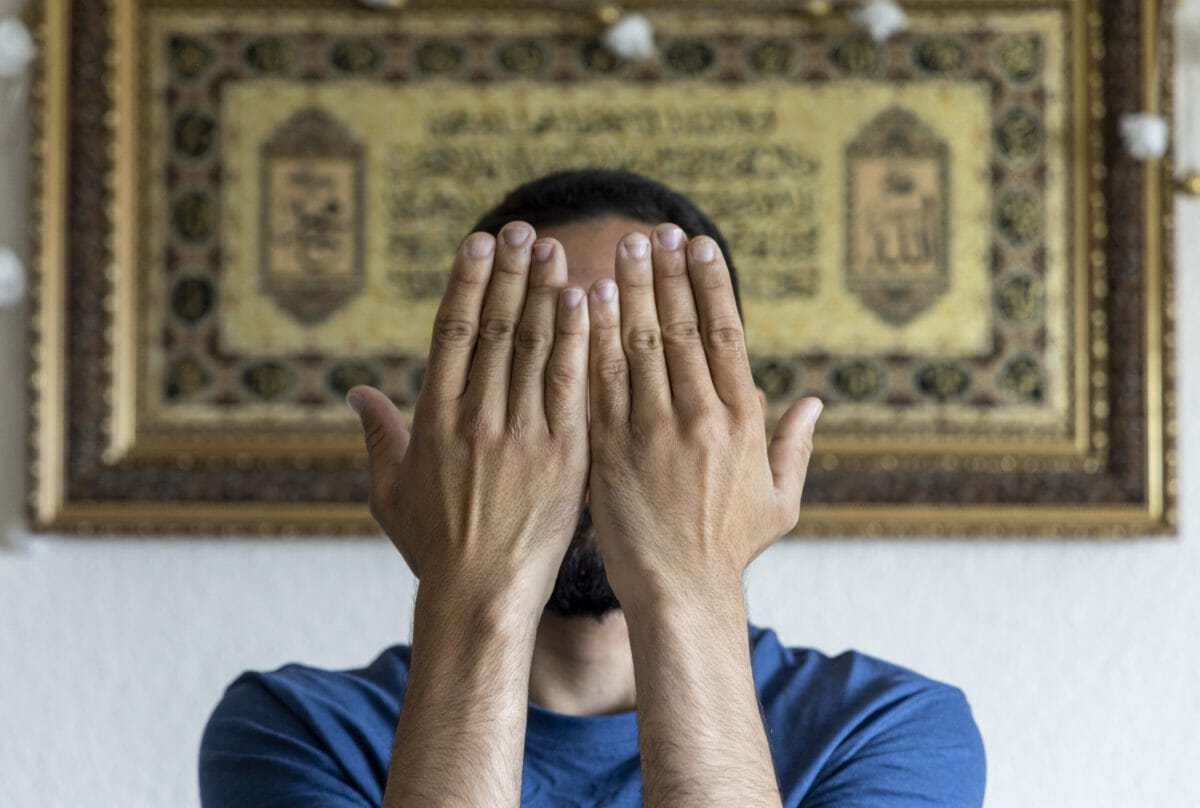 "The things I have seen nobody should see," Abdulrahman said. "When I arrived here I thought the terror was over but it was not. Now I want my voice to reach everyone so they can know what is happening to us."
The Home Office plan to remove those whose claims for asylum were judged to be "inadmissible" to Rwanda was announced by Home Secretary Priti Patel in April. She said it aimed to stop people crossing the Channel and "putting their lives in the hands of people smugglers".
Asylum applications have remained stable in recent years in the UK. But in the year ending March 2022 the number of applications increased to 55,146 – 56 percent more than in March 2020.
Claims can now be judged inadmissible if people travel through another country to get to the UK. However, there are currently no recognised or legal safe routes between the UK and countries including Syria, Yemen and Sudan for those trying to escape.
On Friday evening the High Court rejected a legal challenge by refugee charities Detention Action and Care4Calais, which aimed to prevent the first flight leaving to Rwanda on Tuesday. A further challenge – lodged by Asylum Aid – will be heard on Monday.
The plan has met high profile opposition from campaigners and opposition politicians alike. Nicola Sturgeon said they were "despicable" and "shameful" and UNHCR has claimed the Rwandan plan was unlawful.
The Daily Mail and the Times reported this week that Prince Charles thought the plan to fly asylum seekers 4,000 miles away was "appalling".
But Abdulrahman had no idea of what was to come when he fled on 16 March – a month before Patel's announcement.
He journeyed across Europe before being put on a small inflatable boat crossing the channel from France to England by a people smuggler he had paid – known as "an agent".
"I was under agent control," he explains. "It was the agent who moved us from place to place. Four attempts were made to cross the channel at night, with the last made at 6am. When people saw the boat some said it was too small – it would not get us there. But it was too late then.
"There was a baby, three kids and a total of about 40 people on the boat when it started to lose air and started to leak. The children were crying. I wasn't sure that we would reach land. It was bad, very bad."
But when the boat started to deflate, a woman onboard phoned the coastguard, who took them to Dover.
From there about 12 of the men were taken to detention. Abdulrahman was separated from his friend who was taken with others, including women and children, to a hotel.
At the detention centre they were informed that their claims for asylum would not be considered in the UK and instead they would be sent to Rwanda. Two men were issued one-way tickets for a flight due to leave on Tuesday, 14 June.
"We put our life at risk to get to a safe country," he says. "And for what? What will our fate be? Will we end up dead in Rwanda? We do not know if we will be safe there."
One of the men is reported to be an Iranian policeman, who fears being killed by agents in Rwanda, the other another Syrian. Some facing deportation have said they would take their own lives rather than be sent to Rwanda.
The 17 men held at the detention centre with Abdulrahman went on hunger strike. "Later one man was told: "You need to eat something so you will be strong enough to fly to Rwanda"."
Abdulrahman managed to contact his Glasgow-based Syrian brother-in-law, Monir, who with the help of his friend and interpreter Mohammad contacted Kyle Dalziel at Latta Law.
Solicitor Dalziel applied for bail, and – despite Home Office objections – it was successful. A train ticket was purchased and he arrived into Glasgow's Central Station the following morning, his possessions held in a clear plastic bin bag.
"I couldn't believe he had been released," Monir says with a big smile. "We've been thinking about him all the time."
Dalziel knows there is a lot of work to do on the case but is hopeful. "For me this isn't a political issue of right against left," he says. "It's a moral issue of right against wrong.
"When you hear about the policy you are shocked. But when you put the policy in practice and see who they are targeting it's incredible. These are Syrians – not economic migrants by any stretch – and 98 percent of Syrians are granted asylum in the UK.
"Despite that, the Home Office sees fit to wash their hands of the responsibility and send them to a country where there are serious human rights concerns. The reports of that cannot be ignored."
Those reports include concerns over a previous Isreali scheme to deport asylum seekers to Rwanda and Uganda, where it is claimed legal status was granted and many fled, attempting to get back to Europe.
In 2018 Rwandan police shot 12 refugees from the Democratic Republic of Congo who were protesting outside the UNHCR office. Human Rights Watch continues to raise concerns about enforced disappearances and arbitrary detentions.
"It's really positive that this is going to be challenged in the Scottish Courts as well as this is the first Scottish case," adds Dalziel. "I think it deserves to be looked at through Scottish eyes."
Although immigration is reserved to the UK Government, a case can still be judicially reviewed in the Scottish courts.
Abdulrahman wants people in Scotland to understand that all he is looking for is safety, for himself and his family.
He turns his head to show scars on his brow where he was beaten while in detention in Syria, his nose broken, and twists his hands to show the knife marks left by his torturers.
"My cousin has five kids and a rocket struck his house," he says. "He and two kids were killed. The other three were badly injured. You never know what will happen, who will be next."
Monir, who left because he was wanted for taking part in anti-regime protests, adds: "Life in Syria now is lawless. My kids had nightmares of airstrikes. Before the civil war life in Syria was hard but it was safe. If it was still safe we wouldn't have come here."
Gary Christie, head of policy at Scottish Refugee Council is adamant that under international law "everybody deserves to have their asylum claim assessed fairly, in the country to which they are applying for protection".
"Outsourcing the entire system and our international obligations is a complete dereliction of duty by the UK Government," he says. "Seeking asylum is not a crime, we can't stress this enough."
A Home Office spokesperson said it still expects the first flight to leave on 14 June, but it accepts that this may meet more legal challenges.
"Long lasting change," they said, "doesn't happen overnight".
"Our world-leading partnership with Rwanda is a key part of our strategy to overhaul the broken asylum system. We have been clear from the start that we expected legal challenges however we are determined to deliver this new partnership," they added.
"We have now issued formal directions to the first group of people due to be relocated to Rwanda later this month. This marks a critical step towards operationalising the policy, which fully complies with international and national law."
Cover image ©Robert Perry.

This story was published in partnership with The Sunday Post.