Glasgow tenants said they were given no prior warning about the dangerous exterior of their buildings, after urgent repairs left many locked out and struggling to receive food deliveries for days during the coronavirus pandemic.
In April building exteriors at Finlay Drive, Dennistoun, were found to be "showing significant signs of movement" by structural engineers commissioned by Newton Property Management, the property factor. Wall ties were failing to hold the blockwork on the three adjoined tenements in place, which required substantial repairs.
However Newton could not get individual flat owners to agree to contribute to repair work, which led a building surveyor to report the issue to Glasgow City Council. On 24 April the council was forced to begin urgent repair work on the blockwork, which it deemed to be "a danger to anyone in and around the exterior".
While flat owners had already been made aware of the buildings' hazardous exterior, renters said they were not alerted until Newton put up signs on 24 April – the day the work commenced.
Tenants claimed that neither the property factor or the council provided them with proper information, leaving them unsure of whether they could safely stay in the building, and how long the situation might last.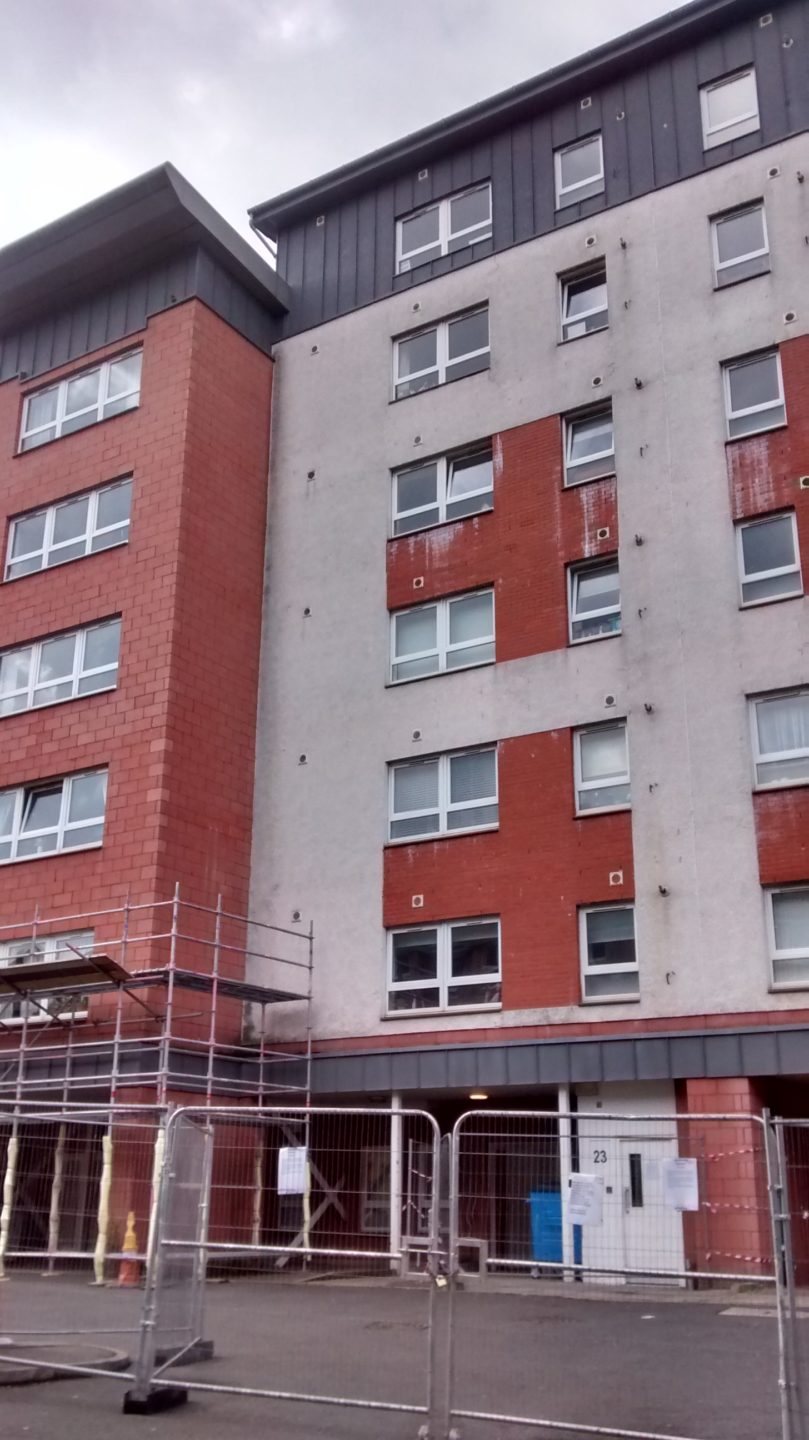 Tenants union, Living Rent, said the buildings' precarious exterior had been "concealed from tenants" who have the right to "clear information and prior notice, if they are at risk of homelessness or even serious injury." The union called for transparency.
On 30 April a council spokesperson told The Ferret that if "safety exclusion zones" were not installed at the front entrances to facilitate the work, all 60 flats would need to be evacuated. A spokesman said that a "dangerous buildings notice" would be served unless owners agreed on the repair work.
Newton stressed on 1 May that tenant safety was its "main concern" and had "worked tirelessly" to try and solve the issues for months. A spokesperson said that its staff had been "been on site every day" and would ensure that residents were "inconvenienced for as short a time as possible."
The works have required the buildings' front entrance and car park to be sealed off to protect passers-by from potential falling debris, meaning tenants can now only access the block via the back entrances. However, tenants said the factor changed the locks to the back doors a year and a half earlier, leaving many residents without keys to the only available entrance.
The lack of keys to the back doors had reportedly left many tenants, as well as couriers, cleaners and postal workers without free access for days. One resident, Sandra Alland, said Newton had initially advised tenants to ask their landlords for keys and information but that her letting agency, O'Neill, was not given a new set of keys after the locks were changed.
While Newton eventually delivered keys to tenants and others late on 29 April, Alland said her neighbour had not received keys to the back door on 2 May, and the postman still had no access to some buildings on 5 May. Alland complained that Newton did not check with tenants before "locking the only entrances and food delivery option for many who live here – during a lockdown."
The building work has also required the buzzer entry system to be switched off and bin chutes to be sealed. Alland said "no information has been provided for elderly or disabled residents" who were struggling to access parking, receive deliveries and take out rubbish.
Kim Long, the Scottish Green councillor for Dennistoun, said she had been in touch with residents and the council about the issue, and had visited the site on 29 April.
She said tenants had been left out of the loop by Newton, with the property factor directly communicating only with flat owners. "During lockdown, it's more important than ever to have clear communication with any and all residents affected by essential building works," said Long.
"Landlords and factors must be proactive to protect tenants, to communicate effectively and to make sure additional barriers facing disabled or vulnerable residents are dealt with. Unfortunately as long as this is voluntary we know it will only come with pressure, rather than being rights that tenants can expect."
Living Rent confirmed that one of its members had flagged the building's structural failings. The group also said tenants had been left in dark about the situation.
"Upcoming plans concerning Finlay Drive must not just consider the interests of factors and owners, but also those of the tenants who live on Finlay Drive," said a spokesperson. "Living Rent will be supporting our members to make sure that tenants are being listened to."
They added: "We urge the buildings' owners, factors and the council to act with transparency."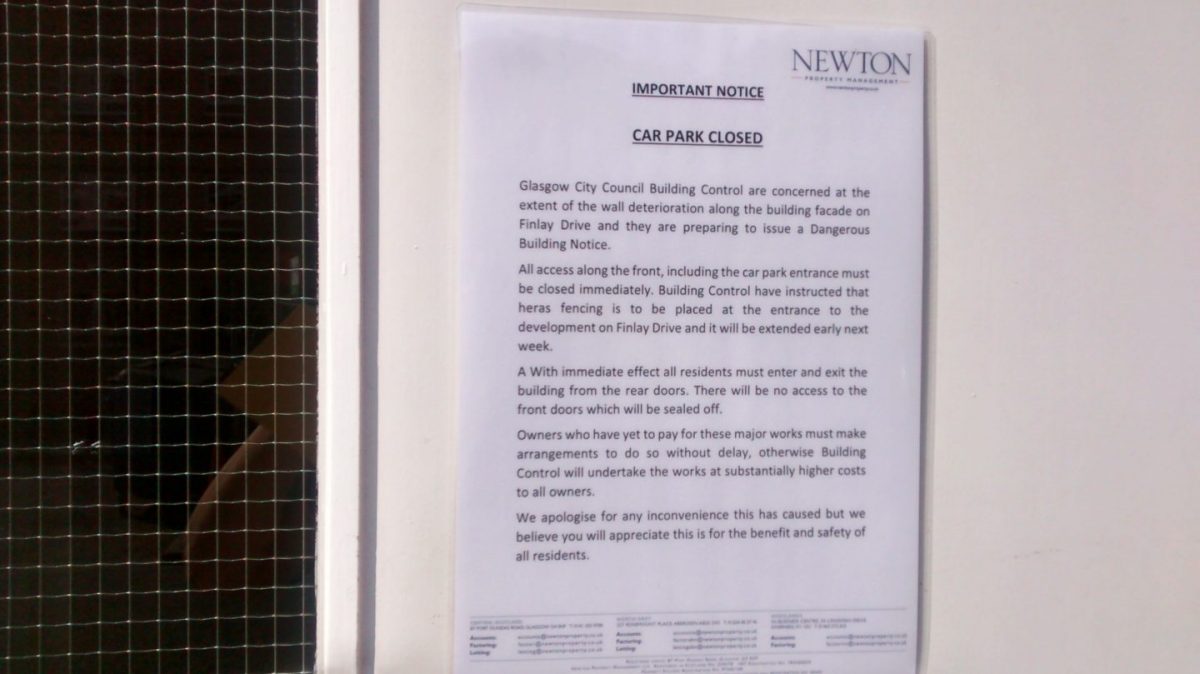 Newton Property Management said that it had emailed flat owners on 24 April and put up notices around the building to inform residents of the work required and the resulting entrance restriction.
"In case they have not been provided these by their landlords, we provided additional keys for tenants to use when accessing the rear of the building and made special arrangements with waste and postal services," said a spokesperson.
"Someone from Newton Property Management has also been on site every day and was able to answer questions from tenants."
They added: "We are now working with Glasgow City Council and the owners of flats to come up with a viable way forward and resolve this quickly, and to ensure that those living there are inconvenienced for as short a time as possible."
A Glasgow City Council spokesperson said: "The works were agreed in conjunction with the factors and their engineers but as the factors could not action the works, they were undertaken by the council in the interests of public safety.
"We have written to the factors who agreed to forward this to all owners which informs them of these necessary actions and that unless owners agree to take forward the repairs required, a dangerous buildings notice will be served."
This story was made possible by information provided by a reader. Please get in touch with The Ferret to tell us about issues in your area.