Animal rights, environment and anti-nuclear campaigners are "of concern" according to counter-terrorism training materials produced by Scotland's largest council, The Ferret can reveal.
Using Freedom of Information legislation, The Ferret obtained details of an internal Glasgow City Council (GCC) course entitled Protect Against Terrorism, which was produced to advise the council's 20,000 employees on potential terrorist threats.
In a section entitled What is Terrorism? GCC cited "animal rights", "environmental" and "anti-nuclear" under a sub-heading Who Are Our Current Threats?. This was alongside a mention of neo-Nazi David Copeland, who murdered three people and injured more than 100 others when he detonated a nail bomb in Soho, London, in 1999.
GCC's course prompted an angry response from organisations working in these areas who said conflating political issues with murderers, terrorists and convicted criminals was misguided and dangerous.
Their criticism chimes with mounting concern that the UK government's PREVENT strategy – introduced to combat terrorism and currently being rolled out across Scotland – is ill-defined and unfairly targets legitimate groups and innocent individuals.
Richard Haley, of Scotland Against Criminalising Communities (SACC), said: "Animal rights, environmental and anti-nuclear campaigns have somehow found their way onto slides used by Glasgow City Council for online staff training on PREVENT, where they are identified as current terrorist threats.
"These are of course legitimate issues for people to campaign about, and Glasgow City Council will no doubt have staff members who are involved in such campaigns. Their inclusion as terrorist threats is alarming and misleading. Regrettably, it is part of a wider pattern."
Arthur West secretary of Scottish CND, said: "It is absolutely astonishing that peaceful anti-nuclear campaigners who work to highlight the dangers of nuclear power and nuclear weapons are classed as a terrorist threat within a local authority training course.
"You frankly could not make this up. The training would be better concentrating on how possessing nuclear weapons has the potential to make us a terrorist target."
It is particularly ironic that Glasgow is a leading nuclear-free local authority but apparently thinks people who share its own view might be terrorists.

Dr Richard Dixon, Director, Friends of the Earth Scotland
Dr Richard Dixon, director at Friends of the Earth Scotland, said: "People will be amazed that Glasgow Council could possibly label ordinary concerned citizens as 'terrorist threats.'
"This is a gross insult to the many, many people who are concerned about climate change , nuclear weapons or animal rights, and to the charities who campaign peacefully on these issues.
"It is particularly ironic that Glasgow is a leading nuclear-free local authority but apparently thinks people who share its own view might be terrorists."
Mimi Bekhechi, director at the animal rights group, PETA UK, said: "Glasgow City Council should be charged with unfair discrimination against those groups and individuals who are working to improve our society, much as the suffragists and child rights workers did in the past, and it is a grave injustice for council members to target justice workers and mischaracterise them under such a dangerous label.
"The fundamental belief shared by most of those who advocate for animal rights and protection is the rejection of cruelty to any living being – hardly a terroristic outlook."
Lee Moon, spokesperson for the Hunt Saboteurs Association, stated: "It is bizarre and infuriating that animal rights campaigners are deemed to be 'a current terrorist threat.'
"Campaigning is a legal right and a moral duty that the political establishment is trying to illegalise.
"Hunt saboteurs are actually fighting to enforce the law of the land that is flouted by hunts across the country on an almost daily basis.  Maybe it would be more appropriate for the blood-sports community to be labelled as a current terrorist threat."
However, in response GCC defended the Protect Against Terrorism course and said: "The material does not accuse legitimate campaigners of anything – and doesn't mention any of these groups at all.
"The course looks at how violent extremists supporting a variety of causes can pose a threat to safety."
In September, it emerged that police in England told teachers they should consider envir­onmental activists and anti-fracking protesters as potential extremists under the government's PREVENT strategy.
TES reported that 100 teachers were given the advice during a PREVENT training session in West Yorkshire, where they were also warned about anti-capitalist groups.
One teacher said a police officer referred to the actions of Green Party MP Caroline Lucas – arrested in 2013 for blocking a road at an anti-fracking demonstration – as an example of extremism.
Teaching unions later condemned the police advice while Ms Lucas said she was "shocked" and would submit a complaint.
The Prevent Duty Guidance, which came into force on 1 July 2015 under the Counter Terrorism and Security Act 2015, places local authorities, schools and the NHS under a statutory obligation to implement PREVENT.
The Scottish version of the guidance was issued jointly by the Scottish and UK Governments.
But SACC and other civil liberty groups argue that PREVENT goes too far and is almost Stasi-like in its approach, with the British public, in effect, being asked to spy on one another.
GCC's counter terrorism training, for example, also gave employees advice on what they should do outside working hours.
One section of the course said that people living in housing estates should report any suspicious activity to the police.
Suspicious activity, according to GGC, included "curtains closed for most of the day", "visits to the house at unusual times by strangers" and "neighbours seldom seen".
GCC staff were also advised to check their neighbour's bins.
GCC, in common with other local authorities, now use a counter terrorist training course called "Workshops to Raise Awareness of Prevent" (WRAP) provided by the Home Office, although no details of this course have been released.
In Glasgow, the local authoritiy confirmed that 1424 staff members had accessed its Protect Against Terrorism training course, and 546 staff members had completed it.
Further documents obtained by The Ferret confirm around 30 staff members in the Glasgow social work department have received the newer WRAP training course. Afterwards officials said in a report that their understanding of the "Prevent strategy and why people become or support violent extremists," had moved from "poor," to just "ok," as a result.
Additional FOI requests have revealed that hundreds of local authority staff in other local authorities have also received training in the PREVENT programme.
301 staff have been trained in East Ayrshire, 510 in South Lanarkshire and 75 staff have been trained in Moray. Many other councils admitted that they had not yet trained any staff, or had only briefed a handful of their senior managers.
Some local authorities have also revealed that they have received cash from central government to undertake PREVENT activities, as part of the wider CONTEST anti-terrorism programme.
Aberdeen City Council has received £8000 over two years to "to fund meetings with key local partners in respect of CONTEST and PREVENT activities."
Glasgow City Council said "£10,000 has been received by the Council from the Scottish Government in respect of implementation of PREVENT activities. This funding was awarded during financial year 2012-2013 and it has not yet been committed." A response from Comhairle Nan Eilean Siar said a sum of £10,000 was "proposed," to support anti-terror activities in the Western Isles.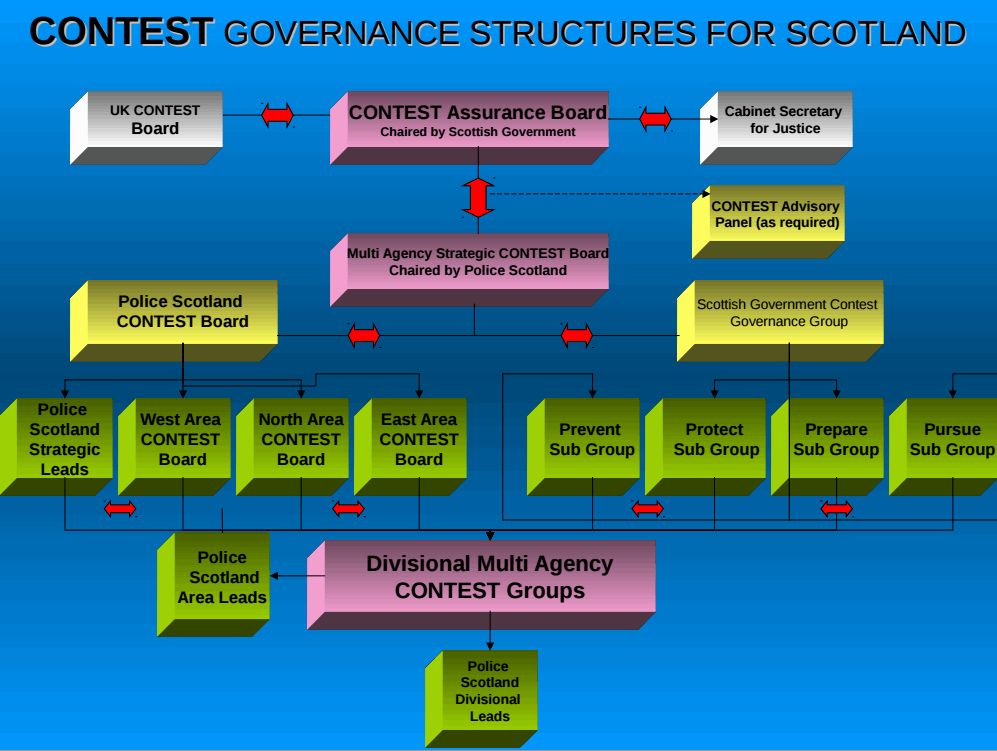 Richard Haley, of SACC, said PREVENT is a major threat to civil liberties in Britain and trade unions should examine what is taking place with a view to standing up for their members.
He added: "PREVENT, and the wider CONTEST strategy that it belongs to, strongly emphasise what it calls "Islamist extremism".
"The latest annual CONTEST report focuses mainly on this, but also refers to a continuing risk from Northern Ireland related terrorism, and a risk from far-right terrorism that is said to be low.
"It makes no mention of animal rights, environmental or anti-nuclear campaigners as potential threats, nor are they mentioned in the statutory Prevent Duty Guidance for Scotland.
"But the standard "Workshops to Raise Awareness of Prevent" – part of the Government's training programme – include discussion of campaigns like these. Trainers are given discretion over the particular examples of activism they choose for the case study included in the standard presentation.
"The workshops are scripted and their use of issues like animal rights and environmental activism appears to be a technique crafted to break down intellectual and psychological resistance to the core elements of PREVENT, and to adjust attendees to the outlook of institutionalised suspicion promoted by PREVENT.
"This is a very manipulative and disturbing tactic. The tactic carries the risk of mission-creep, potentially encouraging people working with PREVENT to develop a suspicious attitude towards forms of activism that lie outside PREVENT's core concerns.
"Various forms of legitimate political activism are already seen by police and MI5 as being linked to "domestic extremism."
"The further targeting of these campaigns in connection with PREVENT would be a major threat to the civil liberties of people engaged in them, and especially to those who work in public sector organisations where PREVENT is being implemented."
Read the full PREVENT Training Documents
Part One:
Part Two:
Part Three:
Glasgow City Council Evaluation Report:
In Context
Briefing paper given to Comhairle Nan Eilean Siar senior officials:
Some of the documents have been further redacted by The Ferret to prevent the disclosure of the names of public sector workers.
This story was followed up by Common Space, The Herald, The Evening Times and BBC Radio Scotland.
Have you received official counter-terrorism training from your employer? Get in touch with The Ferret to share the details.
Header Image Credit: Glasgow City Chambers | By Velvet | CC BY-SA 3.0 via Wikimedia Commons | http://bit.ly/1GIpdI0