Landowners have been accused of breaching an agreement to end the mass killing of mountain hares in the wake of evidence that hundreds were shot in the Cairngorms last month.
The Ferret has been passed photographs taken near the Lecht mountain pass by the A939 between Cock Bridge and Tomintoul on the afternoon of 25 February. They show a pickup truck full of dead hares.
According to an eyewitness, the truck was part of a 20-strong group of armed gamekeepers from several surrounding sporting estates equipped with more than a dozen high-tech off-road vehicles.
Wildlife experts have attacked the cull as "brutal" and "inexplicable", demanding an immediate ban on the killing. Landowners, however, have dismissed the attacks as "ill-informed and misleading", insisting that they have not broken any agreement.
The government wildlife agency, Scottish Natural Heritage (SNH), made a joint statement on mountain hares in December 2014 with the landowning groups, Scottish Land and Estates and the Game and Wildlife Conservation Trust. It called for "voluntary restraint on large culls which could jeopardise the conservation status of mountain hares".
But conservation groups have always feared that this will be ineffective. In April 2015 a coalition of ten groups demanded a three-year ban on all culling until proper safeguards to protect endangered hares were in place.
The photos on the Lecht were taken by a birdwatcher, who wishes to remain anonymous. There were "certainly hundreds" of dead hares, he said. "They did not like me taking pictures, so I did not hang around."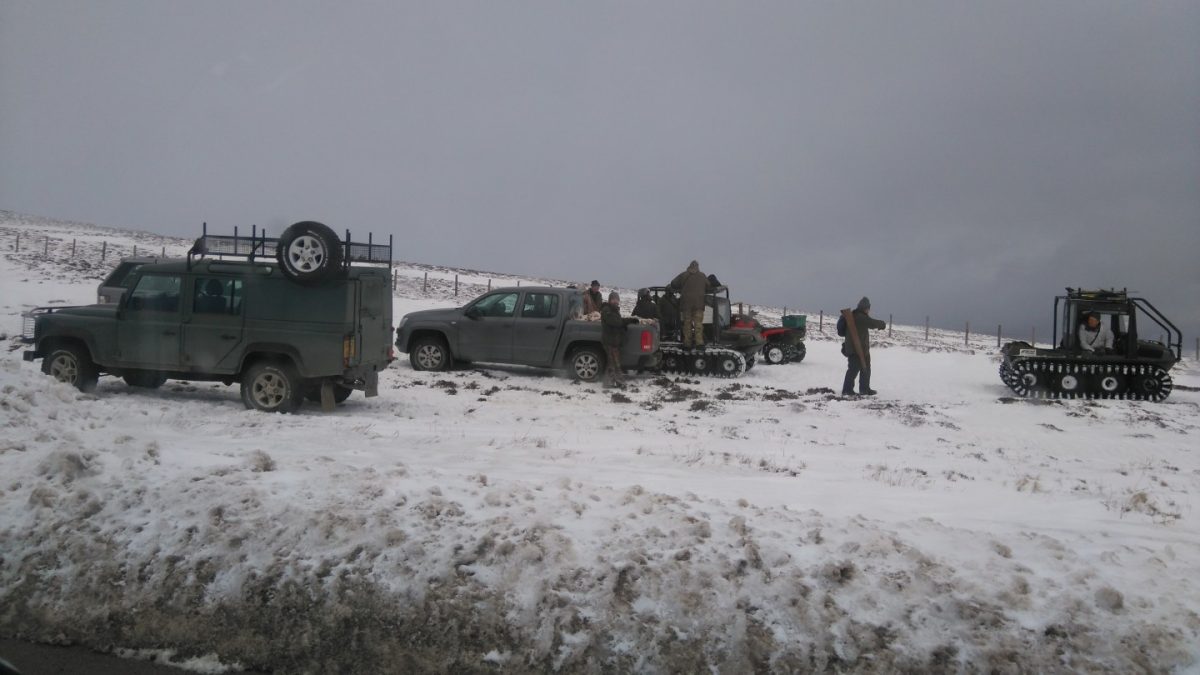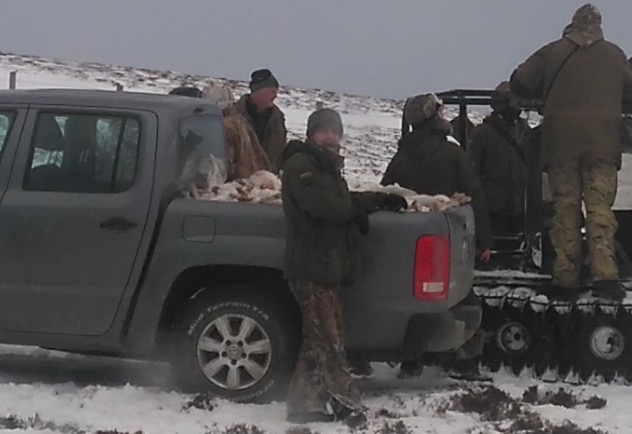 Dr Adam Watson, a veteran mountain ecologist and Cairngorm expert, was outraged that landowners were culling so many mountain hares. On the grouse moors that he had studied hares had been virtually eradicated by "severe killing", he said.
"What we now see on the photos and elsewhere is a brutal military-type operation involving several estates and using fast snow scooters and other machines, which can move faster than the hares. Any hares that escape this massacre must be traumatised."
Landowners legally cull hares in the belief that this helps protect grouse from disease, and ensures that there are more birds available to be shot for sport. But this is rejected by conservation groups.
Jonathan Hughes, chief executive of the Scottish Wildlife Trust, said: "This level of killing is simply inexplicable given there is scant evidence suggesting the presence of mountain hares has any negative impact on grouse numbers.
"It is very sad that some landowners are clearly not heeding the very sensible call for constraint on large-scale culls of mountain hares."
This level of killing is simply inexplicable.

Jonathan Hughes, Scottish Wildlife Trist
Duncan Orr-Ewing, from the Royal Society for the Protection of Birds in Scotland, pointed out that the law required the "sustainable management" of mountain hares. "This and other incidents reported to us show that voluntary restraint simply isn't working," he said.
Harry Huyton, director of the Scottish animal protection charity OneKind, argued that there was "no excuse" for culls. "Mountain hares are being routinely killed in the Highlands in large numbers," he claimed.
It was reported in September 2014 that more than 1,500 mountain hares had been shot in the Lammermuir Hills, south east of Edinburgh. A report in an online shooting magazine in April 2015 reminisced about shooting more than 100 a day in the Angus glens.
Landowning groups insisted that culls were necessary where numbers were high. "We are deeply concerned that once again an ill-informed attempt is being made to discredit the legitimate culling of mountain hares," said Tim Baynes, director of Scottish Land and Estates' moorland group.
We are deeply concerned that once again an ill-informed attempt is being made to discredit the legitimate culling of mountain hares.

Tim Baynes, Scottish Land and Estates
"The conclusion should not be drawn from these pictures that the hares in question have been culled contrary to conservation guidance, and most certainly does not contradict the position set out by SNH."
There was "no question" of the hare population in the area concerned being jeopardised, Baynes argued. "The mountain hare population remains high in this area even after culling."
Adam Smith from the Game and Wildlife Conservation Trust in Scotland, also argued that it would be wrong to conclude that the call for restraint was being ignored. Without knowing more details, it was possible that the dead hares in the photos were "part of a sustainable harvest", he said.
SNH agreed that it was difficult to judge whether the cull was excessive or not. It was aiming to improve its population estimates of mountain hares by 2017, and reiterated its call for "restraint on large-scale culls of mountain hares which could jeopardise their conservation status."
Scottish Land and Estates has published a response to this story, as has the Cairngorm National Park Authority. There are also reports by Raptor Persecution Scotland and on Mark Avery's blog. A version was also published in the Sunday Herald on 13 March 2016.
Cover image thanks to John Fielding [CC BY-SA 2.0], via Wikimedia Commons.