As many as 16,000 more people than officially admitted have been exposed to noise pollution from Edinburgh Airport, according to a research scientist who has resigned as an airport adviser.
Dr Christophe Miremont accused the airport of "systematically" underestimating aircraft noise based on "flawed" assumptions from Gatwick Airport in London on how steeply planes climb after they have taken off.
Edinburgh Airport had repeatedly tried to hide how many people were impacted by noise, he said. He has resigned as a member of Edinburgh Airport Noise Advisory Board, saying he can no longer legitimise "hollow discussions".
Miremont, who lives in the village of Ecclesmachan in West Lothian, argued that noise pollution could now be reduced by changing the climbing gradients of aircraft when flights restart after the coronavirus lockdown.
Edinburgh Airport said it regretted his resignation, and that the role of the advisory board was now being reviewed. It denied withholding information, and stressed the importance of "robust" analysis.
Underestimating noise from Edinburgh Airport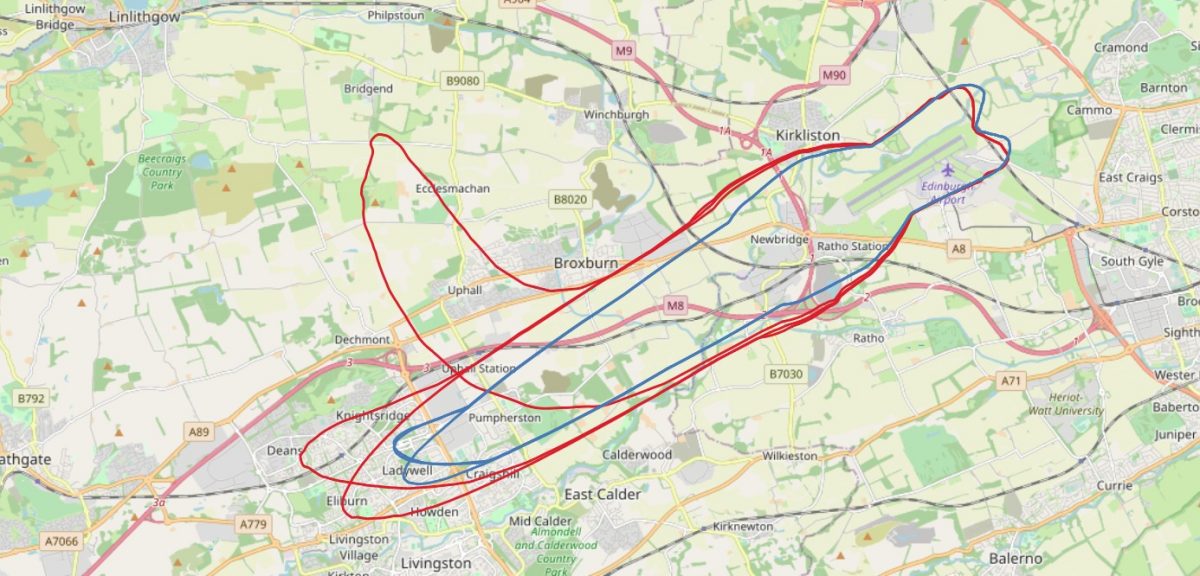 There have long been arguments over the impact of noise from Edinburgh Airport. Concerns amongst the local communities were heightened when the airport sought to add ten new take-off flight paths in 2018 as part of an expansion programme.
The airport's proposed "airspace change programme" was paused in April 2020 because of the uncertainty over future air travel caused by the Covid-19 pandemic. But residents are now worried that noise will increase again as the lockdown is eased.
Edinburgh Airport set up its noise advisory board "to represent the concerns of local communities" in 2017. Miremont, who runs an optical electronics consultancy in West Lothian, joined the board in October of that year.
He studied aircraft noise and filed a series of freedom of information requests to the airport's regulator, the Civil Aviation Authority (CAA). Responses revealed that Edinburgh Airport's noise maps had been relying on data on the way aircraft take off from Gatwick Airport.
According to Miremont, this resulted in the noise being experienced by communities around Edinburgh Airport being "severely" underestimated. Planes taking off from Edinburgh climb more steeply than at Gatwick so engines are louder and more communities are affected, he said.
After this issue was raised by the Edinburgh Airport Noise Advisory Board, the airport started using information from its own radars to estimate noise. But the airport still did not say how many people were being affected, Miremont alleged.
Further freedom of information requests to the CAA have now disclosed how many additional people have been impacted. The CAA data showed that between 2,500 and 16,400 more people were exposed to 70 decibels of noise from six different take-off paths.
For three of the flight paths the population impacted more than trebled, and for two, the numbers doubled. The additional communities affected included Uphall in West Lothian, and Knightsridge, Ladywell and Eliburn in Livingston.
Thousands more people endured noise from Edinburgh airport
| Take-off path code | Airport estimate of population impacted | Estimate based on Civil Aviation Authority data |
| --- | --- | --- |
| GOS24 | 5,800 | 22,200 |
| TLA24 | 6,200 | 19,700 |
| GRI24 | 5,600 | 9,200 |
| GOS06 | 1,400 | 4,700 |
| TLA06 | 1,500 | 4,000 |
| GRI06 | 1,500 | 3,000 |
Estimates are for noise from B738 aircraft above 70 decibels (Lmax). Source: Civil Aviation Authority data analysed by Christophe Miremont.
Miremont resigned from the advisory board on 29 April 2020, after serving for two and half years. "I have come to the conclusion that my energy will be better spent addressing the impact of aircraft noise on our communities from outside the board," he wrote at the time.
He criticised the board for being content to remain in ignorance of the airport's real impact. "Giving legitimacy to hollow discussions on aircraft noise is now more harmful than helpful to our communities," he said.
Miremont argued that the advisory board couldn't function without access to detailed information about noise levels. "I do not want to give the illusion that a meaningful engagement about aircraft noise is taking place any longer so have resigned from the board," he told The Ferret.
"The data which had to be obtained through freedom of information requests confirms what we feared all along: that the noise levels over populations around the airport have been significantly underestimated for years."
He added: "Most importantly, it also shows that aircraft departing Edinburgh Airport do not need to be that loud and can be made quieter through management of their climb profiles."
Miremont accused the airport of being "masterful at giving the illusion" of genuine community engagement. "There is a lot of spin, very little substance and a clear desire to keep the discussions about aircraft noise as superficial as possible," he said.
"The truth is that they have systematically delayed and denied the release of environmental data to their own board. There is plenty of evidence of that."
Miremont was backed by campaigners. "It is extraordinary that a company such as Edinburgh Airport with its enormous resources has been content for years to use inaccurate noise maps," said Helena Paul from a local group called Edinburgh Airport Watch.
"Only due to meticulous analysis by a member of the public, do we find that the data and assumptions underlying these maps have been incorrect, and that the noise created by planes has long been underestimated."
Paul accused the airport of being "astonishingly secretive" and "routinely" refusing requests for information. The advisory board, of which she is still a member, had made "disappointingly little progress", she alleged.
She pointed out that the airport's proposed new flight paths had been rejected by the CAA in February 2020 because the airport had breached public engagement rules. "While these plans are currently paused due to the current Covid-19 crisis, their revival would only increase noise disturbance for residents," she added.
"Worryingly, it is clear that as the airport plans to emerge from lockdown, while making much provision for alterations to its terminals and procedures to accommodate passengers safely, it is not giving any consideration for the health and well being of people burdened daily by the impact of its operations."
The Labour MSP for Lothian, Neil Findlay, described Miremont's resignation as "very disappointing but totally understandable". Edinburgh Airport had never been open and transparent about its impact on neighbouring communities, he said.
He added: "All long they have tried to conceal the impact of noise on villages and towns under the flight paths. This is not the way they should be dealing with local people."
Andrew Watt, who represents the Midlothian Federation of Community Councils on the advisory board, accepted that it could be "quite frustrating" trying to get information from the airport. He understood why Miremont resigned, he said.
"But I was very sorry that he did as he has done some excellent work to throw light on the fact that the noise contours used around Edinburgh Airport are not accurate," he told The Ferret.
He agreed that changes should be made to cut pollution. "There are operational adjustments that could be made now to decrease the noise suffered by residents living under the departure flight paths," he added.
Noise modelling now 'more accurate'
According to Edinburgh Airport, the impact of aircraft noise was "a complex and emotive issue". That's why it set up the advisory board to have a voice, it said.
"We are the only airport in Scotland and one of the few in the UK to have a dedicated community noise board, and we have gladly funded research projects that it deemed to be beneficial to improving understanding and strengthening relationships with our communities," said an airport spokesperson.
"Previous guidance from the CAA was to use data from Gatwick for our own models but we improved the process in 2018 by using our own data, a recommendation that followed an advisory board report."
The spokesperson added: "This is a good example of the advisory role that the board can play in helping people in our communities understand noise. We regret Mr Miremont's resignation but we respect his decision and thank him for his contribution to this debate.
"To ensure best practice, collaboration and that communities are being kept informed, in June we asked for an independent review of the advisory board as part of a continuous improvement process. We have asked the Independent Commission on Civil Aviation Noise to assess that process to ensure the board is as effective as it can be."
The airport said that an initial analysis by the advisory board had some errors, but it prompted a CAA report which recommended improvements. These included the use of local radar data, which had been "actioned and communicated".
The airport insisted that the board had access to "any data it requires". It added: "Our only request is that the analysis of that data is done so independently and professionally to ensure any outputs are robust and stand up to scrutiny."
The chair of Edinburgh Airport Noise Advisory Board is Lindsay Cole, a former aircraft pilot who now lectures on aviation at Edinburgh Napier University. Communities had cause to be grateful that Miremont's contribution had caused noise modelling to be made more accurate, he said.
"While we were all saddened by his resignation from the noise board and agreed that he added much to the debate, it is also fair to say that not everyone on the board fully agreed with his personal and un-peer-reviewed interpretation of the data," he told The Ferret.
Cole argued that that the board had gone from nothing to exercising a "strong influence" on determining policy in three years. "We are also helping to shape the modernising of the airspace change programme that links the airport to the air traffic network of the UK," he added.
Whether noise levels had been underestimated was a "complex issue", he suggested. In some areas initial modelling had given lower levels than indicated by local radar data.
Cole insisted that that his board did "meaningfully engage" with the airport, the CAA and other stakeholders. "We are currently independently reviewing how a noise board could be structured to best deliver an all-embracing response," he said.
"Post Covid, when flying and all of these initiatives restart, the board, in whatever form it becomes, will continue to represent the communities it serves to provide the best engagement possible between the public and their airport."
A spokesperson for the Civil Aviation Authority said: "We have published data on noise calculations at Edinburgh Airport, but we are not subject to communications between an airport and its advisory board."
Download a spreadsheet summarising Civil Aviation Authority data on noise impacts from Edinburgh Airport here.
Christophe Miremont's resignation letter
Miremont Resignation Emails (Text)
Photo thanks to iStock/ danielu2501.