A businessman behind a Glasgow restaurant accused of being a Chinese secret police station met with Boris Johnson at a Conservative party fundraiser while he was prime minister, The Ferret can reveal.
In January, we linked Linhao Lin – aka Jimmy Lin – to Glasgow's Loon Fung restaurant, which has been under investigation by Police Scotland since being named as an overseas secret police station for Chinese officers by Safeguard Defenders, a not-for-profit human rights organisation which monitors disappearances in China.
Safeguard Defenders claimed secret police stations, which "violate the international rule of law", were set up by a Chinese state body which aims to influence foreign politicians and control expats. Loon Fung has denied accusations of wrongdoing.
The Ferret also revealed that Lin wined and dined senior Scottish politicians, including then-first minister, Alex Salmond, prompting Safeguard Defenders to urge authorities to investigate any attempts of secret police and Chinese political influence in Scotland.
We have now obtained an image of Lin and former prime minister Boris Johnson posing together at a Tory event two years ago, which charged attendees up to £500 and reportedly raised a "substantial sum of money" for the party.
"Jimmy Lin, chairman of the Glasgow Chinese Recreation Centre [GCRC] and Scottish Fujian Chamber of Commerce [SFCC] attended a luncheon in London on Friday 10th September, 2021," the image's caption states.
"The Rt Hon Boris Johnson MP, prime minister and leader of the Conservative Party was the guest of honour. Jimmy met Boris Johnson in this event and he took the opportunity to introduce [the] Chinese community in Glasgow briefly to [the] prime minister."
Lin is chairman of the GCRC – which organises recreational activities for local Chinese residents – and owner and chairman of the SFCC. The Ferret revealed in January that GCRC, a charity, failed to provide Scotland's charity regulator with key financial and other information for the last two years.
The SFCC, which Safeguard Defenders claimed is linked to the Chinese state, is registered at Sichuan House – another Chinese restaurant on Sauchiehall Street, of which Jimmy Lin is a former director.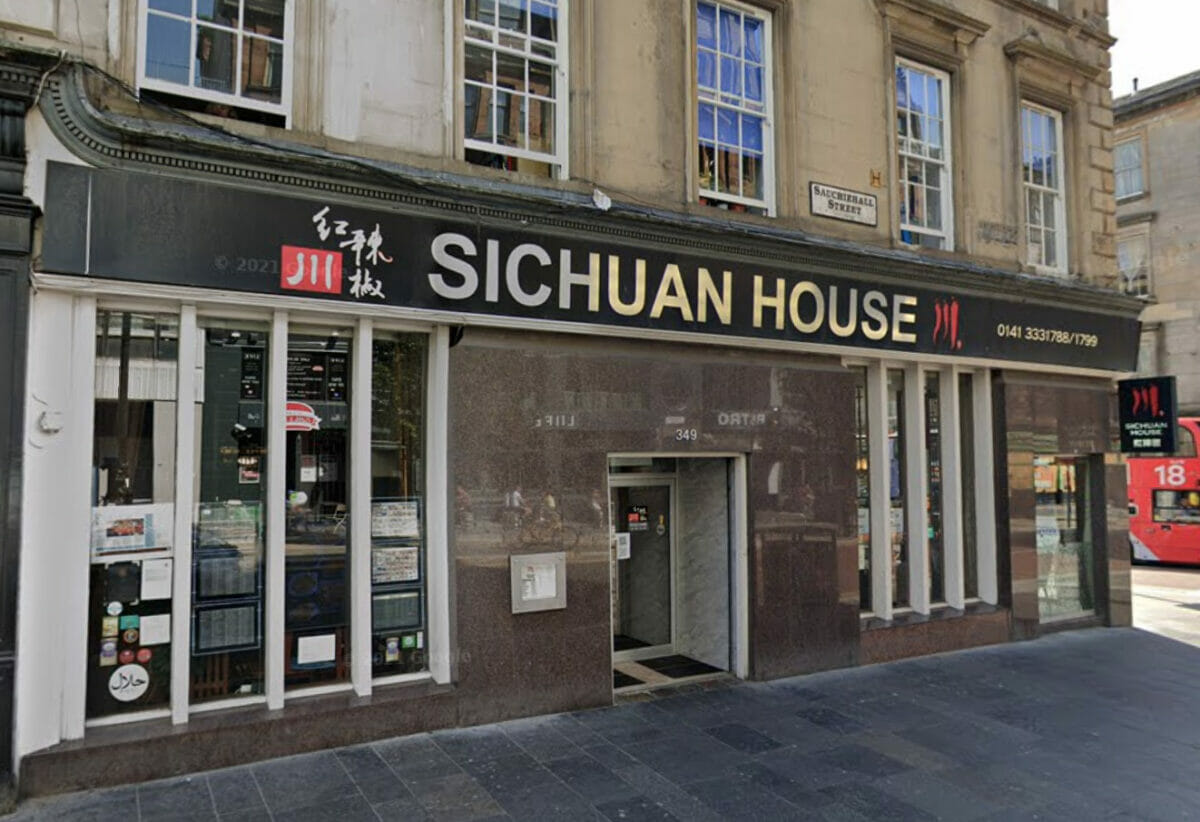 The Tory event, held in Mayfair, was a fundraiser for the Cities of London and Westminster Conservative Association. A post on the local Tory group's website said Johnson was guest of honour.
Standard ticket prices were £150 per person, £300 for a "premium" pass and £500 for "premium plus" entry. Young Tories could attend for £95. A Business Insider article said the event raised a "substantial sum of money" for the local Tory association as well as the national party, according to the event's brochure.
Another alleged Chinese secret police station in Croydon, south London, called AllEatApp, was being investigated by authorities after being named by Safeguard Defenders. Its director, Ruiyou Lin, was listed as a vice chairman of the City of London and Westminster Conservative Association's Chinese Group, news website East London Lines found.
Ruiyou Lin has been photographed with Johnson, former prime minister Theresa May, and former minister Gavin Williamson, the publication claimed.
Sarah Jones, MP for Croydon Central, claimed AllEatApp had written to her requesting a meeting before it was alleged to be a secret police station.
As well as the Tory fundraiser, Jimmy Lin has attended Holyrood sessions, his GCRC group was invited to Westminster by an MP and he accompanied a former lord provost of Edinburgh on an all expenses paid trip to China.
Boris Johnson previously 'vulnerable' to Chinese state 'courtship'
Safeguard Defenders said secret police stations were established by China's state body, the United Front Work Department (UFWD), to influence politicians and others. A Chinese media report shows that Lin was part of a European delegation led by an organisation that met with the UFWD.
Safeguard Defenders claimed that by having politicians attend events run by its overseas organisations, the UFWD is able to legitimise these groups, influence politicians and dissuade Chinese expats from reporting any wrongdoings of the Chinese state to Scots politicians.
Laura Harth, Safeguard Defenders' campaign director, said: "The Ferret's investigation once again lays bare how woefully – or wilfully – unaware many of our institutions have been over the years when it comes to the malign influence activities of the [UFWD], which range from the wooing efforts outlined in this latest investigation to the heavy-handed repression of dissenters.
"It remains our firm recommendation that local authorities urgently investigate these activities on their territory, and duly inform public and private sector entities of these United Front organisations' methods and objectives to advance the [Chinese Communist Party's] influence abroad".
She added: "Overseas police service stations' are but the tip of the iceberg, and it is high time democratic governments act in a coordinated and wholesome manner to counter these malign influence operations."
The Inter-Parliamentary Alliance on China's executive director, Luke de Pulford, who has also sat on the Conservative Party's Human Rights Commission, claimed Johnson had previously been "vulnerable to [Chinese Communist Party] courtship". "The real question is what sort of impact this has had on public policy," he said.
"When whipping against the Genocide Amendment – an effort to help Uyghurs persecuted by the [Chinese Communist Party] -– Johnson declared himself to be 'fervently Sinophile'". Johnson's "closeness to China" cannot "just be explained by his love of Chinese history and culture, but by interests and influence," he added.
Police Scotland's detective chief superintendent, Stuart Houston, said: "Officers visited a restaurant on Sauchiehall Street, Glasgow as part of ongoing enquiries. We are continuing to assess all information, in conjunction with local and national partners. At this stage no crimes or offences have been identified."
The Chinese Consulate in Edinburgh did not respond to requests to comment. The Ferret attempted to contact Lin via Loon Fung and Sichuan House, but did not receive a response.
The GCRC did not reply to a request for a comment.
Boris Johnson and the City of London and Westminster Conservative Association were asked to comment.
Header image credit: Arno Mikkor (EU2017EE) (CC BY 2.0)