Women wait longer than men for emergency medical care in Scotland despite the fact they are more likely to be admitted to hospital after being seen in A&E.
The Ferret analysed data on monthly waiting time rates for women and men in 27 of 30 emergency departments in Scotland, obtained from Public Health Scotland through a freedom of information request.
Our research found that women waited twelve minutes longer than men in April 2023, with 60.5 per cent of women seen within four hours, compared to 64 per cent of men.
Women's average wait can be up to 44 minutes longer in some emergency departments and lengthier waiting times for emergency care have been linked to worse health outcomes and increased risk of patients dying.
Critics said our findings "lifted the lid on medical misogyny" and "couldn't be brushed under the carpet".
The Royal College of Emergency Medicine (RCEM) said the figures were "disappointing" and it was "working to increase awareness of this issue".
Scottish Government and NHS health boards insist emergency departments prioritise patients by clinical need, not gender, despite the figures.
Ninety-five per cent of patients should be seen and treated in A&E within four hours, but NHS health boards have been struggling to maintain this official target in the post-pandemic recovery. Only 55 per cent of 95,000 A&E patients in Scotland were seen on time in December 2022, a record low.
The gender gap in A&E waiting times has quadrupled since 2021. Women waited an average 2.5 minutes longer than men before the pandemic – 2013-2019 – and ten minutes longer in the period from January 2021 to April 2023.
This is despite women being more likely to be admitted to hospital after receiving urgent care. The ten-year average A&E hospitalisation rate is 33 per cent for women and 30 per cent for men.
Women waited up to 44 minutes longer
Gender waiting gaps widened in several emergency departments that failed to reach their waiting rate targets. At Borders General Hospital, in Melrose, female patients waited 44 minutes longer to be seen in August 2022. 65 per cent of men and 57 per cent of women were seen and treated within the target four hours. The department attends to 2,500 patients every month.
At University Hospital Crosshouse, in Kilmarnock, women were left waiting 31 minutes longer than men in November 2022. Royal Alexandra Hospital in Paisley, Forth Valley Royal Hospital in Larbert and University Hospital Ayr attended to women almost 30 minutes later than men in August 2022, October 2022 and March 2023, respectively.
The latest available data, for April 2023, shows that women in one of the biggest A&E departments in Scotland, the Glasgow Royal Infirmary, waited five hours and 30 minutes on average. Men waited twenty minutes less.
At Aberdeen Royal Infirmary, men's average four-and-a-half-hour wait was stretched by an extra 27 minutes for women.

In some emergency departments, the gender waiting gap is less pronounced. At the largest urgent care centre in Scotland, the Royal Infirmary Edinburgh, women waited seven minutes longer than men in April 2023. The gap at the Ninewells Hospital A&E in Dundee was just over two minutes.
Average waiting gap, all Scottish emergency departments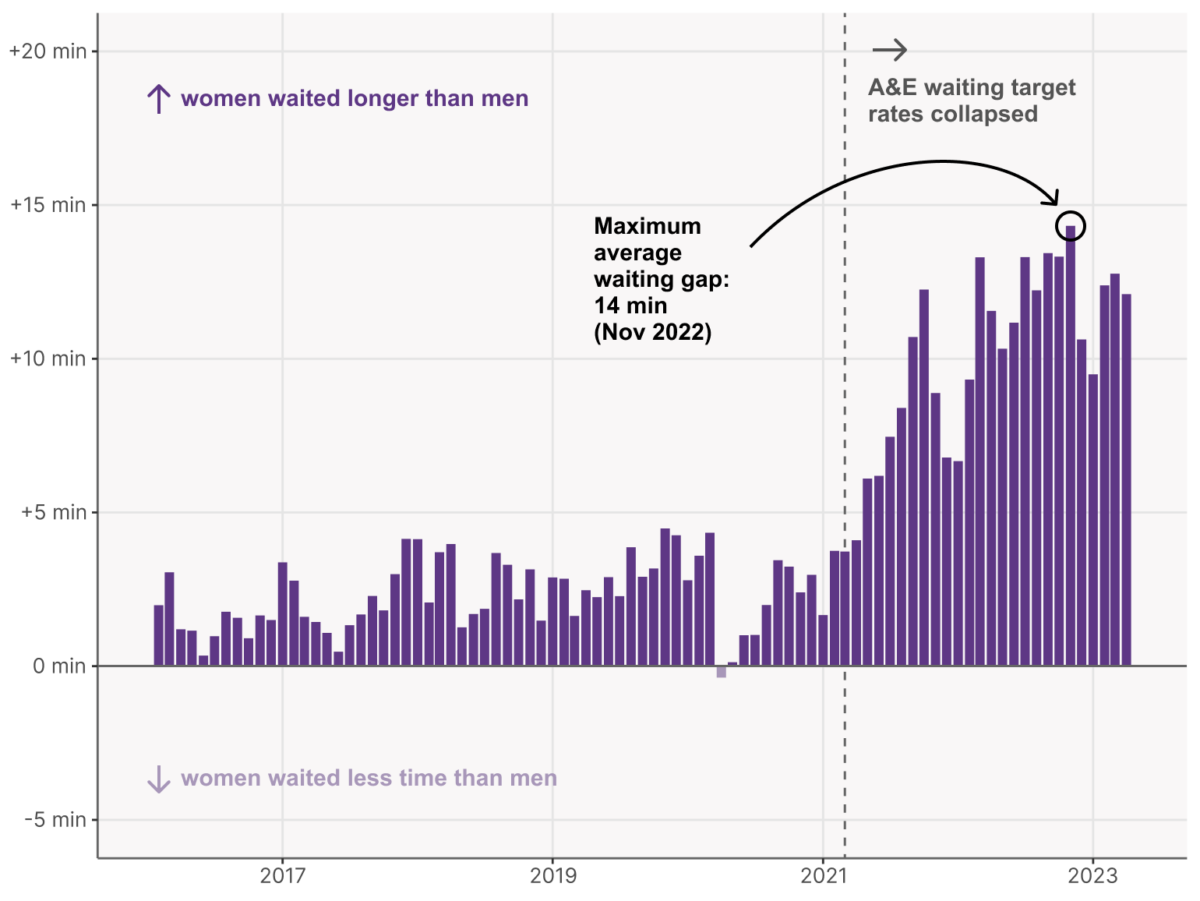 Average waiting gap, by emergency department
NHS crisis exacerbates health inequalities
Sarah Graham, freelance health journalist and author of Rebel Bodies, a book on medical misogyny in the UK, said there was a "complex of interlinked issues that puts women at a disadvantage" in the A&E.
Cultural beliefs see women as prone to anxiety and more emotional than men, while conditions that affect primarily women – such as ovarian cysts and endometriosis – are understudied. The medical school curriculum often uses limited representations of patients. "For heart attacks, the example in the book is almost exclusively of a man," Graham said. All this informs an unconscious bias against women held by medical staff, she claimed.
In A&E, treating patients in medical emergencies requires staff to make snap judgements about the patient's condition. Patients assessed to have serious issues will be seen before those deemed less urgent.
Graham argued that doctors rely on mental shortcuts – stereotypes – to assess patients when pushed for time. Increased waiting times put even more pressure on A&E staff, exacerbating the existing health inequalities, she said.
Researching her book, Graham collected several women's accounts of serious conditions being misdiagnosed as minor issues in A&E. She said: "There was one really striking story I recorded, of a young woman – not the kind of person you'd expect to have serious health issues – who went to the A&E in serious pain. She was told she was having a panic attack and was prescribed [a sedative]."
Graham said the woman was later admitted to hospital with a partially collapsed lung and difficulty breathing – but only after visiting the A&E two more times with the same symptoms.
Medical misogyny 'sadly unsurprising'
Monica Lennon MSP, convenor of the cross-party group for women's health, said: "This crucial research lifts the lid on medical misogyny in Scotland today, and the real-life impacts on the health of women. It's staggering that the gender waiting gap for emergency care has quadrupled. These statistics can't be brushed under the carpet."
She added: "NHS staff are doing extraordinary work in often impossible circumstances, but it's clear that system change is needed to tackle unconscious bias. Ultimately, responsibility lies with the Scottish Government to ensure that its women's health plan actually delivers. Without adequate resources and the courage to address societal and institutional misogyny, gender inequality will persist."
Catherine Murphy, executive director of Engender, a feminist policy and advocacy organisation, said longer waiting times were "sadly unsurprising" and "rooted in gender discrimination." She claimed women wait longer to be diagnosed with illness and are more likely to be misdiagnosed, adding: "Women's pain is often not taken as seriously as men's, and we wait longer for pain medication as a result."
Murphy also believes gender inequality in healthcare is not inevitable, but she said there is an urgent need in the NHS for training and guidance on the medical barriers women face. She continued: "Our system can work better for women. The Scottish Government has previously committed to creating a Scottish Institute for Women's Health to drive changes in policy, medical training and to fund dedicated research into women's health. This needs to be prioritised by ministers in the next year."
Rhianna Mallia, research and policy lead at Young Women's Movement (YWM), a charity addressing gender inequality in Scotland, said longer A&E waiting times for women "shed light on the wider systemic issues of how women access healthcare."
A 2022 survey by YWM showed that women often felt their issues were dismissed by health professionals, that they were not taken seriously, and that their experiences were minimised.
Dr Kirsty Challen, chair of the gender equity committee at RCEM said: "These figures are disappointing, they are likely to be due to a variety of reasons. We know that women present with different symptoms than those often taught in medical and nurse training and this may lead to longer waits for female patients in A&Es. A higher proportion of older frail patients are female and they may require more protracted and complex care."
Challen added that the RCEM was working to "increase awareness of this issue and to reduce subsequent health disparities."
A Scottish Government spokesperson said: "Women's Health is a key priority for the Scottish Government. Our ambitious Women's Health Plan published in August 2021 sets out actions which aim to address women's health inequalities. Substantial progress has been made to implement the actions in the plan and we will continue to drive forward work to improve health outcomes for women and girls."
They added: "Published figures from PHS show that attendances at A&E are consistently higher for men than for women, however patients are always seen based on clinical priority on arrival and not on gender."
Methodological note
Gender was not recorded for a small number of A&E patients (two per cent). These were removed from the analysis. Three children's A&Es were also excluded.
In the absence of information on real waiting times, the average waiting times were calculated from the number of patients seen within each four-hour waiting bracket. For people seen within four hours, a two-hour average wait was assumed. A six-hour average wait was assigned to those waiting between four and eight hours; a ten hour wait to those between eight and twelve hours; and a fourteen-hour wait to those waiting more than twelve hours.
Cover image thanks to Justin Lim / Unsplash
This Ferret story was also published with Sunday National. Our partnerships with other media help us reach new audiences and become more sustainable as a media co-op.  Join us to read all our stories and tell us what we should investigate next.