It is a pristine morning in North Ronaldsay, and as the sun shines, Malcolm Purvis is re-roofing his barn with giant sandstone and granite slabs, sourced from the nearby shore.
After nearly a decade in Wester Ross, Malcolm and his wife June decided to seek out "another adventure", and after falling in love with the small Orcadian island while on holiday, the retired couple from London later made their home here.
While the house had been holiday accommodation before being bought by Malcolm and June, it is now the home of permanent residents.
Having been welcomed into the community, they are now helping to reverse North Ronaldsay's long term population decline.
While some 500 people lived on the island at the end of the 19th century, locals say fewer than 70 reside here today.
The Ferret is in North Ronaldsay as part of our island depopulation series, for which we also visited Bute, the Orkney mainland, and Shapinsay. We have been looking at the issues facing many of Scotland's islands as they struggle to support shrinking communities, and the need for better housing and jobs to support their growth.
According to National Records of Scotland data, more than one in 10 residents of the Orkney Isles of North Ronaldsay, Sanday and Stronsay – which together make up one 'data zone' – left between 2010 and 2021. Meanwhile, the proportion of residents aged 65 or older grew at twice the rate of those aged under 16.
Declining, ageing populations are common to many of Scotland's 93 inhabited islands – a number which was once greater. In Orkney alone, depopulation caused isles such Fara, Faray, Stroma and Swona to be abandoned throughout the 1900s.
Incomers can be drawn to islands due to their stunning natural beauty. But often it is islanders themselves that make communities like North Ronaldsay such remarkable places to live.
An island with 'everything'
In their kitchen Malcolm and June show us a welcome pack they received after they moved in, which includes a map of every home on the island and the names of residents. "The people here have been fantastic," says Malcolm. "So welcoming and helpful."
Having arrived in September 2022, the couple brought all their possessions and animal companions with them on the ferry, including their pony, Zara, who was taken off via a crane.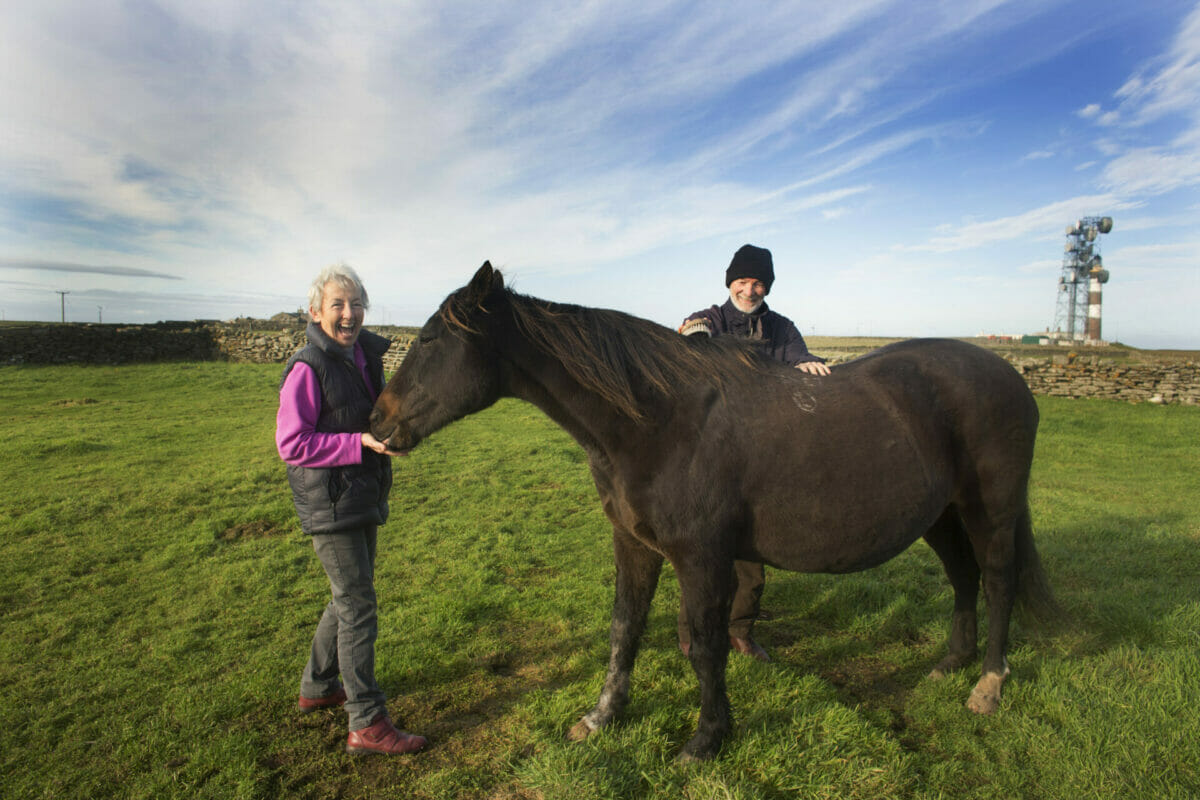 Since moving, the couple have had no problem adjusting, and they embrace its remoteness from Scotland's mainland. June says they have only been to Kirkwall, Orkney's capital, once for Malcolm's hearing test, and couldn't wait to get back because "it was too busy".
"The island has got everything. It's got fabulous soil. The land here is amazing," June says. "It's got the rocky coast, it's got the sandy beaches, it's got the lighthouse, it's got the bird observatory, it's got the peace and quiet."
Aside from the local shop, residents order their food online from the Co-op, and collect their deliveries from the airport. June and Malcolm also love deliveries of pizzas from the bird observatory's restaurant on Tuesdays, and fish and chips made by a local couple on Fridays.
"Mate's Monday", where islanders rotate around each other's homes for dinner, is one of many initiatives which keeps the island's small, but resilient community so tight-knit.
The couple – alongside young families who have recently moved – are part of the solution to depopulation, an issue which they say "islanders talk a lot about" and that they want to help tackle. "We don't want to be like St Kilda" – which was abandoned in the 1930s – June says.
Over on the beach, the island's famous kelp-eating sheep wander the shoreline, separated from inland pastures by a 13-mile dyke and other barriers.
North Ronaldsay's demographics have made the constant construction of the sheep dyke a challenge, but rebuilding efforts are buoyed by a team of volunteers who come from far and wide, particularly during the annual sheep festival.
The ground beyond the shoreline is peppered with punds – enclosures for sheep – and crues – structures historically used for growing vegetables. Malcolm and June are keen to use the crue that came with their home to grow fruit plants – a trend June quietly hopes will catch on.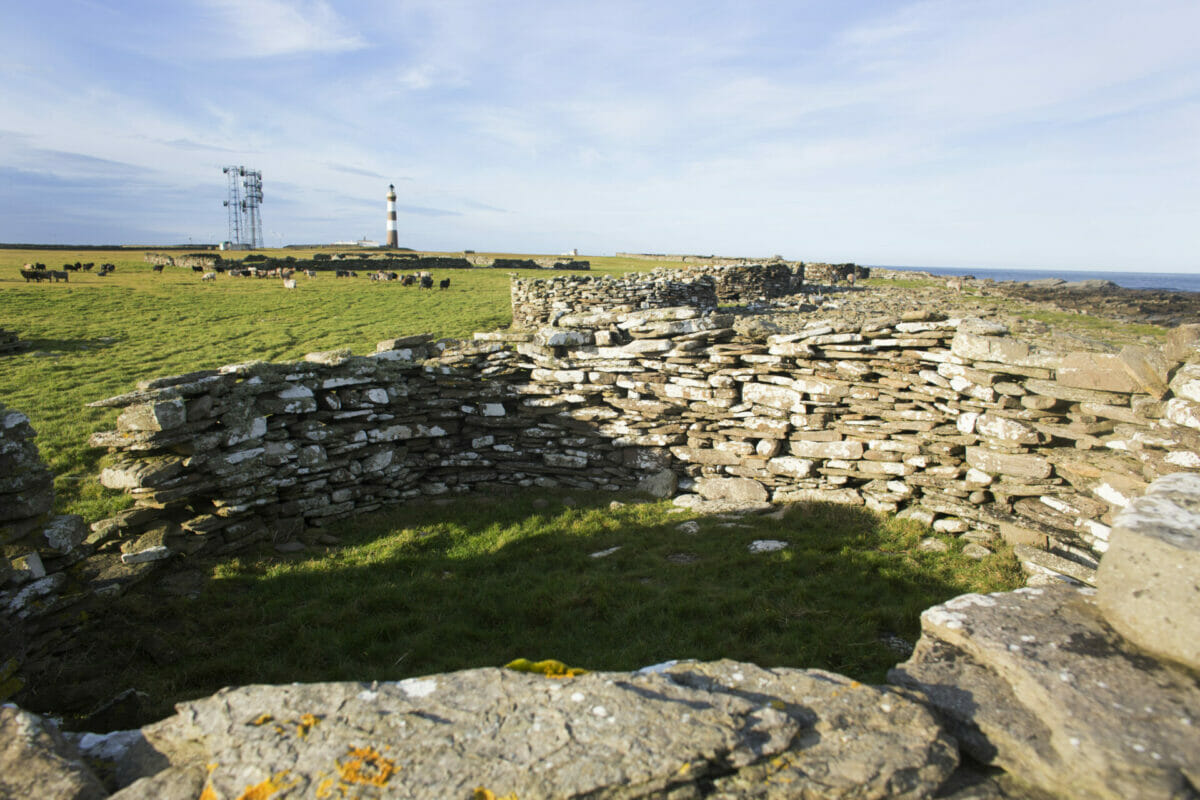 Malcolm reveals that once re-roofed, the barn will act as a small workshop and studio. "They have immense tradition here," he says. "I think there's room for tradition. But you do need a little bit of innovation as well. The people of North Ronaldsay are very innovative."
Already entrusted to give tours of the lighthouse – which was automated fewer than 25 years ago – the couple lead us up the long spiral staircase. As we climb, the sound of June's songs about North Ronaldsay's veteran lighthouse keeper – and of her and Malcolm's new island home – echo out.
Life on a shrinking island
As the evening light illuminates North Ronaldsay's flat green vistas, we drive toward the home of Tommy Muir, a lifelong islander. When we find Muir's house, we are invited into his warm living room. Resting at the day's end in his armchair, Muir tells us his account of North Ronaldsay's long-term population decline.
We ask him about the once 500-strong population. "That was a long time ago," he says. "I think even my father wouldn't have remembered that number. At that time, every wee house would have been occupied."
The isle would have been "cut off weeks at a time in winter" as, prior to ferries and flights, the sea passage would have been treacherous. But with regular flights to Kirkwall, many Orcadians argue that North Ronaldsay is better connected than other islands, which, while closer to the Orkney mainland, lack airports.
Muir, who previously worked for the council and for Scottish Water, looked after North Ronaldsay's mains water supply, which was installed in the 60s. Electricity would not reach the island's shores until the 1980s.
Infrastructure has largely caught up, but in the last few decades, Muir has witnessed an exodus of people, particularly young islanders. Today, there are between 60 and 70 people, he believes, but has "never actually just counted people up". Some 72 people were recorded in the 2011 census.
But, the population fluctuates and is currently "on the rise", adds Muir. Two families have moved in recently, including one with small children.

Is this enough to turn the tides of depopulation? The jury is still out for Muir: "Whether we'll get more or not, I could not say". Without a secondary school on the island, children on North Ronaldsay must travel to Kirkwall, and typically stay in Orkney's capital throughout the week – a measure that can deter new families.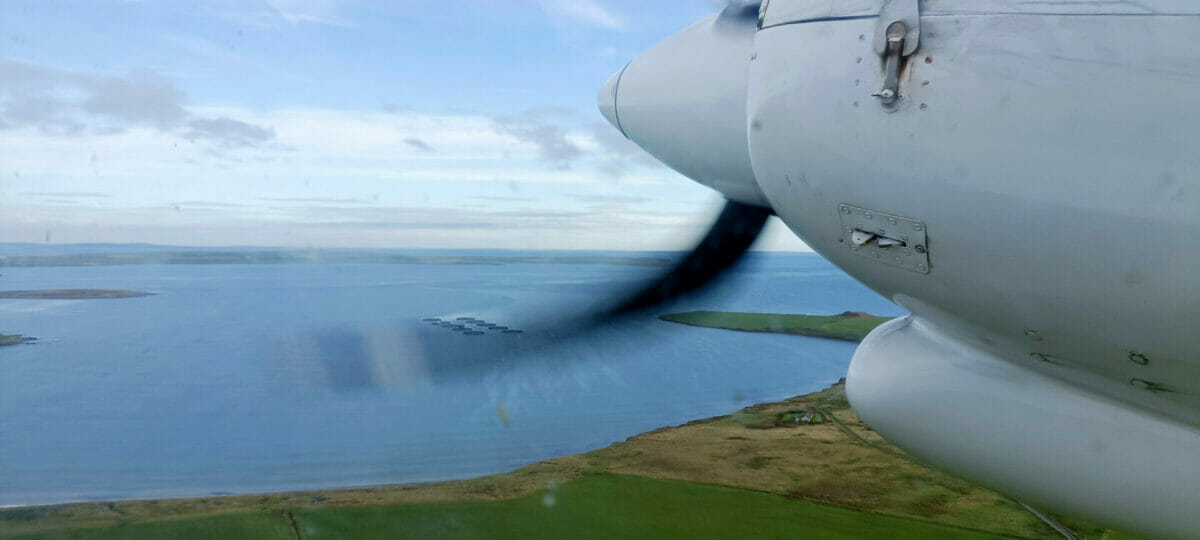 Muir summarises the main reason for depopulation in one word: "income". There are few well paying jobs on the island. The population decline, he says, was in part fuelled by the rising cost of machinery and the mainland shift to the likes of combine harvesters, which, being too large for the island's small fields, are of little use to North Ronaldsay' crofters.
While beef farming was once prominent, few crofts now raise cattle. The island, often dubbed 'the fertile isle', "all used to be cultivated," Muir remembers. "You had oats and corn, tatties and turnips grown. None of that now. It's all silage and grass."
Derelict croft houses are now dotted across the island and can be easily spotted from the roadside. Their roofs have caved in, but their hardy stone bodies remain intact.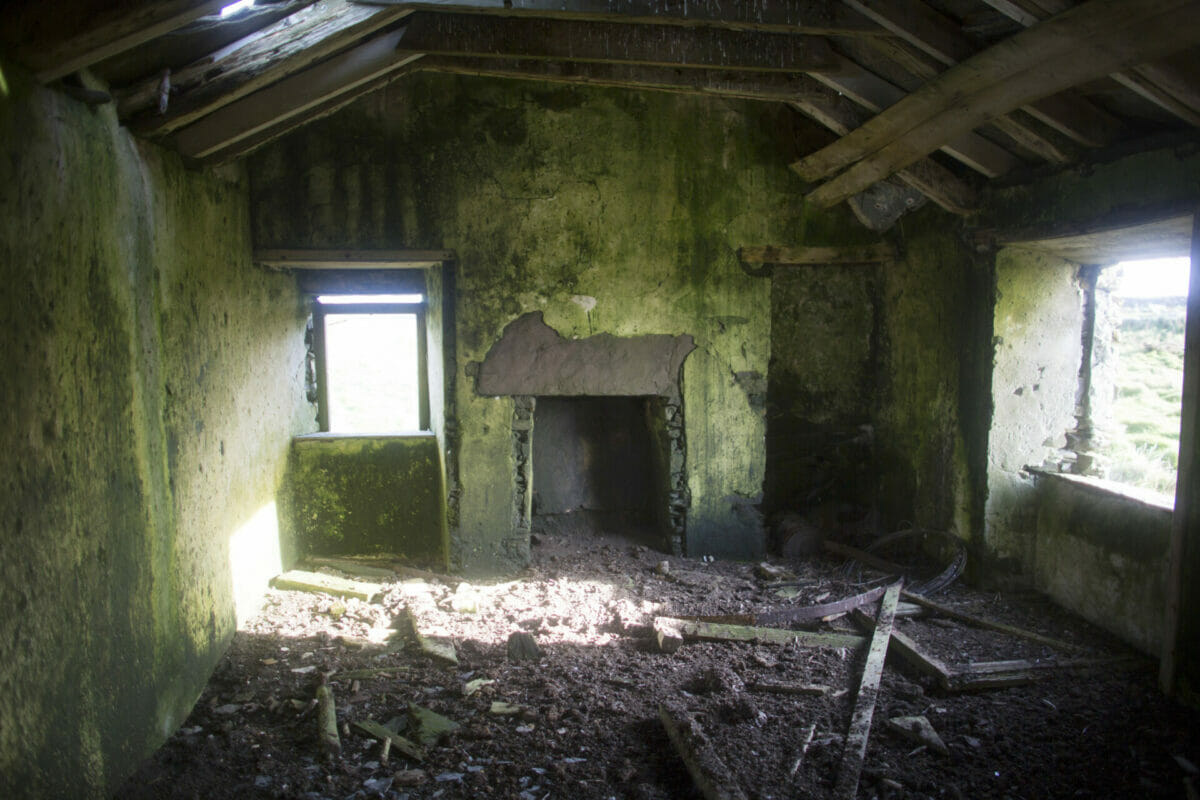 "I remember far more being occupied," recalls Muir. "But not all of them". Now, he says, more become derelict each year. "We get accustomed to seeing them, but it's a shame."
Muir attributes the derelict buildings to a period – decades before land reform – when one laird owned the island. Croft houses couldn't be sold "because you didn't own the ground it was built on," making crofting impossible without landowner consent.
He says the former homes are still owned by islanders, who likely cannot afford the materials or the construction.
North Ronaldsay residents have been "firefighting" against unemployment, low wages and depopulation, but a solution is yet to be found. "They've been trying to find that out for many years," he says. They've not come up with a real answer yet."
Turning the tide of North Ronaldsay's depopulation
But there is work being done to address the many challenges. As well as working to preserve the island's heritage, the North Ronaldsay Trust is striving to secure a future for its community.
Its chair, John Scott, attributes depopulation to "housing and jobs." Islanders typically have multiple part-time jobs, and increasing numbers now work from home. While it is possible to commute to Kirkwall, the weather can make planes unreliable.
The trust has created jobs which help build and maintain the island's infrastructure, and support its vital tourism industry.
These include providing guest accommodation, maintaining archaeological attractions, working towards International Dark Skies status – awarded to stargazing hotspots with little light pollution – and promoting the island's sheep.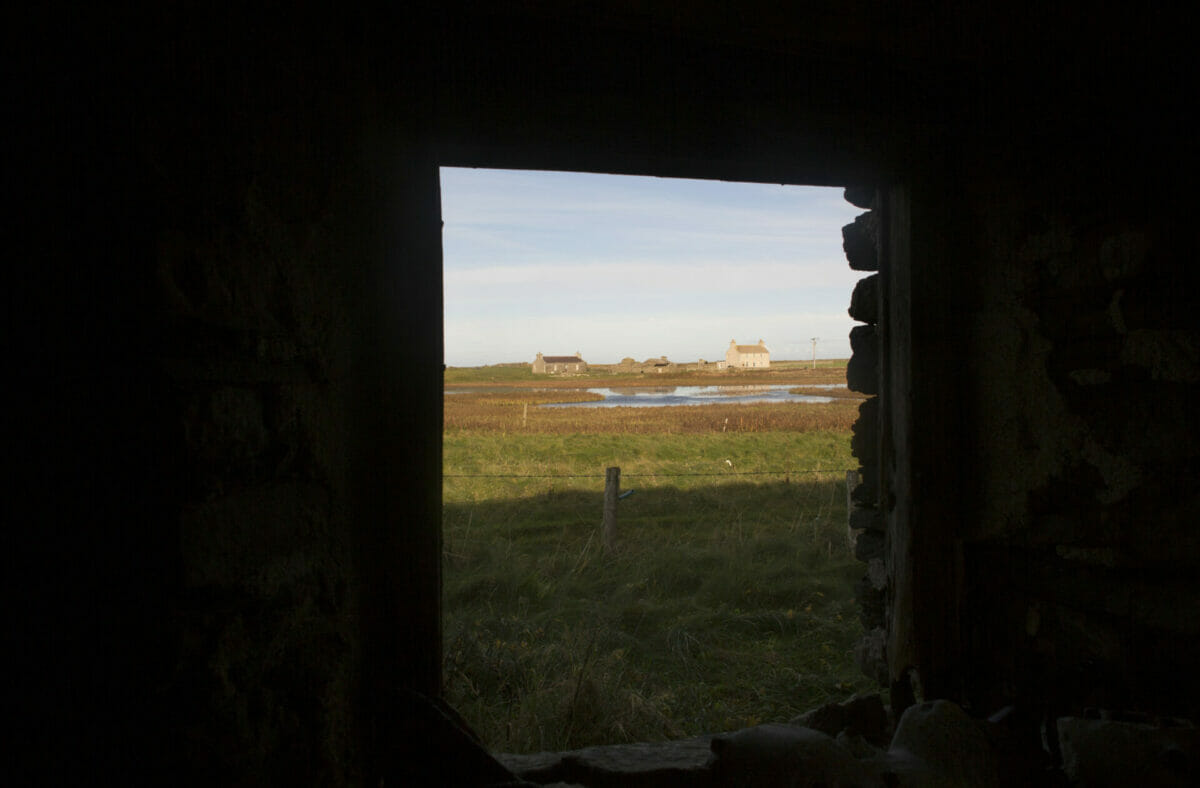 The trust has also used funding to build and renovate homes. But securing housing grants can be more difficult, as some funders struggle to justify projects for small populations, Scott says.
Without builders on the island, both the workers and materials must be sourced from the mainland. And without a roll on roll off ferry, materials must also be lifted off by crane, and are limited by weight.
"We haven't been able to convince the local authority to build houses," Scott says. "You can't have a council housing waiting list on an island that doesn't have any." He believes council funding is "all centred on Kirkwall" due to its workforce being based mostly on the Orkney mainland. "Some of them have never been to North Ronaldsay," he claims.
Orkney council says that 200 of its 1,000 social housing properties are on islands outwith the mainland. Two have been built on North Ronaldsay since 2010, and a housing conference was held on the island in 2019.
The local authority says it will consider building homes where there is evidenced need, and financially supports development trusts to develop their own housing.
But despite this, Scott, like other islanders, still worries about depopulation. The complete abandonment of North Ronaldsay "a possibility, sadly," he says.
While welcoming to incomers, he warns that most are over 70 and cannot fill all the island's vital roles forever. Islanders as well as local and national governments must work together to tackle depopulation, he says, and could look abroad for solutions.
"It's interesting to look at other islands because there are things we can learn that, for them might seem blindingly obvious, but to us they're not," he says. "We can talk about [depopulation] as much as we like, but we need to do something about it. It wouldn't be much of a place in North Ronaldsay was just empty."
This story is the third in a series on island depopulation funded by journalismfund.eu – an independent, non-profit organisation in Brussels that supports cross-border investigative journalism.
Our investigations were carried out in partnership with Irish journalist, Niall Sargent, and Italian journalist, Giacomo Zandonini. You can read Sargent and Zandonini's investigations into island depopulation in Ireland and Italy via Noteworthy and the Investigative Reporting Project Italy.