On the outskirts of Stromness, Luisa Milne gazes out of her porch window and says: "You can't pay for this view." Standing beside Milne is her husband, Nathan, who tells us that, on a clear day, just miles from their Orkney home, a mirror image of the standing stones of Stenness is reflected onto the nearby loch.
Just years earlier, Luisa and Nathan were Texas-based oil workers. Whilst on holiday with their two children in Mexico, they received some unexpected news. Luisa was pregnant. Much of the world would then move into a Covid-19 lockdown.
After Luisa, a petroleum engineer from Columbia, and Nathan, a rig worker raised in Tiree, were laid off from their jobs – in 2015 and 2020 respectively – they decided to make the move from Texas to Scotland.
Having completed a masters in engineering online via Heriot Watt, Luisa wanted to apply her skills to the green tech industry, and when she saw the university offered a masters in renewables in Stromness, her family moved to Orkney.
It is a beautiful place and incomers and visitors alike are drawn to the archipelago's renowned and unique nature – which includes stunning coastlines, wildlife havens and archaeological wonders – as well as its strong sense of community. Orkney's magnetism is also reflected in demographic data.
Between 2001 and 2020, Orkney's population, as a whole, grew at a faster rate than any other "data zone" – individual islands, island areas or island groupings – according to the Scottish Parliament Information Centre (SPICe).

But as is so often the case with statistics, the true picture is more complex and nuanced. While there's a positive story for Orkney to tell of surging against the tide of depopulation, it is not the case for every isle in this archipelago.
National Records of Scotland data shows that, from 2010 to 2021, many of Orkney's outer islands – grouped together as single data zones – actually saw their collective population decline.
As part of The Ferret's island depopulation series, we visited Orkney in October to learn which factors islanders believe have led to population growth on the mainland, but decline in the outer isles. We also visited Bute – where one in five people left between 2001 and 2020 – the largest exodus of any island 'data zone'.
While not relevant to every island community, depopulation is an issue that extends right across the world. It has led islanders, researchers and governments to consider which factors determine an island's demographical fate.

So what factors are in Orkney's favour? Again and again, the archipelago tops UK happiness surveys, with residents reportedly enjoying high employment, low crime rates, and good health – benefits which are likely to attract incomers.
But this is not the lived experience of everyone we speak to – some warn of job limitations, housing shortages and limited access to care services. Islanders attest that enchantment with Orkney has substance, but that island life is not without its difficulties.
Luisa and Nathan's relocation to Orkney demonstrates the archipelago's power to attract incomers. But their move was not without its challenges. It involved eight months of house searching, which ended when the last landlord on a list – provided by the university to help accommodate students – had a house to rent.
While grateful to have a home, the couple's heating bills were "through the roof" long before the cost of living crisis, the property is prone to mould, and its narrow doorways and small bathroom make it tough for their daughter Isabella, who is disabled, to live comfortably.
The couple would like to buy a home. But having finished her masters, Luisa is struggling to find a job, while Nathan has become a full time carer to their children.
"I know people with a masters who can't get a [mortgage] here," says Luisa, adding that only smaller homes and single rooms are easy to come by. "People who stay on the island when they've finished their masters probably are single people."
Housing, Luisa believes, is the main issue that causes people to leave. "I think there are houses," adds Nathan. "The problem is that even if you find a house, the wage to mortgage, wage to rent ratios are completely ridiculous."
Airbnb hosts are occupying too much of the housing stock, he says, claiming it to be more acceptable for locals to own short term than incomers.
The Milnes are also looking for land to build a house that would better accommodate Isabella. But their housing and work struggles are making them consider a move away from Orkney.
They would like to be able to hire a carer so Nathan can return to work, but "that's another thing there's very little of," he says. A post-Brexit worker shortage has led to depopulation and caused "a massive hole" in Orcadian society, he claims.
Nathan is also concerned that one of his daughter's classes has been merged with another: "The school's getting smaller now – and this is part of the problem because people can't get houses – they've had to take a teacher out of the school."
But the couple still love Orkney. "It's fantastic," says Luisa. "When I arrived, it didn't feel like I was living on an island. It feels more like a small city on the mainland because you have access to a lot of things. But once you start living here, things get a lot trickier."
The University of the West of Scotland's Dr Rosie Alexander warns that housing can be a real problem, especially for young people, and those on low incomes.
Certain "desirable" island communities can also be at risk of "rural gentrification", making affordable accommodation even more difficult to access, she says.
Kirkwall-based Alexander, who has studied island migration, is aware of housing shortages having made key jobs roles in Orkney hard to fill, and having "effectively capped" the population of Papa Westray, a small island with a growing population.
The council tells The Ferret in an email that it plans to build across the mainland – providing it secures government funding – prioritising those with an "evidenced" need for rehousing.
Its five-year plan considers population changes and predictions, writes Frances Troup, the council's head of housing. Troup is aware of controversy surrounding second homes and Airbnbs – a "recognised" issue" that, to maintain the benefits of tourism, means a "fine balance" must be struck.
Meanwhile, jobs continue to attract incomers to Orkney's mainland.
Orkney's renewables boom
It is a fresh, rainy morning in Stromness Marina, where, amidst the local fishing fleet, a berthed ferry patiently awaits its next journey to the Scottish mainland. It overlooks Orkney's second largest town – an inspiring renewables hub with an international pull that is helping to drive the local population.
This draw factor is partly owed to Heriot-Watt's renewable courses, the skilled, well-paid jobs awaiting its typically young graduates, and Orkney's reputation as a great place to live, work and study.
We pass through the town's narrow stone lanes and shield from the rain in a nearby cafe with two young renewables graduates. Now part of Community Energy Scotland (CES), Cat McGinley and Alex Afjool spend their days working on innovative renewables projects.
"I looked at this energy island and saw so much going on in renewables and thought, wow, this place looks amazing," says McGinley, from Edinburgh. Afjool, from Nantes, France, was delighted to join friends and former classmates in the renewables sector. He has lived in Stromness for the best part of six years.
After moving, the pair fell in love with Orkney's nature, embracing the surfing, snorkelling, swimming, climbing, camping and hiking opportunities on their doorstep. McGinley warmly recalls a pod of orca swimming past while out cliff jumping.
But while enjoying Orkney's stunning natural environment is inevitable, they too find housing shortages mean that finding a place to live is not. Afjool recalls living in nine different homes in Stromness.
"There are times when there's two or three places available… but most of the time there's nothing," says McGinley. Both talk of landlords terminating leases by the end of spring to take advantage of the influx of summer tourists.
Airbnbs and holiday lets can be more lucrative than traditional letting and provide income for some islanders. But the practice also makes setting roots difficult for others.
McGinley and Afjool also know people who have left Orkney due to lack of career opportunities, which can be lacking in certain sectors. "Young people who leave the island, that's the main reason," says McGinley.
"It's because what they want to do isn't here. They go off and go to university. And even some of our friends have struggled a little bit." But, "people have left and come back again as well," she adds. "People really miss it when they move away."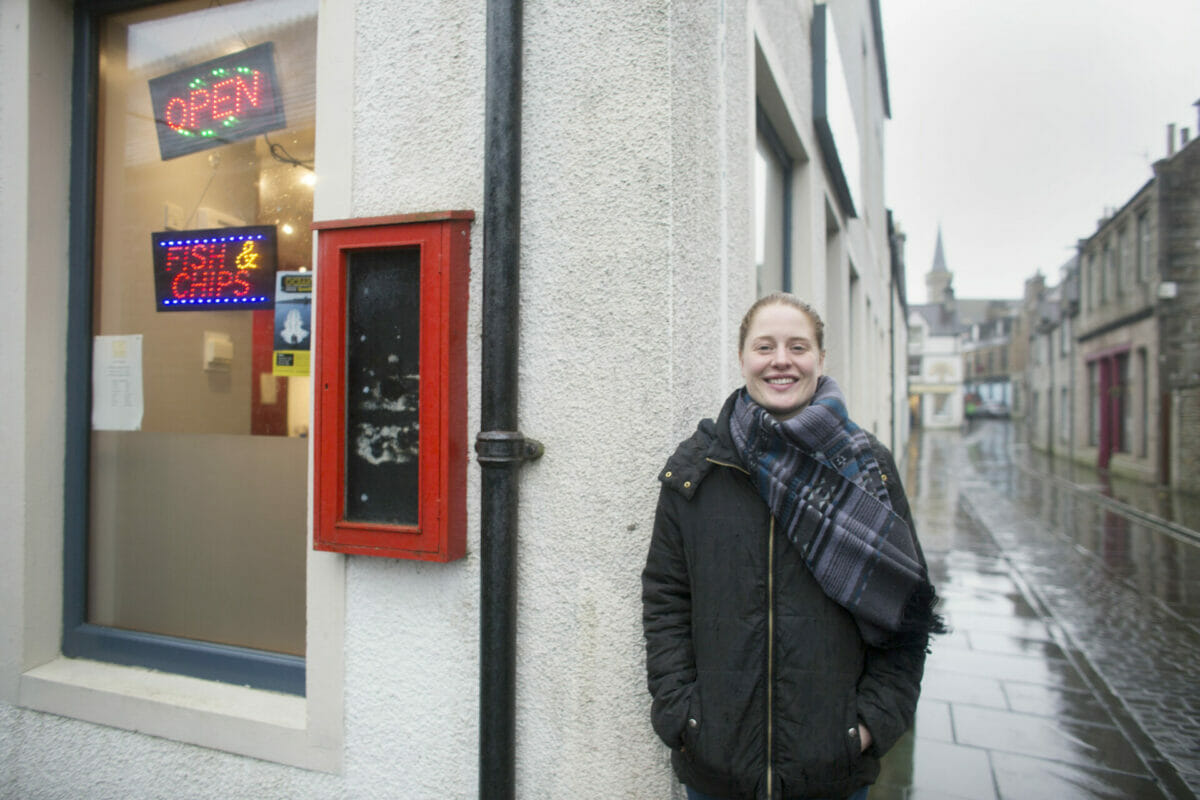 Having long been an energy hub, Orkney's renewables industry is supporting the local – and national – transition from oil and gas, which has also been a key employer on the archipelago. Other industries range from tourism, to food and drink, supported by its agriculture, fishing and aquaculture sectors.
Dr Alexander, a career guidance lecturer, says that despite low unemployment, there is much seasonal, low paid, part time and temporary employment in Orkney, and some may not find "the kind of work they really want".
In smaller islands, a prevalence of part time work means people might need several jobs to earn a living, which can put off incomers. Islanders have suggested combining multiple part-time roles into a single salary job, she says.
Rather than work shortages, young people tend to leave for college and university so they can experience urban, student life, Alexander says, adding that many wish to return eventually.
Jobs are also a key focus of the £100m islands growth deal, which was signed in January by the Scottish and UK governments. The scheme aims to create 1,300 jobs over 10 years in Orkney, Shetland and the Western Isles.
Stromness is one example of how employment can help to create an alluring island destination for young people. While neither McGinley or Afjool are certain about making Orkney their permanent home, both are clearly captivated by the archipelago and have no short term plans to be anywhere else.
Afjool now sees Orkney as his "main base". "It's always a place that will be important for me and that I'll come back to," he says. "It's a beautiful place. I love the nature here, I love the people, I love the waves. Maybe not the food!
Shapinsay's community housing project
At the edge of Balfour village on Shapinsay – an island off the north coast of Orkney's mainland – Lisa-Marie Muir rents an e-bike to one of the newest residents, who cuts through the blustery coastal weather towards the harbour.
Muir greets us as we approach Shapinsay Development Trust's shoreside headquarters, a converted boathouse from which community initiatives to enhance island life – and help turn the tide of depopulation – are conceived.
Just across the road, the island's children and teachers have returned to the primary school after the October break. On a small island like Shapinsay, the departure of just a few pupils can put a teacher's job at risk. And once a teacher leaves, "you're never going to get them back", says Muir, the trust's manager and community development officer.
Her group has been helping to bring more families to the island. But with people desperate to move to Shapinsay in constant contact, trying to attract incomers is not the issue. To accommodate them, the trust has tasked itself with tackling the island's housing shortage.
Under the coastal rain on Balfour's main street, Muir shows us two sturdy stone cottages overlooking Elwick Bay. The homes are results of the trust's housing efforts. Using grants from the likes of the Scottish Land Fund, which supports community ownership bids, the trust bought and renovated these long-term vacant homes to house new families.
Demand to live in Shapinsay wasn't always fervent, however. Much like in Bute, houses stayed on the market for years before Covid-19 prompted an urban exodus in favour of the "rural idyll", recalls Muir.
Now – with Orkney considered more desirable – any available house sells well above asking price, while land is snapped up by those looking to build their own homes. Despite the influx, Shapinsay – like many other islands – lacks 25 to 40 year-olds, says Muir.
The generally low wage to property price ratio – felt more acutely by young people – is not unique to Scotland's islands. But when demographic shifts illustrate a youth exodus, such barriers seem all the more problematic.
On Shapinsay, the need to maintain the school roll means that the trust must prioritise young families amongst its housing applicants. But the trust also has a letting policy to accommodate young adults, older folk, and those with additional needs.
With just two carers currently living on Shapinsay, "there are a few folk on the island that could do with care but can't get it," says Muir, whose trust is seeking to buy another house and create a connecting carer flat. "Maybe housing would help with that."
Alongside building new homes, the trust aims to renovate and reopen a community cafe, alongside a heritage centre. Aside from grant funding, the trust uses income from renting electric cars and bikes, and via GiftAid from a subsidiary company which owns and runs the island's wind turbine.
Among recent incomers are Chris and Cat Moore, who, in April, moved from Northumberland into one of the houses renovated by the trust. When we speak in their cosy kitchen, their three children are out exploring the island's many sandy beaches and green patchwork fields.
Knowing that their kids can go off adventuring without having to worry about them is one of the best things about raising a young family on the island, they tell us.
The couple had not considered a move until the pandemic hit and the rise of homeworking began. "It had always been a pie in the sky idea," says Chris, a financial advisor. No longer anchored to an office, the couple, "by chance" came across an advert seeking families with primary school-age children to move to Shapinsay and thought "this is us".
When they topped the shortlist of applicant families, "there was that moment when you go 'oh god, are we going to do this?'," Chris recalls. "Then there's that second thought that if we don't do this, we're going to spend an awful long time thinking: 'what if'."
Each home the trust makes available is a long-term investment, providing regular rental income and helping to preserve Shapinsay's population. "We try and make every project that we do sustainable for the long term," says Muir. "I think people have realised that we need incomers to make the island sustainable."
This story is the second in a series on island depopulation funded by journalismfund.eu – an independent, non-profit organisation in Brussels that supports cross-border investigative journalism.
Our investigations were carried out in partnership with Irish journalist, Niall Sargent, and Italian journalist, Giacomo Zandonini. You can read Sargent and Zandonini's investigations into island depopulation in Ireland and Italy via Noteworthy and the Investigative Reporting Project Italy.