Gamekeepers should hide heaps of dead mountain hares in the back of their trucks to prevent photographs being taken and publicised, a leading member of the Cairngorm National Park Authority (CNPA) has said.
Eleanor Mackintosh, convenor of the park's planning committee, made the suggestion at a meeting with gamekeepers after The Ferret published photos showing a shooting party with trucks piled full of dead hares at the Lecht in the Cairngorms.
In the approved minutes of the meeting, released under freedom of information law, Mackintosh urged gamekeepers to do more to educate the public. But then she added: "It may assist with reducing the chance of an image getting out to public domain on social media if the keepers used covers on back of vehicles when transporting dead hares etc rather than open trucks."
The comments have infuriated wildlife campaigners, who accuse CNPA of trying to "cover up" the killing. This is denied by the authority, which says her remarks have been "taken completely out of context".
Mass culls of mountain hares have prompted increasingly fierce arguments, with wildlife groups calling for a ban and ministers backing "voluntary restraint". Gamekeepers say that culls are needed to protect grouse and woodlands.
Following an intervention by Fergus Ewing, the SNP MSP for Inverness and Nairn and rural economy minister, CNPA officials met with the Scottish Gamekeepers Association (SGA) in a "shoot room" on the Glenlochy estate near Grantown-on-Spey on 29 September.
Minutes of the meeting, released to the Raptor Persecution UK blog, show that gamekeepers were very critical of some CNPA statements on grouse moor management. Though CNPA officials corrected some of the minutes drafted by SGA, they did not alter Mackintosh's comments.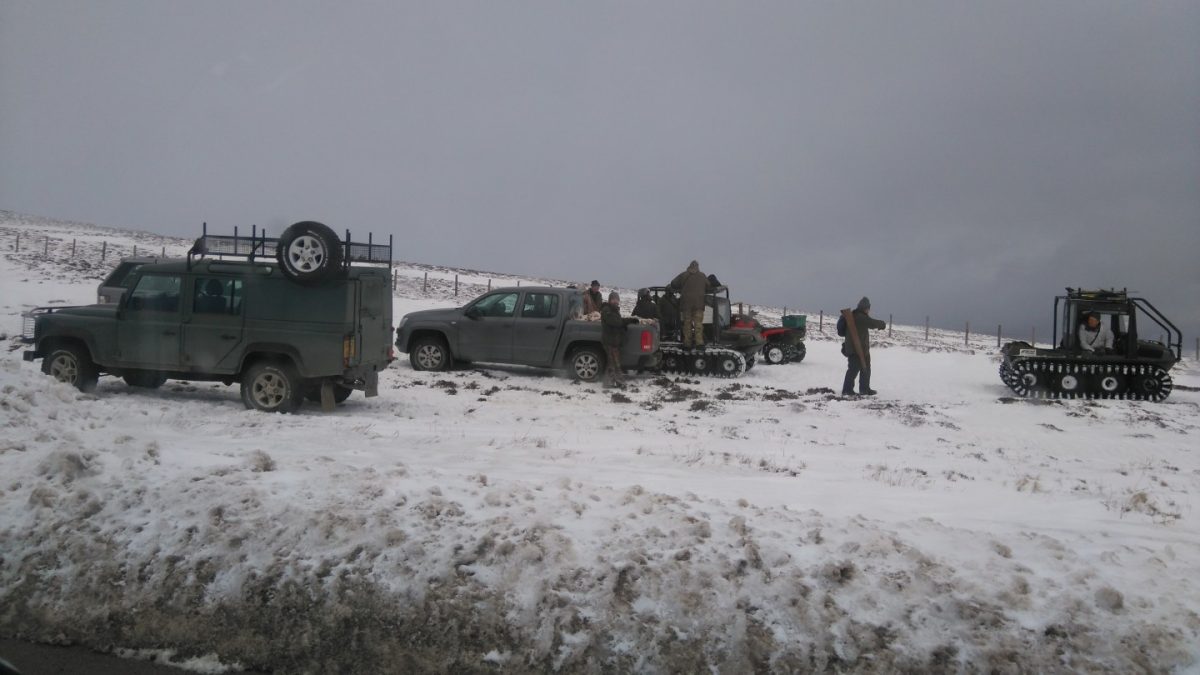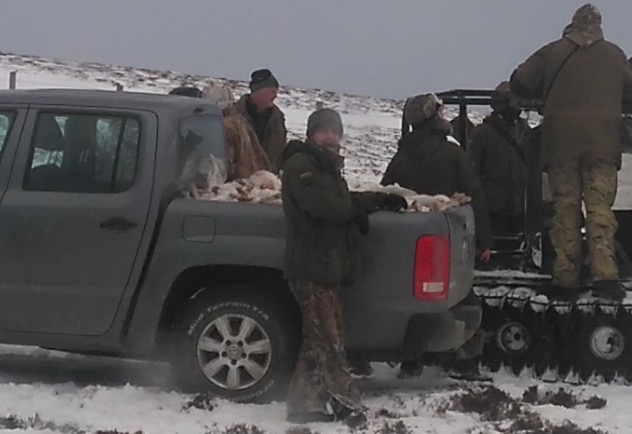 The Scottish animal welfare charity, OneKind, called for mountain hare culls to be banned in national parks. "It is deeply troubling to see the Cairngorms national park not only supporting mountain hare culls, but apparently conspiring to quite literally cover them up," said the group's director, Harry Huyton.
"These iconic animals are native to the Highlands, and the vast majority of the public and visitors to national parks will be shocked to discover they are extensively culled. Scotland's national parks should be safe havens for wildlife."
The Green MSP Alison Johnstone described the mass killing  of mountain hares as "completely unjustifiable". It was "disappointing" that the CNPA planning convener "seems to think trying to shield this issue from view is the way to proceed," she said.
"Rather than worrying about the public seeing the reality of this abhorrent practice, authorities such as CNPA should be backing calls for an end to mountain hare culls."
Mackintosh's comments were lambasted by one campaigner, Andy Holden, as "disgusting" and "extremely disturbing". He wrote to her, and other CNPA board members, arguing that there was no need to cull mountain hares.
He said: "Victorian practices such as grouse shooting should be consigned to history. Our natural heritage simply cannot sustain the present pressure the human population increasingly places on it."
Mackintosh replied saying that what she had said had been "taken completely out of context". She insisted that she supported the CNPA position on hare culls.
"The CNPA does not support hiding in any way the number of hares culled. On the contrary, our advice to land managers is to be more open about the number of hares culled," she said.
"We recognise that culling hares is legal and that culls can be undertaken for a number of reasons. We do not support large scale culling and endorse the call for restraint."
She was backed by the CNPA convenor, Peter Argyle, who reiterated that her remarks had been taken out of context. "Eleanor was suggesting that estate workers think more about the presentation of their work and working practices," he said.
"Hare culling is a legitimate land management practice and therefore no cover up is required," he added. "Eleanor is a long standing and highly valued member of the board."
Bill Lobban, an SNP councillor for Badenoch and Strathspey and vice-convenor of Highland Council, is the council's mountain hare champion. "At long last we are beginning to debate the issue of the extermination of our native mountain hare," he said.
"In the absence of firm scientific evidence in favour of culling we clearly need a moratorium which would then allow a comprehensive study of the species to be undertaken. Then and only then can we sit down and consider both sides of the argument."
The Scottish Government pointed out that its wildlife agency, Scottish Natural Heritage, had called for "voluntary restraint". It was working with stakeholders to improve transparency and understanding.
The environment minister, Roseanna Cunningham, told MSPs: "The Scottish Government recognises that mountain hares may need to be controlled for land management purposes, but does not support large-scale culls of mountain hares."
The Scottish Gamekeepers Association did not respond to a request to comment.
Extract from minute of meeting between Scottish Gamekeepers Association and Cairngorm National Park Authority on 29 September 2016 published by Raptor Persecution UK.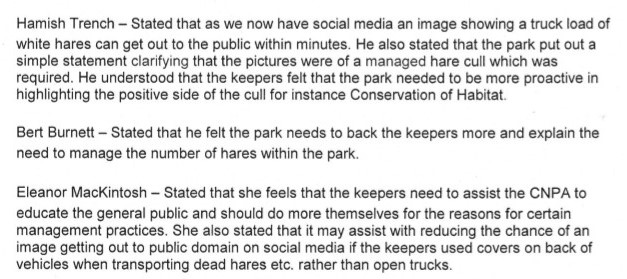 Cover image thanks to John Fielding, CC BY-SA 2.0,, via Wikimedia Commons.