Facebook has banned Glasgow Girl Roza Salih for posting a photo of imprisoned Kurdish leader Abdullah Ocalan alongside a quote that read: "Liberating life is impossible without a radical women's revolution which would change man's mentality and life".
Salih, who has a 2000 strong network on Facebook, is one of the original Glasgow Girls and Facebook's censorship of her views prompted condemnation from politicians and a freedom of expression campaigner.
As schoolgirls the group campaigned against dawn raids by the Home Office to detain and deport people seeking asylum. Their story became so famous it was immortalised in a musical and a BAFTA-winning TV drama.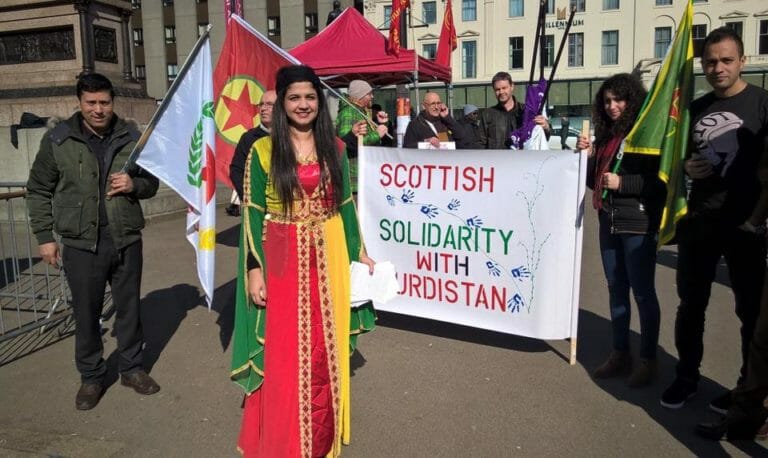 The Kurdish people, who are stateless and spread out between Iraq, Turkey, Iran and Syria, have long campaigned for an autonomous Kurdish state in Iraq. They have often faced human rights abuses there and also at the hands of the Turkish state.
The PKK Kurdish party has had an armed element, leading to its appearing on US and EU terror watchlists. However leader Ocalan has appealed to followers for peace; many policitians and publications have asked for the party's delisting as a terrorist organisation; and the PKK has been on the frontline fighting Islamic State.
As a Kurdish refugee to Scotland, Salih is still involved in Kurdish activism, and has been suspended for a month from Facebook, a move that she says is unfair and will impact on her ability to campaign:
"I can't do anything – my life is on Facebook! How can my sharing a photo relate to terrorism? I would like to know where my freedom of speech is?"
Salih is worried about the impact of the ban on her work as an activist, and on a trade union trip she is making to Cuba soon. She was hoping to share news from her trip with her network of contacts on Facebook, but says she has now been silenced.
Facebook has been known to outsource its moderation, with lowly paid workers deciding on whether users should be banned or not once they've been flagged up.
A list of items that could have users banned from a leak in 2012 included any positive mention of Ocalan or of his PKK party. Negative mentions of him or the party, however, were allowed under the rules. No other political leaders or parties are named explicitly by Facebook in the same way – although all posts related to 'terrorism' seem to be deemed fair game.
The Ferret spoke to Facebook about these guidelines, and a spokesperson said: "The guidelines you are referring to are from 2012 and are no longer in use. We have global community standards but the detail of how we implement them is informed by local circumstances. We always welcome local expert input to refine the application of our policies."
In response to our querying the removal of pro-Kurdish content specifically and banning users, Facebook said: "Facebook's Community Standards prohibit hate speech, terrorism and specific threats of violence. Therefore, content supporting the PKK are removed. However, some pages were taken down in error, and they have now been restored."
Nonetheless Salih's account remains locked.
We live in an age where more and more people are accessing their information, actually, via fewer and fewer sources, usually private US Corporations who actually have no obligation to consider the Public Good in their actions.

Alyn Smith, MEP
Scottish National Party MEP Alyn Smith, who recently argued for the delisting of the PKK as a terrorist organisation by the EU, said that he thinks Facebook's stance on Kurdish issues illustrates a wider point.
"We live in an age where more and more people are accessing their information, actually, via fewer and fewer sources, usually private US Corporations who actually have no obligation to consider the Public Good in their actions.
"Between them, Facebook, Google and Twitter account for the lion's share of information, and yet they are subject to limited scrutiny in terms of their policies.
"I believe there is a strong case for regulation to highlight their role and clarify the Public Good element of their activities. With concerns over Facebook and the Kurds, and Google in Israel I think there is a case to answer and would like to see action on an EU level."
Other politicians also expressed worry about Facebook's actions.
Liberal Democrat justice spokeswoman Alison McInnes said: "These reports are hugely concerning. Clearly no-one wants a situation where grossly inflammatory, offensive or illegal content is shared via social media but there should be no question of legitimate political campaigning being restrained.
"I hope Facebook will look closely at this case and see what steps can be taken to ensure that free debate is not stifled."
Ross Greer, Europe and external affairs spokesperson for the Scottish Greens, said: "The censorship of Kurdish activists in Turkey and across the world is seriously concerning.
"The Kurdish people have endured centuries of oppression and these last few years have seen a serious rise in political, economic and violent attacks by the Turkish state in particular. If external organisations such as Facebook are colluding in this oppression they must explain themselves immediately."
Bert Schouwenburg, international officer at GMB union, agreed that this was an extremely worrying development. He said that Facebook should provide a full explanation as to why these types of comments are being banned. "It is a direct attack on freedom of speech."
Stephen Smellie, co-convener of Scottish Solidarity with Kurdistan, who also works for UNISON, said: "The international campaign for the release of Ocalan and the delisting of the PKK is gaining momentum, with support from key politicians and activists throughout Europe. Ocalan is a key figure in the peace prcoess which Turkey has now abandoned. Ocalan has for many years campaigned for a peaceful and democratic solution within Turkey, yet has been kept in solitary confinement and unable in recent years to see his lawyer or family.
"Over the years he has managed to publish a roadmap to a peaceful solution and negotations progressed – until February last year when Erdogan abandoned this. We are campaigning now to have him released as part of securing an ongoing peace process.
"Facebook's actions in my view are undemocratic and are contributing to a worsening situation. If people who are actually calling for peace are shut down, it actually can end up making the situation more violent."
Jillian C York, the founder of internet censorship watchdog site Online Censorship and director for international freedom of expression at the Electronic Frontier Foundation, says that she thinks the problem is on the rise.
"I would say that there was a rise a few years ago when Facebook first realized that it was at risk of blocking in Turkey – that is the point at which their compliance with Turkish demands/law increased and their relationship with the government strengthened.
"The rise in banning of PKK-related content seems to coincide with an overall increase in blocking of (US-designated) terrorist content, but the banning of Kurdish activists seems more related to the Turkish government."
Earlier this month the Turkish government asked for a German comedian to be prosecuted for writing and performing a satirical poem about its president Recep Tayyip Erdoğan. It is also cracking down on media within the country.
York did add that she didn't believe Facebook was necessarily targeting PKK over other organisations on the US terror watchlist.
"The reason that more PKK content gets flagged varies… it could be that Turkey employs government flaggers who search for such content, or it could be that the flames against the PKK spread by the Turkish media have been internalized by the populace and thus flagging occurs at a higher rate against the PKK than it does, for example, in Lebanon against Hezbollah.
York added that Facebook's "editorialising" could affect freedom of speech and democracy.
"While acknowledging that the Turkish government is placing a lot of pressure on Facebook to censor, Facebook isn't off the hook for its own rules and implementation of regulations, and I worry that their 'editorialising' can have an outsized impact on democracy and culture."
Next Thursday Scottish Solidarity with Kurdistan – chaired by Salih in partnership with UNISON's South Lanarkshire branch secretary Stephen Smellie – will be officially launched at Strathclyde University.
Later in the month a trade union backed-campaign will be launched at the House of Commons by Labour MP Kate Osamor and chaired by Sir Paul Kenny, former general secretary of GMB, to call for Abdullah Ocalan to be freed.