Landowners, farmers and foresters are licensed to kill more than 1,300 brown hares every year during the breeding season, prompting accusations that the animals' young will be left to starve to death.
Information released by the government's wildlife agency, Scottish Natural Heritage (SNH), reveals a sharp rise in the number of brown hares licensed to be shot during the close season between February and September. Since 2012 SNH has granted licences to kill nearly 7,000 brown hares across Scotland.
Wildlife groups say the figures are "absolutely shocking" and that countless young hares, known as leverets, will have needlessly died. The Scottish Greens warn of a "culture of persecution" and are planning legislative moves to curb the killing.
SNH insists that "lethal control is only used as a last resort" to protect trees, crops or public safety. But it says that it has not refused any applications for licences to control brown hares in the last two years.
Brown hares suffered a steep decline in numbers in the 20th century mainly due to changing farming practices, and are now a protected species in Scotland. According to SNH, latest estimates suggest there are around 88,000 of them north of the border.
But the hares, renowned for boxing in the mating season, are still a "quarry species" that can be legally shot without any licence between 1 October and 31 January. The numbers killed in the open season are not known, but are likely to be higher than in the close season.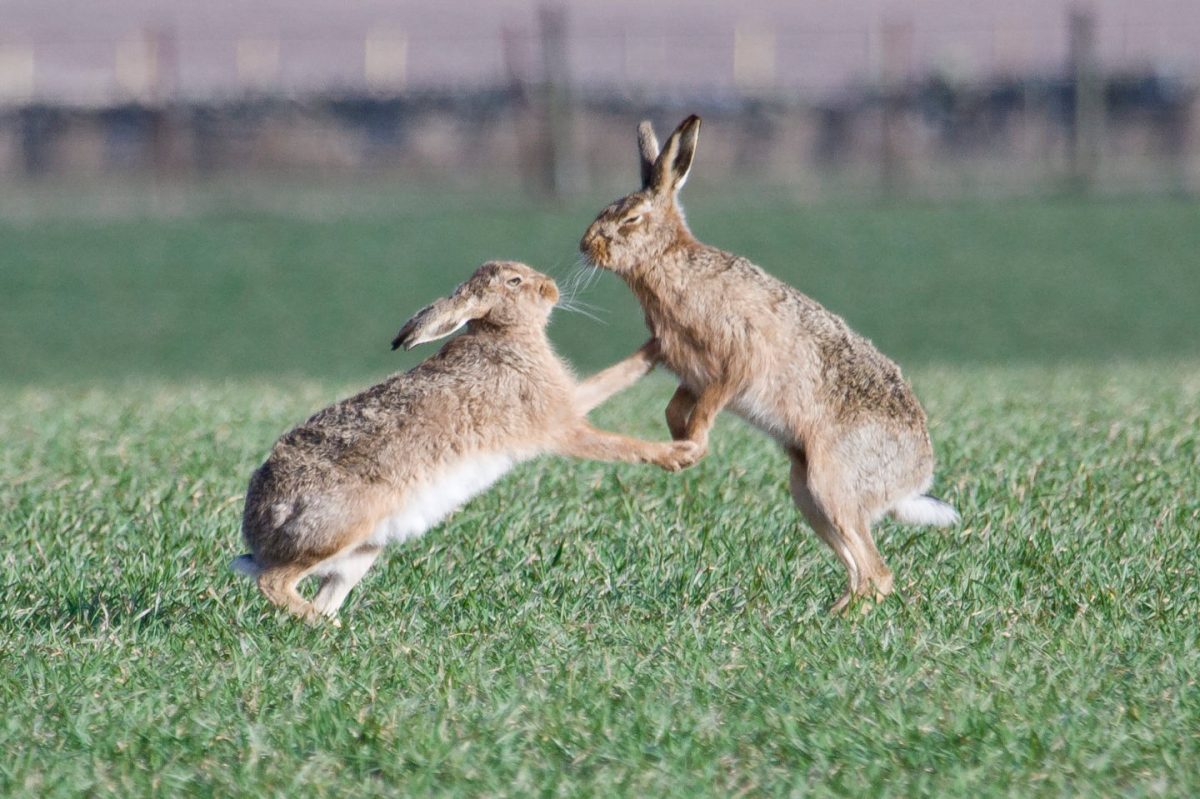 In 2018 SNH granted 24 licences for farms, estates, Christmas tree growers, a rose grower and a wind farm, to kill 1,308 brown hares between February and September. That's the highest in seven years, and twice as many as in 2014.
One of the estates given permission to kill up to 100 brown hares in 2018 was Queensberry in Dumfries and Galloway. It belongs to the UK's biggest landowner, the Duke of Buccleuch.
Buccleuch's licence allows the cull "for the purpose of preventing serious damage to timber", according to SNH. "Methods permitted for killing are shooting during the day and shooting at night using lamps."
To protect timber and crops Douglas and Angus Estates in Lanarkshire were given permission to kill 100 brown hares, while Rothiemurchus estate in the Cairngorms could kill 40. Whitburgh Estate in Midlothian was given permission to shoot 300 brown hares.
Farms across the country were granted brown hare licences including some that grow Christmas trees. A rose grower in Kincardine and Mark Hill wind farm in South Ayrshire were also given licences.
SNH granted a licence from June 2018 to October 2022 allowing brown hares to be killed at Inverness airport as well as military airfields at Lossiemouth and Kinloss "for the purpose of preserving public health or safety". Instead of specifying an upper limit, the licence says that "as many as required" can be shot.
In the first three months of 2019 SNH granted a further eight licences to kill 780 brown hares. They were all for landowners and farmers previously given licences in 2018.
SNH also issued 15 licences for landed estates to kill mountain hares in the close season – 850 in 2018 and 525 in 2019. The Ferret has previously reported concerns about the mass killing of mountain hares on sporting estates to preserve red grouse for shooting.
Licences to kill brown hares
| Year | Number licensed to be shot |
| --- | --- |
| 2012 | 235 |
| 2013 | 785 |
| 2014 | 655 |
| 2015 | 918 |
| 2016 | 918 |
| 2017 | 1,303 |
| 2018 | 1,308 |
| 2019 (to March) | 780 |
| Total | 6,902 |
source: Scottish Natural Heritage
The Scottish Greens, who obtained spreadsheets on hare licences from SNH under freedom of information law, want new legislation to reduce the killing. "It's disappointing to see this significant increase in the number of hares allowed to be killed during the breeding season," said Green MSP, Alison Johnstone.
"There are serious welfare concerns here, and Scottish Natural Heritage should investigate this increase immediately, whilst developing and promoting non-lethal methods of minimising any damage that hares might do to new woodlands."
Johnstone, who is Holyrood's species champion for brown and mountain hares, accused SNH of allowing "large-scale killing of wildlife" to become routine. "Hare killing is part of a bigger, systematic problem with wildlife protection in Scotland," she told The Ferret.
Our laws and enforcement are weak, and widespread killing is permitted in secret.

Alison Johnston, Green MSP
"Our laws and enforcement are weak, and widespread killing is permitted in secret. Whether it's brown hares, mountain hares or foxes, the government has allowed a culture of persecution to thrive when it should be protecting our natural heritage."
Johnstone added: "The Greens are determined to challenge this and I will bring forward a proposal to introduce proper protections for wild mammals imminently."
The Scottish animal campaigns charity, OneKind, described the rise in brown hare licences as "absolutely shocking". It pointed out that close seasons were introduced to protect pregnant animals and their young.
"But this licensing regime will almost certainly have resulted in the needless deaths of countless leverets, whose mothers have been killed while they are still nursing their dependent young," said OneKind director, Bob Elliot.
"In welfare terms, that is completely unacceptable. It is imperative that lethal intervention is only ever permitted after every other option has been exhausted. Greater scrutiny and a review of all Scotland's licensed animal killing is now needed."
Nearly 38,000 mountain hares killed in one season, new data reveals
The Hare Preservation Trust was "greatly concerned" by the increase in licensed killing. "The brown hare's historical status as a game animal offers it very little protection under legislation which is archaic and ineffectual," said the trust's Sue Alderman.
"This dramatic increase in licensing can only add further pressure on populations by culling during the breeding season. This could be detrimental to brown hare populations where they are sparse or isolated."
According to Alderman, there were widespread hare deaths across the UK in the autumn of 2018. "Culling during the breeding season needs to be the absolute last resort," she argued.
"There needs to be closer scrutiny of the reasons cited for issuing licences, and a less subjective approach to defining those reasons and numbers of hares to be shot. It is not acceptable to issue increasing numbers of licences to shoot breeding hares as an easy option."
The Scottish Wildlife Trust does not kill brown hares on its reserves. Instead, newly planted trees are guarded with tubes.
"Lethal control should be used as a last resort after other alternatives such as tree guards have been considered, and only where it is clear that it will not impact on the conservation status of the species," said the trust's head of policy, Dougie Peedie.
SNH defended its licensing regime for brown hares. "Scotland has robust laws in place that protect and conserve our nature and wildlife," said an SNH spokeswoman.
"We only issue licences to suspend this protection in a small number of exceptional cases and where other public interests are clearly at risk."
She added: "Lethal control is only used as a last resort when other alternatives, such as scaring or tree protection measures, have not worked.
"We are confident that all activities carried out under these licences do not affect the conservation status of any of our native species and welfare issues are a key consideration."
When asked by The Ferret how often applications for licences to kill brown hares had been rejected, the SNH spokeswoman said: "No applications have been refused in the past two years."
The most likely cause of a steady increase in the numbers of brown hares controlled under license are changes in land use.

Spokeswoman, Scottish Natural Heritage
SNH pointed out that the numbers of hares actually killed were sometimes lower than the numbers permitted to be killed. "The most likely cause of a steady increase in the numbers of brown hares controlled under license are changes in land use, particularly expansion of woodlands," the spokeswoman said.
"The establishment of new woodlands brings a range of benefits, including mitigating climate change, restoration of lost habitats, enhancing urban areas, and  improving public access to nature."
SNH described the overall brown hare population in Scotland as "stable". But it added that "there is some evidence to suggest there may be localised declines in the south west of the country."
The Scottish Government stressed it was committed to safeguarding the welfare of all animals. "We continue to work closely with partners, including SNH, to protect our wildlife," said a spokesperson.
"This includes ensuring that licences to control brown hares during the close season are only granted for specific purposes, including preventing the spread of disease and serious damage to forestry, and when all alternatives have been considered."
Scottish Land and Estates, which represents landowners, argued that brown hares needed to be managed to stop them grazing on crops and to prevent the spread of ticks. "One of the reasons hares might be controlled is to prevent damage to forestry, especially where new forestry schemes are being developed," said policy manager, Karen Ramoo.
"The Scottish Green Party supported the legislation necessary to increase woodland to tackle climate change and in 2016, around 12 million tonnes of carbon dioxide was removed from the atmosphere by Scotland's forests and woodlands."
Ramoo argued that the Scottish Government's targets to increase tree planting required the control of hares to prevent them from eating saplings. Culling was undertaken with permission from SNH and in accordance with "appropriate guidance" ensuring that hare populations remained "healthy", she said.
Andrew Midgely, a policy manager for the National Union of Farmers in Scotland, said: "Our understanding is that permission to control a species is only granted if SNH is satisfied that there is a justifiable issue that needs to be dealt with and that there will be no negative conservation impact from granting the licence."
Highlands and Islands Airports (HIAL) confirmed an "overarching licence" had been issued in case brown hares put flight safety at risk. "There have been no brown hares killed at Inverness airport since the licence was issued," said a HIAL spokesperson.
"HIAL does not anticipate that situation will change in foreseeable future."
According to the Ministry of Defence, which is responsible for Lossiemouth and Kinloss, brown hares can increase aircraft collisions with birds. "Brown hares exacerbate the risk of bird strike, as they cause damage to the grassy areas which encourages bird activity on the airfield," said an MoD spokesperson.
"Wildlife is carefully managed across all MoD sites and airfields. Measures are put in place to reduce safety risks to the public and service personnel."
Spreadsheet of hare licences 2018-19 released by Scottish Natural Heritage
Licences to Kill Brown Hares 2018 19 (Text)

Spreadsheet of hare licences 2012-16 released by Scottish Natural Heritage
Licences to Kill Brown Hares 2012 16 (Text)

Photos thanks to Sue Alderman/Hare Preservation Trust and Steve Gardner/Scottish Wildlife Trust. This story was published in tandem with the Sunday National.