A Scottish investigative journalist who suffered an acid attack at his home has accused the Crown Office of doing a "dirty deal" with a wife beater serving a prison sentence. 
Russell Findlay was attacked at his home in December 2015 and has written a book about the assault called Acid Attack: A Journalist's War with Organised Crime – which he talks about in an audio interview below.
His book also documents his experiences as a crime reporter for more than 20 years, often railing at Scotland's judicial system.
He condemns the Crown Office for its handling of a recent domestic violence case while revealing details of charges it dropped against a violent criminal.
In a chapter called "Dirty Deal" Findlay claims a female victim was denied proper justice after she suffered a decade of violence.
Her attacker was jailed for more than two years for domestic abuse after pleading guilty to nine charges of assault.
Findlay reveals that the Crown Office did a deal that saw a number of indictments dropped.
"The Crown casually agreed to drop seven of the 16 charges, which meant he pled guilty to nine," he writes.
"Suffering years of terror, threats and uncertainty - only to be limply concluded with a cynical plea deal - has left her utterly disillusioned."

Russell Findlay, journalist and author.
Findlay goes on to reveal details of the dropped charges and some that were amended.
The charges included one of threatening to shoot a woman.
He writes: "Of the seven ditched by the Crown, three were relatively minor breaches of the peace but four were particularly lurid and varied in their nature."
"This was not justice," Findlay continues, adding: "Suffering years of terror, threats and uncertainty – only to be limply concluded with a cynical plea deal – has left her utterly disillusioned."
In reply, the Crown Office said: "We wouldn't comment on closed or historic cases."
Findlay – a 45 year old freelance journalist – was employed previously by both the Sunday Mail and The Sun newspapers.
In the audio interview below Findlay explains how he was confronted on the doorstep of his Glasgow home shortly before Christmas 2015, by William 'Basil' Burns, who was disguised as a postman.
Burns threw sulphuric acid at Findlay's face but the journalist was able to detain him before police arrived.
A knife was found at the scene of the crime and Findlay's 10-year-old daughter witnessed the incident.
Burns was convicted at the High Court in Glasgow last July of assaulting the journalist to the danger of his life.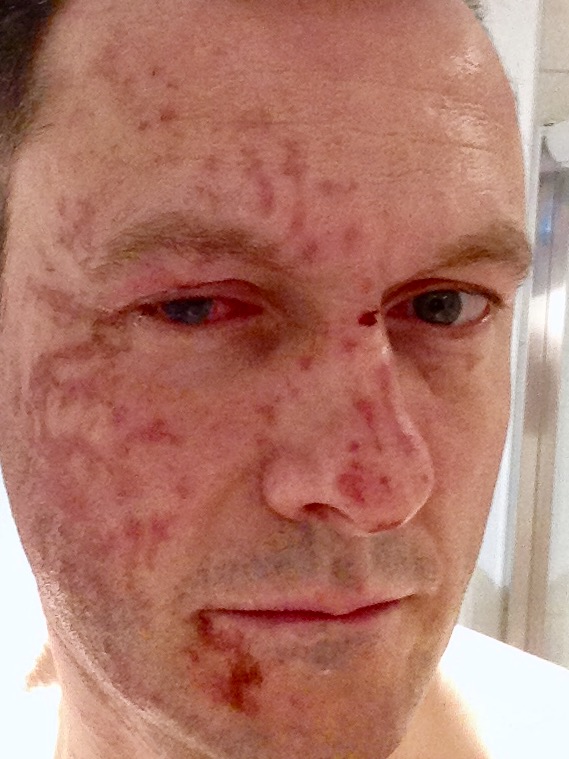 After the jury's verdict, Burns's extensive criminal record was revealed to the court, which included a 15-year sentence in 2001 for shooting a woman in a post office robbery in Linwood, Renfrewshire.
Burns received a 15-year sentence for the acid attack, with 10 years in custody and supervision for five years after his release.
Findlay claims that Burns was a paid hit-man and his book names a man he believes may have ordered the attack.
Acid Attack: A Journalist's War with Organised Crime by Russell Findlay is published this week by Birlinn (£9.99, paperback) He will be appearing at the Aye Write festival on March 22 at 6pm in the CCA. For full festival programme and ticket details visit www.ayewrite.com