MPs have called upon Richard Cook, the man behind a secretive group that channelled £435,000 to the DUP's Brexit campaign, to "emerge from the shadows and explain where this money came from", after an investigation today reveals disturbing new details about Cook's business dealings across the globe.
An investigation by the news website openDemocracy has uncovered official emails, bank transfer files, and court documents revealing an international trail of regulatory concern, legal action and debt linked to the global waste management business led by Richard Cook that stretches from an Indian port to a California courtroom.
Mr Cook has so far failed to reveal the source of the donation from the Constitutional Research Council to the Democratic Unionist Party, used to pay for pro-Leave campaigning in the final weeks of the 2016 referendum campaign. However, amid escalating questions around his business career, MPs are demanding that he is called to Westminster to explain the source of the money.
Brendan O'Hara, a Scottish National Party member on the powerful Department of Culture, Media and Sport select committee, said that Cook should appear before the committee's 'fake news' inquiry to explain his role in funnelling the biggest donation that the DUP has ever received.
"I think [Cook] has information which would be very useful to our investigation in relation to spending around the Brexit referendum," O'Hara said.
Today, we detail a series of international deals linked to Mr Cook and his waste management firm, DDR Recycling Ltd, which have provoked concern, including:
• Cook was a defendant in a California court case after DDR Recycling left an international haulage firm with unpaid bills of over $1.5m for shipments to Korea. A default judgement was made against DDR and Cook.
• DDR Recycling Limited is currently in liquidation owing British tax authorities around £150,000. After Cook left the company, it was involved in a trade in gold that saw $5m deposited in a Cambodian bank account. Liquidators are "currently investigating".
• UK and Scottish environmental regulators told Cook that he was involved in an "illegal waste shipment" of 250 tonnes of rubber to India. Test results supplied by Cook to the regulator appear to be fake.
• Cook said that an Eastern European company was to blame for the illegal Indian waste shipment. When authorities pointed out that Cook's own LinkedIn page said he was a director of the firm, he claimed that his account had been hacked.
• On that LinkedIn page, Cook lists his current post as "president of international development" at a Canadian waste management firm. This company has regularly failed to file accounts, in breach of corporate law in Canada, and shows little sign of economic activity.
• Cook had previously said that he had signed agreements worth $1bn to build environmental projects in Pakistan. A US businessman reportedly involved in the deal said that his company had not worked on the project and complained that Cook "never returned a call or an email".
Mr Cook strongly denies any wrongdoing but the fresh details of his business career in waste management have renewed focus on the payment made to the DUP. Cross party MPs have called for Cook to appear before parliament to explain the donation.
The DCMS committee first wrote to Cook about the controversial £435,000 DUP Brexit donation in November. Cook claimed that his response had been "lost", but it can now be revealed that he did subsequently reply to the committee chair, Conservative MP Damian Collins, in what has been described by sources close to the committee as "a less than conciliatory manner".
openDemocracy has previously revealed that Cook, a Glasgow-based businessman and former vice-chair of the Scottish Conservatives, went into business with a former head of Saudi intelligence and a Dane involved in gun-running in India. But he is best known for the £435,000 donation he channelled to the Democratic Unionist Party (DUP) to campaign for Brexit in the run-up to the knife-edge EU referendum.
The DUP, which now props up Theresa May's government in Parliament, has always refused to reveal where its record amount of Brexit cash came from, or why it was channelled via the secretive CRC, whose chair and only known member is Richard Cook.
Under the Northern Irish secrecy laws that were in force at the time, neither the DUP nor Richard Cook's CRC has to reveal the identity of the original donors – even though the cash was not spent in Northern Ireland. Last month the Electoral Commission confirmed it had fined the CRC for failing to report the DUP donation.
Both Cook and the DUP have claimed that the cash came from permissible sources, but our new findings raise fresh questions about the man behind the dark money that drove the DUP's Brexit campaign.
From Clarkston, to Belfast, to Westminster
The story of the DUP's dark money begins far away from the corridors of Westminster or the streets of Belfast, on a stretch of pebble-dash semi-detached houses in the sleepy Glasgow suburb of Clarkston.
Richard Cook once had high hopes of a career in politics. Back in 2010 he was a 38-year-old recycling company director in Clarkston, widely tipped as the next Member of Parliament for East Renfrewshire. Expectation of a Conservative gain from Labour's Jim Murphy in Glasgow's 'stockbroker belt' was so high that the BBC even sent a film crew to follow Cook's campaign.
Cook made much of his environmental credentials. His leaflets talked of "protecting green spaces" and the importance of recycling.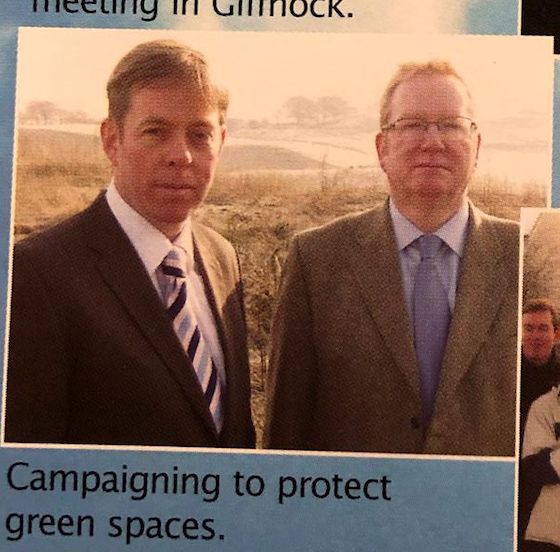 He had worked for almost a decade in the accounts department of a major waste management company, Biffa. And in May 2008 he became a founding director of DDR Recycling Limited, a company dealing in the "recovery of sorted materials", operating out of a small office on an unremarkable industrial estate on the outskirts of Glasgow.
Illegal Waste
But while Cook was promising to "clean up politics" on doorsteps in East Renfrewshire, his business was very far from environmentally friendly. Email correspondence suggests that Cook's company was involved in illegal shipments of waste.
In April 2009 DDR sent a shipment of ten containers from Felixstowe in England to the Indian port city of Cochin. It was claimed that the shipment contained 250 tonnes of valuable 'hard rubber crumb'. But on inspection Indian authorities discovered that the containers were filled with scrap tyres, a lucrative – but prohibited – cargo.
In a letter that December, the Environment Agency told Cook and his long-time business partner Donald McCorquodale about this "illegal waste shipment". The regulator instructed DRR to ship the containers back to the UK, warning, "Failure to comply… may result in formal enforcement action being taken against your company."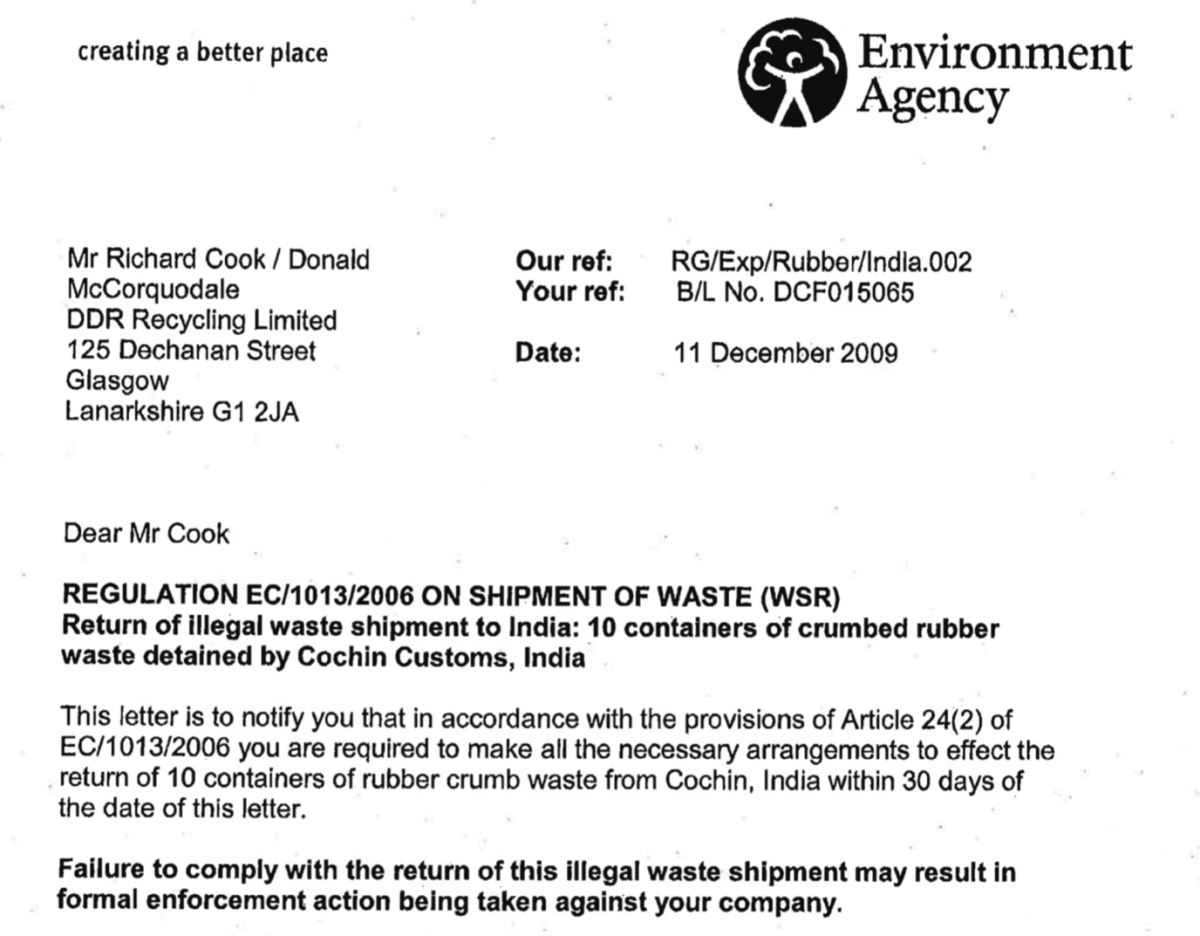 In January 2010, the Environment Agency again wrote to Cook, saying "I have not received a response to my letter nor any details of your arrangements to effect the return of these containers of waste, as requested."
The following day, Cook wrote to the regulator suggesting that the illegal waste could be sold on "to licensed end users in India". Less than an hour later, the Environment Agency wrote back warning that DDR was not permitted to sell the waste on to a third party or to move it to another country.
"Potentially fraudulent"
The Environment Agency contacted Cook again on 23 February, saying that Indian customs had conducted a lab analysis on the rubber and "determined that the material is soft rubber, most likely originating from used vehicle tyres, which means this is an export of waste."
Cook responded later that day, telling the regulator that the tests conducted by the Indian authorities in Cochin were "inaccurate" and "potentially fraudulent". Cook sent the regulator tests that DDR had supposedly done on the material and which found that the rubber was of high quality.
But the "material authenticity" test results that Cook supplied to the regulator appear to be fake.
According to the documents that Cook gave the Environment Agency, the tests were conducted by a company called Grapevine Networking Limited. This firm, which was wound up in 2017, was a recruitment company with an address in the centre of Glasgow run by Cook's fellow DDR director, Donald McCorquodale.
McCorquodale, now the company's sole director, said: "Grapevine never did any tests on any rubber at all."
Asked how test results on Grapevine-headed notepaper could have been sent to the environmental regulator by Richard Cook, McCorquodale said "I have no idea. No idea. Absolutely no idea… it does seem strange but I have no idea at all."
It is understood that the material was eventually shipped from India. McCorquodale said that he did not know what happened to the waste.
"We shipped the goods under the instruction of an Indian gentleman based in Leicester, we shipped it using the coding he requested," he said. "That's as much as we know. We were never involved, we were never asked to attend a court case in India or anything."
LinkedIn hack…?
This was not the only curious exchange between Richard Cook and the Environment Agency. Also in February 2010, McCorquodale forwarded an email to the regulator from a company called Xener Import Export SRL claiming that the company, which had an address in Romania, "acted as an intermediary" in the rubber shipment to India.
On 3 March the environmental regulator wrote to Cook asking if he could "advise me of the precise relationship" between himself and Xener. Cook took a month to respond, saying that he had missed the regulator's calls as his mobile provider "had archived some messages over the past fortnight, due to excessive call numbers". But his email did not answer the question about his relationship with Xener.
At the general election on 6 May 2010, Cook came second in East Renfrewshire, more than 10,000 votes behind Labour's Jim Murphy. Adding to his woes, on 17 June the Environment Agency wrote again to DDR asking about Cook's relationship with Xener.
This time the regulator pointed out that on his LinkedIn page Cook himself claimed to be a director of "Xener Imports/Exports, Romania."
"I would be grateful of an explanation of the meaning of this link between Mr Cook, DDR Recycling Limited and Xener Imports/Exports, Romania," the regulator wrote.
On 22 June Cook told the regulator that he has "never been a Director of any foreign company and have never had any relationship with Xener Import Export SRL other than the containers they ordered and paid for from DDR Recycling Limited". Cook said that he had contacted the director of Xener's parent company using LinkedIn and speculated that the LinkedIn "entry has something to with him".
Cook suggested to the regulator that his LinkedIn profile may have been hacked. "I have contacted LinkedIn to establish how a fraudulent entry could be made on my profile," he wrote.
It is understood that LinkedIn did not receive any complaint from Cook.
A spokesperson for LinkedIn said: "Our members control the information on their profile and we encourage anyone who thinks there's an issue with their account to contact us so we can investigate it immediately."
Californian courtroom drama
California is a long way from Clarkston. But it was here in 2014 that Cook, McCorquodale, DDR Recycling, a company called DDR Recycling Limited USA and a number of associates were cited as defendants in a case brought before a district court judge.
International logistics firm UPS filed a lawsuit against Cook and his colleagues after they failed to pay over $450,000 for a shipment of steel wire transported by UPS to Busan, South Korea, in December 2012.
UPS said that Cook and his business associates had made small payments before the South Korean shipment in an an apparent attempt to build up trust with the company. In November 2012, Cook wired $3,315.32 to UPS. "Such payment was for the purpose of inducing UPS to provide additional shipping services to DDR," court documents state.
Documents submitted by UPS paint a picture of consistent evasion by the Scottish company's directors after the shipment was sent to South Korea. After a series of exchanges, in May 2013 a UPS lawyer wrote to McCorquodale "your emails have been non-responsive and appear to be solely for the purpose of delay".
"At this point I am not inclined to waste any more of my time or of my client's money engaging in your dilatory tactics… your emails to date have provided UPS with no pertinent information and only seek additional non-relevant information in a transparent attempt to avoid your debt," the lawyer added.
Neither Cook nor any of the other DDR Recycling defendants appeared in court or offered a defence. In July 2014 a California district court judge awarded a default judgement of $1,506,586.51 against Cook, McCorquodale, and a number of the company's associates. A default judgement is issued against a defendant who fails to answer a lawsuit.
The money owed to UPS does not appear to have been paid. A spokesperson for UPS said: "UPS received a default judgment in that case. The company does not disclose customer information."
McCorquodale said: "We had nothing at all to do with it… it was completely nothing to do with the company in the UK, it was a company in California who used our name. Nothing to do with us at all."
"We weren't pursued for it in the UK because it was a completely fictitious judgement," McCorquodale added.
Cambodian gold
Richard Cook resigned as a director of DDR Recycling Limited in February 2014. The company was put into liquidation in 2017, owing Her Majesty's Revenue and Customs around £150,000. The only current active shareholder is Donald McCorquodale.
But documents obtained by openDemocracy suggest that DDR Recycling could have $5m in a Cambodian bank account, following the apparent sale of gold nuggets from Tanzania.
In December 2014, a Tanzanian company named Barax Mining Limited invoiced McCorquodale for the sale of 200 kilograms of gold nuggets, worth exactly $5m. Barax's invoice listed an address in Dar-es-Salaam, Tanzania.
In March 2015, a Cambodian bank called CIMB wrote to DDR Recycling stating that McCorquodale had $5m on deposit in a Phnom Phen bank account. Screenshots of the company's Cambodian bank account appear to support this.
In January 2015, McCorquodale paid just over $25,000 to the Cambodian ministry of economy and finance as "payment for clearance stamp duty fee". In May, McCorquodale paid a further $75,000 to the "department of anti-money laundering" of the Cambodian government. A receipt describes this payment as a "clearance fee".
Investigations have yet to identify a "department of anti-money laundering" in the Cambodian government.
According to Cambodian bank documents, the barrister representing McCorquodale in Phnom Penh was one Tran Thuyen Ly. A few months later a man with the same name was detained in connection with setting up fake bank accounts in Vietnam for Nigerian scammers targeting local women. It is not clear if the barrister and the detainee are one and the same person.
It is understood that DDR's Cambodian bank account is being investigated by the company's liquidators.
McCorquodale said that the Cambodian gold sale "was completely a waste of time. We didn't get any goods and the whole thing was just a complete waste of time.
"The information about the $5m in Cambodia was reported to the liquidator at the time of the liquidation, they have been pursuing that money. Unsuccessfully as I understand it. So there is nothing more for me to say."
Pakistan plants
Since resigning from DDR in 2014, Cook appears to have remained in the waste disposal business. According to his LinkedIn profile, since May 2012 he has been president of international development at a company called Sentinel Waste Management, based near Toronto.
Sentinel describes its business as eliminating "waste dumping problems with sustainable technology", principally through diverting waste from landfill by converting it into pellets. But the company appears to have struggled for clients.
Sentinel has frequently failed to file accounts on time, in breach of Ontario corporate law. It filed all returns from 2011 to 2015 on a single date in 2016, and has not filed anything since that date. According to the Ontario Corporations Information Act, annual returns have to be filed within six months of the end of the last tax year.
Beyond Cook's LinkedIn page, the only instance that could be found of his name in relation to Sentinel was in the description of a video on the company's YouTube channel.
In July 2012, it was widely reported that Sentinel Waste Management had agreed a $1bn deal to deliver environmental projects in Karachi, Pakistan. In a ceremony at Glasgow City Chambers Cook signed a memorandum of understanding with Pakistani officials to work with the Port Qasim Authority to develop drinking water production facilities through desalination.
At the time Cook said: "These projects will be extremely significant in developing an infrastructure in Karachi which provides its population with significant environmental and health benefits."
The Pakistan work does not appear to have gone any further. Peter Gross, the former head of one of the firms reportedly involved, a US-based waste-water treatment firm called Aeromix Systems Inc., expressed surprise that the company had been named in the 2012 agreement with Pakistani officials.
Gross said that he met Cook once, in Ireland, in 2012. "It was pretty obvious a week after that meeting [that nothing was happening]," he said. "No one returned calls or emails. There was no follow-up."
There is no suggestion of any wrongdoing in relation to the proposed Karachi work.
DUP donation: 'running down the clock'?
The exact role of Richard Cook ‒ and the secretive Constitutional Research Council he chairs – in the £435,000 given to the DUP ahead of the Brexit referendum remains unclear.
Brendan O'Hara MP said: "Where did this money come from and how did it get into the hands of the DUP? And why was it felt necessary to funnel it through the DUP rather than being open and transparent about it? It feeds into that whole narrative about secrecy, transparency, the undermining of accepted norms and processes of fighting elections and referendums."
O'Hara added: "My concern is that in the crisis that we are wading through at the moment, Mr Cook thinks that he can run down the clock on this and somehow it will be forgotten and I sincerely hope that our committee don't forget it."
Labour MP Ian Murray echoed calls for Cook to appear before the DCMS committee:
"At a time when our politics is under extensive scrutiny with regards to the breaking of the electoral rules from the Leave campaign, we need as much transparency as possible to have confidence in our electoral system," the Edinburgh South MP said.
"It is in the interest of Mr Cook, the DUP and the Electoral Commission for the appropriate people – including Mr Cook – to appear before the appropriate committee to answer these questions. By continuing not to appear before the committee to answer the questions, people will be suspicious that our electoral system is not as robust as it should be, particularly on the back of all the questions that have been posed about the 2016 EU referendum."
Jackson Carlaw, second in command at the Scottish Conservatives and a long-time ally of Cook's, has also said that the CRC chief should reveal where the DUP cash came from.
The DUP's Brexit donation money – almost ten times more than the party had spent on 2015 general election – was mainly spent on lavish pro-Brexit advertising in the final days before the Brexit vote. More than half of the cash was splashed on a wraparound advert in Metro, a newspaper which does not circulate in Northern Ireland.
As well as the Metro advert, the DUP also spent money on online campaigning with the Canadian data analytics firm, Aggregate IQ, used by the official Vote Leave campaign. This spending was permitted but has raised concerns of co-ordination between different pro-Brexit groups .Undeclared co-ordination is illegal. Vote Leave have already been fined and referred to the police for co-ordinating with another pro-Brexit group
Under British electoral law, parties need to know the source of their donations. But last year DUP treasurer Gregory Campbell told a journalist from investigative website SourceMaterial that it was not his responsibility to check out Cook and the CRC. An investigation by BBC Northern Ireland's Spotlight team also raised serious questions about Cook's business dealings.
Someone named Richard Cook also recently appeared in WhatsApp group containing members of the hardline pro-Brexit European Research Group, to which the CRC also donated money.
On 12 December 2018, the day of the unsuccessful no-confidence vote in Theresa May, Cook hailed the "outstanding leadership of Brexit" by Steve Baker, the Conservative MP who was head of the ERG before he became a minister in the Department for Exiting the European Union. Baker resigned his ministerial post last July.
The Electoral Commission has so far declined calls to launch a full investigation into the source of the DUP'S Brexit cash. Judicial proceedings have been launched against the regulator's decision not to investigate the handling of the donation.
The lawyer acting for Richard Cook denies any wrongdoing in his business dealings. Peter Watson said that while his client would not respond in detail, any claims suggesting wrongdoing by his former waste management company DDR were baseless and actionable.
Mr Cook told the Sunday Herald: "The CRC is regulated by the Electoral Commission. We operate solely in the UK. We accept donations only from eligible UK donors. We donate solely to permissible UK entities. Any suggestion that we have done anything else is basically defamatory. I'm not going to get into the donors, like I am not going to get into the members."
The DUP said the party has been "open and transparent" about the CRC donation.
A spokesman said: "The DUP is well aware of its responsibilities and has complied with the regulations as set out by the Electoral Commission. If we failed to comply we would be subject to further investigation.
"In the interests of transparency we have provided information into the public domain which we were not legally obliged to provide. There is no additional information provided to the Electoral Commission that we have failed to publish."
Additional reporting on this story by Drew May.

This story was also published in openDemocracy and the Sunday Post.
Cover photo from voterichardcook.blogspot.com | Fair Use.