Anti-nuclear campaigners have accused organisations supporting plans for a nuclear fusion plant in North Ayrshire of having promoted the project with "half truths" and warned it would be "dangerous" for the environment.
A consortium, which includes Glasgow University and North Ayrshire Council, is backing a prototype fusion energy plant at Ardeer, capable of providing what they claim would be an environmentally-friendly source of electricity.
The plant would create an estimated 3,500 jobs during construction and 1,000 jobs when the site begins operating, according to the project's backers.
However, Ayrshire CND argued that fusion is a nuclear technology with radioactive risks since it requires tritium – a radioactive isotope of hydrogen – during the process. The group also claimed the plant would "create a considerable carbon footprint".
Environmental groups are calling for the Ardeer peninsula to be given special status to protect its diverse wildlife.
Fusion is being promoted as a source of clean energy by the UK Government. To produce energy from fusion, a combination of hydrogen gases – deuterium and tritium – are heated to very high temperatures.
Advocates of fusion said this is the opposite of nuclear fission – the reaction used in nuclear power stations today – in which energy is released when a nucleus splits apart.
Ardeer is one of five shortlisted sites under consideration as the location for the UK Government's Spherical Tokamak for Energy Production (STEP) programme. The UK Atomic Energy Authority (UKAEA) will announce its preferred site later this year.
Ardeer is the only Scottish location in the running for STEP. The other four sites are in Cumbria, East Yorkshire, Nottinghamshire, and Gloucestershire.
The bid for the North Ayrshire site is being led by the Fusion Forward (Ardeer) consortium, which consists of the University of Glasgow, NPL Group, which owns the land, and North Ayrshire Council.
However, Ayrshire CND has accused North Ayrshire Council of committing to supporting the £222m project without having a full council discussion. The campaign group's Richard Leat also questioned what the public has been told.
"We are told that this is not really a nuclear plant," he claimed. "We are being sold this plant with half truths." Leat pointed to a poll by the Ardrossan Herald which found the majority of 502 responses – 69 per cent – were against the plant.
"Furthermore, outwith the general risks from nuclear energy, the site would require monitoring and tight security for many, many decades, which will restrict public access to the peninsula and beach," Leat continued.
"Building the reactor would itself create a considerable carbon footprint. It is of our opinion that the siting of this plant in Scotland will be in contravention of the no-nuclear energy policy of the Scottish Government."
Read more of The Ferret's coverage of nuclear plants, here.
His views were echoed by Dr Ian Fairlie, an independent consultant on radioactivity who was head of a UK Government committee on radiation risks from 2000 to 2004.
He said: "It (fusion) is a dangerous process whereby radioactive hydrogen (tritium) is smashed into another form of hydrogen (deuterium) at massive temperatures and pressures inside a plasma to release much radiation and some heat. The same process occurs in our Sun… but the Sun is safely located 93 million miles away."
Dr Fairlie added: "The government's mooted fusion reactor comes with promises of cheap and clean energy to move to a zero-carbon economy, with little radioactive waste and no plutonium by-products for nuclear weapons. But this government has a bad track record with its promises… how valid are these claims?
"The reality is that a fusion reactor, if ever operated, would produce many radioactive by-products that are far from harmless."
Environmental groups would like the Ardeer peninsula to become a site of special scientific interest (SSSI) to protect its wildlife. They have formed a group called the Ardeer Action Group which includes RSPB Scotland and the Scottish Wildlife Trust. In a letter to the Scottish Government agency, NatureScot, the action group said the area was facing "growing development pressure".
An RSPB Scotland spokesperson told The Ferret that when the idea of a nuclear fusion facility was first raised, it contacted the UKAEA to raise concerns about the potential impact a development of this scale would have on the habitat and species present.
The spokesperson added: "If it were to be granted this protected status then any future development would need to take the area's importance for nature into account. Obviously the larger the scale of the development the worse the negative impacts might be."
Bruce Wilson, public affairs manager at Scottish Wildlife Trust, said the Ardeer peninsula is a "hugely important site for nature". He added: "As a site that is home to over a thousand invertebrate species, dozens of rare plants and a host of breeding birds, we want to see this corrected.
"We have joined a coalition of local groups, wildlife experts and other NGOs with an urgent request to designate the Garnock Estuary, which has formed behind the shelter of the dunes of the Ardeer Peninsula, as a site of special scientific interest."
Alistair Whyte, head of Plantlife Scotland, said: "The Garnock Estuary (behind the Ardeer Peninsula) is one of Ayrshire's most important wildlife sites, with 46 threatened plant species, including a species that the UK has international responsibility for, and a species found in the UK and nowhere else in the world, which is at serious risk of extinction."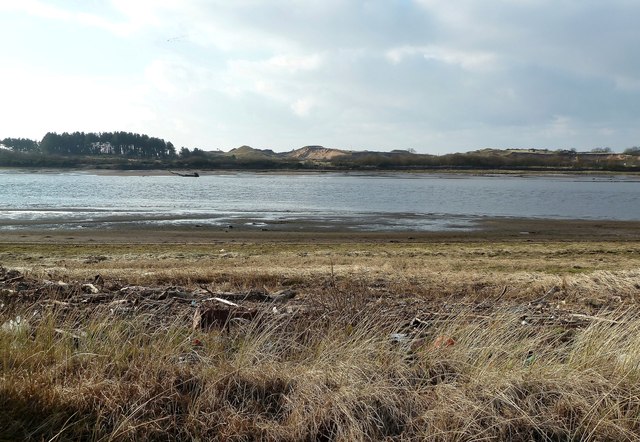 Whyte argued that protecting the site by designating it a SSSI would help ensure the future of "some of our most threatened" wildlife.
He added: "The Scottish Government has acknowledged the catastrophic biodiversity loss which Scotland is experiencing, and has committed to reversing this loss and protecting 30 per cent of our land for nature by 2030. Time is running out, and we simply can't afford to lose any more wildlife sites."
In reply, North Ayrshire Council said the environment of Ardeer is "at the forefront of all considerations" and that it had received more than 1,100 letters of support for the STEP proposal during a consultation.
A council spokesperson added: "It's important to note that unlike nuclear fission reactors, fusion reactors produce no harmful waste during their reactions. This project has the potential to play an important part in meeting the world's future energy needs as well as tackling the climate crisis.
"We remain absolutely committed to ensuring everyone's voice is heard and, if Ardeer is chosen, the full regulatory processes will then follow."
Professor Declan Diver of the University of Glasgow School of Physics and Astronomy, who is convenor of the Fusion Forward (Ardeer) consortium, argued that fusion and fission are "very different processes, which generate energy in different ways, producing different byproducts".
He said: "STEP will not require a regular source of tritium beyond an initial startup seed. Tritium is produced as a byproduct of the process of fusion inside the reactor's energy-exchange blanket. Once operational, STEP will be self-sufficient, [and] able to manufacture more than enough of the tritium it will need.
"While fission plants are overseen by the Office for Nuclear Regulation, the UK Government announced in June that future fusion facilities will continue to be regulated by the Environment Agency and Health & Safety Executive, putting them on the same footing as any other industrial infrastructure project.
"STEP will be a power station and is designed accordingly to produce continuous, low-carbon power to help achieve net-zero goals."
A spokesperson for the UKAEA said: "A final fusion energy site will be selected by the secretary of state for business, energy and industrial strategy and will be announced by the (UK) government before the end of 2022."
UKAEA said it will make recommendations based on a set of criteria, including "support from the local community and the potential for socio-economic benefits" in that locality.
This investigation was co-published with the Sunday National.
Photo Credit: iStock/ ziggy1