On 5 October, one year and two days after the Kharkiv Oblast was liberated by Ukrainian forces, Russian rockets struck the village of Hroza, killing one third of the population. 
The following day, a second attack hit the city of Kharkiv, killing a 10-year-old child and injuring dozens more.
The city itself was never occupied. But one year on from the region's liberation, the strikes targeting civilians and cities show how the east of Ukraine faces daily violence and fear, as Russia's full-scale invasion of Ukraine heads into its second winter.
"We are on the frontline," says Bohdan Yahno, deputy head of the Relief Coordination Centre, which works with NGOs to deliver aid to the victims of Russia's full-scale invasion. "Further away, people can forget about the war from day to day. But our region is not allowed to forget it".
That war began for 28-year-old Dmytro on 24 February 2022, when he donned his fatigues, collected a gun, and went to fight on the ring road on the edge of Kharkiv, less than 20 miles from the Russian border.
"The Russians did not expect this resistance," Dmytro tells The Ferret. 
An hour before we met, Russian forces had fired S-300 missiles into the city, five explosions forcing us to take shelter in a cafe's toilet. Chief of police for Kharkiv, Volodymyr Tymoshko, tells us the shelling is a "war crime designed to terrorise the civilian population".
During that first battle, Dmytro and his colleagues recovered papers listing those who would be rounded up should the Russians take Kharkiv. His name was on the list. "I was receiving messages on social media from Russians saying they would kill me," Dmytro recalls.
Despite the direct threats to his life, Dmytro continued to fight, this time on the frontlines in the defence of his city, at the battle in School No. 134.
"There were injured people lying on the ground, cars on fire," he recalls. "There was shooting, grenades exploding. We managed to enter the school and push the Russians onto the roof". He shows me a photo of a dead Russian body that had fallen off the building. "They were shouting at us to put our hands up, they were throwing grenades at us".
One grenade caught Dmytro's leg. "I was quite calm, my colleague put a tourniquet on me and I was taken to the hospital". Remarkably, he was back on the frontline within days. Then, in March, shrapnel from a shelling attack ripped through his barely recovered wound. 
"The explosions moved through my body," Dmytro remembers. "The shrapnel hit me in almost the same place on my leg". He pulls up his trousers to show the scars caused from the two wounds, and the multiple skin grafts performed over five months in hospital.
"If I hadn't received this wound," he adds, "I would be dead by now". While he was in hospital, many of his friends were killed while fighting in the occupied territories and on the frontline.
As Dmytro fought in the battle at the school, Tatiana Dotsiak, a journalist at ICTV, bore witness to the decisive events. She had faced a terrible choice after Russia's full-scale invasion: to stay and do her job, or leave and get her son to safety. More than 70 children have been killed in Kharkiv since February 2022.
"As a journalist, there is a danger and we did not want to put him in danger," Dotsiak tells us. "It was hard for me to leave my child," she continues. "But I had a duty to my country, to do my job and report the news to my country".
The scars of the "big war" are everywhere in Kharkiv.
Historic buildings are pockmarked and charred with damage caused by shrapnel; blue, gold, cream and pink paint scorched with black smoke. What windows have survived are crisscrossed with white tape. But most buildings are chequered with plyboards where glass should be, shrouding homes in an empty darkness. Once desirable apartments are abandoned, wrought-iron balustrades twisted into grotesque contortions. 
"They targeted our apartment building," says Natalya, who lived in North Saltivka – once a thriving district of 400,000 people, now a ghost-town of destroyed blocks, silenced play parks, smashed shop fronts, and overgrown public gardens where there are more ducks than people. The cars parked on the roadsides contain visitors arriving to take a photo of a famously destroyed building. The walls tell the district's stories, now its residents have fled.
"We were in the basement when it happened, and the men ran out to put out the fire," she continues. "When you see my house now, you will see, it is not possible to live there". Natalya does not know if she will ever return home.
That uncertainty, and the challenges to rebuild when cities are still being bombed and when Russian troops are threatening to retake the region, is on everyone's lips. Drive east from Saltivka and into the formerly occupied village of Vilkhivka, and farmer Alexander's fields, which once flourished with crops, are now littered with mines. 
"Our farm was shelled, 80 of my calves were killed," Alexander explains, standing hand on hips in his work clothes, the melted and twisted metal of a tractor destroyed by a mine parked behind him. "People in the West, people in the UK, they do not understand what we have been through". A year on since the territory was liberated, and the mines are not cleared and his calves have not been replaced. "It is very difficult," he says.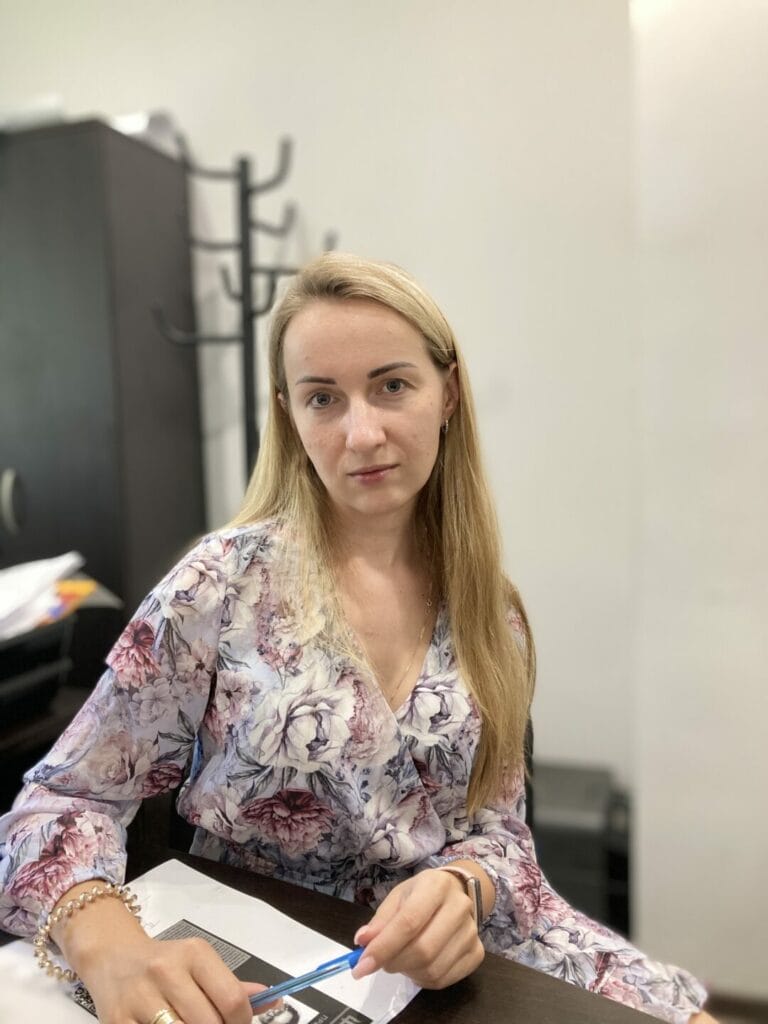 Rebuilding lives following trauma, bereavement, injury and torture is another challenge. Tamila Bespala is a lawyer with Kharkiv Human Rights Protection Group, supporting victims of war crimes. On her client list is a man who was tortured by Russians in the formerly occupied city of Izium, and later denied help and support by the police and hospitals because his documents had been stolen. He killed the man he believed reported him to the Russians. 
"We do not have a system of support for people who have been tortured," she says. "He was an older man, the torture included sexual assault. But he was more traumatised by what happened to him afterwards, being denied help, than by his treatment when he was detained".
For Bespala, the most challenging part of her work is reaching child victims of torture. "They have post-traumatic stress disorder, some have schizophrenia symptoms," she says. "Many people who have been tortured, especially children, are not talking. We hope in time they will come to us so we can help them get justice".
"Our job has changed from ordinary police work, to recording war crimes," says Chief of Police Volodymyr Tymoshko. 
Recording the war is a task that has fallen not just to police and lawyers, but to the city's artists. The photographer Vladyslav Krasnoshchok has taken his camera to the frontline, to shelled buildings, and to devastated communities. His haunting images of soldiers, grieving babushkas, and young people finding joy in the most dangerous circumstances, not only offer a tribute to the victims and survivors of war – they help to tackle disinformation.
"The Russian Federation will say anything is fake, they will say white is black," says Krasnoshchok. "Photographs offer proof. It is important we bear witness. People tell me that it helps them to know that my photographs show what is happening here".
In the basement of one of Kharkiv's many university buildings, curator Natalia Ivanova spent the early days of the full-scale invasion turning the Yermilov Centre – an internationally renowned centre for contemporary art – into a bomb shelter. "Our life is divided into before and after the full-scale invasion," she says. "After, we became a bomb shelter". 
"It is too early for artists to talk about how their work is reflecting on the big war," says Ivanova. "We are right now in the time of emotion, we are showing our own personal experiences, our emotional reactions, to what we are seeing. Artists are capturing the moment of emotion, documenting the emotion".
To Ivanova and her fellow artists and creators, art has become especially important in the full-scale invasion. Putin's regime has claimed that Ukraine has no culture, and that Russian culture is dominant in the country, as part of its false justification for the invasion. "They say Ukraine is Russian, but also that Ukraine is second class. We have our own culture, our own language," says Ivanova. "What artists, poets and musicians are doing is creating a big cultural movement in Ukraine. In the war, art is an act of resistance".
Ivanova offers to drive us from the gallery to the studio of one of Ukraine's most celebrated artists, Pavlo Makov, who represented Ukraine at the 2022 Venice Biennale. While we chat, surrounded by artist tools and books, the sirens start to wail outside, a howling reminder how the threat of this war is never far away.
"After World War Two, Ukraine said 'never again'", he recalls. "Russia said 'we can repeat'. That is what is happening now". He speaks with passion and energy, at times shouting across the table, at times his eyes fill with tears.
Makov has created artwork that explores the experience of the full-scale invasion, including one based on the roses that grow in his country house. "We did not have time to cover the roses in our garden, and I thought they would die in the winter," he explains. "The village was occupied, there was no way we could go there. But after it was liberated, we learnt the neighbours had gone to the house to cover the roses. The roses had survived".
"After that I felt I couldn't do more work that spoke to the war directly," he adds. "I am now working on a piece called Abracadabra which is about the total impossibility of understanding what is going on".
Despite the continuing shelling and fighting, people are returning to Kharkiv, Makov among them. On our final night here, young people watch the sunset over Museum Square, taking selfies where they make hearts with their fingers. Others catch up over beers, or stroll holding hands through Shevchenko Garden. Just after midnight, four more missiles will land in the city as we hide in bathrooms, but at this golden-lit moment, Kharkiv is a city full of young and hopeful people, seeking to enjoy a normal Saturday night.
"If the Russians wanted to discourage us, they did not manage to do it," Kharkiv's Mayor Ihor Terekhov tells the Ferret. 'We refused to be scared".
Additional reporting and translation by Anna Vlasenko