Amid rising concerns over heavy patient lists and unsafe work conditions in primary care, patients and doctors share their experiences of a system under strain.
Liz, who lives in the north west Highlands, knows she is lucky. When she found a lump in her breast last year, she called the GP practice on a Friday and got an appointment for the following Monday.

Her reassuring GP referred her to Raigmore Hospital in Inverness and within a few months, Liz – who asked that we use only her first name – was operated on, with radiotherapy offered as a follow-up.
"I just had a letter giving me the all clear," she says. Though it's taken a toll on energy levels, Liz is returning to her full and active life – walking in the hills, volunteering, visiting her grandchildren and planning trips abroad.
"My experience has been that when it is an emergency it will be dealt with," she says.
But while GPs still prioritise potentially serious issues, for an increasing number of Scots, the deepening crisis in primary healthcare means seeing a doctor with ease can no longer be taken for granted.
Now a Ferret investigation has revealed the extent of that crisis, with patient lists per GP doubling or even quadrupling over a three-year period. More than 100 practices now have more than 2,000 patients registered with a single GP. While some employ locums – temporary GPs often paid by the day – the gap between demand and supply is clear. With burnt-out doctors leaving, practices are being forced to close.

Derek Campbell, who has lung problems and epilepsy, is registered with Alness and Invergordon Medical Group, which was handed back to NHS Highland by GPs in 2021 and run by the health board since. It has no salaried or partner doctors now and is staffed by locums. Appointments, Derek says, are hard to come by.

"Last week I needed an appointment because I had a chest infection, which is complicated by my lung condition," he explains. "But I felt I had to fight for it."
When he went to the health centre, he claims a long queue of people, many frail or vulnerable, were being told they could only book by phone. With his wife there to advocate for him, Derek got an appointment where, he says, he was well treated, with an antibiotic prescribed and a referral to the hospital for a chest x-ray.
But there have been other times when he avoided contacting the GP when unwell because his epilepsy impacts on his memory and makes communicating medical concerns, especially on the phone, difficult.
​​A spokesman from NHS Highland said there were regular locums working at the practice, providing a degree of continuity and delivering a mix of phone and face-to-face consultations. "This is a common model of delivering appointments across all GP practices," they added. "We offer a variety of flexible consultation options with the aim of matching them to the need of the person as quickly and safely as possible."
More practices could end up being run like this. Research by the Royal College of General Practitioners (RCGP) this month found one in three surgeries say they could be at risk of going under.

While patients are often pitted against doctors in this debate, those who spoke to The Ferret said they were on the same side.

"The stress and burnout is awful. You're desperately trying to keep things afloat and everyone suffers," said one GP who had to give up the practice's contract back to the health board when partners felt unable to provide services safely. Over the course of a three-year period, GPs at her practice went from having patient lists of just over 1,000 to over 3,000 per head — after one partner member left, another died and a third resigned when the punishing workload became too much.
The practice was unable to recruit locums to help. "I was going in at 7am and not finishing work until 8, 9 or even 10pm at night," she explains. "I would say goodbye to my very young children on Monday and often wouldn't see them again until Friday.

"We asked the health board to reduce our lists but help at that time was not forthcoming. It's so frustrating because GPs keep people away from hospital so when that's not working there are huge knock-on effects."

After taking several years away from the NHS, she has now returned as a salaried GP three days a week and runs a lifestyle coaching business the other two, looking at everything from weight management to mindfulness. She thinks more of these self-help options should be made available on the NHS. "People don't always want another tablet or medication but too often that's all that's possible in a 10-minute consultation," she adds.
And with funding cuts impacting services from mental health to social support, need is rising.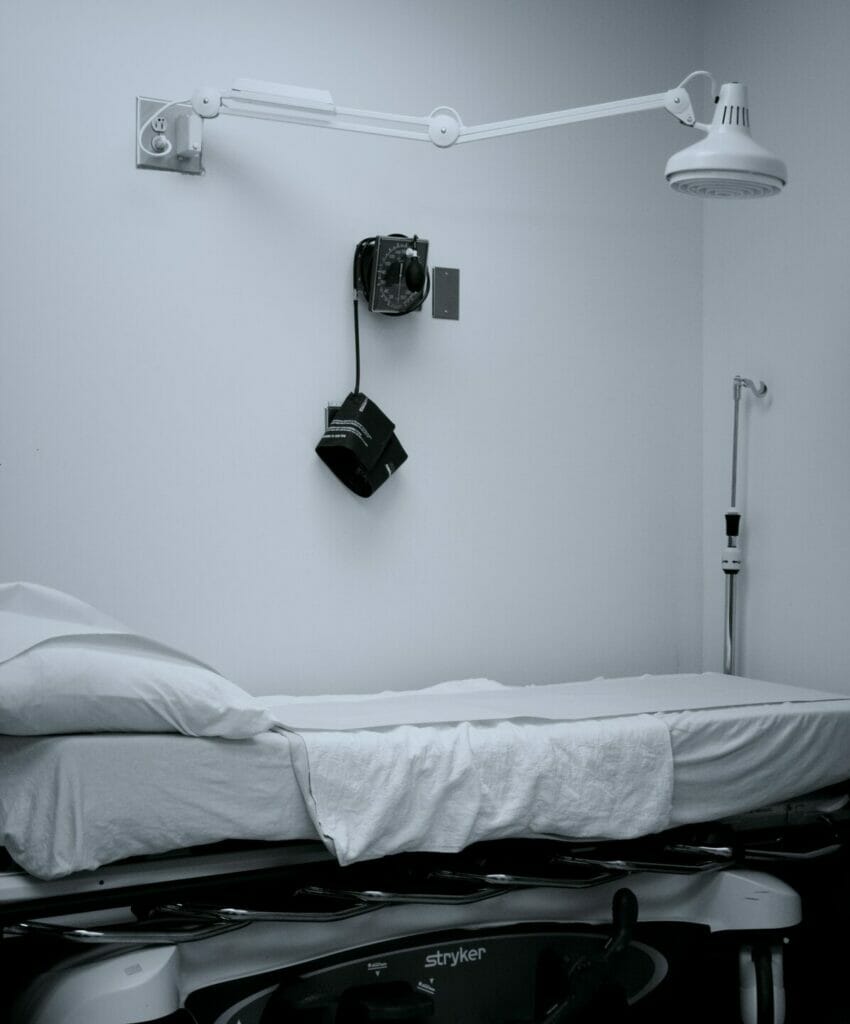 Bee, from Falkirk, has a range of complex health problems including fibromyalgia and mental health issues, but is finding it difficult even to get through to her surgery by phone.
Last time she tried to make an appointment due to debilitating bowel problems, she called hundreds of times each morning for four days before finally getting through, a claim The Ferret verified using her phone records. When someone picked up, she says, the last appointment had gone.
"I tried again the next day and the same thing happened," she said. "I was almost in tears and the receptionist took pity on me and offered me an emergency appointment. But how do people like my two elderly neighbours, who have pay-as-you-go phones, get an appointment? It's highly discriminatory."
To help relieve these pressures there has been a push to support GPs with "multi-disciplinary teams", including nurse practitioners and mental health workers in surgeries. To this purpose, the Scottish Government has recruited 3,220 full-time equivalent healthcare professionals since 2018.
But Tracy Gilmour, a patient of Kilwinning Medical Practice, did not find these additional practitioners helpful when seeking support from her GP.
"I wasn't sleeping and I was offered medication for my low mood," she says. "The standard response was: 'Take the tablets, wait five weeks to see if they are working and if not come back'."

She was referred to the practice mental health worker but said she was told that her symptoms could not be having a debilitating impact because she was holding down her job in mental health.
"I got to a place where I just didn't see the point in anything and was having very dark thoughts," she says. At this point, a year after she had first gone to the doctor, a friend recommended HRT, she got an appointment with the GP and things finally turned around. Meanwhile, she put in a complaint about inappropriate comments from a nurse practitioner supposed to be helping her daughter with anxiety.

The Ferret contacted the Kilwinning Medical Practice but it did not respond.

Many GPs claim that while additional workers can help alleviate the pressure, they are no substitute for additional doctors.
Dr Sigi Joseph, a partner and trainer at Pathhead Medical Practice and representative of the Royal College of General Practitioners, says the loss of doctors – either due to mid-career burnout or early retirement – can be devastating.
In her practice, the "just manageable workload" with a full-staffed team means she works three 12-hour days a week as standard. However, extra hours are needed at peak times, such as before Christmas, when concerns increased over the Strep A outbreak in children and flu and Covid-19 cases spiked.
"You lose continuity of care when you are short of doctors and the effects of that are huge," she says. "You can end up with a perfect storm where the demands that can't be met by GPs are met by increasing frustrated patients which in turn impacts on doctors' morale."
Peter, from Glasgow, is one of those who has felt the brunt of that shortage. He had the same doctor for 30 years until they recently retired but now finds it hard to get an appointment. His complex health conditions following a heart bypass include atrial fibrillation – a heart condition that causes an irregular and often abnormally fast heart rate.
"To be honest, I've given up," he says about getting a doctor's appointment. "If things get really bad I just go to A&E and I know that's bad but I don't think I'm alone." He has been to hospital – often overnight – seven or eight times since his GP retired.

His condition, which leaves him exhausted and forces him back to bed by lunchtime, has also led to terrible bouts of depression. "At times I've had suicidal ideation [thoughts]," he says. "I did see one GP recently for about three minutes but he wasn't really listening. The way I cope is I just hide myself away.

"Doctors now are so stressed and the answers are political. It's so upsetting to see that our NHS is up for sale." Something has to be done, he claims.
At Craigmillar Medical Practice, in Edinburgh, Dr Carey Lunan agrees urgent action is needed. This is what's known as a Deep End practice, in one of the 100 most deprived areas in Scotland.
It is well staffed and list sizes have not increased in the last three years. Yet even here when the phones start ringing at 8am, appointments for that day are gone within 40 minutes.

As a duty doctor, Lunan will treat up to 65 patients a day – with appointments lasting 10 minutes or less – either on the phone, or face-to-face in the surgery or at someone's home.

The chicken-and-egg problem is that recruitment is difficult due to the intensity of the role, she says.
"And at the other end of the scale we are losing the experience and wisdom of people who have worked as GPs for maybe 20 or 30 years, either significantly cutting back hours or leaving altogether because they are burnt out," she adds.
"There's no point in transfusing the workforce if it's continuing to haemorrhage blood. People don't just feel they can do this job safely anymore."
Last year the BMA issued guidance for safe levels of work – 25 appointments in one day, each lasting 15 minutes. That doesn't currently feel possible for GPs. "If we were to offer 15 minutes we would automatically lose 50 per cent of our capacity, so it feels aspirational," Lunan says. "But it also feels really necessary, particularly for the complexity of working in a deprived area that is multi-ethnic."

Currently, she claims the way to get through the work is to do so at speed, "to cut corners where you think you can and to not let people tell their story in the way that you want them to be able to".
"We don't know what we might be missing. The impact that working in this way has on our cognitive functioning is also a factor because you get really tired," she says.

"There's not time to take adequate breaks. You're not drinking enough water, you're not going to the loo, you're not eating enough food. We don't want to work in this way. We are firefighting instead of doing our job in a way that feels more holistic. Time is the currency. That's what we all yearn for to do our jobs better."
More GPs are urgently needed, she says. Recently Audit Scotland claimed the Scottish Government was "not on track" with its target to recruit 800 more GPs by 2027.

Yet meanwhile there are so many practical things that would help, Lunan claims. Free bus travel to help people get to hospital appointments, and opt-in letters with more lead-in time – so people are not thrown back off the lists, whereupon they end up back at the surgery – would make things easier.
Likewise, she advocates better social care to keep people well for longer. "There is all this churn that is making people feel so angry and frustrated and upset," she says. "At the moment the systems are not working."

What matters now, she says, is what happens next.
Cover image: Tracy Gilmour. Credit: Angela Catlin
GPs in Crisis is an investigation by The Ferret examining the pressure on doctors and patients at the frontline of community healthcare. Support our journalism by becoming a member for £5 a month at theferret.scot/subscribe.
This story is part of our Health Gap project, funded by the European Journalism Centre, through the Solutions Journalism Accelerator. The fund is supported by the Bill & Melinda Gates Foundation.