Glasgow City Council has been accused of "ridiculous" spending after a freedom of information request by The Ferret revealed it used nearly £20,000 of taxpayers' money on a portrait of former Lord Provost, Sadie Docherty.
The council's chief executive, Annemarie O'Donnell, approved £18,000 for the painting from the Lord Provost's expenses budget in 2017, the same year that Glasgow's council tax rose by three percent.
Glasgow's Conservative MSP Annie Wells described the spending on the portrait as both "ridiculous" and "frivolous" and said that people in the city "struggling to make ends meet right now will be appalled".
Scotland's four largest cities – Aberdeen, Dundee, Edinburgh and Glasgow – all commission portraits, or photographs, of their Lord Provosts. But research by The Ferret suggests that Sadie Docherty's is the most expensive painting in Scotland's history.
Of her Glasgow predecessors, Liz Cameron's cost £17,000 in 2007, while Bob Winter's cost £15,000 in 2012.
Elsewhere, Aberdeen's cost £10,000 in 2019 and, as The Ferret revealed, Dundee's last portrait cost £5,500 – paid for with cash allocated for "support[ing] the common good".
In Edinburgh the council backtracked on plans to spend £30,000 on two portraits in 2012. Instead, it commissioned photographs costing just £300 and £500.
Docherty's portrait was painted by Gerard Burns who she met while on a taxpayer-funded trip to New York in 2015.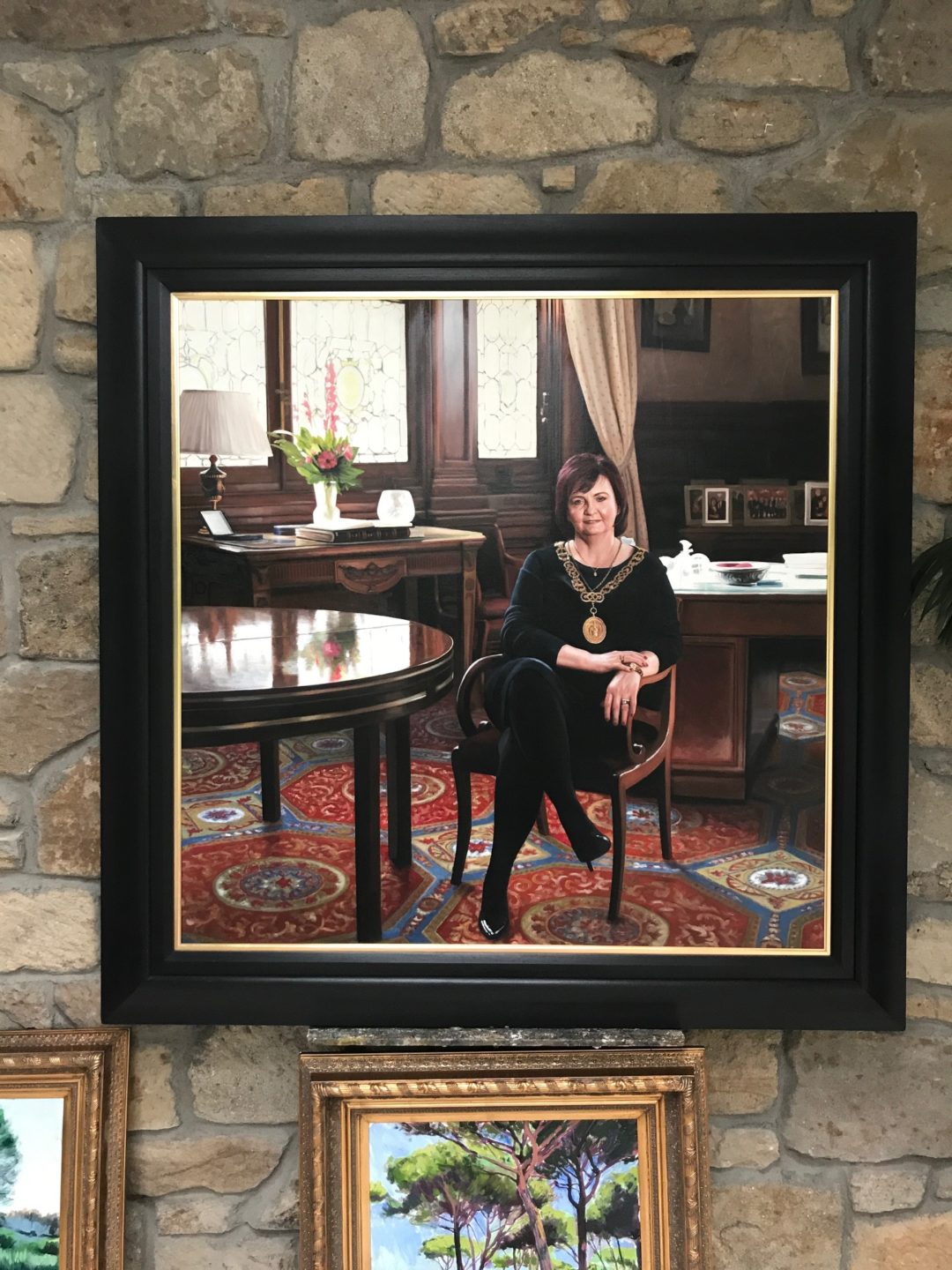 Docherty's spending on foreign travel was criticised during her five-year tenure. During this time, she visited Malawi, Germany and Russia, as well as New York. Several times, she flew business class and took her husband, Willie Docherty, along with her.
Her term as Lord Provost ended in 2017 after the SNP took control of the council from the Labour Party after May elections that year.
Docherty was replaced by the SNP's Eva Bolander. She resigned in October 2019 after being criticised for claiming £8,000 worth of clothes on expenses including 23 pairs of shoes.
Commenting on the portrait of Docherty, Conservative MSP Annie Wells said: "Glasgow Council is fast gaining a reputation for spending ridiculous sums of money on utterly frivolous items of no use to the people of Glasgow.
"To spend almost £20,000 of taxpayers money aggrandising a former provost is indulgent in the extreme. While this happened some time ago, those in the city who are struggling to make ends meet right now will be appalled."
Glasgow Council is fast gaining a reputation for spending ridiculous sums of money on utterly frivolous items of no use to the people of Glasgow.

Annie Wells, Conservative MSP
The current Lord Provost, Philip Braat, replaced Bolander in January 2020.
When asked if he would also like to have a portrait on retirement, Braat told The Ferret: "To be honest, portraits are not something I have spent any time thinking about up to this point – as you would imagine, my priority has been to support my constituents and the city's community groups and volunteers during the current pandemic."
The spokesperson said GCC had not taken any decisions on portraits for Bolander and Braat because it was dealing with the coronavirus pandemic.
"Since the early 19th century, the council has commissioned portraits of out-going Lord Provosts. They form a key part of the city's art collection and are hung in public view in the City Chambers portrait gallery," a Glasgow City Council spokesperson added.
"Many, painted by famous artists, are now far more valuable than their commission costs. They are also an important record our city's unique civic history and heritage."
The spokesperson continued: "It's a matter of public record that these paintings are commissioned. The expenditure is approved by the Chief Executive. Former Lord Provost Sadie Docherty's portrait was officially unveiled on Friday 15 September 2017 and media were invited to attend that event.
"No decisions have been taken in relation to future portraits because we are currently dealing with the city's priorities serving citizens during the Covid-19 pandemic."
In the same year the portrait was unveiled, 2017, Glasgow council introduced a series of cuts and tax rises. These were implemented by both the Labour administration, which was in power until May, and the SNP administration which then took over.
In January 2017, the council announced council tax would rise by three percent, costing taxpayers £7m. In February, 2017, the council announced it would stop giving £3m a year to housing associations to provide sheltered accommodation from December 2017 onwards.
Councils in Scotland have had to save money because their funding has been reduced since the Conservative-Liberal Democrat coalition was elected in 2010.
Since then, the amount of money the UK government gives to the Scottish government has decreased, as has the amount the Scottish Government gives to local councils. [
The Ferret was not able to reach Sadie Docherty for comment. Commenting on her flights while Lord Provost, the council previously said she was the least travelled of recent Provosts and had good reasons for all of her trips.
Eva Bolander did not respond to a request for comment. Commenting on her clothing expenses, she said that her spending had been "within the rules" but that she nevertheless "apologised unreservedly" for it.
Photo thanks to Velvet, CC BY-SA 3.0.