Plans to launch rockets into space from the north of Shetland are facing allegations they could increase climate pollution by disrupting thousands of flights a year across the North Atlantic.
Air traffic controllers in Iceland have warned that reserving airspace for up to 50 launches a year from the SaxaVord spaceport, being built on the island of Unst, would force commercial airlines to reroute transatlantic flights. Longer journeys result in more carbon emissions from aircraft.
There are also fears that the Icelandic air traffic control company, Isavia, could lose fees from airlines, and face financial hardship. This is said by one insider to be an issue of "the utmost severity" for the company.
Campaigners are "extremely concerned" about the UK's bid to join a new space race, warning that it was for "warfighting". SaxaVord had been "hallmarked by haste", they said.
The SaxaVord spaceport is under construction at Lamba Ness on Unst, near the most northerly point of the UK. It has applied for a licence to launch 30 rockets a year, and told the House of Commons science committee in May, it would apply to increase that to "40 or 50" a year in the future.
SaxaVord's chief executive, Frank Strang, told MPs he was hoping to get a licence from the UK Civil Aviation Authority (CAA) in August. The first low-level launch is planned for October, followed by a rocket launching satellites into space early next year.
If these go ahead, they could be the UK's first successful commercial rocket launches, following the failure of Virgin Orbit's attempted launch from a plane in Cornwall in January. Richard Branson's company has since shut down.
According to Strang, SaxaVord had spent £28m since it was given planning permission in March 2022. In May 2023, he said the company had secured a £139m "debt facility from the markets" and had 80 employees.
But a recent public consultation by the CAA into the "airspace reservation" required for SaxaVord's rocket launches has prompted alarm from Iceland's air traffic operators.
A submission to the consultation from an unnamed "aviation stakeholder" suggested the launches could force as many as 76 flights a day to be rerouted north or south of the Reykjavik air traffic control area.
This would mean a "reduction in revenues" for Isavia, the company which runs air traffic control over Iceland, the submission said. There would also be "an increase in flight time and fuel burn and greenhouse gas emissions for those airlines needing to operate on a longer and less optimum route," it warned.
The impacts on workload and safety for air traffic controllers would be "considerable", the submission argued. The financial implications could also be serious, particularly in the wake of the "tremendous financial losses" caused by the Covid-19 pandemic.
The industry could not afford further financial setbacks, the submission added, and recommended restricting SaxaVord launches to nighttime. "This matter is of great concern to us and viewed with the utmost severity," it said.
The Icelandic Transport Authority, which regulates aviation, told The Ferret that it "seconds Isavia´s reservations". According to the company, over a quarter of all air traffic crossing the North Atlantic passed through Icelandic airspace.
Space launches 'not for the benefit of humanity'
The campaign group, Drone Wars UK, argued that the extra fuel that would be burnt by rerouting "potentially thousands of flights" away from Iceland was significant. Launching commercial and military rockets into space could cause an "untold amount of harm to the environment", it warned in a blog published today.
"We're extremely concerned about the environmental and international security implications of the rush by the UK Government to join a new space race, a key element of which is the development of the SaxaVord spaceport," said Tim Parker from Drone Wars.
"A growing number of space activities are now simply focussed on commercial exploitation and warfighting. Decisions with huge implications are being made by a small elite of policymakers and wealthy entrepreneurs for their own purposes and not for the benefit of humanity."
Shetland Labour councillor and spaceport critic, Tom Morton, said there had been an "unseemly rush" to bulldoze SaxaVord into being. He referred to it as "Tracey Island North" after the secret space base in the 1960s Thunderbirds puppet show on TV.
"Amid all the bluster and blarney about SaxaVord's 'ideal' position for rocket launches, the importance of civilian air routes to, from and via Iceland appears to have been overlooked or simply ignored," he told The Ferret.
"The entire project has been hallmarked by haste and a sense that nothing, be it wildlife, vegetation, peat or passing airliners, will be permitted to stand in its way."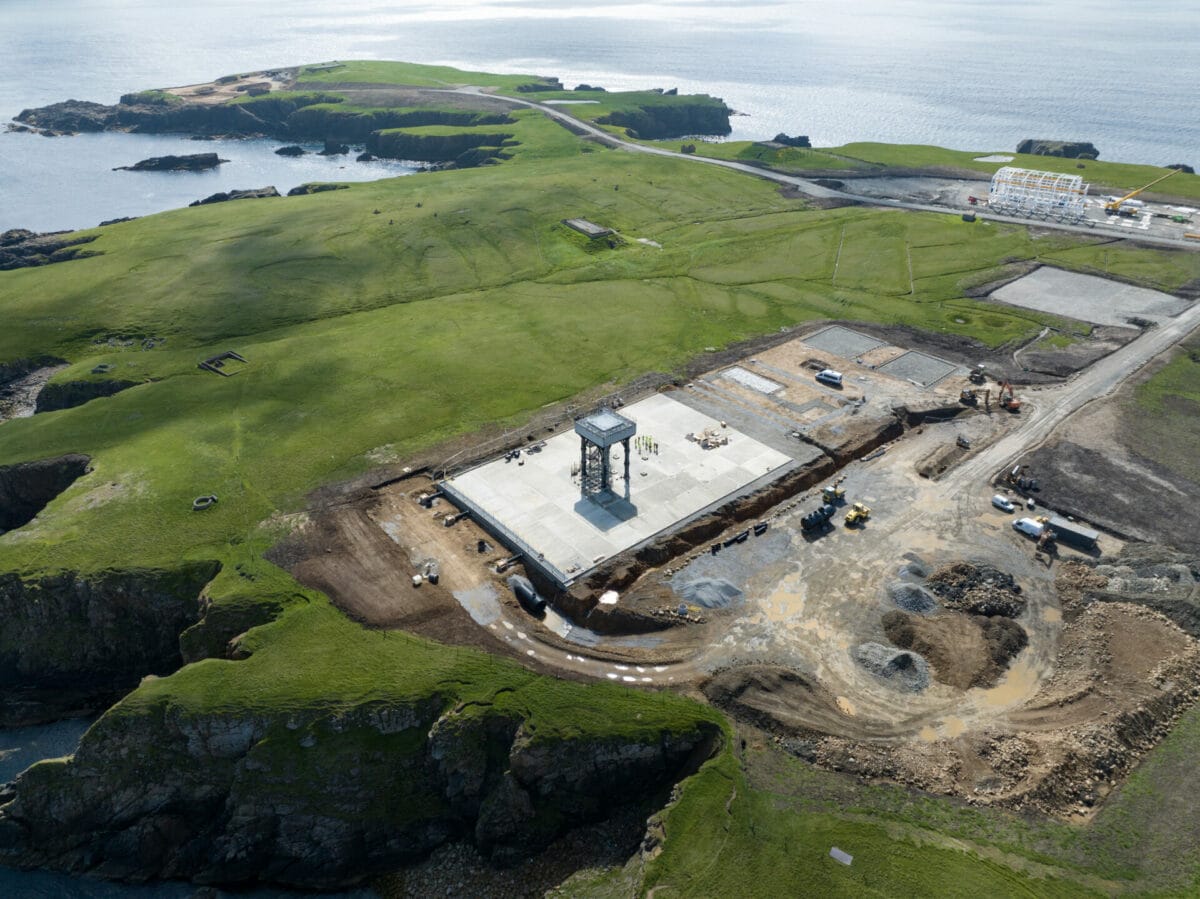 Kjartan Briem, the chief executive of Isavia, confirmed that space launches in its area "clearly does affect our service". He did not know who made the submission to the airspace consultation on SaxaVord.
He said: "We cooperate with the concerned parties and the Icelandic Transport Authority to plan and to minimise any affects the launches have."
Briem pointed out that the number of planes using Icelandic airspace was "very dependent on weather conditions", such as high-altitude winds. One industry source suggested that launches from SaxaVord would disrupt far fewer than 76 flights a day.
The UK Civil Aviation Authority declined to comment on the consultation as it is currently being evaluated. It promised to provide a response once the process is completed.
SaxaVord also declined to comment, saying it was "a matter for government agencies".
Cover image thanks to SaxaVord Spaceport.