Parents of children on the Inner Hebridean island of Luing fear the permanent closure of its only primary school, deemed the "heart of the community", would push away young families and fuel depopulation.
Parents have described a recommendation from Argyll and Bute council's education committee to close the school – due to dwindling pupils numbers – as "a bombshell".
Some parents claim the local authority is not listening to their concerns, or attending community council meetings on the island.
The local authority's closure move was in "direct conflict" with its stated aim of protecting rural primary schools and reversing depopulation, according to one local councillor.
When seven of eight pupils of Luing's primary school graduated at the start of the Covid-19 pandemic in 2020, the council decided it could no longer justify keeping it open, and mothballed it before advocating permanent closure.
But parents, who argue that seven young children will come of age in the next few years, are calling on the council to keep the school mothballed until they can boost the school roll. Islanders also hope that community initiatives to create new jobs, homes and tourism will help to attract young families.
Children currently have to travel to Easdale primary on neighbouring Seil island, or Kilninver on the mainland – a trip consisting of two buses and a short ferry crossing each way.
Parents who have chosen to transport their kids themselves claim they are paying £200-350 a month on fuel and ferries for the "unnecessary and undesirable" trip.
School closure move 'devastating'
Alison Young, a parent and community councillor, said it was "a bombshell" to hear about the school's potential fate.
Having moved to Luing four years ago, she is now concerned about where her three-year-old – who will reach primary school age next year – and her baby, will go to school: "The first thing we looked at when we moved was where the nearest school was – and within a year of us moving here it was closed."
Young is dismayed by her kids having to travel to Easdale. "If I was a parent moving to the island… that would put me off", she said. While she believes the trip would be more attractive if a single bus took kids on the whole journey, Young is campaigning for the school to stay mothballed until more young islanders come of primary school age.
However, she worries the local authority is not listening, claiming that no councillors have attended recent community council meetings in person. "All the parents on the island have tried to get them to answer the phone, answer emails," she said. "The response is always the same thing: 'This is our policy. This is the way it is. You'll just have to wait and see'."
Young added: "The older members of our community are absolute stars because they've taken on so much work and put so much effort into it even though they don't have children on the island… It feels so nice to us as parents to have the support of our local community."
Pam Baker is one such community member. She called the school, which is also used for community events, "the heart of the community". "You could pretty much walk in tomorrow and open the school again," said Baker. "So to throw that all away and say 'it's going and you can't have it back' just seems wrong. It's such an asset."
The closure will "undoubtedly" put off incomers, Baker argued. "If you're a young family thinking of moving, you've already got a lot of big changes to your life… This could just be a barrier too far."
The council's decision could also accelerate Luing's ageing demographics, Baker believes: "We're in danger of becoming a retirement home. So for the health of the island as a whole, we need young people – ideally young families."
To Baker, this is why the survival of Luing's school is vital: "I don't believe it costs terribly much to mothball it. For a relatively small sum, hope could be retained". With many local developments being planned, the council's decision is "such bad timing" and represents "short-term thinking", she argued.
Community plans for Luing
Mary Whitmore, Luing's community trust secretary, said her group has recently employed a development manager and is finalising a plan to create jobs, homes and tourism, "attract and retain young people" and "address depopulation".
As many homes on the island were slate workers' cottages, there is a shortage of affordable, family-sized homes. The council has no plans for new developments on Luing until at least 2030, but the trust aims to build homes itself.
"There are families waiting who would love to come back and live on the island but can't mainly for [lack of] suitable housing," claimed Whitmore, whose trust is conducting a housing need survey.
Other plans include launching coastal protection measures to stop erosion and flooding, and a small-scale slate project – Luing is one of the slate islands which helped to "roof the world".
As well as creating new jobs and a heritage tourism site, slate from the island's old quarry could be sold to Historic Environment Scotland to roof its buildings, and to developers seeking high-end property cladding. This would generate income for more community projects.
However, "all of these plans for a sustainable future could be absolutely knocked for six by having no primary school", Whitmore argued. "If we don't have a school, we will not be a viable option for young families wanting to set up and live here."
Shewants to work with the council to find a solution. Handmade hearts, made by islanders of all ages in support of the school, were delivered to the council's headquarters in Kilmory. She was hopeful to see the local authority put them on display, which, she said, "shows they are listening".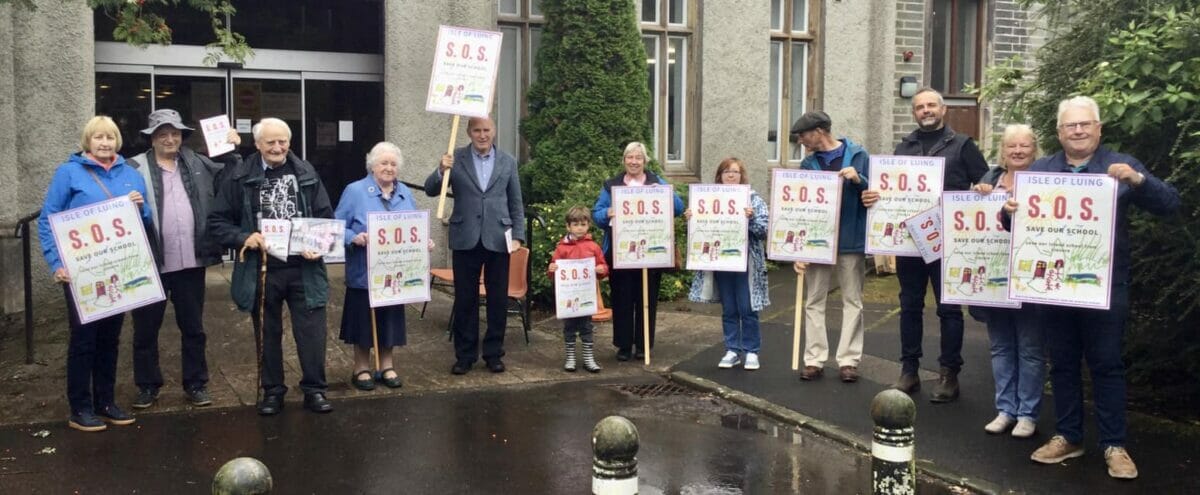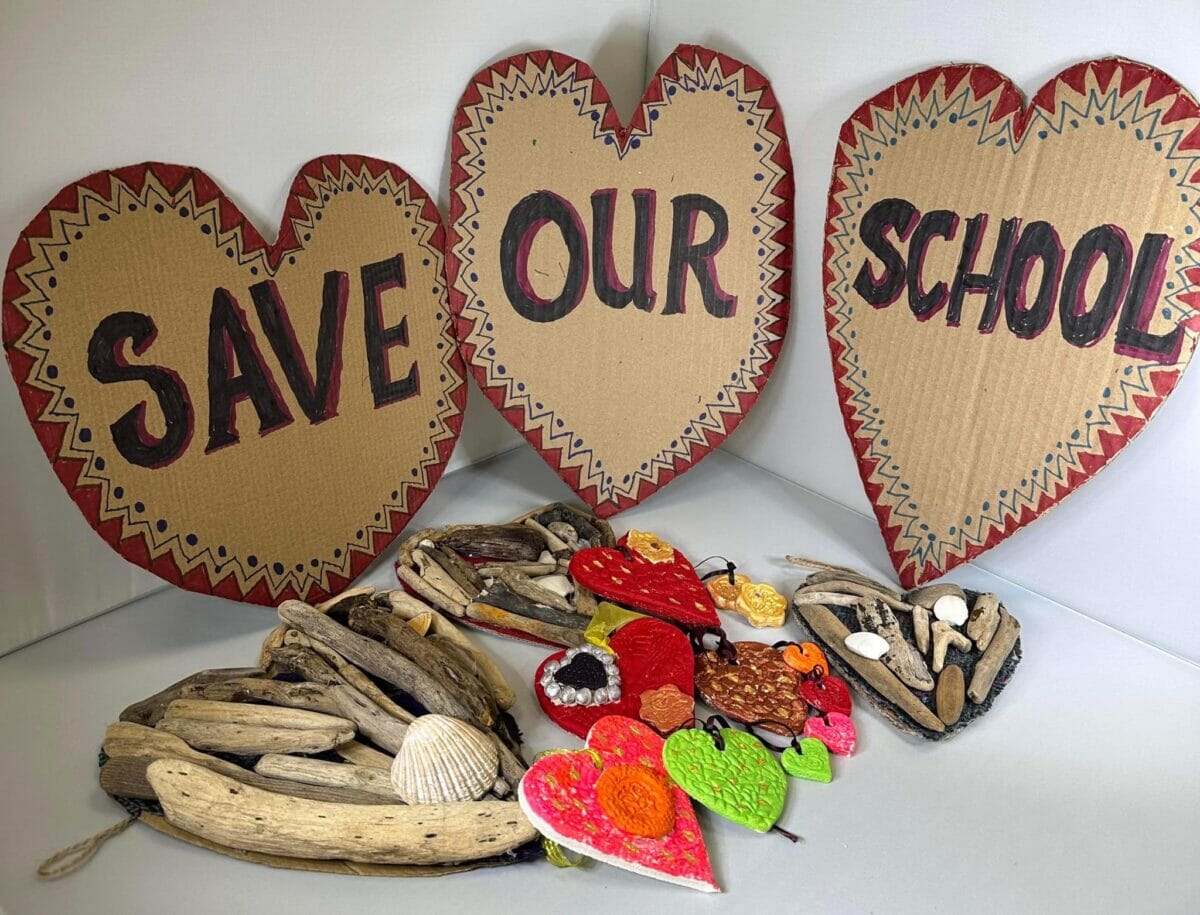 Luing was mothballed in December 2020 after no pupils had attended since August 2020. In a report, the council argued the school had struggled to find teaching staff, and had seen a decline of pupils in years past, with no rise predicted "without a change in the housing situation".
The school building was "deteriorating with limited budgets for maintenance". While the annual cost of mothballing the school is £10,323, the full costs of reopening the school would be £165,360, the report claimed.
It advocated children instead continue to be taught at Easdale. However, it found that most parents wanted the mothballing to continue "with a view to reopening the school in order to attract families to the area".
One pupil "was tired of travelling and wanted to be able to walk or ride his bike to the school", said the report. Another resident stressed that the school roll had always fluctuated, which was "nothing new in the last 55 years."
In a letter responding to the document, local SNP councillor Julie McKenzie said Luing needs "a primary school at its heart in order to properly grow and thrive." The council must "do everything within our gift to reverse the depopulation we see across Argyll and Bute; felt most acutely in our rural communities," she wrote.
"It is also a priority to redress the balance of our ageing population, and to do this we must work hard to retain our young people and attract new families. This committee paper which promotes closure of rural primary schools, particularly an island school such as Luing, is in direct conflict with the ethos of these policy drivers."
Local Green councillor, Luna Martin, told The Ferret she was "deeply disheartened" by the council's move. The school's closure would see children continue to make the "unnecessary and undesirable journey" to Easdale, and would "undoubtedly have a substantial impact on the island's economy, local businesses, and employment opportunities", she argued.
"I strongly urge the community services committee to revisit their decision and consider the importance of Luing primary school to the island's residents and its future".
An Argyll and Bute Council spokesperson said: "The council has taken no decision to permanently close Luing Primary School. A report will go to elected members in June to consider whether a statutory consultation exercise under the Schools (Consultation) (Scotland) Act 2010 should start, in order to consider the future of Luing Primary School."
Island depopulation
Declining, ageing populations are an issue for islands right across Scotland, and Luing is no exception. While Historic Environment Scotland said Luing had more than 600 residents in the 1800s, the census recorded just 128 islanders in 2011. According to a tally by the local postie, the current population has since risen to around 173.
The island also has an ageing population. Between 2001 and 2011, the proportion of those aged under 16 fell from 22.5 per cent to 15 per cent, while those of pensionable age rose from around 23 per cent to 36 per cent.
According to an analysis of National Records of Scotland data, many islands have seen a declining number of residents, decreasing proportions of younger people, and increasing proportions of older people in recent decades – a trend projected to continue.
As part of an international series on island depopulation, The Ferret visited Bute and Orkney to hear about the issues fuelling depopulation and the potential solutions. Housing and jobs shortages were the most common issues raised.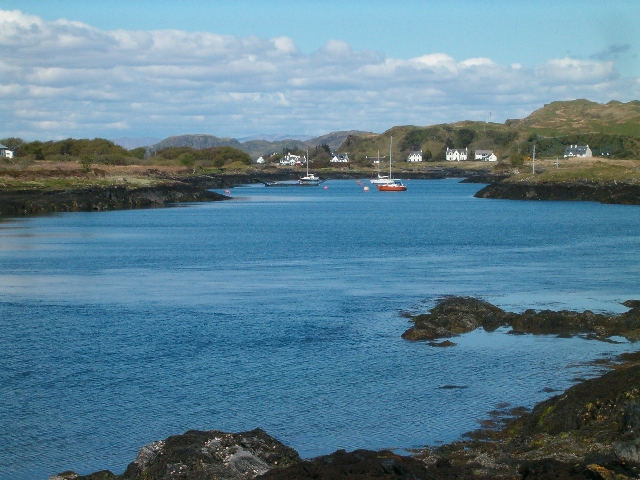 Housing shortages on the Orcadian island of Shapinsay, for example, led a local development trust to buy and renovate homes to accommodate young families. Just a few pupils leaving can put a teacher's job at risk. And once a teacher leaves, "you're never going to get them back", Shapinsay's development trust told The Ferret.
One Luing resident warned that holiday lets are exacerbating a housing shortage, which is also a big issue on Orkney's mainland. Orcadians argue the prevalence of Airbnbs, second homes and holiday lets is effectively capping their growing mainland population.
Building homes on some smaller islands, such as Orkney's North Ronaldsay, can prove more difficult, however. Its residents reported difficulties in convincing the local authority to build homes – and funders to pay out housing grants – due to their small, declining population.
But islanders argue that a chicken and egg scenario has been created. "You can't have a council housing waiting list on an island that doesn't have any," the chair of the island's development trust told The Ferret.
Like Luing, residents on Bute were concerned about a shortage of well paying jobs, which they said made it hard for locals to afford a home and live comfortably. This has led to Bute businesses working together to cement the island's status as a food and drink destination to create jobs and boost tourism.
Faced with many similar challenges, the Luing community are determined to save their school from potential closure, and usher in a new era of population growth. "We do feel very strongly about the future of our island," said Luing's Pam Baker. "We love our island."