On Korle-Gonno beach in Accra, Ghana's bustling capital, reams of tangled clothing are burrowed into the sand.
"They go as deep as six feet," says a local fisherman.
These mounds of material are the clothes the west has shrugged off and discarded – second-hand textiles supposedly sent to countries like Ghana and Nigeria for resale from Europe and the US. But the quality is so poor, it is alleged, most clothing ends up incinerated or dumped here on this beach, in an unofficial landfill.
This has forced some sellers into debt, as well as raised concerns from campaigners and city administrators about the polluting effect on the local environment, as well as the health risk posed to those in and around these markets.
There's no control over used clothing coming through Ghana's ports, according to Solomon Noi, director of waste management for Accra city assembly. He argues that managing discarded used clothing has become a "huge burden" for the authorities, a pressing issue that "nobody is talking about".
But here in the UK, it's something that needs to be on the radar, campaigners argue.
According to the most recent figures from Comtrade, which is self-reported by national governments, the UK is exporting over $390m of second hand-textiles abroad a year.
That makes the UK the second biggest exporter of used textiles worldwide.
This total includes a combined 845,000 tonnes to Nigeria and Ghana, where market sellers often complain that the clothing is not fit for resale, leaving them with no choice but to dispose of it in the open air or dump it in landfills.
Charity shops are the UK's main collector of second hand clothing. According to the Textile Recycling Association, the UK has one of the highest collection rates of used clothing in the world, per head of the population, with over 600,000 tonnes of unwanted clothing collected annually.
UK private companies specialising in second-hand clothes also source garments, mainly from household waste, recycling centre charity shops, and clothes banks, before exporting the goods via shipments abroad. And African countries are one of their largest markets. The clothing bales will generally be separated and graded A-D, with Grade A being the highest quality.
Most clothes banks are leased to private companies, sometimes for a fee or tied to the tonnage of clothes collected.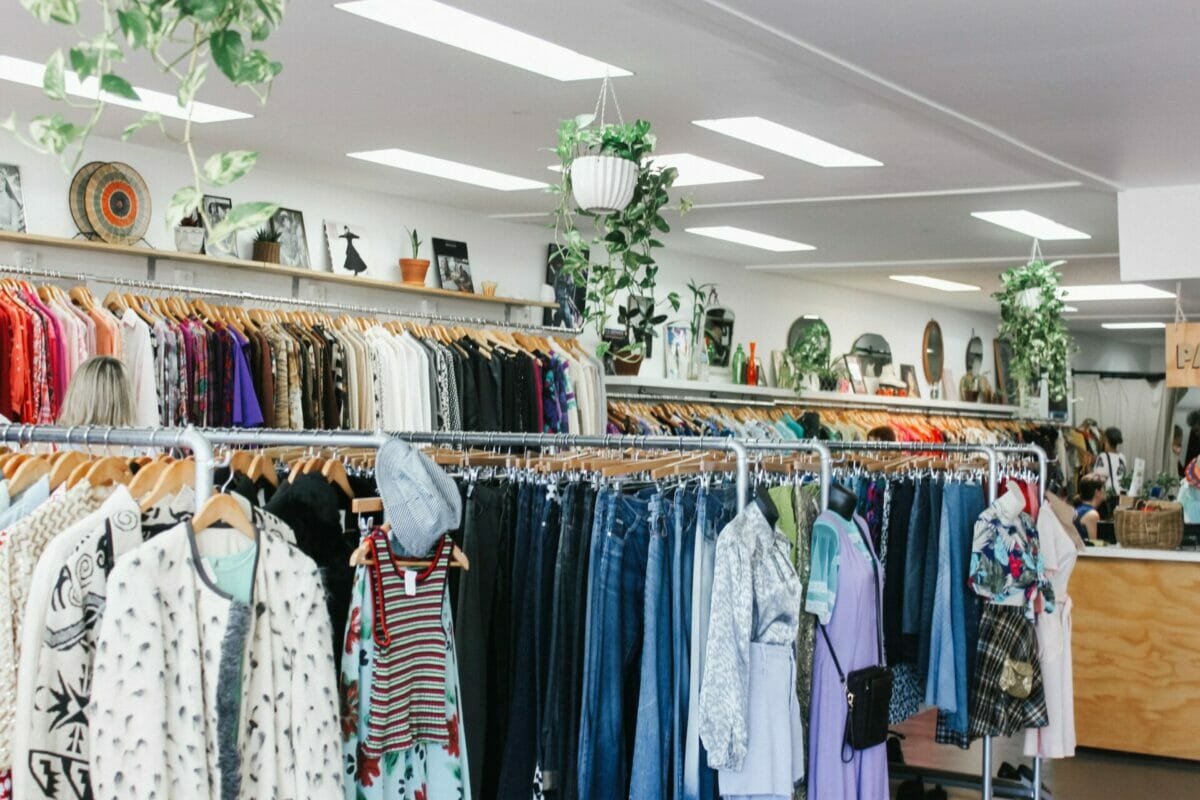 Zero Waste Scotland estimates that while textiles make up just four per cent of waste by weight from Scottish households, they account for 32 per cent of their carbon impact.
This doesn't take into account the potential carbon multiplying effects when clothing is falsely labelled reusable then sold on to textile merchants, to later be incinerated abroad.
While encouraging households to reuse or recycle clothing is seen as a key pillar of the "circular economy", and is the subject of various initiatives at both the local and national level, reports suggest that a worrying proportion of what is being donated is unwearable. As a result, textile exporters are potentially circumventing rules governing waste disposal.
According to Madeleine Cobbing, a researcher at Greenpeace, which released its own report on second-hand clothes exports last year, most clothes are not designed for recycling.
Most clothes, she says, are "blends of synthetic and natural fibres which are difficult to recycle, while the huge volumes of fashion being bought and thrown away prevent any meaningful attempt at circularity."
Ghana
Ghana is the world's biggest importer of second hand textiles, with imports tripling over the last decade from $65m in 2010 to over $180m in 2020. The UK alone shipped over $70m worth of used textiles to Ghana in 2020, accounting for close to 40 per cent of the country's imports — and was the UK's biggest export product to Ghana.
Kantamanto in Accra's business district is regarded as the largest second-hand clothing market in West Africa.
Spanning about four acres (1.6 hectares) of wetlands just beyond Accra city limits, the slum of Old Fadama is home to some 80,000 Ghanaians living in extreme poverty.
It is estimated that around 40 per cent of the clothes it receives weekly are ultimately discarded to the landfills here.
Severe smoke pollution from the burning of dumped clothes poses a significant threat to the health of residents according to health experts.
Local fishermen who live south of Old Fadama along the Korle Lagoon shoreline, have complained that fishing has "become extremely difficult" because of garment trash in the sea and coastline.
At Kantamanto market, you are immediately greeted with the sounds of sellers working hard to attract customers.
The market appears like a maze at first; rows and rows of sellers stake out their spaces.
"Five cedis, five cedis, jeans and trousers", call out some of the traders trying to attract buyers to their stalls.
There is the indoor, covered market, the outside market which spreads onto nearby walkways, and vendors with stores in cemented structures. Just like a traditional department store in Europe, Kantamato has its own sense of order.
Nana Amo, a used clothing importer and trader at the market, admits to the negative impact of used clothing on the environment and describes second-hand clothing importation as a "risk-taking" business.
She begins selling early in the morning, selecting her clothes bales at around 5am. The price will reduce throughout the day, depending on the sales she makes.
"The bale I am importing is sealed," she said. "I do not know what is inside. So, if you are a buyer and you detect that there are unusable clothes in there, there is little you can do but discard them and make a loss."
Clothes from the UK are some of the most expensive, around 1400-2000 cedis ($139-200) according to Nana, so will be priced higher.
She told The Ferret: "That is why we cannot afford to have clothes in there that are worn-out or simply rubbish. Currently there is a huge shift towards China, because their prices are cheaper and the bales are bigger. But the London clothes give me heartache when importing because it is expensive and you wouldn't want to make a loss."
Nigeria
Over in Nigeria, Aswani Market in Lagos and Ayawowuru Market in Abia, are some of the countries' biggest hubs, selling scores of second-hand clothing a day. Aswani is an open market, with many sellers working under an umbrella, displaying their goods on a white nylon cloth they have thrown on the floor. Other sellers sit within a half-built structure, with just a sheet of zinc to protect them from the sun and rain.
The second-hand clothes section is one of the biggest. A lot of the clothing is unwashed, and its smell can initially be overpowering close-up. Ayawowuru Market is by far the quieter of the two, with most traders selling inside locked-up shops.
This is all despite a country ban on second-hand clothes imports, amidst concerns about the effect on local producers. Clothes are generally smuggled in from neighbouring countries, meaning the Nigerian government will be seeing no tax benefits from the imports.
Despite this, the UK reported the export of US$33m worth of second-hand textiles to Nigeria last year. The Department for International Trade (DIT) highlighted that this figure would include other items such as blankets and interior furnishings, which are not illegal to sell second-hand in Nigeria.
The DIT added: "We remain committed to working with Nigeria to ensure trade and investment between our two countries upholds domestic laws and supports sustainable development."
However the DIT did not respond when asked to confirm whether it prevented the shipment of second-hand clothes to Nigeria, on account of the ban, or whether any checks were carried out to ensure that what was being exported was wearable.
Nigeria under the same code, only reports the import of US$93,000 worth of goods. Nigerian customs officials did not respond to a request for comment.
Many clothes traders were nervous about being interviewed, fearful of the impact this would have on their business.
Nigerian clothes traders who did speak, cited the UK, US and China as their main sources of goods. Most cited London as their preferred source, due to the perception you would get a higher quality of goods, though recently this has not been the case.
Ebere Princewill, a trader at Aswani market, has been selling second-hand clothes for more than ten years. Princewell recalls that years ago you could expect good quality goods from the UK.
"There was a time when you go to the places where they are selling Okrika (a term in Nigeria for second-hand clothes), you will feel it (quality of clothes) … but these days things have changed," he said.
Princewill says that if traders are unable to sell their clothes they will move them to the clearance zone, where they will attempt to sell them at a very low price, often less than one pence. Generally the clothes here will be those of the worst quality and in the worst condition. He said if they still remain unsold, the market cleaners will burn them at the end of the day.
Yusuf Awodele, the market secretary of Aswani Market, told The Ferret that as second-hand clothing was considered contraband in Nigeria, there was a decision taken to not fully participate in their sale.
He said with the "economy of Nigeria, the economic crunch, the recession, our people must work."
Awodele said it is his responsibility to keep the market tidy, and that cleaners are hired to remove unsold clothes to an area where they can be collected by Lagos Waste Management Authority. He said they don't "burn" as it is illegal within Lagos State to burn rubbish.
Despite this, a Ferret reporter witnessed evidence of burning from inside the clearance zone.
Ms Ogbona has been selling second hand clothes for more than 13 years, and is the main breadwinner for her family. She was led to believe that her current bale was Grade A, for which she paid N160,000 ($250), only to open it and see it was of poor quality. She doesn't believe she will be able to make back her money on the bale.
"If there is first grade, as I am selling, I will be happy, and at the end, you get your gain but these ones here, I will throw them at the backyard.
Oluebube Uche, a trader at Ayawowuru who chooses to buy "London bales", said that complaining to the Nigerian sellers about the bales directly was no use.
"They will say I am not the one that tied the bale, I am not the one inside it", she explained.
Nigerian public health physician Dr Maduka Omosivie described the practice of burning as "terrible" and that it promotes "air pollution".
Omosivie said: "When you burn in populated places, people are first exposed to harm, and it causes damage to the lungs and respiratory illness."
Omosivie who doubles as the President of Nigerian Medical Women Association, Rivers State branch, noted that pregnant women and children under five are most affected because of their immune system. Women working in the market also suffer skin irritation from the particles produced when clothes are burned.
Exacerbating the issue is the popularity of fast-fashion brands which encourage one-wear use. These brands mostly use synthetic fabrics, which are cheaper and easier to produce on a large scale. Such fabrics are non-biodegradable and potentially contain hazardous chemicals.
As well as posing a greater threat to humans when burned, synthetic fabrics shed microfibres which have been found to poison waterways on a massive scale, and have been found in large quantities across marine environments.
"A third (35 per cent) of all microplastics released into the world's oceans are from synthetic textiles," said ocean researcher and communication director at Hen Mpoano, Kweku Dallah. "This poses a significant threat to the ocean because sea life ingests these dangerous materials, leading to them getting sick or dying."
While companies and local authorities claim that they are providing an alternative for second-hand clothing from incineration or landfill the reality is that once the clothing is sold abroad this is impossible to verify. At present there is no monitoring of the end-use of textiles exported abroad.
The Ferret asked both the UK-wide Environmental Protection Agency (EPA) and the Scottish Environmental Protection Agency (SEPA) what they do to ensure textiles aren't falsely being labelled as reusable. Both agencies didn't respond when asked to cite any inspections carried out. They said that if textiles were labelled reuseable they would come under "Green List" controls and would therefore be beyond their remit.
In SEPA's case, this is with the exception of operators which handle textiles beyond 100 tonnes a week, which require a waste management license. A SEPA spokesperson said that at present only one site in Scotland met these criteria.
In 2019, a UK House of Commons audit report found that fast fashion and consumption in the UK leaves developing countries, "with the bulk of the environmental and social costs."
The UK Government later rejected the report's recommendations for stricter regulations on clothing supply chains, saying it wouldn't consider improved clothing collection and sorting until 2025.
Until the UK takes firm action, campaigners fear cast-off clothing will continue to pollute Korle-Gonno beach in Accra, Ghana.

Cover picture: Ebere Princewill at his shop at Aswani market. Photo Credit: Elfredah Kevin-Alerechi
This investigation was developed with the support of Journalismfund.eu