The Co-operative supermarket has been urged "to sort itself out" after a month of failing to adequately stock some stores in Argyll and Bute, which locals say are a "lifeline" for food and supplies.
Residents in Bute and Lochgilphead told The Ferret that their local Co-op stores had been experiencing "either bare or nearly bare" shelves throughout the Covid-19 lockdown, despite numerous pleas to the supermarket's senior management.
The region's SNP MSP, Michael Russell said he had contacted the supermarket's supply chain manager to try and resolve the shortages. He urged the Co-op "to sort itself out."
A local resident in Lochgilphead, who asked not to be named, said her store was the largest supermarket in a 40-mile radius. However, it had been left without key items such as toilet paper, vegetables, cereal, pasta and rice for the last four weeks, with depleted shelves leading to panic buying.
She said the branch was being treated as a "convenience store" by the Co-op's senior management, rather than a local "lifeline" for thousands of people, many of them vulnerable. Shortages were forcing residents to make the almost 75-mile, two-hour round trip to Oban's larger stores, she added.
In Bute, the two Co-ops in the largest town of Rothesay are the only supermarkets on the island. With locals unable to travel to Greenock or Dunoon to shop during the lockdown, the local Co-ops are now relied upon heavily by some 6,500 people.
Dr Malcolm Alexander is a local GP and co-founder of Bute Lifeline, a volunteer-run organisation set up during the lockdown to help locals source essentials like food and fuel.
The shops had seen severe stock shortages, cancelled deliveries and a one-item-per-person policy for more than three weeks, he said. This was forcing people to make multiple trips to the stores, thereby increasing the risk of infection.
"There are long periods of days when the shelves are either bare or nearly bare"," said Alexander. "There are then occasional gluts of food. For instance, there was too much bread one day, but still no tinned goods. You have to ask who is managing this supply chain."
Despite repeated communications, he said he had received no response from chief executive, Steve Murrells, or the head of supply. The continued shortages showed that "the Co-op doesn't have the will to change things quickly," he said.
However, Alexander commended the Co-op's local manager and staff, who he said were doing their best and being let down by the supermarket's supply chain. The manager "can never be sure what he's getting from the distribution centre despite what he's asked for," he said. "Until he sees it, he's not quite sure what's coming on that lorry."
Scots vulnerable to Covid-19 struggle to get home deliveries
Alexander also praised local shops including the butchers, fishmongers, bakers and a pet shop, who he said had adapted to the crisis by taking digital payments for items and delivering to residents. Local MSP Russell echoed Alexander's praise for Bute's smaller shops, but said "the Co-op is the mainstay and needs to sort itself out."
He said that while issues with deliveries from Tesco's Oban branch to the islands had been resolved, food shortages at Bute's Co-op had gotten worse in recent weeks. This was despite other stores, such as in Skye, Inveraray and Tarbert being reportedly unaffected by shortages.
Russell said he had been in touch with the Co-op's supply chain director who was now "making a difference" but that the supermarket had "been too slow to wake up to the issues". Locals received "no sensible replies from the customer care team at the Co-op who clearly have no idea where Rothesay is, still less that the people complaining cannot physically leave the island," Russell said.
He added: "I am hopeful there will be improvements this week, but we have said that for the past ten days so we need some concrete action by the Co-op now, on a sustained basis too."
A spokesperson for Co-op, said: "We are committed to serving customers during this unprecedented time. Co-op's Bute stores have been prioritised for additional supplies to boost stocks and we are working closely with our suppliers to help keep stores stocked.
"Unfortunately there was a delivery issue at the weekend which was quickly rectified. We are very sorry for any inconvenience this may have caused and continue to monitor the situation carefully."
Vulnerable people struggling to get food deliveries
On 9 April we reported that Scots vulnerable to the coronavirus were struggling to access vital home delivery services because the Scottish Government had failed to share data with retailers, who have been deluged with orders.
On the same day, the government sent a text message to those registered as vulnerable advising them to register for priority shopping. Some eight days later, on 17 April, a follow-up message advised that supermarket delivery slots would be allocated as soon as they became available.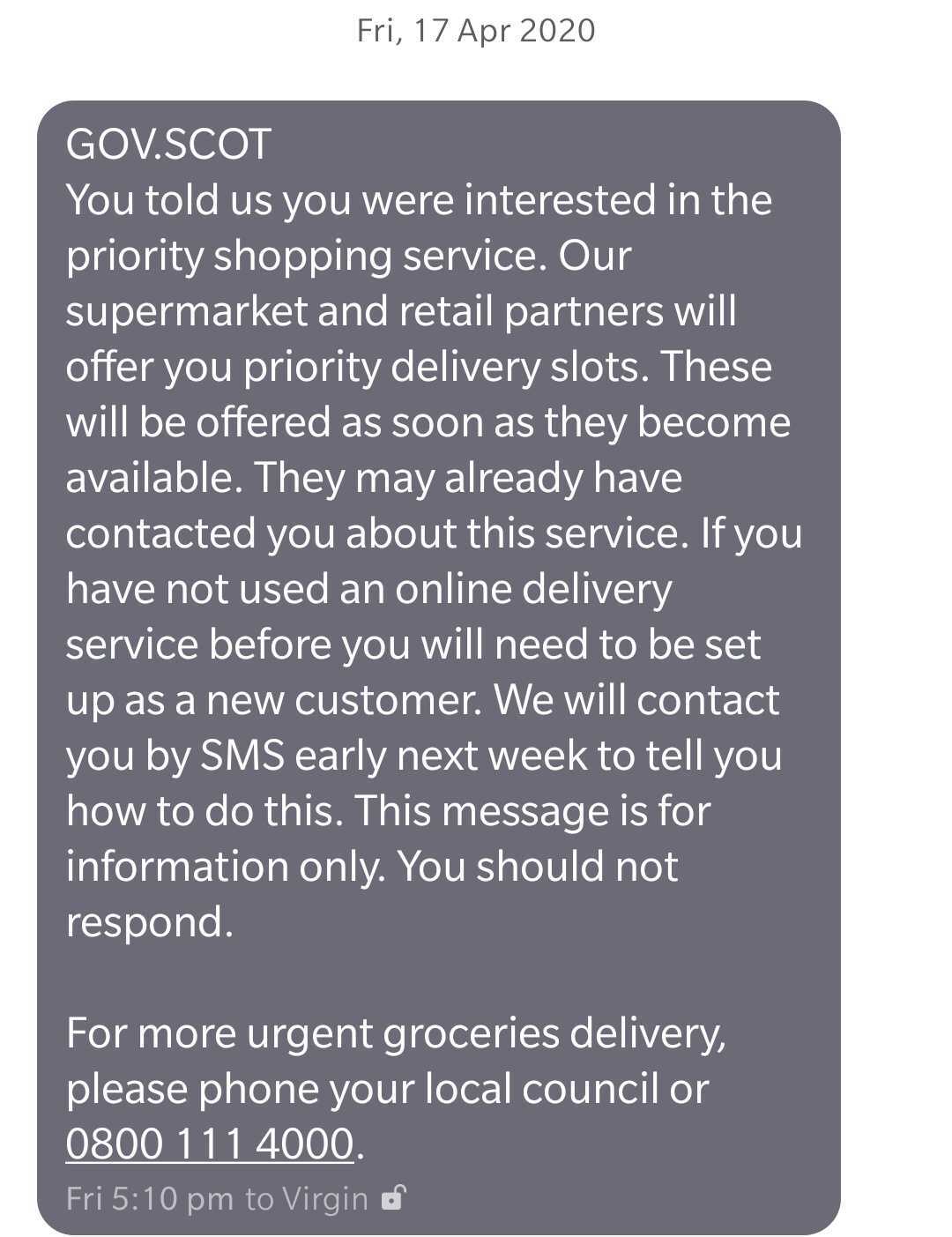 Some 200,000 people in Scotland deemed to be at high risk from contracting Covid-19 were told by the government that they should not leave the house at all for 12 weeks.
Last week, more than 60,000 people had signed up to the Scottish Government's own delivery scheme for vulnerable people, the BBC reported. On 20 April, the First Minister Nicola Sturgeon said that more than 41,000 packages of food had been delivered so far.
The government also announced that around £700,000 had been allocated from the £70 million Scottish Food Fund to 19 projects. Some £30 million of the fund was being used for food deliveries to shielded groups.
On 7 April Scottish Labour MSP, Daniel Johnson wrote to the First Minister after being contacted by vulnerable constituents who had struggled to access food, medicine and other supplies during the lockdown. On 20 April he claimed that "the sheer volume of cases" he was still receiving from constituents showed that the government's food delivery process was "not working".
The "unclear distinction between 'shielded' and vulnerable groups is an issue I have heard from numerous constituents," said Johnson.
"A great period of uncertainty and anguish is being compounded by a lack of proper linked up working from the Scottish Government. All of those staying home during this lock down deserve clarity and a proper functioning system."
A Scottish Government spokesperson said: "Anyone who is at increased risk but not part of the shielded category and who has no family or community support should phone our national phone line on 0800 111 4000.
"We set up the phone line last week so those in this wider vulnerable group can access help for their essential needs. No other part of the UK has done this. We have also launched a service on mygov.scot to help people find available support.
"Unfortunately, supermarkets cannot provide enough delivery slots for this group, so we're asking the wider community to consider if they need to use an online shop or if they are able to physically go to a shop to free up capacity for those who really need it."
Update: Since this article was published, a Co-op spokeswoman told The Ferret on 24 April that the supermarket had been liaising with CalMac Ferries who she said had "very kindly agreed to increase their sailings from six to seven a week."
The spokeswoman said: "The extra sailing will help us to get more stock across to Bute and the Co-op on Bridge Street will get its first extra delivery tomorrow. We are extremely grateful to CalMac for facilitating this additional measure which will help us to better serve the community during this unprecedented time."
Poll – are you finding it hard to get the food you need?