The public sector in Scotland is being urged to step up its efforts to tackle the climate emergency, after a survey by The Ferret revealed that most government bodies have done little or nothing in response.
We asked 30 public bodies covering environment, education, transport, economy finance and other services, how they had reacted to the climate emergency declared by the First Minister, Nicola Sturgeon, in April.
Eight said they were thinking about how to respond, 18 stressed that they were already working to meet government targets, and four didn't say. "We will develop our thinking over the summer," said the Convention of Scottish Local Authorities, which represents 32 councils.
Transport Scotland is commissioning independent research. Scottish Forestry said it was "working to develop" a response and Visit Scotland said it was "working through" government guidance.
The four bodies who either said nothing or failed to respond were NHS National Services Scotland, NHS Health Scotland, National Museums Scotland and the Scottish Ambulance Service.
Campaigners have criticised the public sector for only paying "lip service" to the climate emergency by continuing with "business as usual". They have called for Scottish ministers to show more leadership.
The Scottish Youth Climate Strike described the response of public bodies as "truly shocking". The group was set up as part of an international protest movement started by the teenage campaigner from Sweden, Greta Thunberg.
"All these public bodies have given us is words," said the spokesperson for Scottish Youth Climate Strike, Caitlin Conway.
"We are up against the largest crisis humanity has ever faced and words are no longer enough. Words won't do anything, but actions will."
She added: "Scottish Youth Climate Strike will continue to strike and escalate until the climate crisis is taken seriously and dealt with the way it should have been dealt with years ago."
Following pressure from young campaigners, Sturgeon used her speech at the SNP annual conference on 28 April to declare a "climate emergency". On 19 June the First Minister launched the "big climate conversation" to discuss action "to tackle the global climate emergency".
But, as we report elsewhere, the inaugural event of the conversation in Glasgow in July ran into fierce criticism for "fiddling while the world burns". Many participants were frustrated by the "closed questions and narrow focus".
The Scottish Government's first big climate conversation takes flak
On 16 July The Ferret emailed 30 of Scotland's major public sector organisations asking how they had responded to the emergency. We are publishing all their responses in full in a 26-page document.
Among eight bodies who said they were considering how to respond was the Scottish Funding Council. The council would be working with the 25 colleges and 19 universities it supports "to develop a more ambitious agenda on climate change," it said.
Skills Development Scotland, which helps people and businesses to improve their skills, promised to "share resources to help decarbonise Scotland's economy at pace."
The wildlife agency, Scottish Natural Heritage, is aiming to publish "a new high-level climate change strategy" in the autumn. Historic Environment Scotland, which looks after more than 300 properties, talked about increasing its ambitions "accordingly."
Most public bodies highlighted the measures they were already taking to cut climate pollution. Education Scotland pointed out that it updated its climate change briefing in June 2019.
The Scottish Qualifications Authority said it was developing a new carbon management strategy. Audit Scotland said it was was reviewing its climate change plan.
We are continuing to look for ways to embed low carbon as a core element across our infrastructure investment programmes.

Scottish Futures Trust
The economic development agency, Scottish Enterprise, said: "We are focused on delivering a broad, co-ordinated programme of actions that will help Scotland achieve net zero emissions by 2045."
Scottish Futures Trust, which uses private finance to build public projects, said: "We are continuing to look for ways to embed low carbon as a core element across our infrastructure investment programmes."
The Scottish Public Pensions Agency promised to "continue to explore new ways to reduce greenhouse gas emissions." The Scottish Environment Protection Agency said it was "accelerating how we're transforming our approach to regulation."
Transport groups such as Calmac, Highlands and Islands Airports and Prestwick Airport stressed they were trying to improve their environmental performances. Police Scotland said it was "committed to investing in and building a sustainable service".
Scottish Water said it was "working to understand the challenge", while Crown Estate Scotland highlighted its support for low carbon energy projects. Scottish Courts and Tribunals suggested it had made "significant inroads into our carbon output."
National Museums Scotland responded by saying it had not received "any guidance from the Scottish Government on the climate emergency." NHS National Services Scotland insisted on treating The Ferret's questions as a freedom of information request, and replied a month later.
Community climate projects axed as funding halved by Scottish Government
Environmentalists pointed out that the public sector had been under a statutory duty to help cut carbon pollution since 2011. Section 44 of the Climate Change (Scotland) Act requires public bodies to "contribute to delivery" of Scotland's climate targets.
Friends of the Earth Scotland described the responses from public bodies as a "pretty mixed bag". There was "a lack of real climate leadership from the Scottish Government on this critical issue", they argued.
"There are some serious efforts to increase climate action and others that appear to do little more than pay lip service to it. No doubt a decade of austerity has some part to play in this," said the environmental group's head of campaigns, Mary Church.
"We recognise that organisations can't simply change over night, but the fact that we are facing a climate emergency isn't exactly new, and long pre-dates the First Minister's announcement this spring."
She added: "Averting climate breakdown requires deep, systemic changes across every area of our lives, it means reigning in corporate power and getting over the obsession with economic growth."
The Scottish Greens argued that "urgent and decisive action" was needed from every part of the public sector. "It is alarming to see that while some agencies and government departments are beginning to take up the challenge, many seem to be continuing with business as usual," said Green MSP, Andy Wightman.
"The public sector has huge potential to lead the transition to a zero-carbon economy by changing its own operations and using its enormous buying power to support and grow low carbon businesses throughout Scotland."
WWF Scotland urged the public sector to do better, and Scottish ministers to show leadership. "The climate emergency requires an urgent response from all organisations, including those in the public-sector," said the environmental group's climate policy manager, Robin Parker.
"This must include reviewing all their activities to check that they reflect the seriousness of threat our planet faces. The public sector collectively spends billions per year, and if spent well, this can have a hugely positive impact on reducing emissions."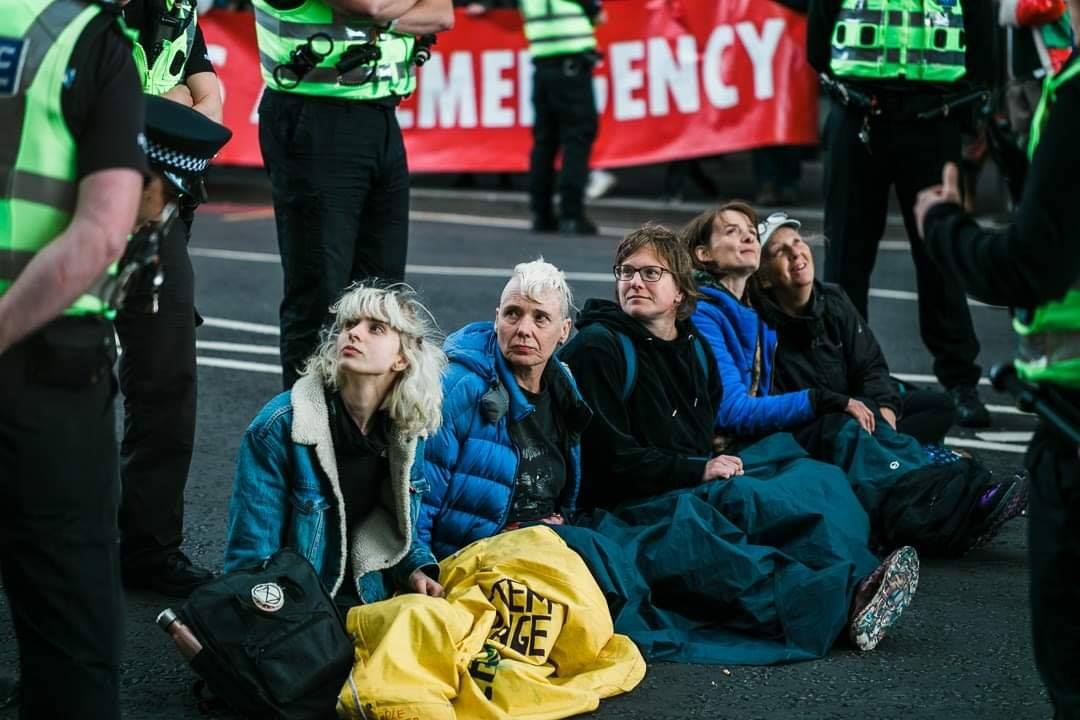 One climate expert from the University of Edinburgh argued that Scotland urgently needed to prepare for the extreme temperatures and rainfall that climate change was bringing. "This will require significant investment in infrastructure in both the private and public sectors," said professor Simon Tett.
Another of the university's experts, however, found the responses of Scotland's public bodies "really heartening" as they suggested they were getting ready to meet the challenges. "It is clear that many are already developing and implementing plans to drive down emissions and boost resilience," said professor Dave Reay.
Extinction Rebellion Scotland, which has protested at Holyrood and in city streets, wanted carbon emissions reduced to net zero by 2025, instead of the current target of 2045. "We demand that the Scottish Government tell the truth about the climate and wider ecological emergency, acknowledge and reverse any policies that help drive the climate crisis," said activist, Myke Hall.
The Scottish Government stressed that responses to the global climate emergency needed to be "system-wide" and built on consensus. "Our big climate conversation will involve all sectors of society in identifying what needs to happen to end Scotland's contribution to global warming," said a spokesperson.
"We are working with partners across the public sector to explore the most efficient ways of scaling up action. We will shortly launch a written consultation on the role of the public sector in reducing greenhouse gas emissions, including seeking views on opportunities and challenges that public bodies face in decarbonising their operations."
The responses from the Scottish Government and 30 public sector bodies in full
How Have Scottish Public Bodies Responded to the Declaration of a Climate Emergency? (Text)

Freedom of information response from NHS National Services Scotland
This story was updated at 09.40 on 31 July 2019 to include comments received from Crown Estate Scotland. On 15 August 2019 the freedom of information response from NHS National Services Scotland was added.
Protest photo thanks to Extinction Rebellion Scotland. This story was published in tandem with the Sunday National.