The Scottish Government has quietly halved funding for communities tackling climate pollution, depriving 43 local projects of grants and putting people out of work.
The Ferret has discovered that the budget for the Climate Challenge Fund to support new projects has been cut from around £5 million last year to £2 million this year. Only 22 new schemes were funded in 2019, compared to 65 in 2018.
This has resulted in ventures to save energy and reduce waste across Scotland having to be abandoned. Staff have been made redundant, and dozens of opportunities to help people live more environmentally sustainable lives have been lost.
Ministers have been accused of being "deeply hypocritical" for cutting climate projects while declaring a "climate emergency" and toughening their targets to cut carbon pollution. They are also under fire for trying to "hide" the cutbacks, and for subjecting community groups to "heartbreaking" disappointments.
The Scottish Government accepted that "difficult decisions" had been made due to "considerable budget pressures". Climate challenge funding was under review to assess whether it offers "value for money".
The Climate Challenge Fund (CCF) was launched by the Scottish Government in 2008 in response to a proposal put forward by the Scottish Greens. Since then it has given £104 million to more than 1,100 local projects across Scotland.
The projects are all aimed at helping communities reduce the carbon pollution that is disrupting the climate. They improve the energy efficiency of buildings, help grow food, encourage recycling and promote active travel.
But without making an announcement, the Scottish Government has cut the CCF's budget for new projects in 2019. In the past the fund has spent around £10 million a year, half on new projects and half on the second year of existing projects.
In response to questions from The Ferret, the government has confirmed that for 2019-20 the fund was only allocated £7.4 million, £5.4 million of which was to pay for continuing projects. That left just £2 million for new projects – less than half of the amount in previous years.
As a result CCF is now funding 87 projects, only 22 of which are new, with the remaining 65 being continuations of projects started in 2018 and due to finish in 2020. In previous years 50-60 new projects have been given grants.
Funding for local projects to tackle climate change
| Financial year | Climate Challenge Fund budget |
| --- | --- |
| 2014-15 | £10.9m |
| 2015-16 | £9.5m |
| 2016-17 | £9.6m |
| 2017-18 | £10.1m |
| 2018-19 | £10m |
| 2019-20 | £7.4m |
Source: Scottish Government
The climate change Cabinet Secretary, Roseanna Cunningham, disclosed in a recent parliamentary answer that for the first time in 2019 most of the projects recommended for funding by the CCF's independent grants panel were turned down. The panel works with Keep Scotland Beautiful (KSB), the charity that administers the fund for ministers.
"In 2019 the process for agreeing and adopting the Scottish Government budget had not concluded by the time of the panel meeting," Cunningham said.
"This meant that it was not possible to provide an indicative budget to KSB and unlike previous years it was therefore necessary for the panel to rank all projects, with no budgetary cut-off. When budgets were confirmed, there were 43 projects that were deemed to meet the minimum criteria for funding that were not funded."
For the Scottish Government to be slashing the Climate Challenge Fund whilst the First Minister declared a climate emergency is deeply hypocritical.

Mark Ruskell, Green MSP
The cutback has infuriated the Scottish Greens, who are planning to raise the issue with ministers. "For the Scottish Government to be slashing the Climate Challenge Fund whilst the First Minister declared a climate emergency to her Spring Conference is deeply hypocritical," said the Green environment spokesperson, Mark Ruskell MSP.
"On top of this, they seem to have gone out of their way to try and hide the cuts, and have so far refused to answer a formal written parliamentary question I lodged back in April."
Ruskell argued that the CCF had had a "transformative effect" in developing grassroots responses to climate change. "With only a decade left to make the big changes we need in our society to prevent catastrophic global warming, we need to be heavily ramping up these local efforts, not cutting the only source of funding available to many," he said.
"Projects in my own area have laid off core staff, withdrawn valuable volunteering opportunities and closed local facilities for food growing and tool recycling. This happened with no warning or consultation with these projects," he added.
"In fact many had been told in advance that their project met the funding criteria, but there wasn't enough money in the fund this year. Now we know why."
Nicola Sturgeon, who visited a CCF 'Bike for Good' project in Glasgow in 2018, declared a climate emergency at an SNP conference in Edinburgh in April 2019. Ministers then brought forward the target date for Scotland achieving net zero carbon emissions from 2050 to 2045.
This followed a series of disruptive protests across the UK by the campaign group, Extinction Rebellion, leading to more than 1,000 arrests. In March more than 1.4 million young people around the world took part in school climate strikes, inspired by the 16-year-old Swedish student, Greta Thunberg.
Zarina Ahmad, the climate change officer for the government-funded Council for Ethnic Minority Voluntary Organisations in Scotland, was aware of 20 energy and waste projects recently rejected by the CCF. "It's very frustrating, it's very disappointing, it's heartbreaking," she said.
"It feels like the carpet has been pulled from beneath us and left us flat on our faces. It makes you wonder whether all the work that groups have done has been worthless."
Ahmad argued that the CCF had had a huge impact on building community capacity to cut carbon pollution and encouraging behavioural change. She was now having to tell groups that there may be no future funding.
The Scottish Communities Climate Action Network (SCAN), a voluntary group which works with CCF-funded projects, has also had its funding stopped. It was encouraged by government officials to apply to triple its annual funding from £10,000 to £30,000 in 2019 but was turned down at the last minute without explanation just before Easter.
"This seems bizarre at a time when there has never been a higher level of public awareness of climate change," said SCAN's convenor, Philip Revell.
The cutbacks were "baffling", he added. "There is a lack of understanding in government of the very important role that community-led action can play in bringing about transformative change. There is no joined-up thinking."
The Scottish Government confirmed that the CCF had been reduced. The findings of a review "to assess whether it currently offers value for money and delivers what is needed" were currently being analysed.
"In light of our recent declaration of a climate emergency we will be looking across our whole range of responsibilities to make sure we are prioritising the most effective policies and programmes to ensure our actions are in line with our ambitions," a government spokesman said.
"CCF is extremely competitive and the expert independent panel felt the quality of applications to the most recent round was extremely high."
He added: "There have been considerable budget pressures across government for 2019-20, and difficult decisions have had to be made about where spend can have the most impact on our ambitions to tackle climate change. The CCF has not been exempt from this, meaning, unfortunately, it has not been possible to fund all projects that met the minimum criteria."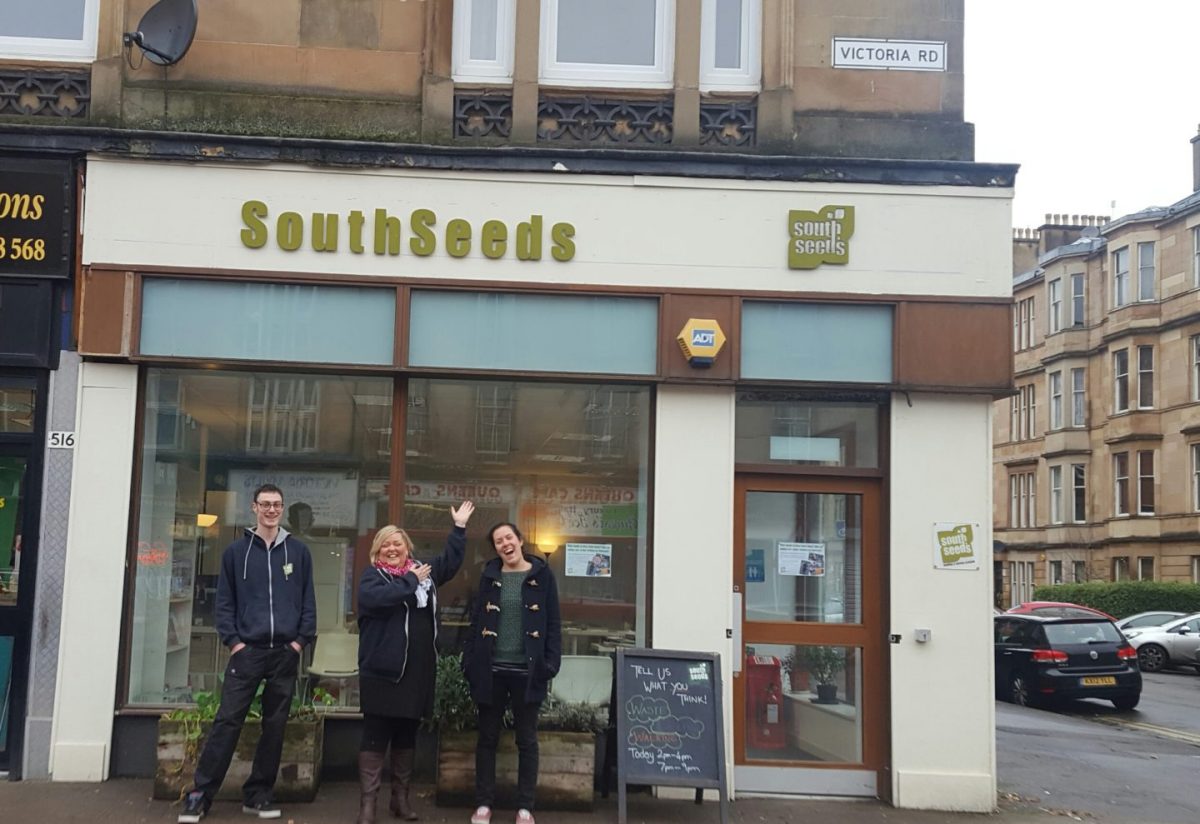 Glasgow Southside service suffering
One project that has suffered is South Seeds. Since 2011 with the help of the Climate Challenge Fund it has been helping people in Glasgow Southside insulate their homes, reduce food waste and learn about active travel.
It has set up a library of over 500 used tools which local people can borrow to carry out household repairs and improvements. In its first six months the tool library is said to have saved nearly half a tonne of carbon – and over £5,500 in tool purchase costs for members.
South Seeds applied for £285,589 over two years to extend its energy and waste services to 35,000 residents but was told in March that its bid had been rejected. This is despite its project being recommended for funding by the CCF's independent grant panel.
As a result three local people had to take voluntary redundancy in April. They were energy officer, Casey Dickson; operations officer, Lisa Pebbles; and waste officer, Jo Hartga.
For South Seeds general manager, Lucy Gillie, the loss of the grant was very disappointing. She pointed out that the project was in the part of Glasgow represented at Holyrood by the First Minister, Nicola Sturgeon.
"We have brought climate change to the high street in the First Minister's constituency," she told The Ferret. "It feels odd that we are not being encouraged."
South Seeds is now facing an uncertain future. "We are paying rent from reserves and trying to figure out the future," said Gillie.
"We are running a skeleton energy advice service, we have some community gardening sessions available and are managing to open the tool library for two hours a week. But we have no solid plans beyond September this year.
"If mitigating climate change is such an important issue and here at South Seeds we had managed to find a way to engage residents in the solutions, how come our work is not fundable?"
No funding to cut food waste
Another project that had its grant application to the Climate Challenge Fund rejected was hoping to cut food waste in Scottish Borders. Whitmuir Community Farm in West Linton wanted £201,124 over two years to run a food waste collection scheme in five areas of Tweeddale West.
The waste would have been composted and used to help local people grow food. There were also plans for a community tool library and a practical learning group for local gardeners.
"This project could have been the catalyst in our community for the transformation in behaviour and attitude towards waste that is needed to meet the Scottish Government's ambitious targets on both waste and climate change," said the community farm's director, Elly Kinross.
"We are continuing to work hard to find a sustainable way to provide this service to our community but as we all are aware the time to make these changes is now."
Photos credits: Scottish Government, Extinction Rebellion, South Seeds and Whitmuir Community Farm.