A common claim relating to MPs' attendance at Westminster debates has been shared again on social media.
The image claims to show pictures of the House of Commons during different debates, and implies that more MPs show up for debates on their pay and expenses than other issues such as drug laws, the living wage and the recognition of Palestine.
Variations of this claim have been shared on social media for years, but it most recently gained significant traction when posted on Twitter by Scots author, Irvine Welsh, along with the comment "enough said".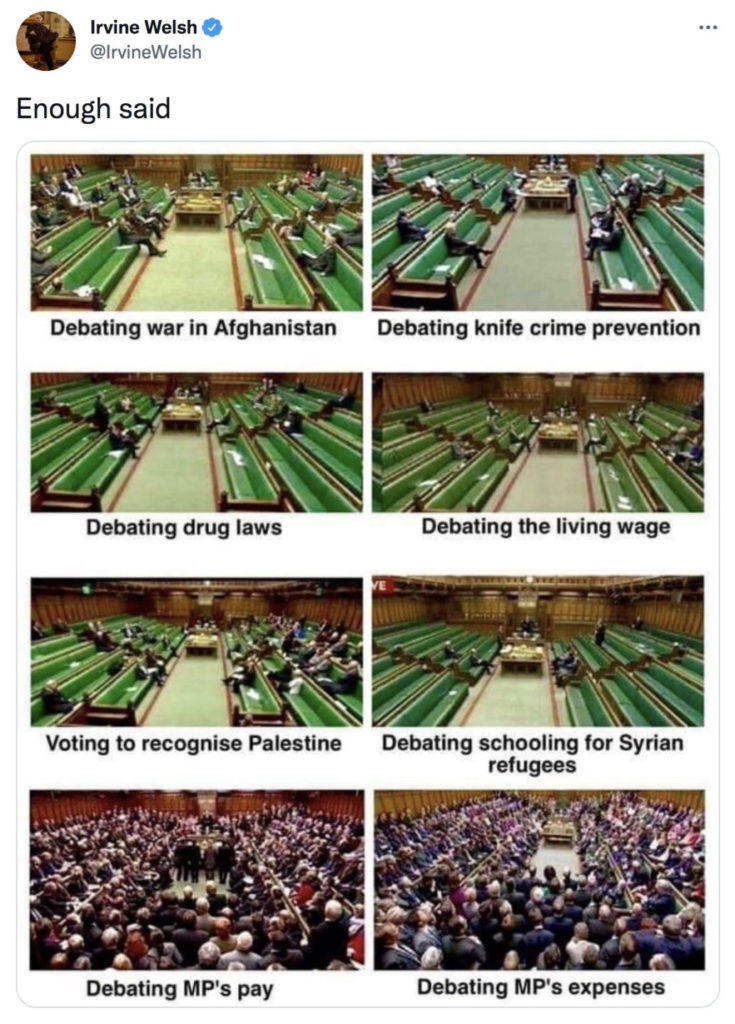 Ferret Fact Service looked into this claim and found it Mostly False.
Evidence
This image features eight pictures claiming to show MPs' attendance at different debates. It has been circulating online since at least 2016.
One supposedly shows MPs debating war in Afghanistan. This image appears to be correctly captioned, with contemporary reporting on the Afghanistan debate in 2010 showing the same image of a not very busy chamber, slightly differently cropped.
The picture allegedly showing the debate on Palestine's recognition also shows the fairly sparsely attended chamber at the time of the debate in October 2014.
Similarly, the image regarding Syrian schooling is from the correct debate in February 2014.
Another, captioned "debating knife crime prevention", we were unable to verify.
The two images showing a full House of Commons allegedly debating MPs expenses and pay are inaccurate. The image captioned 'debating MPs pay' originates from a debate on Higher education from 2004. Ferret Fact Service was able to find the original image within the Press Association image archive.
The other image, captioned as 'MPs debating expenses', has been used repeatedly as a generic image in stories about expenses, pay and boundary changes, among others. It is actually from the opening of the UK Parliament after the 2010 General Election, as pictured by PA.
There is important context to the pictures shown in this meme. For example, the Syrian refugee schooling image occurred at the end of a day in Parliament in what is known as an adjournment debate.
This is where a backbench MP, in this case former Prime Minister Gordon Brown, can raise an issue in the half an hour before the day's sitting ends. The relevant minister can respond and then the debate ends. There is rarely an opportunity for other MPs to speak, although they are able to make interventions if accepted. These are not usually particularly well-attended, and backbenchers often use adjournment debates as an opportunity to bring up issues related to their constituency.
Another important point is that the attendance at debates in the House of Commons tends to ebb and flow as they go on, so it is possible to take screenshots from a point early, or late on in a debate, to suggest it was poorly attended. There will also be those who vote on a proposal without attending the full debate. For example, the recognition of Palestine was voted on by 286 MPs, while the Afghanistan debate was voted on by 324 MPs.
So while Ferret Fact Service cannot comment on whether MPs have the correct priorities, this image is misleading and lacks the appropriate context. 
Ferret Fact Service verdict: Mostly False
While some of the pictures in the graphic are from the correct debates in parliament, the two allegedly showing MPs debating expenses and pay are not accurate. They have been taken from debates on tuition fees in 2004 and the opening of parliament in 2010. It is misleading to show these pictures of attendances in parliament out of context, and the graphic does not give an accurate impression of the number of MPs engaged in each topic.
Ferret Fact Service (FFS) is a non-partisan fact checker, working to the International Fact-Checking Network fact-checkers' code of principles.

All the sources used in our checks are publicly available and the FFS fact-checking methodology can be viewed here. Want to suggest a fact check? Go to ideas.theferret.scot, email us at factcheck@theferret.scot or join our Facebook group.