NatureScot has been criticised for signing off £120,000 of taxpayers' money to a Highland estate for peatland restoration, while also providing subsidies allowing for the burning of heather on overlapping land.
The Ferret's analysis of government grants — using data obtained through freedom of information requests — found that Tulchan Estate, in the Highlands, received Scottish Government funds that would have allowed them to both burn and restore areas of the estate. Tulchan Estate is owned by a billionaire and owned by a company registered in a tax haven.
Our findings have prompted criticism of NatureScot — Scotland's natural heritage body which oversees the grants — for signing off applications for muirburn subsidies, a controversial and potentially environmentally damaging practice on grouse moors, in close proximity to peatland.
However Tulchan Estate said it fully complied with all regulatory requirements and confirmed that while the two subsidies included some of the same land area, it did not undertake muirburn and peatland restoration in the same places. The estate insisted it had not seen any "financial benefit" from its peatland restoration work.
There is no suggestion of wrong-doing by the estate.
Burning heather, known as muirburn, and restoring peatland are rarely compatible. Burning on peatlands can cause damage to the species that call them home and release large quantities of carbon dioxide, the main cause of the climate crisis, into the atmosphere.
Reports from the Cairngorms National Park Authority (CNPA) suggest there has been historic burning on one of the sites that was later restored.
Freedom of information requests made by The Ferret revealed eight estates were given both subsidies for muirburn and public funding for peatland restoration. Tulchan Estate was the only one where these activities were allowed in overlapping areas of land.
The green campaign group REVIVE said it was "shocking" that NatureScot sanctioned muirburn subsidies at all given the environmental damage the practice can cause. The fact that there "appears to be some cross-over with areas of peatland" was "even more problematic", they claimed.
In reply, NatureScot said it "strongly encourages" all parties to follow the Muirburn Code, which stipulates that peatland should not be burned.
Tulchan Estate is owned by a Russian-born vodka tycoon, Yuri Shefler, a UK citizen and long-standing critic of the Putin regime.

The estate received £120,000 to restore peatland and £13,500 for muirburn.

According to a tendering document for the peatland restoration work – dated from December 2021 – a reporter for the CNPA found evidence of "recent and older muirburn" before the start of one peatland restoration project at Tulchan. However, the CNPA found no signs that burning had taken place on peat that was already restored.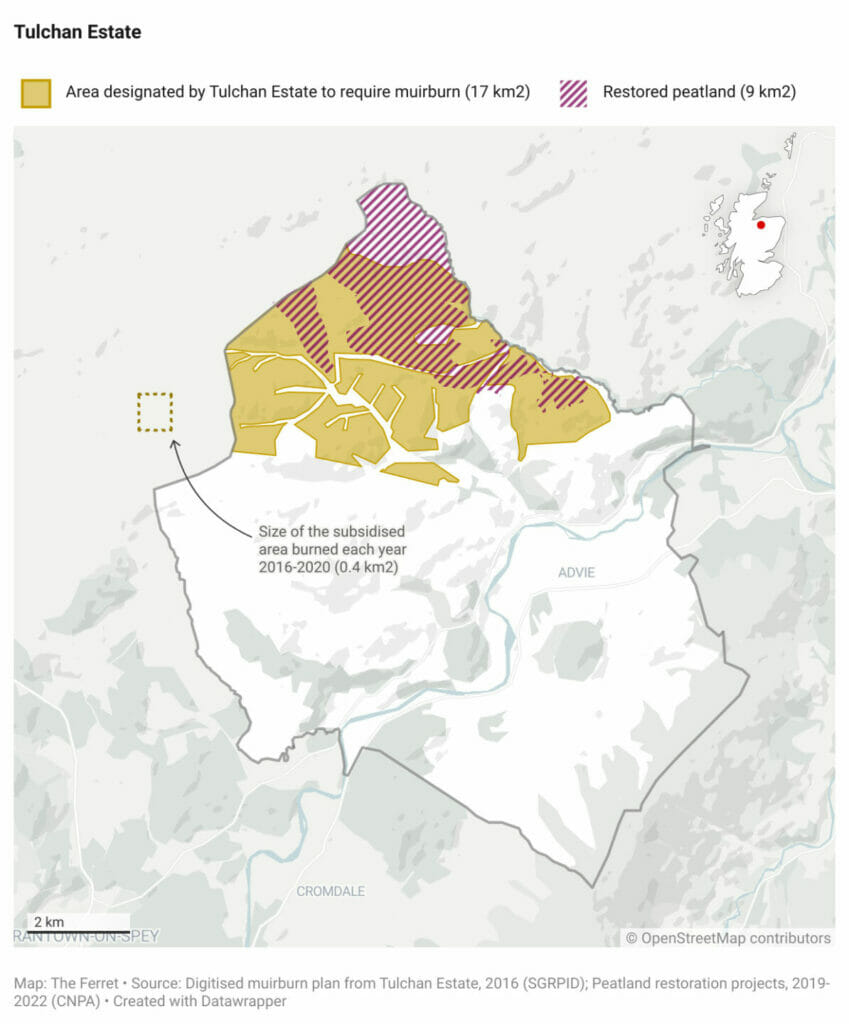 Peatlands contain large amounts of carbon which are released into the atmosphere when they degrade. Degradation is often caused by adapting peatlands to agricultural use – by draining, peat excavation and frequent burning.
Peatlands cover 20 per cent of Scotland, and 80 per cent of that area is currently degraded, making restoration key to helping Scotland achieve its 'net zero' target by 2045. Degraded peatlands are the fifth biggest contributor to greenhouse gas emissions in Scotland.
Prescribed burning, or muirburn, is controlled burning on moorland to remove the top layer of vegetation and promote new growth. As heather provides shelter and nutrition for grouse, muirburn is common on sporting estates where the birds are hunted.
Tulchan Estate is owned by SF Scottish Properties Limited, registered in Guernsey and ultimately owned by Tulchan Trust, also registered in Guernsey.
Shefler — a UK citizen — reportedly bought Tulchan Sporting Estates, the company that owns Tulchan Estate, for £25m in 2017.
A freedom of information request found that in 2016 the estate designated over 17 km2 where burning heather was "required" in an application for a muirburn subsidy. Between 2017 and 2020, the estate was required to burn a small part each year in this area. It burned one tenth of the total area, in exchange for £13,500 in subsidy payments.
The Muirburn and Heather Cutting subsidy is funded and monitored by the Scottish Government's Rural Payments Inspection Division. NatureScot provides case officers who assess applications. Tulchan's application was assessed "on its merits", according to NatureScot.
Tulchan undertook five peatland restoration projects which were commissioned and monitored by the CNPA, between 2019 and 2022, according to the CNPA.
Max Wiszniewski, campaign manager for REVIVE, said: "It's shocking enough that NatureScot has signed off applications for muirburn subsidies – a controversial and environmentally damaging practice on grouse moors – but the fact there appears to be some cross-over with areas of peatland is even more problematic."
He added: "The government and NatureScot have committed to restore peatlands due to their carbon sequestration potential which is the right thing to do.

"They must now take the opportunity to end subsidies for all muirburn at the earliest possibility. Ending any and all subsidy for muirburn would be common sense and would be the right step to take at this time."
North East Labour MSP Mercedes Villalba said it was "alarming" that the Scottish Government has "used public funds to subsidise the private business of a billionaire". She added: "What's even more concerning is that taxpayers' money is being used to promote a practice that is potentially harmful to the environment."
Justin Irvine, an ecologist and co-author of a report on muirburn on peatland, said there was "a paradox with estates now receiving money to restore what they have effectively damaged in the past".

He added: "Whether 'the polluter pays' or society compensates land managers to restore and safeguard the ecosystem processes such as carbon sequestration is a decision for society."
In reply, Laura Irwin, director of Tulchan Sporting Estates, said: "Our peatland restoration work was done at the request of the Cairngorms National Park Authority and fully complied with all regulatory requirements. The estate did not undertake muirburn and peatland restoration on the same sites."

She claimed the previous owners of Tulchan entered into the Muirburn scheme and that the new owners were required to continue that.

She added: "There is no question of two payments for conflicting activities. The CNPA assess all factors including previous and prospective land management activities before commencing a peatland restoration project.
"The estate has not had any financial benefit from its peatland restoration work. It hasn't sold any carbon credits relating to the restoration work, or indeed other areas of the estate, and invested significant land management time and for the benefit of the land, biodiversity and for the environment."
Environmental and conservation organisations, including the RSPB and the REVIVE coalition, are campaigning for a ban or increased restrictions on muirburn. They argue the practice has negative consequences for wildlife and increases the risk of wildfire.
Muirburn reduces the biodiversity of peatland habitats as it "encourages heather growth, which in turn encourages red grouse populations, but nothing else", said head of species and land management at RSPB, Duncan Orr-Ewing.
Land managers' associations disagree. By reducing fuel loads and rejuvenating heather, muirburn has a key role in reducing the risk of wildfire and benefitting biodiversity, argued Ross Ewing, moorland director at Scottish Land & Estates.
He added: "Muirburn does not burn or damage peat. It burns rank heather, leaving the peat below the ground intact. Any short-term emissions from muirburn are minimal and are outweighed by the medium and long-term environmental benefits."
A 2017 report commissioned by the Scottish Government to review evidence of the impact of muirburn on peat soils identified gaps in knowledge about the practice.
A Scottish Government spokesperson said it funds Peatland Action to undertake peatland restoration across the country.
They added: "Cairngorms National Park Authority is one of our delivery partners within that initiative and has previously grant funded peatland restoration work on Tulchan Estate.
"Through a due diligence review of all clients, the park authority has worked to ensure that it has not provided any funding to potential Russian interests since the commencement of Russia's illegal invasion of Ukraine."
Both the Scottish Government and the CNPA said: "In monitoring and enforcing the park authority's peatland restoration grant conditions, the Cairngorms Peatland Action team has not encountered any actions on muirburn that have contravened those conditions".
NatureScot said: "The Scottish Government are currently consulting on a proposal to introduce a year-round licencing of muirburn.
"In advance of the conclusions of that consultation process, NatureScot strongly encourages all parties to follow the Muirburn Code, which states that burning should not take place on peatlands, except as part of a habitat restoration plan, approved by NatureScot. Areas with peat hags, bare peat or erosion should never be burnt."
The Muirburn Code allows burning from 1 October to 15 April. The ban on burning on peatland is not legally enforceable.
In 2020, the Scottish Government announced its intentions to licence muirburn and legally prohibit burning on peatland. Last year it earmarked £250m for peatland restoration grants.
This story was co-published by the Sunday National.
Cover image thanks to John Ferguson