Cracks that could increase the risk of a radioactive accident at Torness nuclear power station in East Lothian will start appearing six years sooner than previously thought, according to the UK government's safety watchdog.
The Office for Nuclear Regulation (ONR) said that cracking which could cause debris to inhibit vital cooling of highly radioactive reactor fuel is now predicted to begin in 2022 rather than 2028.
After a major review ONR has given Torness permission to keep operating until 2030 – but only if inspections to check for cracks are intensified. ONR promises to "robustly challenge" the plant's operators, EDF Energy, to ensure that it "remains safe".
ONR has made nine recommendations to remedy major "safety shortfalls" and raised 41 minor matters with EDF. These include "weaknesses" in health reviews, as well as issues with "structural integrity", "corrosion management" and "cyber security".
Campaigners fear that Torness will become increasingly unsafe, and warn it may have to close down sooner than expected. EDF, however, insists that the station will keep generating electricity safely until 2030.
Safety fears as Hunterston's cracked nuclear reactors start to crumble
Two reactors at Torness, near Dunbar, were officially opened in May 1989 by then-Conservative Prime Minister, Margaret Thatcher. The site had been the target of anti-nuclear protests since 1978.
Torness was originally scheduled to close in 2023, but in 2016 its expected life was extended to 2030. Since then, however, similar but older reactors at Hunterston B in North Ayrshire have started to suffer serious cracks in their graphite cores.
According to the latest published inspections at Hunterston, one of its reactors had an estimated 377 cracks, while the other had 209. The Ferret revealed in October 2019 that the reactors were beginning to crumble, with cracks causing at least 58 fragments and pieces of debris to break off.
Both reactors at Hunterston, which started generating in 1976, are currently closed and awaiting ONR permission to restart. One has been shut since March 2018 and the other has only operated for less than four months since October 2018.
Now concerns are growing about the potential for cracks at Torness. None have yet been detected, but in its latest ten-year "periodic safety review" the Office for Nuclear Regulation has flagged a series of issues.
Concern focuses on fissures at the base of key slots in the graphite cores of reactors known as keyway root cracks. "The predicted timescales for onset of keyway root cracking (KWRC) has changed from 2028 to mid-2022," said ONR.
"It is anticipated that to be able to justify continued operation beyond the onset of KWRC some plant modifications will be required. To identify the onset of KWRC, a suitable inspection programme needs to be developed."
This could lead to debris with the potential to challenge the ability to move or adequately cool fuel.

Office for Nuclear Regulation
ONR inspectors pointed out there was a significant difference in the design of Torness compared to that of Hunterston. Torness, along with its sister station at Heysham, near Lancaster, has seal rings between the graphite bricks that make up the reactor core.
ONR quoted EDF saying that there could be "a systematic failure" of the seal rings after cracking. "This could lead to debris with the potential to challenge the ability to move or adequately cool fuel," said ONR.
If hot fuel is not cooled, it can cause a reactor meltdown, which in some circumstances can result in the escape of radioactivity to the environment. This happened during the Fukushima nuclear accident in Japan in 2011.
"If keyway root cracking predictions are realised, then the safety case is unlikely to remain robust for the next ten years periodic safety review period," observed ONR inspectors.
ONR has given Torness and Heysham permission to operate until 2030. But it added that it would "continue to challenge" EDF to make sure that it demonstrated that reactor operations "remain safe as the graphite cores age".
It added: "Fundamental to this is the continuing requirement for EDF to undertake regular inspections and analysis of the graphite core to demonstrate that they remain within the limits and conditions defined within the safety cases."
ONR highlighted seven findings which it described as "reasonable challenges, which EDF has not adequately addressed." In addition, ONR made nine major safety recommendations and raised 41 issues of "low safety significance".
One of the "safety shortfalls" identified by ONR was "weaknesses in the implementation of the safety case health review process". It also highlighted issues with "structural integrity", "water ingress" and "corrosion management".
ONR criticised EDF for failing to satisfactorily address control and instrumentation issues, including the need for "a station wide review of cyber security arrangements", "obsolescence predictions" and "an accurate understanding of the age conditioning process".
Danger of debris at Torness 'particularly concerning'
The coalition of 50 nuclear-free local authorities in the UK has called on ONR to keep Torness under close scrutiny. "These safety reservations surrounding the Torness periodic safety review need to be cleared up as soon as possible," said the group's Scotland convenor, SNP Glasgow councillor, Feargal Dalton.
"Whilst EDF is having to spend large resources trying to persuade the regulator that it is safe to restart the Hunterston B reactors, this report emphasises that similar issues with ageing are likely to arise at Torness over coming years."
Councils would press ONR "to forensically scrutinise what look like significant weaknesses in the EDF safety case," Dalton added.
"In the meantime, the Scottish Government should start discussions about a 'just transition' for the workers at both Hunterston and Torness so that Scotland can move to a safe, sustainable and non-nuclear economy as quickly as possible."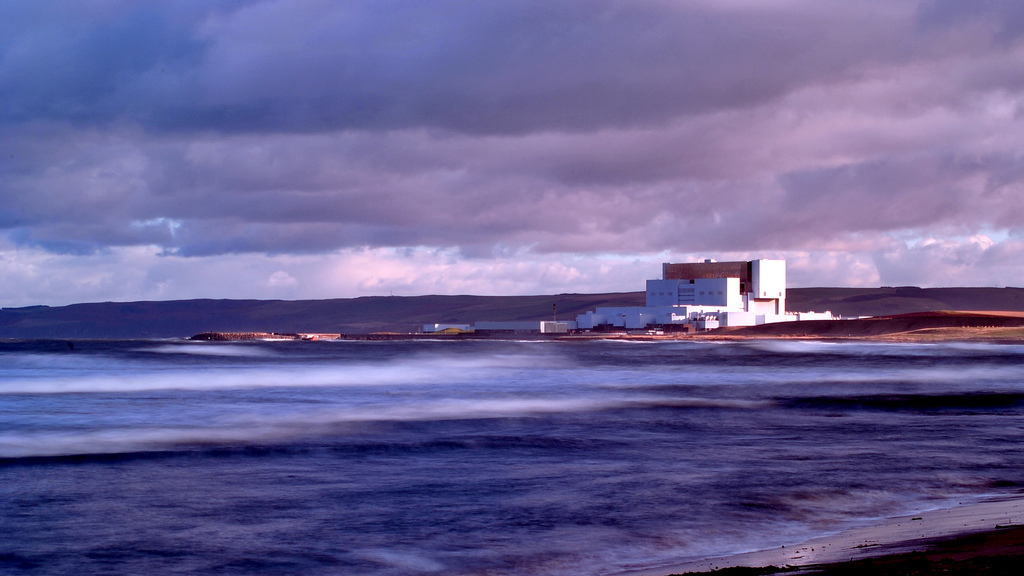 Friends of the Earth Scotland also urged ONR to keep a "close eye" on Torness. "The ONR has some tough criticisms about EDF's lack of full understanding of what's going on in their own reactors," said the environmental group's director, Dr Richard Dixon.
"The warning that debris like that found at Hunterston could cause an accident at Torness is particularly concerning."
The Scottish Greens called for a transition to cleaner and safer energy to begin now. "The lifespans of nuclear power stations have already been stretched further than they should, so cracks in reactors should not be a surprise," said the party's energy spokesperson, Mark Ruskell MSP.
"It is very concerning that an industry for whom safety is paramount and which produces lethal waste that remains dangerous for hundreds of thousands of years is arousing such concerns."
Dr Ian Fairlie, a radiation consultant, found it difficult to understand why Torness had been allowed to operate for a further 10 years despite EDF not addressing all of the shortfalls identified by ONR. "ONR should be using the precautionary principle and erring on the side of caution," he said.
"Here ONR would seem to be erring on the side of danger. That is worrying."
The Edinburgh-based nuclear consultant, Pete Roche, argued that it could be cheaper to build new renewable capacity instead of continuing to operate ageing reactors. "This could soon be the case with Torness, especially if it has to keep being turned on and off to inspect the graphite core," he said.
"Scotland clearly needs to be prepared for the possibility that Torness might be forced to close not long after 2022."
Hunterston cracks are 'death knell' for other nuclear reactors
The Office for Nuclear Regulation stressed that it would not allow any site to operate unless it was completely satisfied that it was safe. "The findings of EDF's third periodic safety review submission and our own assessment of EDF's review have confirmed that the stations adequately meet current safety standards," said an ONR spokesperson.
"Based upon the detailed assessment process, we have concluded that there is sufficient justification to support the continued operation of both power stations, subject to the satisfactory closure of a number of findings and recommendations."
ONR promised to "continue to robustly challenge EDF" to ensure that it demonstrates that the operation of reactors remains safe as their graphite cores age. "Keyway root cracking has not been observed at either Torness or Heysham but its potential to emerge has been predicted by EDF," added the spokesperson.
"This reinforces the need for EDF to ensure that continued generation is underpinned by a detailed knowledge of the condition of the reactor cores. This is in addition to an ongoing programme of maintenance, inspection and testing of other key structural components."
According to ONR, the safety case for reopening reactor three at Hunterston was still being assessed. "We will not rush in reaching our regulatory judgement," it said.
"We will only allow the re-start of the reactor if we are satisfied that it is safe to do so." EDF still has to submit a safety case for the restart of reactor four.
EDF described ONR's decision to allow Torness and Heysham to keep running until 2030 as the culmination of several years' work and "a great achievement for the stations". The company had invested more than £125 million over the past six years in graphite research, working with leading academics and experts.
An EDF spokesperson said: "We regularly carry out detailed inspections of our reactor graphite cores. There is no change to the safety of these stations and our expectation today remains that Torness and Heysham 2 will continue generating low carbon electricity until 2030.
"Although it is important to note that we will only continue to generate where we, endorsed by ONR as our independent regulator, consider it safe to do so.
"Last year, Torness and Heysham 2 produced enough electricity to power more than five million homes between them and they remain key to the UK making progress on its journey towards net zero carbon emissions."
EDF has postponed the expected restart date for reactor three at Hunterston from 10 April to 1 June 2020. Reactor four was previously due to come back online on 24 April, but that has been delayed to 15 June 2020.
This story was amended at 12.00 on 6 May 2020 to replace a reference to the Chernobyl nuclear accident in 1986 with a reference to the Fukushima nuclear accident in 2011. Cover image thanks to iStock/versevend, and other photo of Torness thanks to EDF Energy.