As the Scottish Government continues to roll out its Covid vaccination programme there have been repeated claims it is falling behind its own timetable.
Opposition parties have accused First Minister Nicola Sturgeon of "letting people down" by making "bogus" claims about the programme, saying the country is becoming "the UK's underachievers on roll-out rates".
One repeated claim is that the Scottish Government did not give out one million vaccinations by the end of January, reneging on a promise health secretary Jeane Freeman gave in November 2020.
On 7 February the First Minister said the programme was "on track to hit all targets". In a post that was shared hundreds of times and liked over 1,300 times on Twitter, Scottish Conservatives MSP Dean Lockhart claimed the First Minister had "moved the goalposts" in order to claim the roll-out is on target.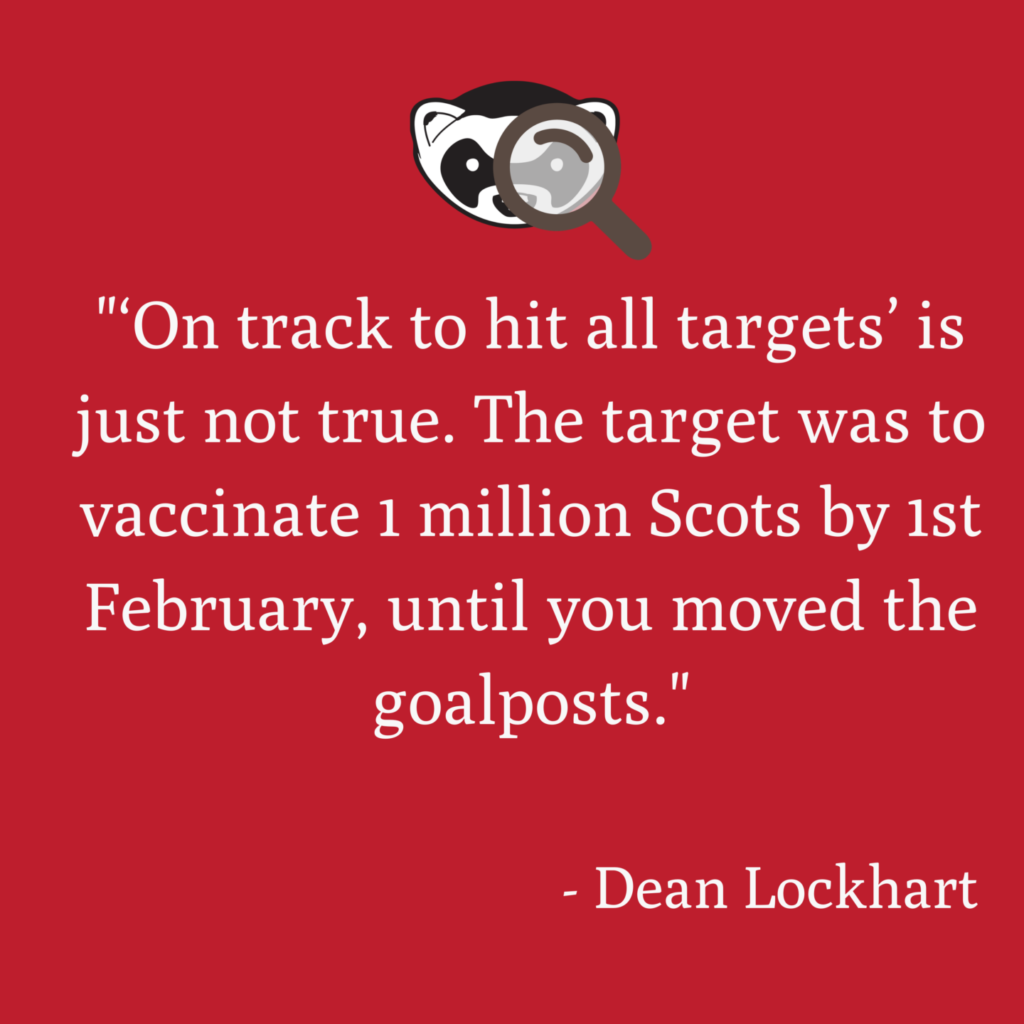 Ferret Fact Service looked at this claim and found it to be Half True.
Evidence
On 19 November 2020, Jeane Freeman made a statement to parliament in which she noted that vaccines produced by BioNTech/Pfizer and Moderna had passed Phase 3 clinical trials and were being put forward for regulatory scrutiny. She noted that each vaccine would go through a "rigorous and independent three-phase testing process" before being licensed for use.
In her statement Freeman also said the government's aim was to "be able to vaccinate around one million people" by the end of January. She caveated that, however, by noting it was not known then which vaccines would be approved or when any doses would reach Scotland.
Freeman also said the roll-out would be dependent on securing accessible locations and a workforce of around 2,000 vaccinators.
The BioNTech/Pfizer vaccine was approved for use in the UK at the beginning of December, followed by one from AstraZeneca and the University of Oxford at the end of that month.
At the beginning of January, the First Minister told the BBC's Good Morning Scotland programme that she did not have full clarity over vaccine supply levels, but she hoped Scotland would have received a total supply of 900,000 doses by the end of that month.
In a further statement made on 13 January 2021, Freeman told parliament that "with the level of vaccine stock we know we have now and projected deliveries over the next few weeks" 1.4 million people would have received their first dose of a Covid-19 vaccine "by the beginning of March".
How many vaccinations had been given in Scotland by the end of January?
The First Minister reported that by 8.30am on 1 February 575,897 people had received their first dose of a vaccine.
That figure included 98 per cent of care home residents and 80 per cent of people aged 80 and over living in the community. At that point, the government had started rolling the programme out to the over 75s, with 14 per cent of that age group having received a first dose.
Is the country on course to hit the one million mark soon?
It already has. The Scottish Government said the figure was reached on Wednesday 10 February, meaning 22 per cent of the 4.5 million adults who will be offered a vaccine had received their first dose at that point.
As of 14 February, 94 per cent of care home residents, 79 per cent of all care home staff, 99 per cent of those aged 80 and over living in the community, 99 per cent of those in the 75 to 79 age group, and 78 per cent of those in the 70 to 74 age group had received a first dose.
Ferret Fact Service verdict: Half True
The claim that the Scottish Government "moved the goalposts" on its vaccination targets is misleading. Health secretary Jeane Freeman did initially say the government planned to inoculate a million people by the end of January. But she caveated that statement by saying the target was dependent on a number of factors, including vaccine supply. The target shifted as new information came to light, but the government did make it clear from the outset that this was likely to happen.
Ferret Fact Service (FFS) is a non-partisan fact checker, working to the International Fact-Checking Network fact-checkers' code of principles.

All the sources used in our checks are publicly available and the FFS fact-checking methodology can be viewed here. Want to suggest a fact check? Go to ideas.theferret.scot, email us at factcheck@theferret.scot or join our Facebook group.
Photo thanks to iStock/K Neville.