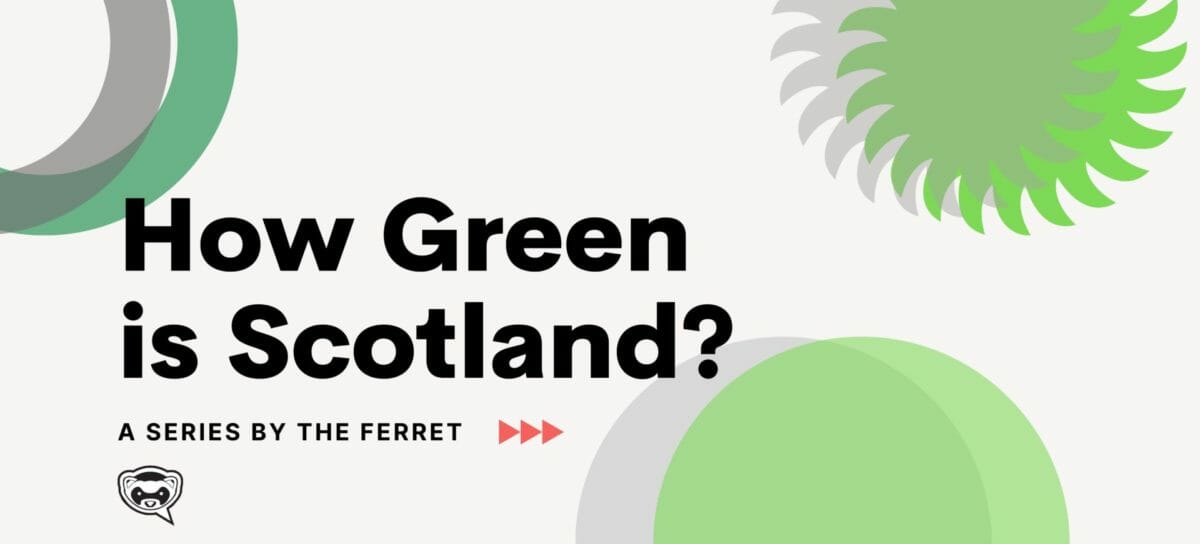 The Scottish Government has missed its targets on reducing climate emissions in five of the seven sectors set out in its 2018 plan to tackle climate change.
Environmental activists said the missed targets painted a "disappointing picture of widespread failure" on emissions reductions. They worry that static or increasing annual emissions in key sectors mean Scotland risks squandering good progress made in other areas.
Greenhouse gas (GHG) emissions from waste management, industry, the residential sector, services and transport were all off track in 2019, the latest figures available. Only electricity generation and agriculture had lower annual emissions in 2019 than targeted by the government's Climate Change Plan (CCP).
Overall, the seven sectors produced 1.1 million tonnes more GHG emissions in 2019 than was accounted for by the CCP. This additional pollution will remain in the atmosphere, contributing to climate change, even if Scotland gets back on track with its targets for reducing emissions in future.
The Scottish Government argued it had taken "significant steps to" increase its climate action since 2019. A spokesperson said a catch up report published by the government later this year would "include additional measures to ensure emissions reductions are on track".
Holyrood has set a legally binding target that the country would reach net-zero emissions by 2045. This included an interim target for a 75 per cent drop from the 1990 baseline by 2030.
Net-zero means that a country's emissions are balanced with the carbon it is removing from the atmosphere. Theoretically, this means it is not contributing to climate change.
The 2045 net-zero target means that Scotland is expected to have completed its transition to a carbon-free economy five years before the rest of the UK. The target was labelled "world leading" when it was announced in 2019.
But in June, the government published a progress report which showed that the country had missed its overall emissions reduction target for the third consecutive year. Emissions had only fallen 51.5 per cent from baseline, short of the 55 per cent targeted for 2019.
The Scottish Government does not produce statutory emissions reductions targets for individual sectors, but the CCP does include what it refers to as yearly emissions "envelopes". These targets provide a roadmap of the annual emissions reductions needed by each sector if the plan is to remain on course.
The Ferret's analysis compares each sector's emissions in 2019 to targets for 2019 in the CCP.
Targets missed across sectors
Emissions from transport are the furthest off course and it remains Scotland's highest emitting sector. It produced 1.3 million tonnes more GHGs than it would have had its target for 2019 been met.
The second-highest emitting sector, industry, was also the second-furthest off course. It produced 500,000 tonnes more than its 2019 target, but did show an 8.5 per cent decrease in annual emissions from 2018.
The other three sectors lagging behind their targets – waste, services and the residential sector – either remained at the same level as 2018 or showed only incremental cuts. The services category includes emissions from public and private sector buildings.
Electricity generation remains the sector most consistently cutting its emissions, and produced 600,000 fewer tonnes of GHGs in 2019 than the government forecast. This has been enabled by progress in the transition to renewable energy, which means wind power is now the country's biggest electricity producer.
The North Sea oil and gas industry is not included in calculations of Scotland's annual emissions, however, with these considered 'unallocated' by the UK GHG Inventory and not attributed to any of the devolved administrations.
Emissions from North Sea oil and gas rigs totalled 13.1 million tonnes in 2019, according to industry data. Of the sectors in the CCP, only transport had higher annual emissions than the offshore oil and gas industry that year.
Agriculture was the sector most comfortably achieving its target, but its emissions actually increased between 2018 and 2019. They have also been almost static since 2015.
An eighth sector included in the CCP – land use, land use change and forestry (LULUCF) – could not be compared to its target because of a technical revision to the 2019 data.
When the CCP was published, LULUCF was considered a carbon sink, with trees and peatlands soaking up CO2 from the atmosphere. However, a new assessment has shown that historical land use practices have degraded the country's peatlands meaning they are now a net-contributor to the climate crisis.
The government came under fire for slow progress against its targets to restore degraded peatland in April this year. The Ferret revealed that ministers achieved only a third of targeted peatland restoration in both 2018-19 and 2019-20.
Ministers are keen to point out that the 2019 figures are from before they published an update to the climate change plan (CCPu) at the end of 2020. This includes 100 new policies to accelerate progress, which the government claims will be supported by an extra £1.9bn in capital funding in 2021 and 2022.
Environmental groups, however, have likened some of the policies in the CCPu to "chasing carbon unicorns".
They are particularly scathing about the updated plan's commitment to achieving a quarter of carbon emissions reductions using negative emissions technologies (NETs) by 2032.
NETs are a group of technologies which capture carbon from industrial processes and then either store it to prevent it entering the atmosphere, or utilise it for clean energy production.
Critics of NETs, though, say that they would need to "scale up hundreds of times from today's levels" to have a meaningful impact on emissions. They also fear that they are a "false solution" promoted by oil and gas companies to continue extracting and burning fossil fuels.
The Scottish Government's climate record has come under increased scrutiny in recent months as Glasgow prepares to host the UN's flagship climate conference, COP26.
Last month, world-renowned climate campaigner Greta Thunberg told BBC Scotland that while the country "did more than others" on the climate crisis, she did not see it as a leader on the issue.
The conference, which will take place between 31 October and 12 November, will see 25,000 delegates descending on the city. World leaders, including US President Joe Biden, are also expected to attend.
Mark Ruskell, the Scottish Greens' climate spokesperson, said the sector figures "show a distinct lack of action to meet Scotland's climate targets".
"We are clear the Scottish Government's climate plans will need to be updated to address the urgency of the very real climate crisis which is already impacting our communities and economy", Ruskell said.
"Transport remains the biggest missed target, which is why our cooperation agreement includes £5bn for railways and a massive increase in money for walking and cycling. We have also secured climate impact assessments for new major road building.
"The £1.8bn we have secured for making buildings more efficient will improve residential and industrial emissions, and we now have a Green minister for the circular economy after years of stagnation, to address waste."
Scottish Labour's shadow cabinet secretary for net zero, energy and transport, Monica Lennon, noted that the slow down in emissions reductions across the economy was "deeply disappointing".
She said: "The Scottish government needs to close the gap between its climate action rhetoric and reality. The eyes of the world are on Scotland ahead of COP26, and we need to know that SNP and Green ministers have a plan to get back on track.
"Time is running out to avert climate catastrophe, so we cannot afford to be behind schedule with our emissions targets."
Director of Friends of the Earth Scotland, Richard Dixon, told The Ferret that the figures painted a "disappointing picture of widespread failure". "Only two sectors are where they should be on climate emissions," he said.
"The progress made in the electricity sector is really impressive and to be applauded but you could argue that the agriculture sector is only on track because it wasn't asked to do anything very much.
"Another sector that had little asked of it was industry but they have still failed to rise to their small challenge. Most important of course is the transport sector, the largest sector of emissions and adrift by more than a million tonnes of carbon dioxide.
"The Scottish Government is obliged to publish a plan showing how they will catch up. This is due before the end of the year and needs to contain strong actions in transport, industry and homes if it is to be credible, doubly important in this year of COP26," Dixon added.
James Curran, the former chief executive of the Scottish Environmental Protection Agency (Sepa), argued that Scotland's progress on decarbonisation, which "got off to a flying start" with renewable energy, was now slowing.
"We're halfway through the race to net-zero and seem to be losing the pace," he added. "But this is a relay race.
"It's time to hand the baton over to all of us, for more personal effort on home insulation, home heating and personal transport."
He continued: "Government must cheer us on, encourage, support and fund us to make big changes in our lives. The finishing tape is still a long way off."
A Scottish Government spokesperson said: "Since the period these figures relate to, we have already taken significant steps to up our climate action.
"We will also publish a catch-up report this year, including additional measures to ensure Scotland's emissions reductions are on track. This demonstrates our commitment to delivering upon our promises and ensuring we rapidly reduce our emissions.
"Among the actions we're already taking is investing £1.8bn over the course of this parliament in decarbonising our homes and buildings.
"We are also delivering free bus travel to people aged under 22 and those over 60, and investing over £500m in bus priority infrastructure to tackle congestion and speed up journeys."
How Green is Scotland? is a week-long series for The Herald by The Ferret, an award-winning investigative journalism platform in Scotland. It is an editorially independent, not-for-profit co-operative run by its journalists and members.

You can join for £3 a month.
Photo Credit: iStock/rajurahman85