The leader of the Scottish Family Party is under fire after being interviewed by a prominent figure in Patriotic Alternative Scotland, a far right group targeted by a government counter-terrorism strategy.
Richard Lucas, a former UKIP member who now leads the socially conservative Scottish Family Party, was interviewed on camera by Patriotic Alternative (PA) Scotland's organiser Simon Crane, during a protest against Scotland's Gender Recognition Reform bill outside Holyrood.
The 12 January demonstration, organised by the Scottish Family Party and activist Stef Shaw – known as "the Glasgow Cabbie" – called on Nicola Sturgeon to resign. Other attendees reportedly included University of Abertay academic Stuart Waiton, the Women Won't Wheesht group, and some Unionist Clubs of Scotland.
Crane also interviewed Niall Fraser – a former election candidate for George Galloway's All For Unity party – who he described as a "rising star" in the Scottish Family Party. Fraser called Crane a "like-minded" person.
A Scottish Greens spokesperson said: "Patriotic Alternative is an extreme and hateful group that peddles misinformation and prejudice. The fact that they would want to speak to and promote the Scottish Family Party tells us everything we need to know about both of them."
Scottish Labour MSP Sarah Boyack claimed that PA spreads "hatred" which "has no place in Scottish politics." She added: "We must reject the far right and anyone legitimising their extreme views."
Lucas argued that the Greens are "an extreme left-wing party", but distanced himself from Crane and PA, who attended the protest "uninvited, because they shared our opposition to [Gender Recognition Act] reform and the sexualisation of children."
He added that Crane used to be a member of the Scottish Family Party. He said he hoped Crane would change his "ethno-nationalist" views – which are "not in line" with his party's policy – and the Scottish Family Party would become a "better political home for him".
Crane is a West Lothian-based butcher who hosted a far-right extremist and convicted criminal on a podcast, as well as PA members linked to the banned neo-nazi terrorist group, National Action.
He told The Ferret that PA Scotland "will stand with any group who are willing to stand up for the good, decent people of our nation and especially against the sexualisation of our children."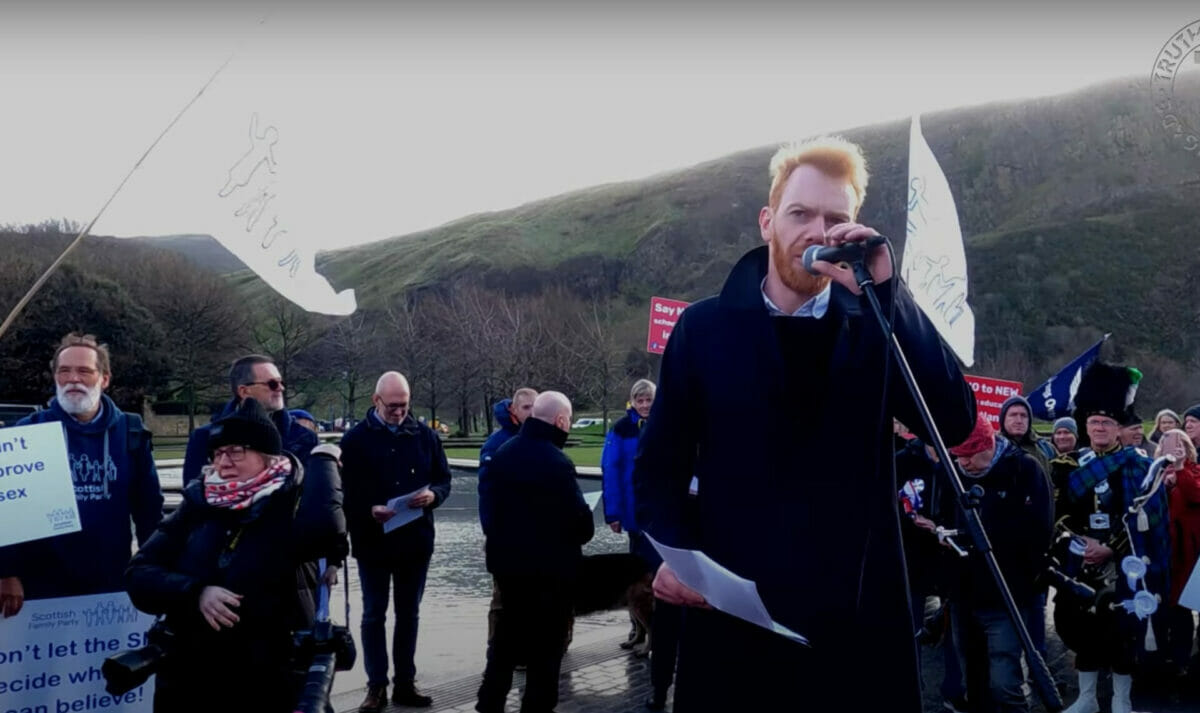 Lucas said Crane used to be a member of the Scottish Family Party (SFP), but left "after discussions with myself led him to the conclusion that PA reflected his ethno-nationalist political stance while the SFP did not."
He continued: "Our view is that ethno-nationalism is a dead end that can generate tension and hostility but struggles to offer any practical way forward in tackling some real issues that exist in the UK with regard to integration, shared values and common culture."
Lucas said that he takes "any opportunity to present the SFP to a new audience" and would "probably" speak to PA again. "The last thing that people involved in such organisations need is isolation," he added. "I would be happy to discuss any common ground and, more importantly, to seek to challenge and persuade adherents to reconsider their views."
PA Scotland
The Ferret recently revealed that the Scottish Government suggested that Police Scotland and Pursue – part of a counter-terrorism strategy which aims "to stop terrorist attacks" – coordinate a future meeting regarding PA and online radicalisation.
We have previously revealed that a leading figure in PA Scotland used a private chat group to recruit neo-Nazis who posed with weapons, shared a bomb-making manual, quoted a mass murderer, and said members should kill "for the greater good".
Among the content shared by some in the group were guides to making improvised landmines and "automatic and concealable firearms", a violent combat guide, and military tactics for white supremacists.
Lucas said: "You may try your best to associate the SFP with violent extremism by this tenuous chain of connections, but that is just silly. And you know it."
Update: We originally cited a report from the Scottish Daily Express which claimed that the Alba Party attended the anti-GRA protest, alongside other groups.
An Alba Party spokesman later told The Ferret that while "it may be the case that individuals that support Alba Party were in attendance" the party "were not invited to take part in this event nor did we". We updated this article at 20:19 on 19 January to remove the claim that the Alba Party attended the demonstration.