Scotland's public land is being sold off to housing developers building luxury homes and sidelining local people, The Ferret can reveal.
Several communities told The Ferret they were misled or ignored by housebuilders and public bodies on development plans.
Developers also allegedly breached planning rules without consequence, while councils scrapped local plans – including a healthcare hub for the elderly – to allow for new developments, sometimes on greenbelt land.
Nearly £70m of land was bought from Scotland's councils, universities and NHS boards by CALA Homes between 2014 and 2019, according to data obtained by The Ferret through freedom of information law. This amounts to 12 per cent of the £500m of public land sold in recent years.
Areas where hospitals, schools, nurseries, clinics, community centres and libraries once sat were bought up by private firms such as CALA, Robertson, Westpoint, and Expresso.
While land has been used for mid-market and affordable houses, luxury homes and penthouse complexes worth up to £1m have also been built on sites which once were publicly-owned.
Housing charities warned that the need for affordable homes "has never been greater", while campaigners said The Ferret's investigation highlighted how "ingrained the privatisation agenda remains".
A new wave of luxury developments
The Ferret's ongoing Selling Off Scotland investigation found that developers were behind nearly all the largest recent public land transactions, many of which led to luxury developments in and around Edinburgh and Glasgow, most commonly built by CALA.
The biggest public land sale saw CALA buy the University of Strathclyde's Jordanhill Campus in Glasgow for nearly £33m in 2018. It built 400 luxury homes ranging from £409,000 to £899,995.
The development sparked a row with local parents, who accused nearby Jordanhill School of striking a "cash-for-places" deal with CALA, as reported by The Herald. The school reportedly changed its admissions policy to include the new addresses in exchange for a £1.6m gym built by CALA.
The Jordanhill Families For Inclusion group told The Ferret that parents on the school's board later voted out the deal.
In another large public land transaction, the former Middlefield special needs school site in Glasgow was sold to Westpoint Homes Ltd for £8.2m in 2019. The developer used the land, which sits within the Glasgow West Conservation Area, to build 63 luxury apartments, penthouses and duplexes, with prices ranging from £405,000 to £735,000.
In 2017, Glasgow City Council sold land at Park Quadrant next to Kelvingrove Park to property firm Expresso for £5.7 million. The resulting luxury development received hundreds of objections from locals who wanted to keep the green space.
The Park and Woodlands Heritage Group argued locals were not consulted and that its own proposal for public gardens was scuppered by the council. The council said their application "was invalid for a number of reasons" and claimed the group had not addressed the proposal's issues.
Engineers behind Expresso's plans were later investigated for allegedly misleading the council's planning committee with fake letters of support. The Association for Consultancy and Engineering, which investigated Woolgar Hunter and Atelier Ten said it does not "share the outcomes of disciplinary investigations publicly." The Ferret contacted both engineering firms but did not receive a response.
CALA also bought public land at Bearsden, East Dunbartonshire and Newton Mearns, East Renfrewshire and the part of the old Glasgow Victoria Infirmary, for a collective £11.7 million. All sites are now luxury homes and apartment complexes.
'Public interest' ignored
Architect Malcolm Fraser said The Ferret's investigation had revealed "an underlying transfer from the public to the private realm of good, well-located sites and sturdy, well-crafted buildings, to be replaced by shoddy newbuilds".
He added: "Meanwhile the old sites, if in leafy areas, are snapped-up as glam apartments, sometimes by offshore and far-east absentee investors… or, if less-leafy, left to moulder until maximum public regeneration funding is screwed-out of us."
Planning Democracy, a Scottish charity which campaigns for an inclusive planning system, said when public land is sold, it "chucks away the community power that goes with it".
The consequences "are rarely measured or calculated into the equation, the replenishing of depleted coffers being the main aim of the game," said founder Clare Symonds. She argued that "a public interest test" must be passed before land is sold off.
Shelter Scotland warned that the need for affordable housing "has never been greater". It is calling for the new Scottish Government to build at least 37,100 social homes over the next parliament. "We were already dealing with a housing emergency before coronavirus hit," said a spokesperson. "And, if we don't act, things could get a lot worse."
The Ferret's investigation had revealed that "land and public assets are being sold off on a massive scale," said Scottish Labour's housing spokesperson, Pauline McNeill. "We need to invest in growing our public assets, including building more social homes to deal with our housing crisis."
Kim Long, of the Scottish Greens argued that large developers were "too often given free reign on public land, threatening public assets and destroying much needed green spaces. What's worse, communities are still sidelined in decision-making far too often."
But a CALA spokesperson said: "The development of publicly-owned sites typically involves land that has been determined as no longer required or fit for purpose to the seller, following a strategic review by the relevant government body.
"A robust procurement process follows, to ensure the maximisation of funds to the public body. This results in the provision of much-needed new homes, through the transformation of vacant sites, often on brownfield land, and the preservation of historic buildings."
Broken promises from public bodies and developers
The Ferret tracked down details of multiple projects that started life as public land.

In 2016, the NHS sold the old Merchiston Hospital in Brookfield, Renfrewshire, to Barratt Developments for £20.9m. SNP councillor Audrey Doig recalled that during public consultations older residents seeking to downsize requested smaller retirement homes or flats to allow them to stay in the community.
Barratt "completely ignored" their requests until it struggled to sell larger homes, she claimed. The company argued it had extensively researched the local market before submitting plans and later expanded its site to meet demand.
Doig later accused the developer of the "total annihilation" of nearby woodland when it felled more than 60 trees in 2017 to widen a road connected to the development, after promising to preserve the wood as much as possible. The council deemed the tree felling "unauthorised".
The developer removed more trees after its building works damaged their roots and many new saplings it planted died "because they weren't being looked after properly", added Doig.
David Scott, managing director of Barratt Homes West Scotland, said "a substantial area" of woodland was maintained and his firm removed "only what was permitted and necessary under the planning conditions granted." Barratt "is deeply committed to supporting biodiversity at its developments" and partners like the RSPB "help us implement wildlife friendly planting and landscaping," he added.
In 2018 it was reported that Barratt sold houses without fulfilling its promise to complete roadwork, with villagers deeming the housebuilders "greedy". The council also faced criticism after taking no action against Barratt, sparking fears it could set a precedent for developers to exploit the planning system without consequence.
The council said no precedent had been set and only "a small number of homes" were sold early. Scott told The Ferret the now-completed works "were delayed in agreement with the council to avoid ongoing disruption over the Christmas period".
When the Lenzie Hospital in East Dunbartonshire closed in 2000, both NHS Greater Glasgow and Clyde (NHSGGC) and the council promised the site would become a hub for the elderly, dementia sufferers and older people with learning disabilities, The Herald reported. But in 2017, NHSGCC sold the site to Robertson Homes for £4.3m.
Senior council figures greenlit development plans in 2016, overturning its planning officer's recommendation to honour the local area plan and refuse the greenbelt development. The housebuilder was required to contribute £280,000 towards local education, affordable homes for the elderly and a pedestrian crossing, the council said.
The Lenzie Community Development Trust, which claimed to have not been consulted, accused the council and NHSGGC of abandoning the elderly in favour of luxury housing and forcing them out of the area. The council argued that neighbouring communities were notified of the development via public exhibitions and newspaper ads.
NHSGGC was accused by architects of using their proposals to market the site to the highest bidder. A spokesperson told The Ferret it "did not have any input into the decision making process" and the site "was marketed and sold in accordance to legal requirements".
'Mis sold' and 'misinformed' by developers
Other developments have reduced access to public areas long enjoyed by local communities. In 2019, locals in Roslin formed Chapel Lawns Action in Midlothian to protest plans for a nearby CALA development which would allow vehicles to cross a main local path.
"The university has conducted its business in Roslin in a way that suggests it really doesn't care what negative impact it leaves behind when it sells out," the group told the Midlothian Advertiser in 2019. The university denied the claim and said it "pro-actively engaged with residents".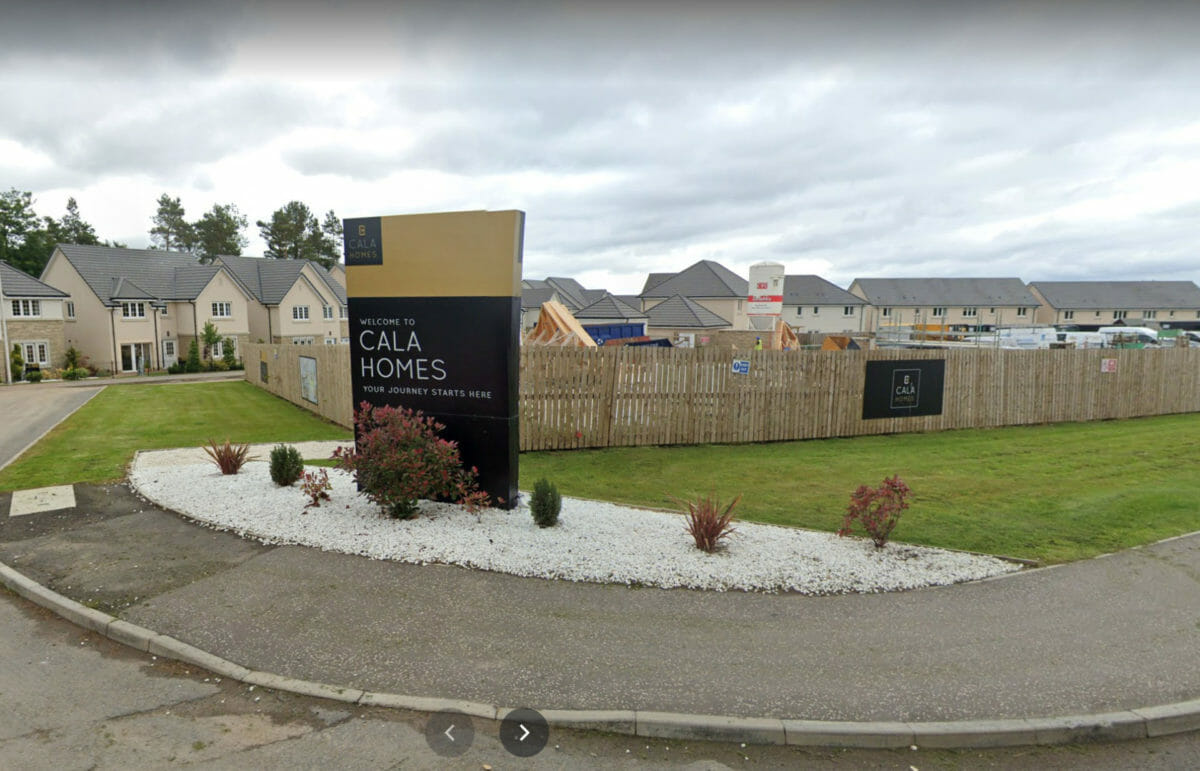 The university wanted to sell land to developers, but the landlocked site would only be accessible via the council-owned public path, according to a local source.
Documents seen by The Ferret show Midlothian Council agreed to sell sections of the path to the university for £1. In exchange, the university sold two land plots for the same price to accommodate a high school centre of excellence, which does not feature in the council's local development plan. The council granted planning permission for the university's path plans, despite 72 local objections.
CALA initially told locals the new development would just be a cul-de-sac, but residents later discovered news of further developments via the council website with a road going right through Roslin, a local source told The Ferret.
"So we were understandably upset," they said. "Then we had a meeting with the developer who was unsympathetic and denied that we'd be mis-sold or misinformed".
They added: "Residents are concerned that once a school is built, all fields in the greenbelt close to the school are up for development, thereby swallowing up the rural historical village of Roslin and perhaps its tourist industry."
A council spokesman said: "No decision has been made on a site for a new school. Once agreement is reached on a preferred site, the proposals would be subject to a public consultation and a full planning application." Edinburgh University did not respond to our request to comment.
Header image ©: Thomas Nugent (cc-by-sa/2.0)