Private finance schemes to fund roads and hospitals have blasted a £932 million hole in the Scottish Government's budget and are to be investigated by public spending watchdogs.
Audit Scotland and the Accounts Commission are planning a joint examination into whether privately funded building projects overseen by the Scottish Futures Trust – which replaced previous governments' discredited Private Finance Initiative (PFI) schemes – are "value for money".
Ministers have been told that four of the biggest Non-Profit Distributing (NPD) projects have to be included in the government's budget under new European Union accounting rules because they are mostly under government control. Ministers had previously been planning to keep them off the public balance sheet.
According to Audit Scotland, the Aberdeen Western Peripheral Route, completion of which has been delayed until winter 2017-18, will now cost taxpayers £469m in capital investment. The new Dumfries and Galloway Royal Infirmary will cost £213m, the new Edinburgh Sick Kids Hospital will cost £150m, and the new centre for the Scottish National Blood Transfusion Service at Heriot Watt will cost £33m.
A joint investigation by The Ferret and The Guardian has discovered that a fifth NPD project – the new £67m Balfour hospital at Kirkwall on Orkney – is also likely to end up on the public balance sheet. This will increase the total amount of capital lost from public sector borrowing to £932m.
The Scottish finance secretary, Derek Mackay, is due to announce his draft budget for 2017-18 on the 15th December. He will have to explain how the government is going to cope with the missing £932m, which amounts to nearly a third of the Scottish Government's £3 billion capital borrowing allocation.
The announcement at Holyrood is expected to be greeted by protests from trade unionists, who are angry about spending cutbacks and privatisation. Private finance schemes have brought job losses and "exorbitant" 30-year contracts, warned Unite's deputy Scottish secretary, Mary Alexander.
"The funding model rolled out by the Scottish Government is nothing other than a public relations repackaging of the private finance initiative, with zero transparency and minimal accountability," she said.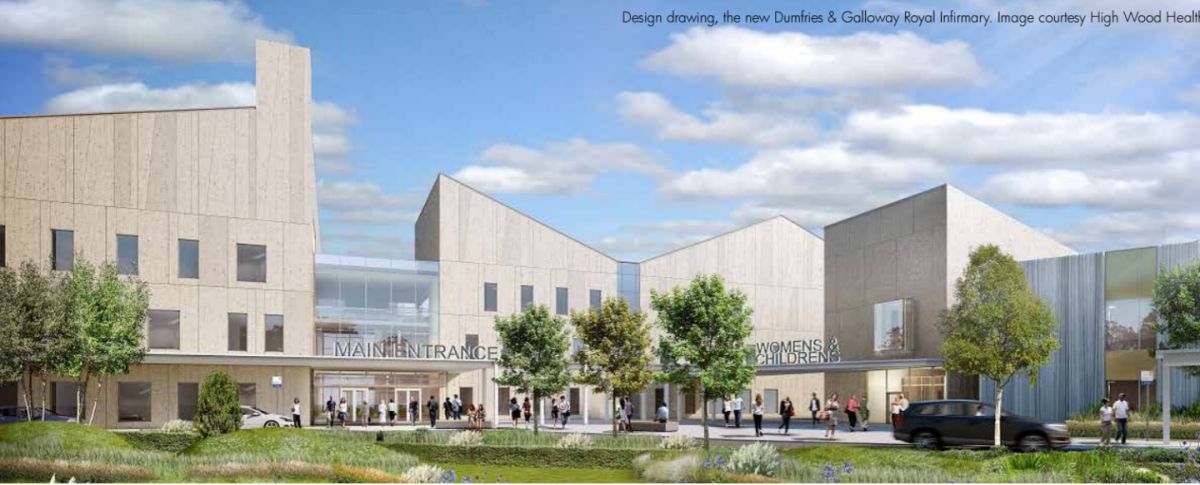 The Ferret can also reveal that the Dumfries hospital will earn its private consortium backers – including the insurance group Aviva and the building firm Laing O'Rourke – £160m in interest and fees on a capital cost of £213m, from loans totalling £242m. In recent weeks the hospital has been picketed by the construction workers' union UCATT in a dispute over union access.
Figures released under freedom of information law show that the National Health Service (NHS) is paying interest rates of 5.12 per cent and 11.29 per cent for the Dumfries hospital. Although this is lower than the interest rates charged under the initial PFI schemes, it is much higher than the 1.6 per cent it would be paying to borrow from the state-run national loans fund.
A table released by NHS Dumfries and Galloway gave summary financial information on the hospital project, including some figures that were so poorly redacted they could be read by cutting and pasting the text into another document. The health board did not respond to requests to comment.
Other documents obtained during our joint investigation show that the NHS is paying private contractors three times the hourly rate for electricians, joiners and plumbers working at the new Royal Edinburgh psychiatric hospital in Morningside.
Contractors Galliford Try will charge NHS Lothian £33 an hour for an electrician and £26 an hour for a painter, excluding overheads and VAT. An NHS electrician's wage starts at £9.82 an hour, while a painter's starts at £8.59
Leaked documents also show Galliford Try wants to charge £250.58 to install an electrical socket and £395.58 to move a fire exit sign – also excluding overheads.
NHS Lothian argued that the contractor's fees were "competitive" and pointed out that the NHS wages don't include employee and tax costs. The installation charges were not written into the contract, it said, though it didn't deny they could apply.
Public finance experts, trade unions and opposition politicians say our findings raise serious concerns about the Scottish Government's private finance schemes. Dozens of roads, hospitals, health centres, schools and colleges to be built as NPD projects, or related "hub" projects, could end up costing as much as £9 billion, according to a calculation by The Guardian.
The UK Office for National Statistics (ONS) told Scottish ministers that four NPD projects must be put on the public balance sheet to comply with new tests imposed on privately financed projects by the EU statistics agency, Eurostat. ONS has ruled that the Aberdeen road scheme, the Dumfries and Sick Kids hospitals and the blood transfusion centre are effectively publicly owned and controlled.
It was reported in September that this would cost the Scottish Government £392m, with more to come. Audit Scotland has now said that the taxpayers' capital bill for the four projects is going to rise by £473m to £865m. When the Orkney hospital is included, this will increase to £932m.
The Scottish Government will have to cover the full capital cost of the five projects from within its annual capital borrowing allocation from the Treasury. This means that there will be less money available to be spent on other capital works, while public services keep paying the higher interest rates and fees charged by private financiers.
According to Audit Scotland, the Scottish Government had to "accommodate" costs of £392m in 2015-16. Most of the rest of the bill will need to be covered in the 2017-18 budget, with the remainder in 2018-19.
"We have proposals underway to do a joint Auditor General for Scotland/Accounts Commission performance audit that focuses on the extent to which the first phase of NPD projects are delivering value for money," said an Audit Scotland spokeswoman.
"The timing and detail of this audit is still being considered, but would involve some case study work and analysis of earlier PFI projects for comparative purposes." The proposed work programme went to the Accounts Commission in the last few days.
The Auditor General, Caroline Gardner, pointed out that the Scottish Government now needed to decide how to finance its capital investment plans. "It will need to consider a range of factors including value for money," she said.
"Given the new financial powers flowing from the Scotland Act 2016 and the volatility they create for how public money is raised and spent, a more strategic approach to public financial management is going to be needed. Decisions about future public investment and the funding would be a key component of this."
She added: "We will continue to keep a close eye on the Scottish Government's approach, including its plans for funding its investment programme, and report where appropriate. We will also support the Scottish Parliament to deliver effective scrutiny as these plans are progressed."
The audit has been welcomed by the Labour MSP, Neil Findlay, who is also calling for a wider inquiry by the Scottish Parliament's Public Audit Committee. "Today's revelations are just the beginning of our wider understanding of the scale of that private investment and profiteering that goes with it," he said.
We need to find out who actually owns these so called public services, who benefits and profits from investment in them, what is the scale of that profit, what is the impact on workers affected by any change in ownership.

Neil Findlay, MSP
"We need to find out who actually owns these so called public services , who benefits and profits from investment in them, what is the scale of that profit, what is the impact on workers affected by any change in ownership and whether we could do things better and more effectively and in a way that offers far better value for the public pound."
David Heald, professor of public sector accounting at the University of Glasgow, thought that it was "pretty obvious" that NPD projects would have to end up on the public balance sheet. "There's political relabelling for politically acceptable reasons going on which is recurrent," he said.
"There's obviously a game with the standards. My concern is that once people start playing games with the standards they start losing focus on what is good value."
Jim and Margaret Cuthbert, Edinburgh-based economists who investigate private finance projects, regarded NPD and hub schemes run by the Scottish Futures Trust (SFT) as an improvement on the old PFI schemes. But the fact that they were now being brought onto the public balance sheet raised questions about whether the higher interest charges levied by the private sector were justified.
"The critical question is to what extent is risk actually being transferred to the private sector," Jim Cuthbert said in a recorded interview with The Ferret. He used to work as the Scottish Office's chief statistician.
"The NPD model is not clear to what extent risk is actually transferred – so that is one of the big issues," he said. "There is extremely limited information about what is going on. And that is really probably the biggest problem about SFT activities – the lack of information we have, the lack of accountability."
Cuthbert was keen for Audit Scotland to probe private finance projects and called for a "change of culture" at SFT. But he was worried that SFT might try and keep vital information commercial in confidence.
Mark Hellowell, an expert on private finance schemes from the University of Edinburgh who advises the House of Commons Treasury committee, argued that there had never been any clear evidence that SFT schemes were a good deal. Private contractors who accepted lower rates of return could charge more for construction and maintenance, he warned.
The Scottish Government has simply assumed that a lower rate of return to the private sector would equal a better deal for the public purse, but this needn't be the case if there is an adjustment to the prices of the other aspects of the contract.

Mark Hellowell, University of Edinburgh
"The Scottish Government has simply assumed that a lower rate of return to the private sector would equal a better deal for the public purse, but this needn't be the case if there is an adjustment to the prices of the other aspects of the contract," he said.
"We don't know how the NPD model stacks up against conventional public procurement – does it offer a better deal, or not? The Scottish Futures Trust has itself always been ambiguous on this point."
The Scottish Government said that it had set aside £283m in 2015-16 to cope with NPD projects coming onto the public books, but had not yet taken a decision for 2016-17 or beyond. The capital construction costs "will be reflected within the Scottish Government's overall capital budget provision", stated a government spokesman.
"An audit of NPD was not included in the forward work programme that Audit Scotland shared with Scottish Government in November 2016, but was mentioned in a list of topics possible for 2018-19. Audit Scotland has already reviewed and reported on the NPD issue as part of their routine reporting on accounts."
The spokesman added: "The Scottish Government has been open and transparent about the impact of classification on the NPD programme and is willing to assist Audit Scotland should they choose to undertake any further review."
The NPD and hub models were an improvement on previous PFI deals, he argued. "They enable investment in public projects in Scotland to be brought forward more quickly than would otherwise be available through our capital allocation and limited borrowing powers and balance future operational and maintenance risks between the public and private sector," he said.
"Projects with an estimated value of around £2.4 billion have been progressed to date through the NPD programme, creating and maintaining jobs and enhancing Scotland's asset base."
This story, published in tandem with The Guardian, is the first in an ongoing investigation into private finance schemes. If you have information, documentation or comments that may be of interest, we would love to hear from you. You can find out how to get in touch here.
In detail
You can search source documents for this story here.