A 16,000 litre oil spill by Shell last summer in Nigeria allegedly polluted drinking water, contaminated farmland and killed hundreds of birds, The Ferret can reveal.
Our international investigation also found that a community affected by the leak – which, it is claimed, came from a corroded pipeline owned by the oil giant – has not received any compensation for environmental damage that occurred in August 2022.
Local people from Bodo, in the Gokana area in the Niger Delta, have spoken to The Ferret about the impact of oil spills in the region.
The Shell Petroleum Development Company of Nigeria (SPDC) confirmed there were three oil spills in Bodo last August. The company also said it works quickly to clean up spills and that compensation is paid to individuals and communities who are impacted.
The Ferret's investigation follows Shell reporting it expected to make a profit of £7.6bn for the first three months of 2023.
Last August, Shell reported that five barrels of oil were spilled in Bodo but an analysis by The Ferret found the oil firm spilled over 103 barrels that month.
There were three incidents involving Shell in Bodo in August 2022: the first spill occurred on August 2, the second on August 3, and a third spill on 25 August which locals said impacted farmland and rivers, and affected livestock.
The third spill led to 16,000 litres of crude oil polluting 3900 square metres in Bodo, according to data gathered from the Nigerian Oil Spill Monitor.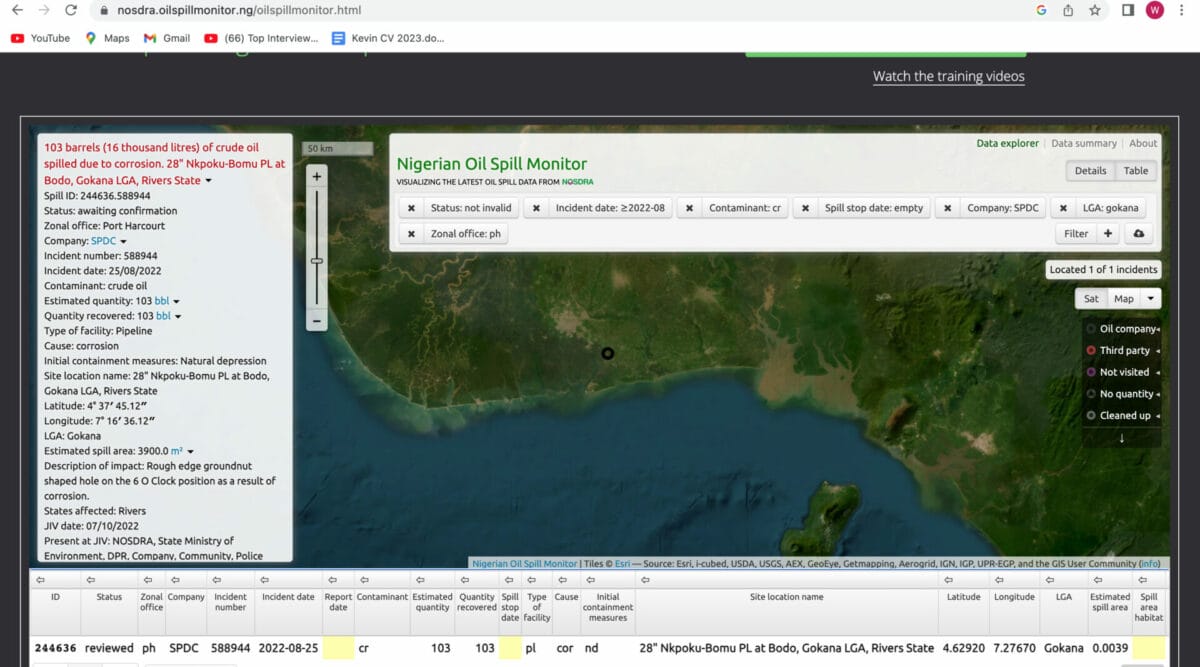 Impact of Shell Nigeria oil spill in Bodo community
Bodo is one of 17 communities in the Gokana local government area in Niger Delta, with a population of 69,000 residents.
The Ferret collected samples of water from Bodo: one from a community drinking well water, and another from the Bodo river.
They were collected to ascertain the level of total hydrocarbons in the water. Hydrocarbons are found in crude oil and a total hydrocarbon test is used to detect the level of crude oil pollution in water.
We sent the samples to the University of Port Harcourt Plant Science and Biotechnology, and the results showed the total hydrocarbon in the water was very high.
The drinking well water had 316.5mg/litre and the level of total hydrocarbons in the Bodo River was 304mg/litre
The United States Environmental Protection Agency (US EPA) says a total hydrocarbon limit of at 0.5 mg/litre is "quite high".
Drinking water containing petroleum hydrocarbons can cause stomach cramps, nausea, vomiting, and diarrhoea.
Zabbey Livinus, a local poultry farmer, said the oil engulfed most of the community, destroyed his crops and caused the deaths of over two hundred fowl.
When The Ferret visited the area four months after the spill, Livinus's compound still smelled of crude oil.
"My pineapple tree and other aquatic life are all gone. I had about 300 fowls but it killed them," he claimed.
Other local people claimed oil spills affected their livelihoods. They included Paul Nedee, a fisherman on the Bodo river, who said they killed aquatic life and larger fish. "There is a lot of crude oil in the river that stained my fishing net," he said.
Saga Giobari Promise, a Bodo community chief, said Shell "came quickly" to clean-up the area but that the oil spill "had already spoiled all our farmlands — you can even smell it."
The Ferret also collected soil samples from farmlands where locals said the oil had ruined crops. The soil had a total hydrocarbon content of 48,3000mg/litres, according to the lab's test results.
The manager of the university laboratory, Japhet Onuegbu, described it as "really polluted."
Shell's pollution in Gokana
The Niger Delta region hosts several multinational companies but Shell oil spills are some of the largest, according to data from the Nigeria oil spill regulatory body, NOSDRA.
One incident this year led to 465 barrels of crude oil leaking.
Oil pollution by Shell in Ogoniland, Nigeria, dates back decades. In 2011 a scientific assessment carried out by the UN Environment agency found pollution from over 50 years of oil operations in the region had penetrated deeper than many people realised.
Over a 14-month period, the UN Environment team examined more than 200 locations, surveyed 122 kilometres of pipeline rights of way, reviewed more than 5,000 medical records and engaged over 23,000 people at local community meetings.
The UN Environment agency said then: "The environmental restoration of Ogoniland could prove to be the world's most wide-ranging and long-term oil clean-up exercise ever undertaken if contaminated drinking water, land, creeks and important ecosystems such as mangroves are to be brought back to full, productive health."
In 2018, following up on its 2011 assessment of Ogoniland, the UN Environment began a new project — the Hydrocarbon Pollution Remediation Project (HYPREP) — with the aim of cleaning up oil contamination in Ogoniland.
It has been over a decade now since UNEP recommended the building of a soil testing centre in Ogoni, and the provision of clean drinking water for affected communities.
However, no soil testing centre has been built and some communities are yet to be given safe water.
According to Shell's 2022 annual Report, the company gave the Ogoni Trust Fund a total of £455m in support of implementing UNEP's recommendations.
Local activists told The Ferret they are frustrated at the lack of progress in cleaning up the region.
Barr Chima Williams, the executive director of Environmental Rights Action/Friends of the Earth Nigeria, said the UNEP and HYPREP cleanup operations are "too slow" and not going as well as expected.
An environmental rights activist, Celestine Akpobari, who doubles as HYPREP governing board member, blamed the slow pace of the Ogoni cleanup on Nigeria's government.
Akpobari said: "The cleanup is too slow for my liking. About six ministers of environment have been changed and when the new minister comes, he tries to roll back what has happened and try to rewrite his own."
Ndabekara Doctor Nwifambale, a resident of the Tai community — one of the supposed beneficiaries of the UNEP's recommendations — said the federal government brought a water tank, but one year later there was still no water.
We reached out to the spokesperson of HYPREP, Joseph Nafo Kpobari, for a comment about the lack of drinking water in affected communities. He said: "We have awarded six contracts, we have completed one in Alesa Eleme and the other five are still in the process.
The SPDC said whenever a spill occurs it works on joint investigations with the Nigerian government. There was a five-barrel oil spill in Bodo on 3 August, 2022, SPDC said, and another three-barrel spill on 24 August 2022, due to sabotage. The 103 barrel oil spill on 25 August, 2022, was contained immediately but the clean-up operation was initially hampered and not completed until 7 October, 2022.
The SPDC stressed there is ongoing work to maintain and replace key sections of pipelines, in order to reduce spills. In 2022, around 27 kilometres of pipelines and flow lines were replaced. Response times to spills are also improving, the SPDC said, with investigations commencing within two days last year, compared to six days in 2016.
A spokesperson for the Shell Petroleum Development Company of Nigeria Limited (SPDC) said it reported a spill in Bodo on August 25, 2022.
They added: "While the spill was contained and the crude oil recovered, the remediation is on hold due to the refusal by some members of the community to grant SPDC staff access. SPDC will resume remediation as soon as access is granted and the safety of its staff is guaranteed."
"Illegal actions by third parties cause the majority of oil spills in the Niger Delta, such as crude oil theft and sabotage. However, irrespective of the cause, the SPDC JV responds quickly to clean up when spills originate from its facilities. We work hard to prevent operational spills, but where they happen compensation is also paid to individuals and communities impacted."
Last week the UK's Supreme Court ruled that it was too late for a group of Nigerian claimants to sue two Shell subsidiaries over a 2011 offshore oil spill.
On December 20, 2011, an estimated 40,000 barrels of crude oil leaked when a tanker was loaded at Shell's Bonga oilfield, 120km (75 miles) off the coast of Nigeria's Niger Delta.
Shell disputed the allegations and said the Bonga spill was dispersed offshore and did not impact the shoreline.

Additional reporting: Kevin Woke and Faith Imbu.
Main image: British Shell oil spill in a compound in Bodo community in Niger Delta that took place in late August 2022. Source: Facebook. Posted by George Adinwin on August 31, 2022.
This story was co-published by the Sunday National.
This story was produced with funding from Journalismfund Europe.