The Scottish Government's nature agency is backing away from a plan to protect a precious wildlife site on the Ayrshire coast, suggesting that "some sustainable development" could be allowed.
NatureScot told The Ferret that it is working with stakeholders to explore "different options to secure multiple benefits" for the Garnock estuary at Ardeer. This is despite the area being "one of the most important locations in Scotland for bees".
Environmental groups are calling on NatureScot to give the estuary urgent legal protection from proposed developments. They also want ministers to scrap a 70-year-old order permitting a "free-for-all" for property developers in the area.
The Garnock estuary covers 880 hectares near Irvine, and includes a mosaic of sand dunes, wetlands, grasslands and woodlands. According to experts, it is home to 99 endangered invertebrates, including bees, wasps and beetles, as well as 46 rare flowering plants and a host of breeding birds.
Part of the area alongside the River Garnock is already protected as a Site of Special Scientific Interest (SSSI). Much of the rest is a former industrial site, listed by the Scottish Government – and reported by The Ferret – as one of Scotland's ten biggest derelict and vacant sites.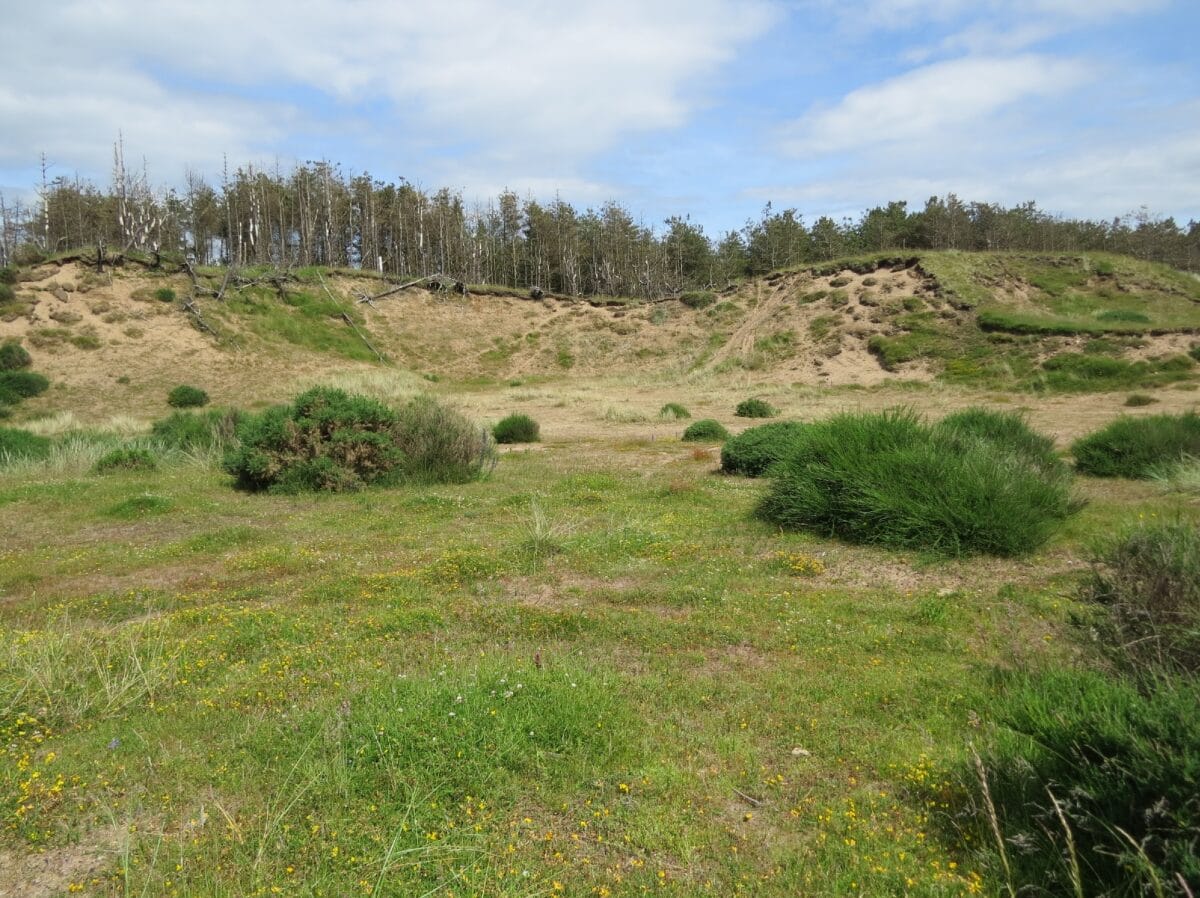 The Ardeer peninsula has been home to large explosives factories since 1871, helping to produce weapons for last century's two world wars. But the site was deserted in the 1980s, allowing wildlife to thrive.
In 1953, because of the site's strategic importance at the time, the UK Government issued a special development order which automatically "grants planning permission for any development on the site" subject to a few conditions. The order is still in force.
Explosives firm, Chemring Energetics, bought 149 hectares in 2010 to produce defence materials. The surrounding land is owned by developers, NPL Group, which signed a deal in 2019 with North Ayrshire Council to regenerate the peninsula.
There have since been proposals to build houses, golf courses, a nuclear fusion plant and, most recently, two wind turbines. But in July 2022 five major environmental groups, backed by 20 wildlife experts, wrote to NatureScot with an "urgent request" for the Garnock estuary to be designated as an SSSI.
Wildlife campaigners have also demanded that the special development order "free-for all" be revoked. North Ayrshire Council agreed that the order should be withdrawn, as long as other legislation was put in place to help developers.
NatureScot queries SSSI designation
In a statement to The Ferret, NatureScot questioned whether designating the area as an SSSI was the best option. "We are actively considering the request to designate the Garnock estuary as an SSSI, but we need to gather more survey information and discuss ongoing management with stakeholders before making a decision," it said.
"Part of this consideration is whether SSSI designation is the best means to secure long-term protection and management for those areas supporting natural heritage interests of national importance."
NatureScot highlighted the risk that if the scientific evidence in support of SSSI designation was not sufficiently robust, there was "a high likelihood" of a legal challenge from developers.
"We believe Garnock estuary is one of the most important locations in Scotland for bees, wasps and other invertebrates and we recognise the value of the open mosaic habitats that support them and several breeding bird communities," NatureScot said.
"While we are committed to finding ways to safeguard these interests, SSSI designation is but one approach, and we are keen to work with all stakeholders to look at different options to secure multiple benefits."
The statement added: "We are working together with all stakeholders to find the best ways to protect and manage the biodiversity interests, while at the same time accommodating some sustainable development at this location. We do not have a completion date for the work yet."
NatureScot denied that the special development order and pressure for development was a factor in its decision-making. The scrapping of the development order was a matter for North Ayrshire Council and the Scottish Government, it said.
Environmentalists, however, are impatient for action to protect the area. "The Ardeer peninsula has been hailed as Scotland's best site for bees and is home to an incredible number of rare and scarce invertebrates," said Jamie Robins, from the campaign group, Buglife.
It was "disappointing" that more than a year after groups had called for the site to be protected, it was still "incredibly vulnerable" to development, he argued. It was "outrageous" that the special development order was still in force, threatening "untold damage" to wildlife.
Robins added: "We are experiencing a biodiversity crisis, with populations of insects in steep decline and our rarest and most specialised species at risk of extinction. This makes it more important than ever to protect special places like the Ardeer peninsula before it is too late."
The Royal Society for the Protection of Birds (RSPB) described Ardeer as a "fantastic site" for wildlife that warranted designation as an SSSI and the withdrawal of the special development order. "We hope steps are taken to do this as soon as possible", said RSPB Scotland area manager, Zoe Clelland.
Plantlife, which campaigns to protect wild plants, said that protecting refuges such as Ardeer had never been so urgent due to the "catastrophic" decline in Scotland's wildlife. The Scottish Wildlife Trust called for "more urgency" from NatureScot.
Ardeer for nature or redevelopment?
North Ayrshire Council promised to keep working with landowners to try and ensure "appropriate action" on developments. "We recognise that things have changed a great deal since 1953," said the council's environment spokesperson, SNP councillor Tony Gurney.
"We are keen for this special development order to be revoked and subordinate legislation put in place that will be to the benefit of developers, the environment and ourselves as the planning authority."
The Scottish Government declined to comment on whether it was considering revoking the special development order, saying it had nothing to add to what NatureScot said.
The NPL Group did not respond to requests to comment. Its website described Ardeer as an "asset" and "Scotland's largest brownfield regeneration site." It pointed out that the Scottish Government had earmarked the Ardeer peninsula as a "significant site for redevelopment of the wider Ayrshire area."
The company's non-executive director, Alex Dornan, told The Ferret in September 2023 that it was working with Scottish Enterprise and North Ayrshire Council to "regenerate" the site. It had helped submit a planning application for two wind turbines "to attract industry requiring on-site green power".
Dornan added: "It is a large site and the costs of maintaining the site are large, however we at NPL take our responsibilities seriously and will continue to do so."
Cover image of Northern Colletes Bee thanks to Steven Falk/Buglife.