A leading member of a far right group called the National Defence League is a neo-Nazi from England, it has been claimed.
The National Defence League (NDL) has been organising gatherings in George Square, Glasgow, in recent weeks claiming it wants to protect monuments. But it has been involved in ugly scenes with police and supporters of asylum seekers, prompting First Minister Nicola Sturgeon to brand the violence as "racist thuggery".
Anti-racism groups Hope not hate and Glasgow Antifascist Alliance have now exposed some members of the NDL, alleging they have criminal records and links to neo-Nazi groups. They claim that one NDL supporter is a member of an Orange Lodge in England.
NDL members exposed include a moderator of the group's Facebook page called Lee Parkinson, allegedly a football hooligan from Leeds with a criminal record who was involved with the English Defence League.
Parkinson has 'Blood and Honour' tattooed on his chest, the name of a violent neo-Nazi group which is active in Scotland and across Europe.
Hope not hate said: "One of the founders of NDL is former Leeds Nazi, Lee Parkinson. Heavily tattooed with Nazi images, Parkinson has been flitting between Leeds and Scarborough in England and Scotland.
"Parkinson is one of the admins on the NDL Facebook page and has been linked to just about every fascist and far right group in England."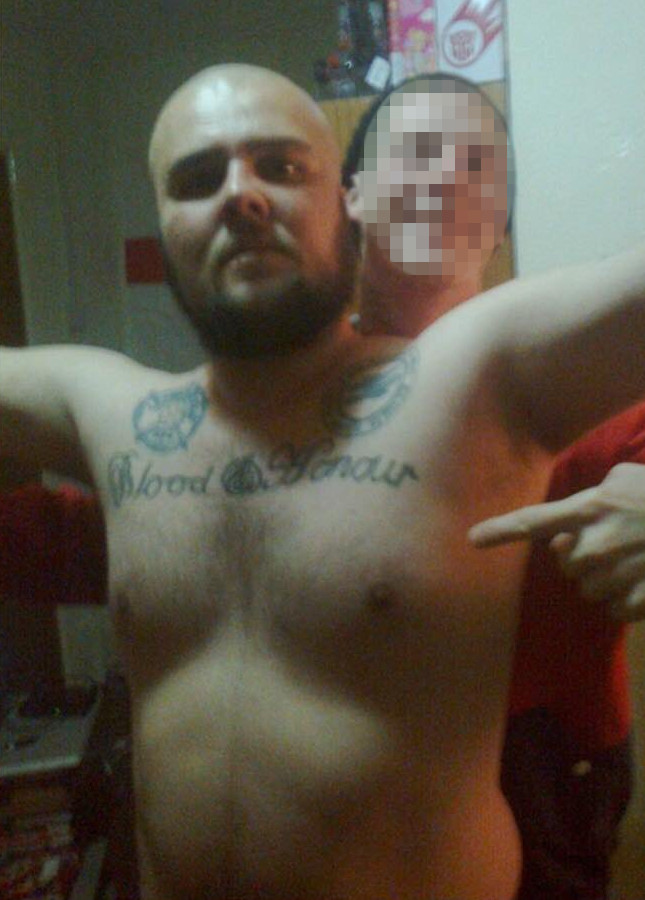 The NDL is believed to be a re-invention of the far right Scottish Defence League, whose protests attracted neo-Nazis from National Action and Scottish Dawn, both now banned under terror laws by the UK government. In 2018 a SDL member was jailed for terrorism offences.
Hope not hate said the NDL has espoused "hardline loyalism and racism whilst confronting refugee rights and anti-racist demonstrations in Glasgow".
The campaign group added: "The NDL actually surfaced a year ago, ostensibly as another racist Facebook group with little activity. It's steeped in the traditional concerns of right wing loyalists – immigration, sectarianism, conspiracy and anti-Irish and anti-Catholic bigotry. It has also gone by, and goes by, the name Loyalist Defence League (LDL).
"Englishmen, hooligans, Nazis and jailbirds almost completely dominate the NDL and LDL."
According to Hope not hate, some of the NDL's planned activities have found their way onto a "secretive hooligan message board administered by football hooligans in London linked to Millwall".
"The group, which is awash with former English Defence League hooligans and some current Britain First idiots, is publishing details where football thugs can meet up and disrupt antiracist marches and protests," Hope not hate added.
It's steeped in the traditional concerns of right wing loyalists – immigration, sectarianism, conspiracy and anti-Irish and anti-Catholic bigotry.

Hope Not Hate describes the NDL
Hope not hate claimed that one LDL supporter was a member of an Orange Lodge in Leeds.
Following the violence in Glasgow earlier this month and widespread criticism of NDL loyalists, crisis talks took place between Scottish Justice Secretary Humza Yousaf and the Orange Order in Scotland.
At the time the Orange Order defended right wing protestors who had gathered in George Square and said it did not agree with allegations of racism or neo-Nazism being present during the events.
The Orange Order claimed that protesters who gathered under the banners of the NDL and Scottish Protestants Against Discrimination were "proud patriots and unionists".
Unite Against Fascism Scotland (UAF) has now called on the Orange Order and "other protestant groups" to condemn the actions of the NDL and LDL.
A UAF spokesman added: "The NDL and LDL have tried to use the Black Lives Matter movement to establish themselves as the defenders of the statues, as the legitimate opposition. In practice the behaviour of their supporters viciously attacking asylum seekers rights protest has exposed them to being violent racist thugs."
There was also UAF condemnation of the Scottish Police Federation, a police officers' union, which issued a statement following the violence in George Square. According to UAF, the SPF effectively saying there was "equivalence between these violent racists and the peaceful march was a disgrace".
"It is a further vindication of why a BLM movement is needed not just in America but in Scotland also," UAF added. "The protestant community needs to draw a line between themselves and the loyalist racists gathering behind the NDL and the LDL."
The Orange Order in Scotland has been contacted for a comment, as has the Orange Lodge in Leeds.
Lee Parkinson has been contacted for a comment.