MPs on a powerful Westminster committee are investigating if bombs made in Scotland have been used in Yemen's civil war amid mounting allegations of war crimes by forces supporting President Hadi.
The Committees on Arms Export Controls (CAEC) has been reconvened following claims that Britain has been complicit in war crimes, allegedly carried out by the Royal Saudi Air Force which has been bombing Houthi rebels for a year now.
CAEC's investigation into the use of UK weaponry follows the announcement that legal action has begun against the UK Government over its supply of arms to Saudi Arabia.
The developments came ahead of the first anniversary today of air strikes in Yemen by a coalition of nations led by Saudi Arabia to support the nation's president.
Over the past year at least 700 children have died amid allegations that civilians have been targeted by the Royal Saudi Air Force.
Last week a busy market was bombed in Hajja province with another 41 civilians killed.
Yemen's civil war escalated on the 25th March 2015 when Saudi Arabia began bombing rebels to support the government and President Abd-Rabbu Mansour Hadi fled his palace in Sana'a after Houthi forces advanced on the capital.
The main fight is between forces loyal to President Hadi, and those allied to Zaidi Shia rebels known as Houthis, backed by Iran.
The conflict is seen as part of a regional power struggle between Shia-ruled Iran and Sunni-ruled Saudi Arabia, which shares a long border with Yemen.
After rebel forces closed in on the president's southern stronghold a year ago, a coalition led by Saudi Arabia responded to a request by Mr Hadi to intervene and launched air strikes on Houthi targets.
The coalition comprises five Gulf Arab states and Jordan, Egypt, Morocco and Sudan.
Yemen is now in crisis with the UN describing the situation as a "humanitarian catastrophe".
[clickToTweet tweet="Yemen is now in crisis with the UN describing the situation as a "humanitarian catastrophe"." quote="Yemen is now in crisis with the UN describing the situation as a "humanitarian catastrophe"."]
Some 21 million Yemenis including 10 million children are in urgent need of humanitarian aid.
More than 6200 people – half of them civilians – have been killed amid allegations coalition war-planes have targeted civilians.
The Royal Saudi Air Force uses Eurofighter Typhoons and Tornados jets made in Britain.
The UK has supplied Saudi Arabia with Paveway missiles produced by US firm Raytheon at its factory in Glenrothes, Fife.
Pressure has been mounting on the UK Government to stop selling weaponry to Saudi Arabia.
More than £1bn worth of bombs, missiles and rockets were sold to Saudi Arabia over just three months last summer.
MPs were advised recently that 207 civilian structures had been targeted by air-strikes including hospitals and mosques.
The UN said there have been 119 "clear violations" of international law raising questions over the legality of UK arms sales to Saudi Arabia.
CAEC is investigating the use of UK-manufactured arms in the conflict in Yemen and whether criterion over arms export licences have been breached.
It will also examine whether the Department for International Development should play a role in the granting of arms export licences, potentially allowing it to block exports.
DfID admitted to Westminster's International Development Committee that it had not been consulted over arms deals to Saudi Arabia despite providing £18m in urgent humanitarian aid to the country.
It can only really be a matter of time, given the mounting evidence, that there is conclusive proof that war crimes have been committed

Douglas Chapman, MP
The SNP's Douglas Chapman, MP for Dunfermline and West Fife, is a member of CAEC and involved in the cross-party inquiry which began this week.
He said: "Our committee took evidence from human rights groups this week, and they were keen to stress that they believe violations of international humanitarian laws had occurred and that there had also been serious breaches of the Arms Trade Treaty. This is the very treaty to which the UK played such a major role in encouraging other nations to support."
"Indeed, a representative from Human Rights Watch said in his evidence that they had identified 36 air strikes from the Saudi-led coalition, which they deem as human rights violations and Amnesty said that the UK's weapon sales to Saudi Arabia were 'not just ill-advised, but we're actually illegal."
 "There needs to be independent scrutiny of the situation in Yemen."
Meanwhile, law firm Leigh Day has begun proceedings against the UK Government on behalf of Campaign Against Arms Trade (CAAT).
The formal legal action in the High Court will challenge the government's decision to export arms in light of claims that Saudi forces are violating international humanitarian law (IHL).
If permission for the judicial review is granted the High Court will be asked to investigate whether the continued arms exports contravene the UK government's commitments under UK and European arms export regulations.
CAAT said that a range of international organisations including a UN Panel of experts, the European Parliament and many humanitarian NGOs, have condemned the ongoing Saudi air strikes against Yemen as unlawful.
The violations of IHL law found by these bodies listed include a failure to take "all precautions in attack" as required by international humanitarian law.
Yemen is very far away, but there are arms companies in Scotland that have directly fuelled and profited from the destruction

Andrew Smith, Campaign Against Arms Trade
Andrew Smith of Campaign Against Arms Trade said: "We welcome the investigation, but the arms sales should never have been agreed in the first place. The Saudi regime has an appalling human right record."
"What's needed isn't the revoking of a few licences, it's a total change in UK foreign policy and an end to the uncritical support that successive UK governments have given to the Saudi regime."
"Yemen is very far away, but there are arms companies in Scotland that have directly fuelled and profited from the destruction. It would not have been possible without the arms and complicity provided by governments like the UK and arms companies like Raytheon and BAE Systems."
CAAT added there were 12 arms firms with links to Saudi Arabia in Scotland and that BAE Systems made radars for Eurofighter Typhoons between 2011 and 2013 at a factory in Dalgety Bay, Fife.
Another firm called Chemring has an explosives factory in Ayrshire and in 2013 generated £97.6m from arms sales to Saudi Arabia.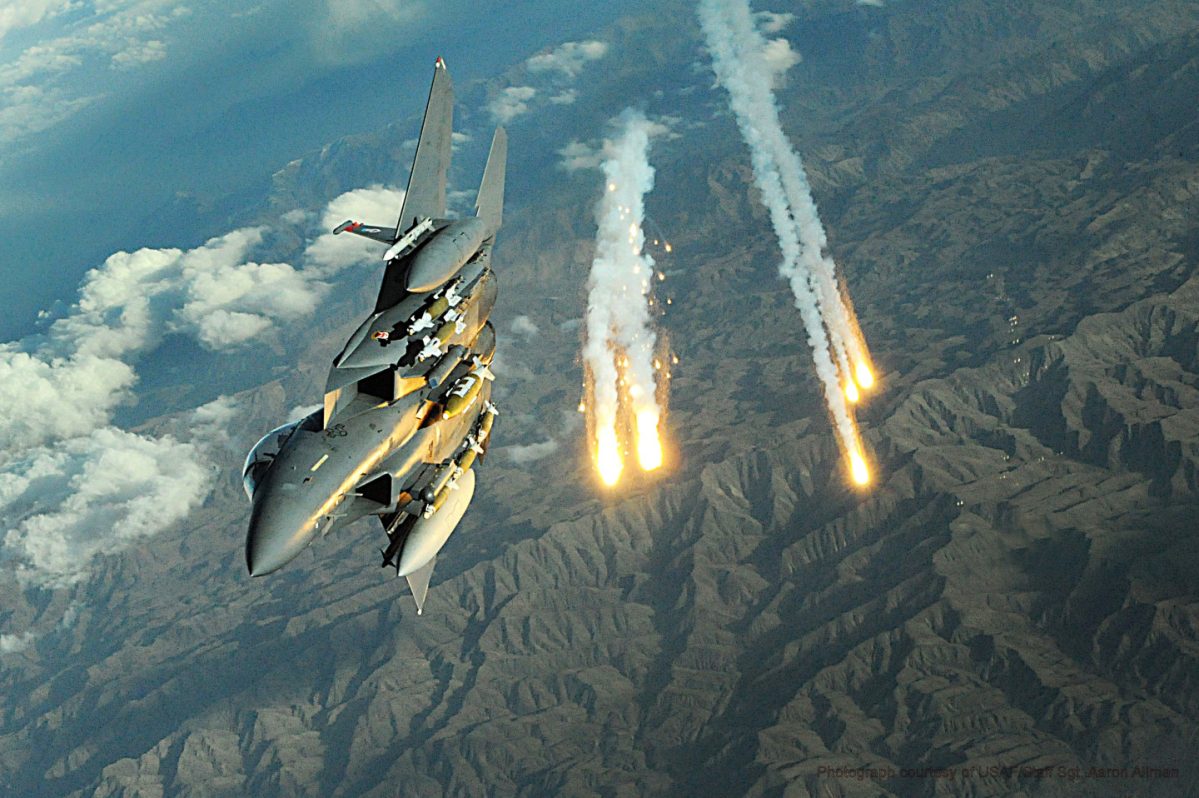 Patrick Grady, SNP Westminster Spokesperson on International Development, said:  "It's now a year since the current outbreak of conflict in Yemen, and the situation shows little sign of improving. The SNP at Westminster have repeatedly called for a suspension of arms sales to Saudi Arabia until there has been a full investigation into allegations that UK-made or sold weapons are being used illegally."
"The UK Government also has serious questions to answer about the military advice and support it is providing to the Saudi regime, and whether or not this in fact adds up to complicity in the conflict."
A spokesperson for BAE Systems said: "BAE Systems provides defence equipment and support to the Kingdom of Saudi Arabia under government–to-government agreements with the UK and export licenses granted by the UK. The UK government operates one of the most stringent arms control regimes in the world and regularly evaluates those policies and our international relationships."
A spokesperson for Raytheon said: "Raytheon's capabilities contribute towards making the world a safer place and naturally the company complies with all export regulations in any of the markets, in which it operates."
"Raytheon is a significant contributor to the economy in Scotland through employing well over 600 people in Glenrothes and through exporting £500m of advanced systems and technologies since 2002."
"In Scotland Raytheon has world leading capability in cutting edge micro electronics, which is driving efficiencies in commercial aviation and automotive markets, as well as others which have the potential to deliver great economic benefits."
A spokesperson for Chemring said: "The UK defence industry is one of the most highly regulated in the world, especially when it comes to exports. The use of UK-manufactured arms in the Yemen inquiry is part of the process of ensuring that these regulations are being respected, and if asked we would fully co-operate with CAEC's investigation."
A UK Government spokeswoman said: "We welcome this announcement and will continue to support the work of the Committees. This investigation will help to inform Parliament and deepen knowledge of our robust arms export licensing regime.
"The Government takes its arms export responsibilities very seriously and operates one of the most robust arms export control regimes in the world. All  export licence applications are assessed on a case-by-case basis against the consolidated EU and national arms export licensing criteria. The Government is  satisfied that existing licences for Saudi Arabia are compliant with the UK's export licensing criteria."

DfID declined to comment.