It's late afternoon in Iraqi Kurdistan and Hasar Husein and Haithan Abdul Kareem lie side by side on stretchers inside an ambulance. Both men are badly injured, Kareem moaning loudly as paramedics wearing yellow jackets try to help him.
These casualties have just arrived at a checkpoint controlled by the Peshmerga, about 10 miles from Mosul where Islamic State is fighting Iraqi forces.
Husein and Kareem are the latest victims of the continuing carnage in Iraq's second largest city. The Kurdish medics explain that Husein was shot and that Kareem was hit by shrapnel from an explosion.
The latter's condition, in particular, is concerning the crew who must move him quickly to a waiting ambulance, ready with lights flashing to ferry the men to Erbil for emergency treatment.
The dramatic scene is witnessed by around a dozen or so civilians who've managed to escape the fighting in Mosul. Now officially internally displaced persons (IDPs), they're about to board a bus and be taken to a camp.
Children watch as a medic shows us the paperwork that will accompany Husein and Kareem to Erbil. The documents state their names, ages, injuries and each man's blood pressure.
The paramedics begin to carefully move the patients, Kareem first, followed by Husein. Once inside the second vehicle, drips are attached to each man before the ambulance's back doors close and it sets off at speed for the Kurdish capital – an hour long journey, through Peshmerga checkpoints and fields dug deep with brown trenches where IS and Kurdish forces recently fought.
Husein and Kareem are just the latest in a seemingly never ending flow of injured people from Mosul, soon to be patients in Erbil's struggling hospitals.
The scale of human suffering in Iraqi-Kurdistan is harrowing. We'd arrived in Erbil two days earlier to document the situation ahead of the sixth anniversary of the Battle for Mosul, which falls on 17 April.
Last October, a major offensive was launched by Kurds and Iraqis, who came together with international support, in an attempt to rout IS from Mosul. Tens of thousands of civilians have fled the city but an estimated 300,000 people remain trapped inside the western part as IS makes a last stand to defend its so-called Caliphate.
The strain on Kurdish hospitals is immense as they try to cope with the influx of patients. Earlier, at his office in Erbil, we met Dr Saman Barzangy, Director General of Erbil Health. An immaculately dressed man in his early 40s, he spoke at length about the pressure on Iraqi Kurdistan's health sector.
"This (Mosul) is another crisis for us. We've been receiving 150 to 200 trauma cases a day plus hundreds of non-trauma cases – including maternity cases and chronic diseases. We had 29,000 patients in the first three months (after the offensive started)," Barzangy says.
Of that total 14,000 were trauma cases, people who'd been shot and/or injured in explosions. He also talks about IS chemical attacks.
"We received 15 cases. All of them (patients) were burned and had shortness of breath and irritation to the skin – in the last two weeks." He couldn't say which chemicals were used, saying the incident needs further investigation, but mustard gas was touted by local media.
Barzangy is responsible for 23 hospitals in the Erbil area and 18 specialised centres. He says the health sector was already struggling before the Battle of Mosul due to "several crises".
These included the Iraqi government slashing Iraqi-Kurdistan's budget, an economic downturn due to the oil price collapsing, and hundreds of thousands of refugees arriving from Syria in recent years.
In June 2014, Iraqi Kurdistan began to receive new IDPs from Mosul, Anbar and Tikrit, and while the Peshmerga was fighting IS outside Mosul, Barzangy established five frontline health centres to support the Peshmerga who suffered around 10,000 injuries.
Then the offensive began to liberate Mosul.
"From 17th October 2016 we entered a very difficult crisis, " Barzangy says claiming that the Ministry of Health in Baghdad had not organised any plan for health services for Iraqi forces or civilian IDPs – so the strain has been on Erbil. He adds: "Over the last six months we've spent a lot of our budget on Mosul because the city has no health structure."
Another factor compounding the crisis is health tourism, with Iraqis travelling north from places such as Fallujah and Baghdad to get treatment in Erbil's hospitals. This further depletes resources and piles more strain on the system: one consequence being that more local people are forced to pay to go private because hospitals are full of Iraqis.
There's an urgent need for more surgical instruments and staffing hospitals is a problem. Due to the economic crisis the Kurdistan Regional Government cut salaries in the public sector, resulting in some people not being paid on time. "Staff have left their jobs because of this," Barzangy says.
Aside from treating Mosul's wounded, hospitals deal with thousands of non-trauma cases such as maternity, oncological, and chronic diseases. There's been little support from the Iraqi government – Dr Barzangy complains – aside from one week when, he says, just one hospital received some extra drugs.
"So, why isn't Baghdad helping?" I ask.
"I don't know." Barzangy replies. "We have a big shortage of drugs and medical supplies, essential drugs such as anaesthetics…sometimes we cannot do operations because there is a deficiency of essential drugs."
He approached the European Union for help – to no avail – but despite the lack of support internationally he'll keep saving souls from Mosul. There are 11 ambulances with professional trauma staff in and around Bartala, on the outskirts of the city, based at Peshmerga checkpoints. Medics there are supported by the World Health Organisation who refer patients to Erbil's hospitals.
In Erbil, there are two hospitals specialising in war injuries – the Emergency Management Centre and West Erbil Emergency Hospital – but general hospitals are often required to assist due to the sheer number of casualties.
Barzangy adds that the number of cases has decreased slightly in recent weeks due to new evacuation routes from Mosul, which take some patients south for treatment instead of east. There's also a new 'portable hospital' near Bartala run by Samaritan's Purse – an evangelical Christian group from the US.
We ask to speak with patients in an A and E department and he grants us permission to visit the Emergency Management Centre. EMC is a not for profit organisation led by a surgeon called Dr Rawand Haweizy who's an expert in war surgery. He greets us at his office accompanied by two Italians from a Milan based group called Emergency who support his work.
There are three operating theatres at EMC and 285 staff. These include 15 medics from nations including Italy, Spain, Macedonia and the UK. There's one intensive care unit and six trauma wards. Most casualties tend to arrive late afternoon although there's generally a steady stream of patients throughout the day.
"We've had 130 trauma patients since the 1st March (18 days in total as today is 19 March) and 170 in February," Dr Haweizy says. Most people were victims of bombs, mines and bullets.
To deal with Mosul's casualties, there's a trauma stabilisation point at the frontline where victims are evaluated. Red code patients must be stabilised before they can travel but less severely injured people will be taken to a field hospital further into Kurdish territory, before being transferred to a hospital in Erbil.
Previously, Iraqi soldiers were brought for treatment too but most are now sent south of Mosul.
"Have you treated IS patients?", I ask.
"We've had a lot of cases we knew about, but we didn't ask…from a humanitarian point of view," Haweizy says. He adds they would've been handed over to Iraqi Kurdistan's internal security force after treatment.
He offers us a tour of EMC which is filled with Mosul's maimed. In the first ward, a five year old girl called Shehad lies in a bed. She's wearing pink pyjama trousers and is stripped to the waist, her left arm bandaged. She grimaces in pain, watched by her mother Layla who sits in a chair to her right.
The family came from a small village on the outskirts of Mosul called Allela which was under IS rule until the offensive started. Shehad suffered a fractured arm in an explosion and although her father Abdullah also survived the blast, he lost an eye. "They think it was a mine," Haweizy says.
In the next ward, Ahmed Ali tells how he and his wife Hadil survived a suicide bombing in Mosul. Ali tries to sit up but struggles because both his legs are broken and he falls back onto the bed. As he explains what happened, he puts his fists at chest height then pulls them apart – to indicate a suicide attack.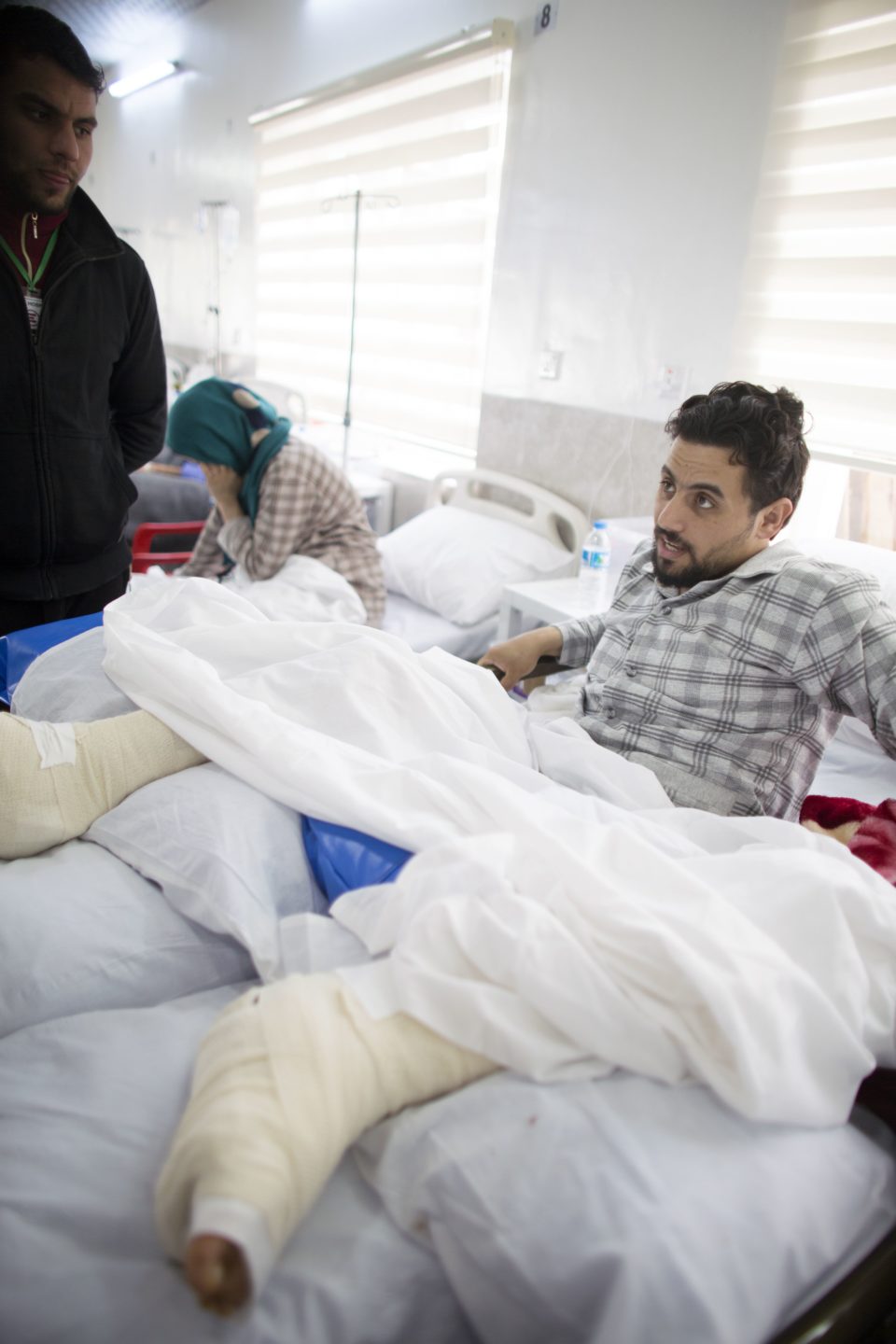 Haweizy translates from Arabic and says that six people died in the explosion including a pregnant woman. Hadil – wearing a turquoise headscarf – sits in the bed next to Ali but says nothing. She lost both her legs in the blast, a young woman who's now a double amputee thanks to IS.
Elsewhere in the hospital, frightened children sob as they lie in beds. Five year old Husan – shot in west Mosul – is crying because he's due another painful injection, and on leaving the ward we see Zuhair Hani Salem being brought from an operating theatre. The 17 year old had his left leg amputated below the knee, the victim of a mortar attack in Mosul four days ago.
Zuhair looks jaundiced and he's in agony. His face is screwed up and he groans loudly as he's wheeled into the ward. His uncle, Ahmed, places a hand on his nephew's head to try and give some comfort.
"Zuhair will be fine. If it's below the knee it's good…above the knee then it's a real problem," Dr Haweizy says before explaining that most patients will suffer psychological issues too – traumatised by their injures and events witnessed during the battle and having lived under IS rule for two years.
In Mosul, IS will fight to the death so it seems very likely that hundreds more innocent people will be badly hurt as the battle continues, a conflict that could drag on for many more weeks. As for Husein and Kareem – the injured men we saw in the ambulance – we asked the Kurdish authorities for an update but no reply had been received at time of writing.
You can watch a video here of Husein and Kareem arriving injured at a Peshmerga checkpoint on the outskirts of Mosul, before being taken to Erbil for emergency treatment.
Words and video by Billy Briggs, photography by Angela Catlin. This report was supported by Ferret subscribers.