The Ministry of Defence (MoD) has accidentally released a secret Nato report with codewords, ciphers, co-ordinates, radio frequencies and a host of other "special instructions" for huge war games under way around the UK.
An MoD official mistakenly circulated a manual for planned air operations during two major military exercises involving more than a dozen countries. Joint Warrior 161 is currently being played out around Scotland, while Griffin Strike 16 is taking place around the southwest coasts of England and Wales.
The 192-page manual, marked "NATO RESTRICTED" on every page, was sent by email to fishing and ferry operators on 29 March. They were meant to receive a guide to when, where and how shipping areas might be affected during the exercises.
But instead they were given technical details of aircraft "killbox" target areas, code decryption tables, radio jamming rules and authentication protocols. As well as dozens of codewords, call signs and map co-ordinates, the report includes long lists of phone numbers, email addresses and military facilities.
The MoD admitted that there had been a "communications issue" but said it had taken "appropriate measures" to deal with it. Critics accused the MoD of an "embarrassing" mishap, and called for an investigation.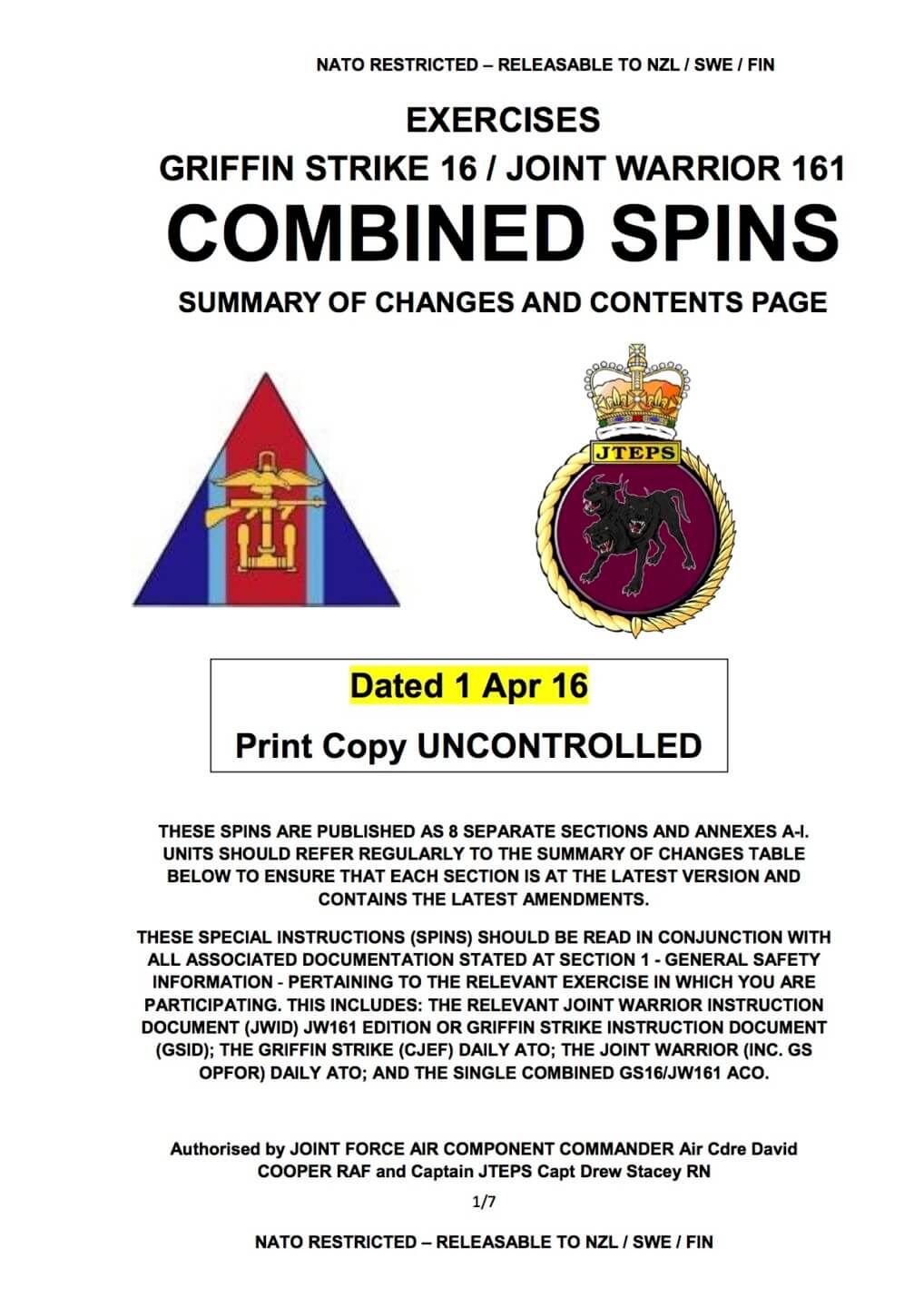 The bungle comes as conservation groups warn that underwater noise caused by the exercises could put whales, dolphins and porpoises in danger. Bomb practice near Cape Wrath on the northwest coast of Scotland was blamed for stranding and killing 19 pilot whales in 2011.
Exercise Joint Warrior 161, which runs from 11-23 April, involves more than 3,400 troops, 40 aircraft, 22 ships and four submarines. Co-ordinated from the naval base at Faslane on the Clyde, it also uses RAF Lossiemouth in Moray and the Cape Wrath and Benbecula firing ranges.
Brendan O'Hara MP, the Scottish National Party's defence spokesman in Westminster, warned that security could have been compromised. "The careless circulation of this document represents a leak of highly sensitive information," he said.
"This could compromise the safety and security of the whole exercise. The MoD must investigate this breach and review their communications procedures around exercises as soon as possible."
Veronika Tudhope, West of Scotland candidate for the Scottish Green Party, described the leak as "an embarrassing faux pas". "I can't help thinking time would be more effectively spent on keyboard training than at sea and in the air," she said.
The careless circulation of this document represents a leak of highly sensitive information.

Brendan O'Hara, SNP Defence Spokesman
"That would save resources and avoid a great deal of disruption to fishing, ferries and other shipping in the West of Scotland as well as ensuring military secrets are not accidentally sent to those who may misuse them."
An MoD spokesman said: "A communications issue around the Joint Warrior and Griffin Strike exercises was identified and appropriate measures have been taken. There is no impact to the public, military personnel or units participating in the exercise."
When pressed, the spokesman said he couldn't go into the measures that have been implemented "because we don't want to expose how we do business". He insisted that arrangements for the exercise had not been changed.
The Whale and Dolphin Conservation group expressed concerns that the MoD was not doing enough to protect marine mammals during Joint Warrior 161. "We consider the MoD's assessment of injury and disturbance impacts to be inadequate, and especially for beaked whales and other deep diving species found in Scottish waters offshore," said the group's senior policy manager, Sarah Dolman.
"There are numerous occasions where these offshore species have stranded and perished after been subjected to military sonar. Further, the MoD undertakes no routine marine mammal surveillance monitoring in its exercise areas and it will undertake no monitoring to assess any impacts that may take place during these exercises."
Mitigation measures in place during bombing at Cape Wrath were insufficient, she argued. "Those measures that were recommended by scientists following the pilot whale mass stranding during explosive ordnance disposal there in 2011 should be required. Will it take another mass stranding before the MoD will adequately protect whales in its bombing range?"
Will it take another mass stranding before the MoD will adequately protect whales in its bombing range?

Sarah Dolman, Whale and Dolphin Conservation
The MoD stressed that it took the potential environmental impact of the exercises "very seriously". It conducted regular reviews into its active sonar mitigation procedures supported by independent scientific assessment, said an MoD spokesman.
"There is specific mitigation in place during Joint Warrior for activity in the Sea of the Hebrides and the Minch which has been agreed with Scottish Natural Heritage and Marine Scotland," he added. "Following the mass stranding of pilot whales at Durness in 2011, the MoD cooperated fully with the Department for Environment, Food and Rural Affairs investigation and put in place enhanced mitigation measures."
A version of this article was published in the Sunday Herald on 17 April 2016.
Photo thanks to US Navy and Justin L. Ailes via Wikimedia Commons.