Two men taken away by Home Office officials during an immigration enforcement raid carried out in one of Scotland's most diverse communities during Eid, have been released back into their community.
The raid by Home Office immigration enforcement officers happened at about 9am on 13 May on Kenmure Street in Pollokshields, Glasgow.
Two men in their thirties, who are understood to have been living in the city for some time, were taken to a Home Office van by immigration officers. Protesters then surrounded the van preventing it from leaving.
Police Scotland took the decision "on operational grounds" to release the men detained by UK Immigration Enforcement back into their community after a protest lasting eight hours, which attracted hundreds of people.
It followed the intervention of several senior politicians, campaigners and human rights lawyer Aamer Anwar.
By 11.30am about 200 people were on the street. Many surrounded the Home Office enforcement van, which was circled with Police Scotland officers, chanting: "These are our neighbours, let them go". 
In the afternoon onlookers said a paramedic had entered the van, where the men had been held for over six hours. The Ferret was later sent video suggesting some protesters had been arrested.
But just after 5pm Police Scotland released a statement to confirm that Chief Superintendent Mark Sutherland had taken decision to release the men "to protect the safety, public health and well-being of all people involved in the detention".
The raid comes just weeks after an asylum seeking family in the city was dawn raided by Home Office immigration officers. Campaigners told The Ferret they have received increased reports of immigration enforcement in recent weeks.
Earlier in the day Nicola Sturgeon, the constituency MSP for Glasgow Southside, where the raid took place, tweeted: "As constituency MSP, I am deeply concerned by this action by the Home Office, especially today in the heart of a community celebrating Eid. My office is making urgent enquiries and stands ready to offer any necessary assistance to those detained."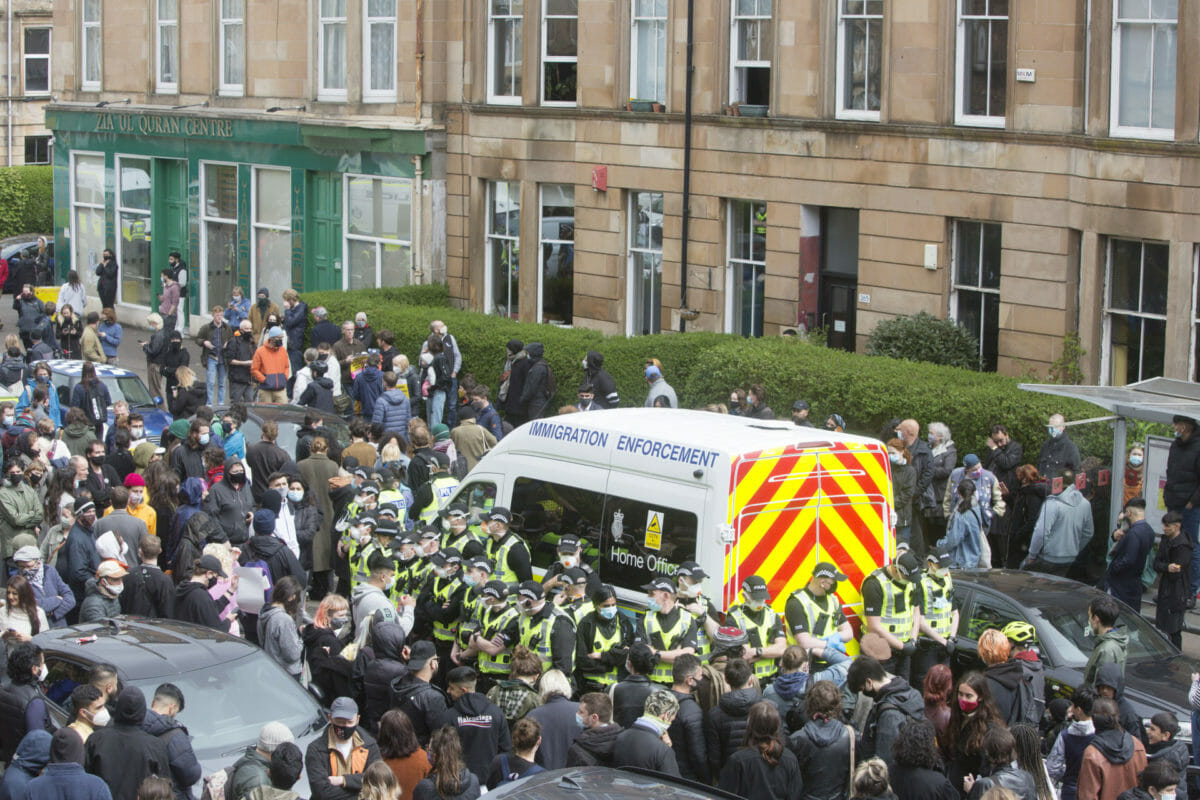 Humza Yousaf, Scottish justice minister, said that the operation in "the heart of the Muslim community, on Eid" was a clear demonstration of the UK Government's hostile environment.
He later tweeted that none of the eight Home Office ministers "could make themselves available to speak to me" and urged the director general of the Home Office in Scotland to abandon the forced removal.
Jonathan Charley, an independent architecture researcher who lives in the same block as the two men, said the Home Office van arrived about 9am.
"They [immigration officers] must have got into the flat and by the time I went out I saw them being manhandled down the stairs," he said."This is happening on a Muslim holiday, [not far] away from a mosque where people are praying.
"This is a neighbourhood where most people get on well. These are friendly guys, good neighbours who bring us food. It's mobilised the local community as you can see."
The immigration status of the two men is unclear but it is understood they are now receiving both immigration and legal advice.
Wafa Shaheen, head of asylum integration and resettlement at Scottish Refugee Council, said people were "shaken and angry" by the enforcement action.

She added: "To force people from their homes on the first day of Eid, with neighbours and families trying to honour the religious celebration in peace, shows – at best – a serious lack of cultural sensitivity and awareness on the Home Office's part. We do not need community tensions raised and it should not be difficult to recognise and avoid this."
She continued: "It is frightening, intimidating and disproportionate. The hundreds of people on the streets in solidarity with those affected shows people in Scotland are sick of these raids and have had enough."
Anne McLaughlin MP, SNP's spokesperson on immigration, said the decision to carry out the raid on Eid felt "deliberate".
"We understand that the men are not Muslim but this happened in a Glasgow community that is celebrating Eid," she said.
"So to go in and do this today – to do something that was going to be so distressing, especially for these two men, but also for the whole community just seems antagonistic and unforgivable.
"I have real concerns about what seems like an increase in the the use of immigration enforcement raids. I raised this recently in parliament during a debate. I said then that if this was indeed the case the people of Scotland were likely to make sure that it was not worth the Home Office's while. And we see that in action today."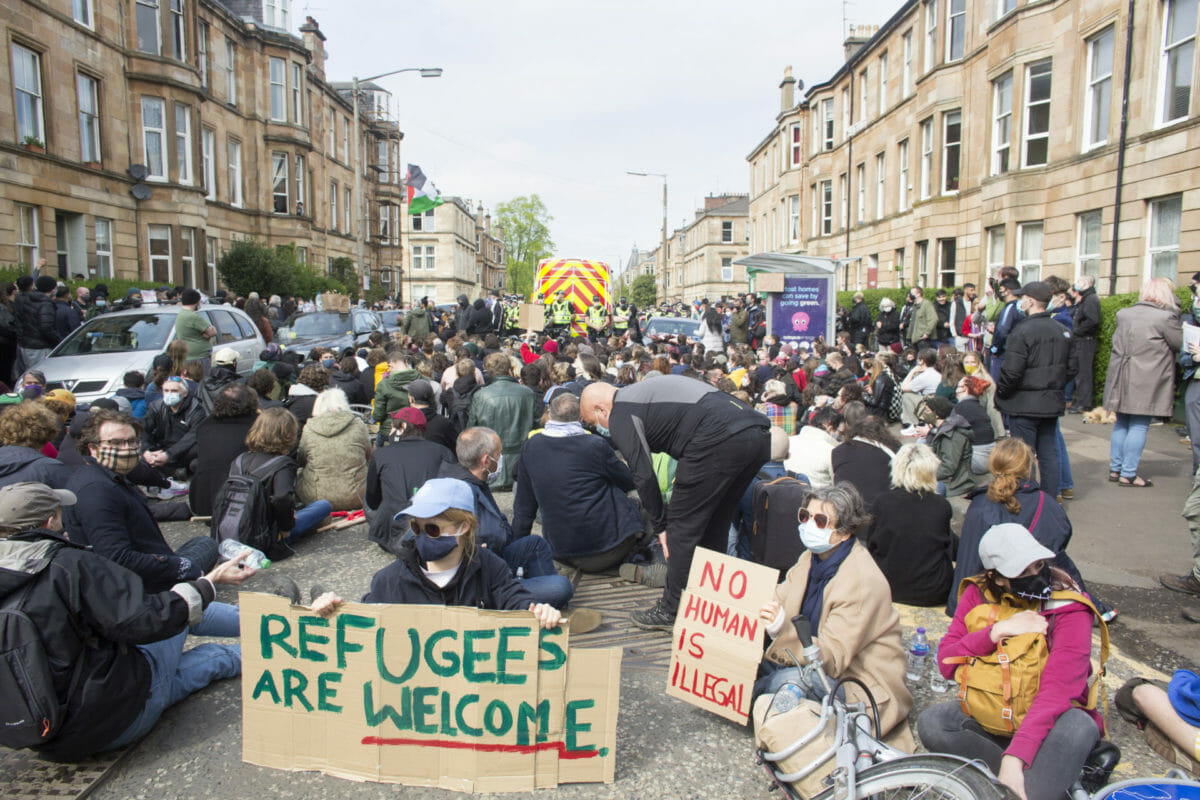 The Ferret previously reported concerns over Police Scotland's role in immigration enforcement after it emerged that hundreds of people had been detained in cells following immigration raids.
But chief superintendent Mark Sutherland, local policing commander, said that police arrived at Kenmure Street at 9.55am, "following a protest by a large group of people".
"The call was made by UK Immigration Enforcement (UKIE) after a group of protesters gathered at the address where UKIE staff were in attendance. Police Scotland does not assist in the removal of asylum seekers. Officers are at the scene to police the protest and to ensure public safety."
Campaigners from the No Evictions network said there had been an increase in immigration vans and raids in Glasgow in the last few weeks.

They added: "We are unsure as to the nature of this shift in tactics from the Home Office. The events today in Pollokshields, Glasgow, have shone a light on the dehumanising tactics of the Home Office that systematically degrade individuals by often ripping them from their beds, forcing them into detention centres with no information or warning."
A comment has been requested from the Home Office.

Images © Angela Catlin