Lothian Buses have left environmental campaigners disappointed after it emerged that the firm is lobbying for major changes to a city centre cycle project planned for Edinburgh.
Council proposals for a £9.4m cycle route through the centre of Edinburgh would provide a safe link for cyclists between existing cycle paths at Roseburn in the west of the city and new bike facilities planned for Leith Walk.
A Lothian Buses consultation response to cycle route designs obtained by The Ferret shows that company officials believe that the plans, "will impose significant constraints on the road network that will result in traffic getting stuck in a high level of congestion."
The firm goes on to suggest that the congestion caused by the route, "will become a daily occurrence because it is not caused by a fluctuation in traffic volume but a permanent loss of roadway."
Managers at Lothian Buses fear that the project will make it even harder for them to keep buses running to their schedule. They add: "At present this is difficult for Lothian Buses to achieve despite having a number of systems in place to manage the running of services."
Edinburgh is unique among Scottish councils in that it has committed to spending 8% of its total roads budget on cycling. More than 10% of commuters in the city say they cycle to work usually or regularly.
The council is also under pressure to tackle air pollution that breaches legal limits in a number of places in the city.
Encouraging even more people to walk and bike around the city is seen as one method of reducing pollution.
After reading the consultation documents, Richard Grant, of cycle campaign group SPOKES called for a more positive approach from Lothian Buses management.
We are very disappointed in the negative comments and tone of the Lothian Buses response

Richard Grant, Spokes
He said: "As an organisation that has always championed the bus service in Edinburgh as complementary to cycling and walking, we are very disappointed in the negative comments and tone of the Lothian Buses response to this consultation.
"This fails to recognise the considerable potential for encouraging motorists out of their cars and on to bikes and the benefits this would bring to the bus service and local communities who are subject to high levels of air pollution from motor traffic.
"The response also fails to recognise that proposals also include measures to benefit pedestrians as well as cyclists.
"It is for the council to consider the detailed technical points and questions raised in the Lothian Buses response, but we look forward to a much more positive approach by the management of this important service as the council's proposals are taken forward."
Additional emails released by Lothian Buses show their officials are particularly concerned about the area around Haymarket Station, a section of road also regarded as a bike accident black spot.
In an email exchange with council officers, they single out: "The apparent disregard shown for the transport interchange that has been created on Haymarket Terrace to make way for a through cycleway.
"The interchange is working well and is the only place in Edinburgh where there is a true interchange where the public transport user can choose and link between train, tram, bus and taxi. While bicycles require a route to Haymarket Station, Haymarket Terrace does not readily provide the space to accommodate it."
Despite this, other organisations have invested in cycle facilities around Haymarket. Network Rail have recently invested more than £300,000 in providing secure cycle storage for 90 bikes outside the station.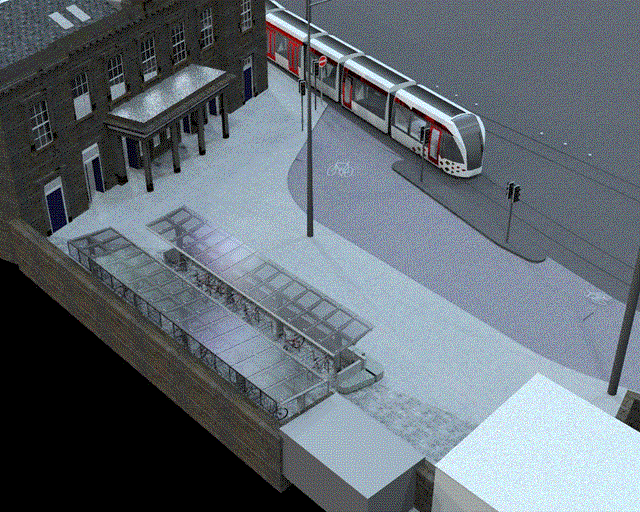 Emilia Jane Hanna of Friends of the Earth Scotland argued that far from causing congestion, the new cycle proposals would make it easier to move around the capital.
She said: "This visionary scheme will put a dedicated, safe cycle path right through the heart of our city, connecting Haymarket Station to Princes Street right through to Leith.
"This is exactly what is needed to create safe conditions for normal people to get on a bike and leave their cars at home.
"By creating a safe way to cycle, the scheme has the potential, over the long term, to get many more people on their bikes, cut congestion and climate emissions, improve our air quality, and make the city a much more pleasant place to spend time and money in.
"There are rarely easy solutions in transport. This scheme's impacts will need to be carefully monitored when first introduced, but in the long term it will prove to be a strong asset for Edinburgh and make the city much easier to get around in."
Lothian Buses have previously opposed other proposals designed to promote active travel in the city. The firm objected to an initial pilot of a 20mph zone in the South side of the city. It also proposed banning cyclists from riding on parts of the road on parts of Leith Walk in 2013, when a similar dedicated cycle lane was proposed.
A Spokesperson from Lothian Buses said: "Our response to the initial Roseburn to Leith Walk Cycle Link Consultation requested further clarity on a number of key points and we await the next stage of the process. Our questions about the unresolved practical considerations are based on many years of experience of operating the city's bus service.
"Lothian Buses is fully supportive of the City of Edinburgh Council's strategic objective to improve air quality and as such has invested heavily in vehicles with lower carbon emissions."
If the cycle route gets the green light from the council, construction is not expected to begin until 2017.
In Detail
The Lothian Buses, Roseburn – Leith Consultation document
Emails between Lothian Buses staff and CEC officials on Roseburn – Leith
2013 response from Lothian Buses to Leith Walk cycle facilities